3 row SUVs are undoubtedly all the hype right now since they offer a bit of everything that most keen buyers are looking for when it comes to a daily-driver friendly vehicle that's prudent for anyone looking to start a family. But what is the best 3 row SUV?
No longer would you have to immediately succumb to the MPV lifestyle if you have the slightest thought of starting a family now. In lieu of a 7-seater van-like vehicle that proves to be less than stellar at offering an adequate driving experience, lacking the style and substance that most people would want.
Moreover, in most cases, MPVs are lacking in the drivability that most folks seek for, especially when dealing with perilous road surfaces while actually transporting 7 passengers around.
Of course, there's the fact that a large 3 row SUV just feels safer and more premium than a 7-seater MPV. While in terms of modern tech this notion may not truly apply anymore, it's quite a psychology-based preconception that originates from the tall, commanding driving position and intimidating road presence.
Therefore, the penchant for a tall 3 row SUV is immediately eminent. Everyone likes a stylish, capable large SUV that's competent on and off the road on the driveway, so what options lie out there for someone that's piqued by the idea of a 3 row SUV? Here are the best 3 row SUVs
1) Subaru Ascent – Best 3 Row SUV
The newest and latest introduced model in the list we have here. And it's a car that can be summarised in a few words: a Subaru Forester that's larger, yet remains as capable as a Subaru should be.
Introduced back in mid 2017s, and only became available late 2018, the Subaru Ascent has been anticipated by many to be a hit. Subaru fully intends for the Ascent to be their flagship SUV leading the charge.
For that, in lieu of the Subaru Tribeca which was a tad too ambitious and thus failed to really meet crowd expectations, the Subaru Ascent has stuck to the roots more so than ever. Subaru has introduced mass appeal to where they could while incorporating some Subaru touches along the way.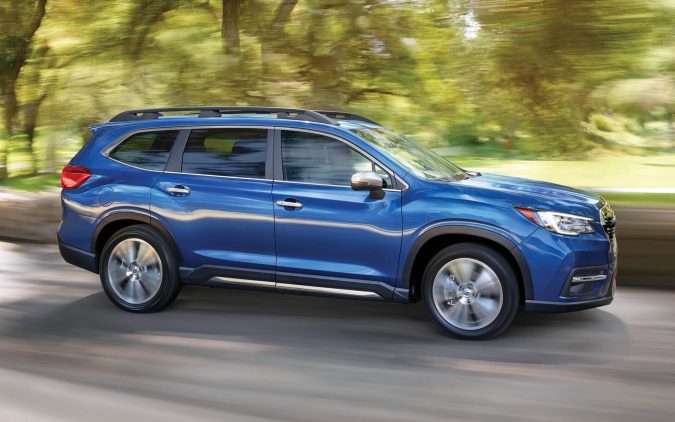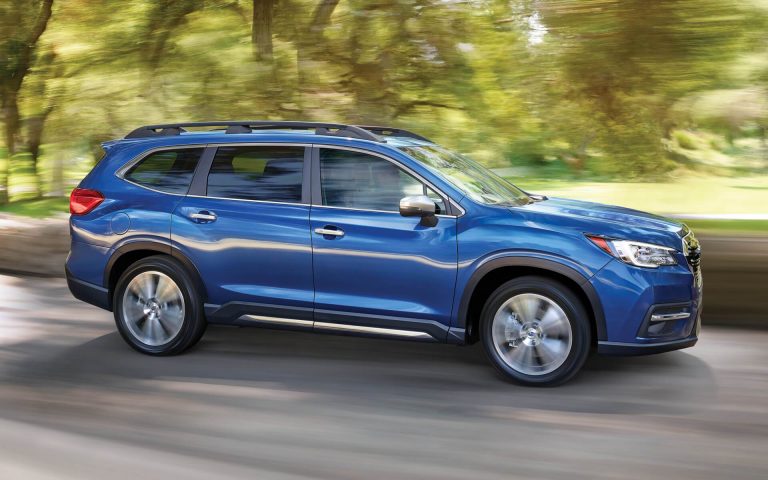 Beneath the bonnet is a 2.4-litre turbocharged Boxer 4 engine, a Subaru trademark, that delivers power to all the wheels via a CVT. On the surface, the Ascent may seem unwieldy and lumbering, but its potent Boxer engine outputs 260 horsepower and 376 Nm torque.
With that drivetrain, regardless of the Ascent's portly 2-tonne weight figure, it'll still manage a respectable 7-second 62 mph sprint. This, combined with the CVT translates to effortless motorway cruising aptitude, despite the tendency for the CVT to stagnate engine speed during acceleration. This drivetrain will manage around 24 mpg combined.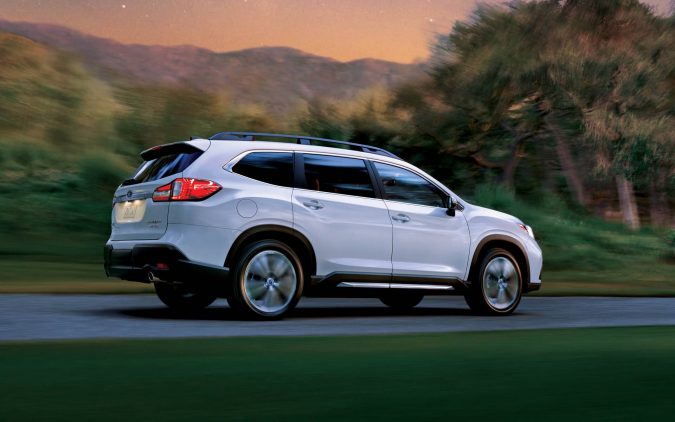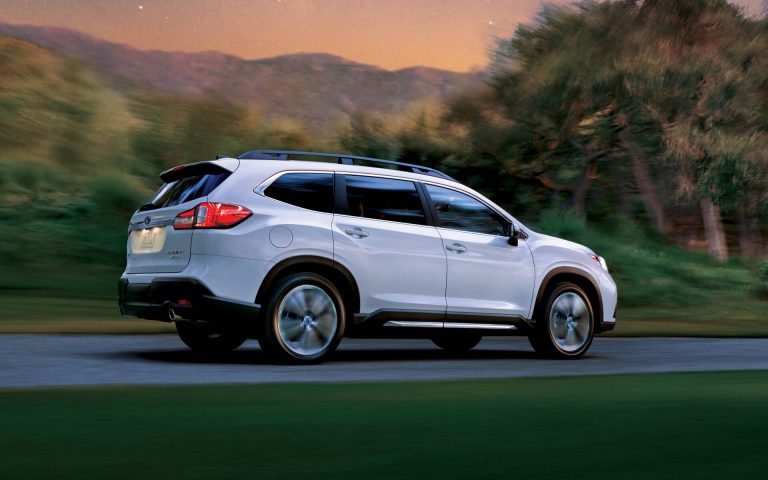 A strong and punchy acceleration demands a capable chassis to tame the stout Ascent. Subaru is undoubtedly rather knowledgeable in making a car handle, and the result is apparent here. With a confident and surefooted cornering mien, the Ascent feels like a gentle giant trundling along winding roads.
However, when you're feeling a bit inspired, the Ascent will even manage to keep up, which is surprising, to say the least. It's not fun per se, but the precise steering, reassuring braking feel and composed body make the Ascent surprisingly lively. And when it comes to rough roads, the Ascent is perfectly capable at dampening the twitchiness.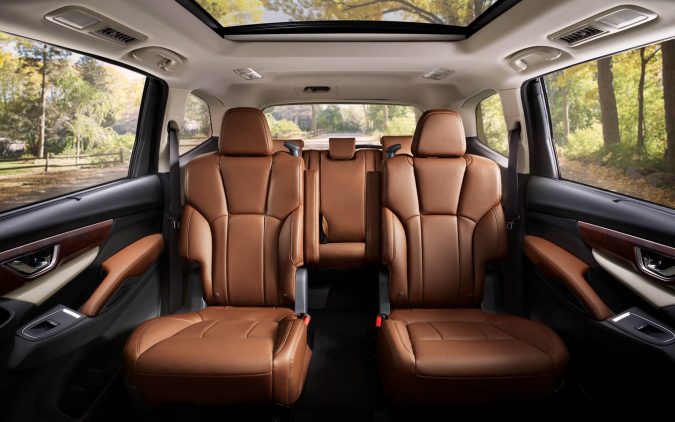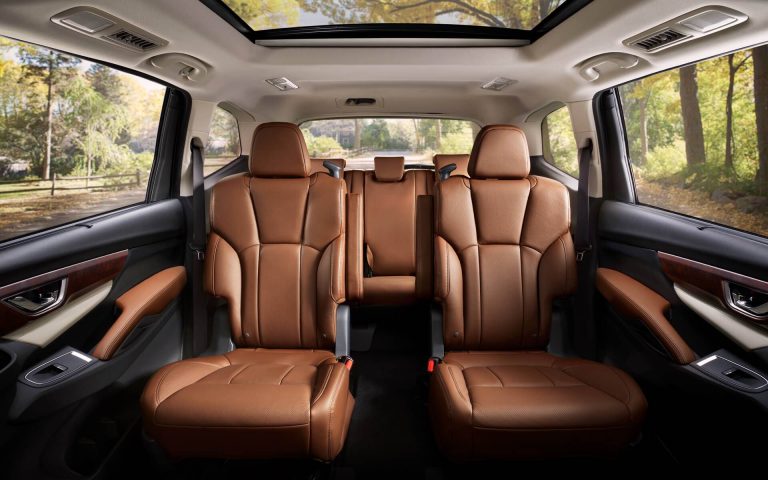 Move inside, and you'll see an interior that's perfectly pleasant, to say the least. Subaru isn't particularly good with interior designs, but the Ascent boasts a simple, symmetrical and well-integrated cabin with remarkable practicality.
It will seat 8 people inside just fine while mustering an impressive 17.8 cubic feet of groceries. It'll expand up to 47.5 cubic feet thanks to the flexible seating arrangement, truly a class leader. It also touts 19 cupholders in total, although that many is a novelty at best. It'll also tow up to 5,000 lbs of payload.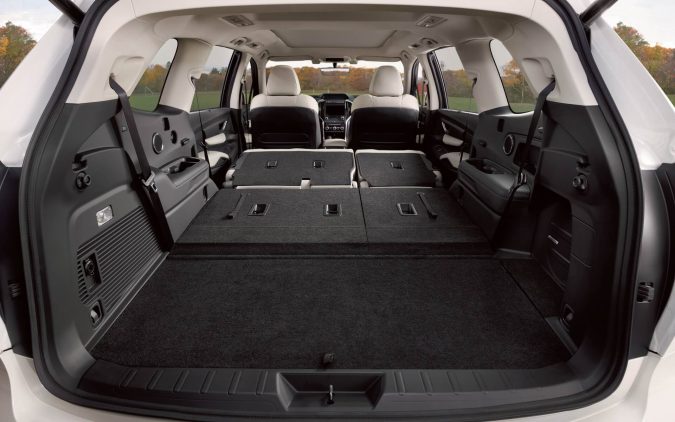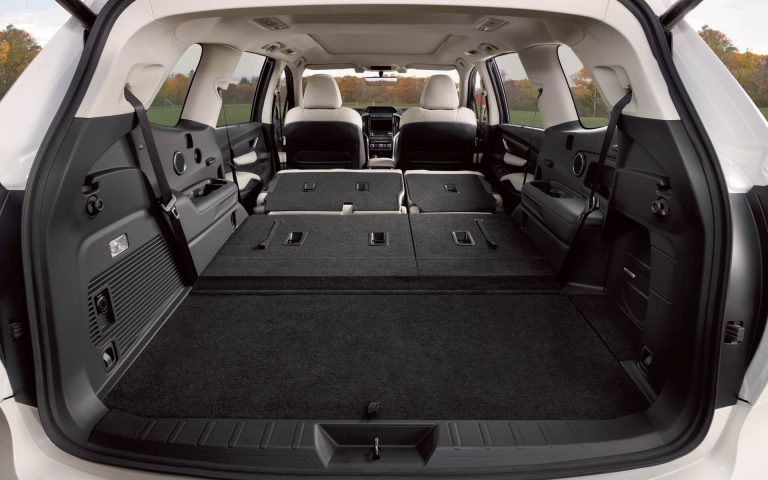 Overall, the Subaru Ascent is a respectable 3 row SUV that stands out from the rest thanks to it Subaru-endowed quirks. Even without those, however, it's a nice midsized SUV that'd be hard to go wrong with. If you want Subaru trail-readiness with people carrying capability, the Ascent is the best in terms of value and ability.
Prices start at $31,995, but the Premium trim at $34,195 is what we'd recommend.
Photos: Subaru
2) Honda Pilot – Best 3rd Row SUV
Rather go for something a bit more conventional? Honda is a venerated name in the family car business with their Odyssey and CR-V, and the Honda Pilot can be said to be one of Honda's finest depiction of a 3 row SUV for a modern family.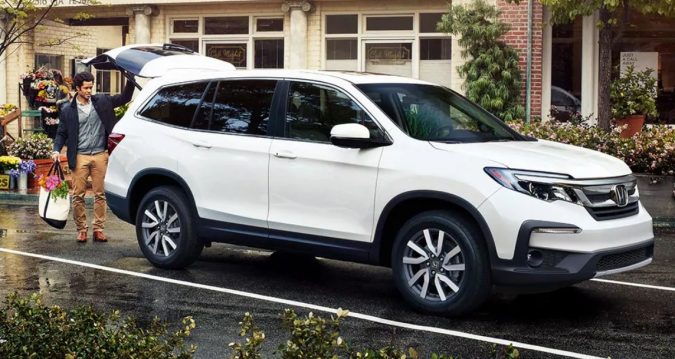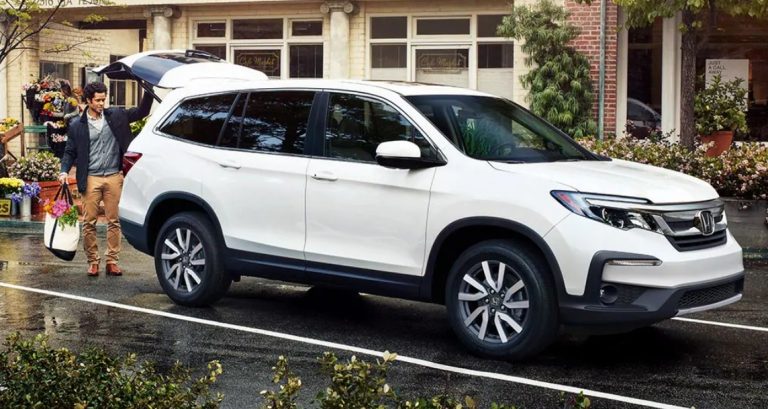 Originally introduced in the all the way back in the early 2000s, the Honda Pilot has just recently entered its third iteration, with a facelift launched for the 2019 model year. Now looking properly modern and packing amenities befitting a contemporary mid-sized SUV.
Powertrain would be the least of your worries in the Honda Pilot, as there's only one engine available and that's a potent 3.5-litre naturally aspirated petrol V6 engine. Putting out 280 horsepower and boasting a mighty 355 Nm of torque. For an engine of its capacity, it remains quite efficient being rated at 22 mpg combined.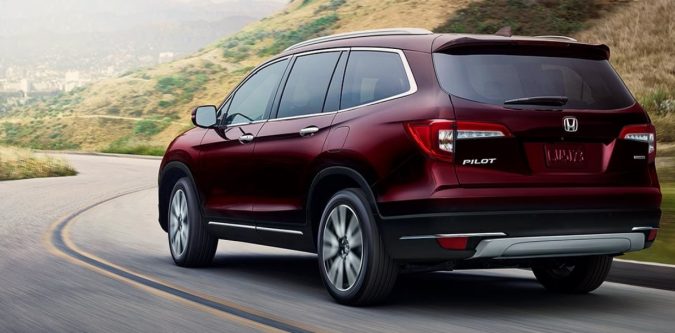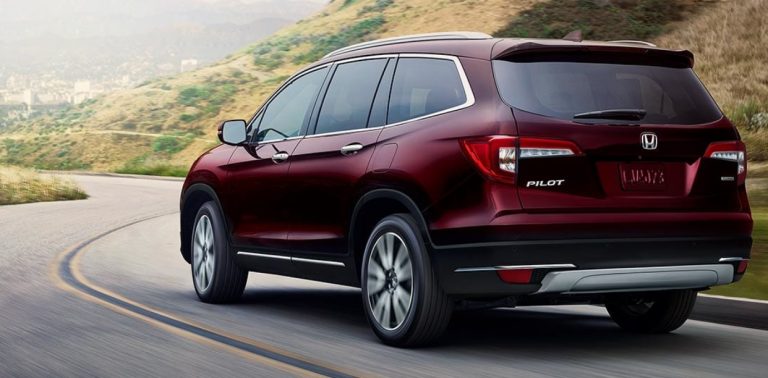 The innate advantage of a large displacement engine is certainly the prompt, on-the-pedal torque that it supplies. Smooth in delivery yet sprightly and raring to go, the Honda Pilot is startlingly enthusiastic to sudden throttle inputs. Depending on what trim you go for, you can either end up with a 6-speed automatic or a modern ZF 9-speed transmission. 2WD and AWD models are available across the board too.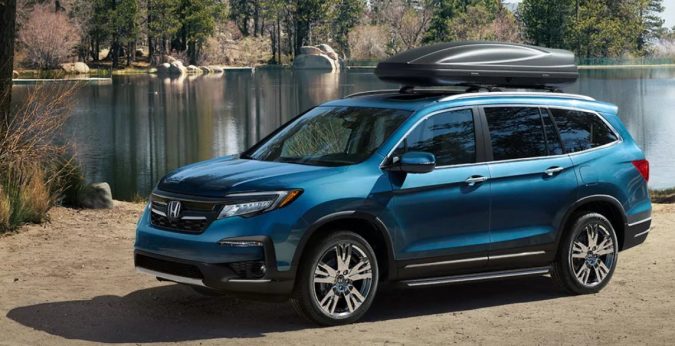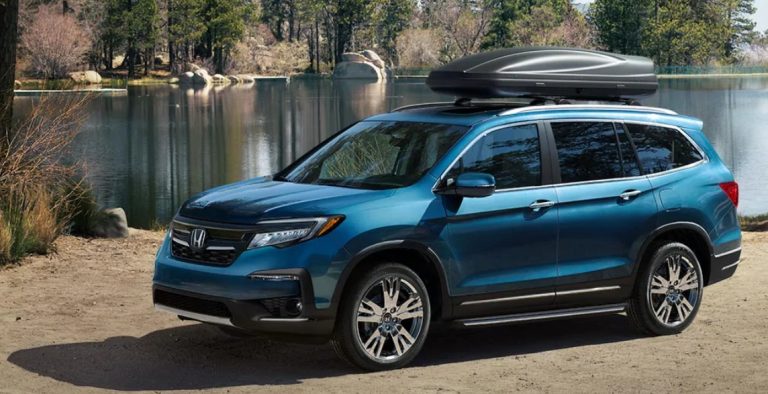 With a strong engine supporting the weighty chassis, it shifts along at an appropriate pace along the road. While not entirely enthusiastic about the corners, the Pilot does have a remarkably efficacious all-wheel drive system which is actually electronic differential-based that can shift the available torque 70-30 rear-front.
This means that the Pilot might surprise you with its competency off the beaten path. It doesn't have sufficient ground clearance for expedition duty, but it's certainly off-road ready for families who frequent unpaved gravel trails.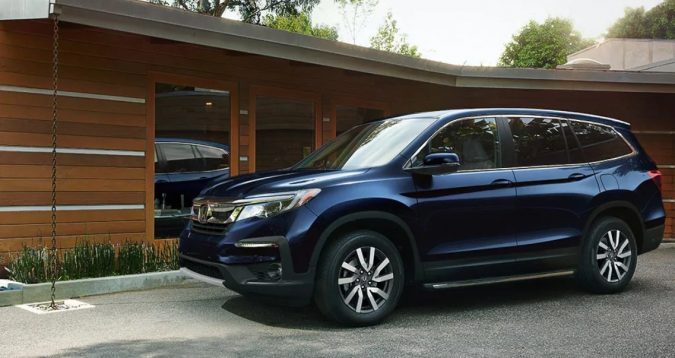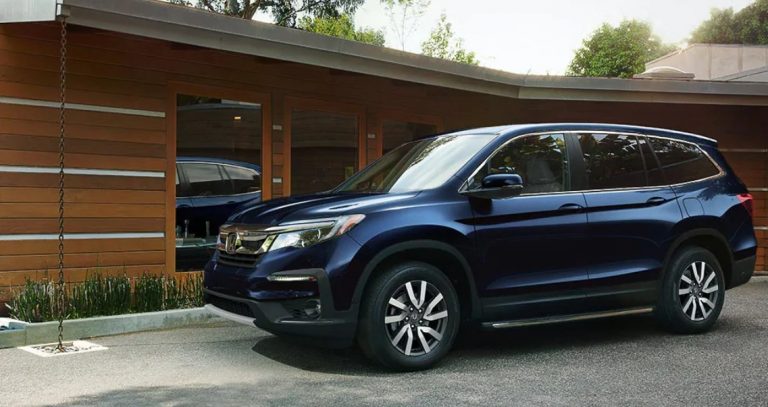 What will truly impress though is the Honda Pilot's endlessly pragmatic interior. A switch to a more modern infotainment system, standard driving assist features, easy third-row access with a flat loading floor.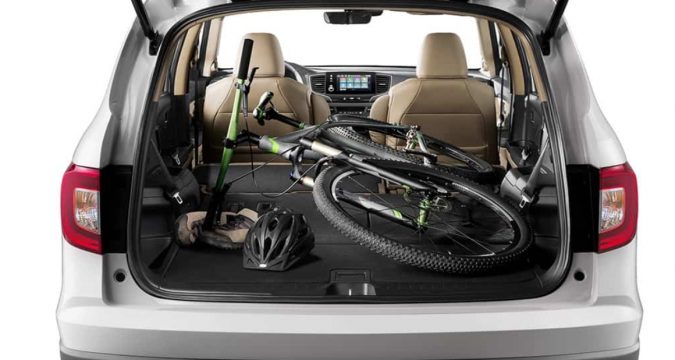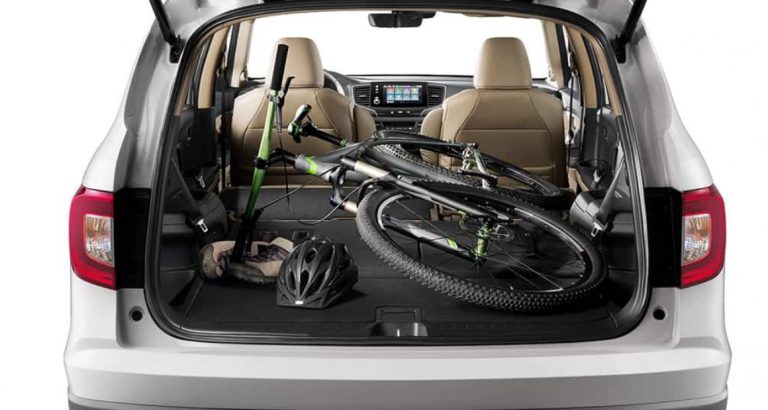 Moreover, the Pilot truly makes the best out of its large profile with massive cabin room for front and second-row passengers. The third-row struggles a bit more, but it's still capable of seating adults for shorter trips, which some peers can't even manage.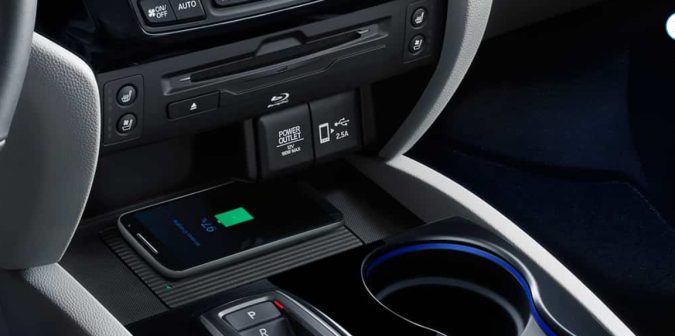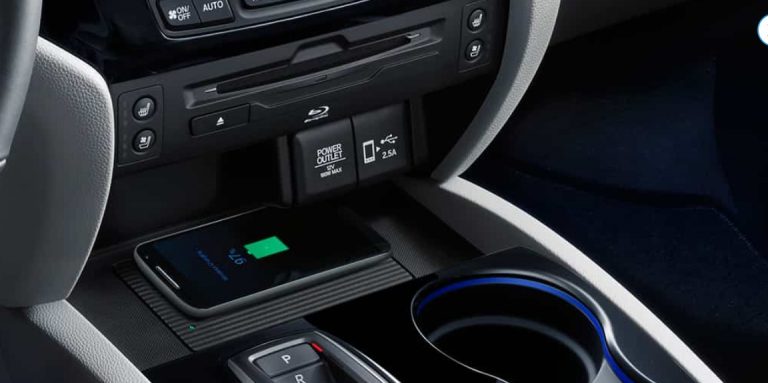 You'll also find a well-built cabin with tons of small item storage littered all over. Open up the boot, and the Pilot will take up to 16.5 litres of cargo that expands to 46.8 litres with the rearmost seats folded.
It'll tow 3,500 lbs in its 2WD guise, which is disappointing. Thus, those inclined to tow with their Pilot should look to the AWD offering, which can handle 5,000 lbs of towing.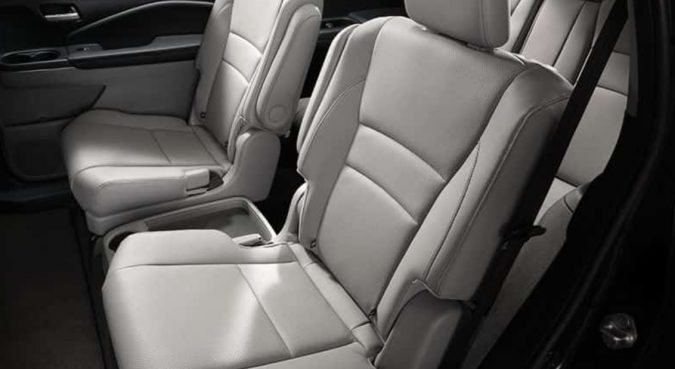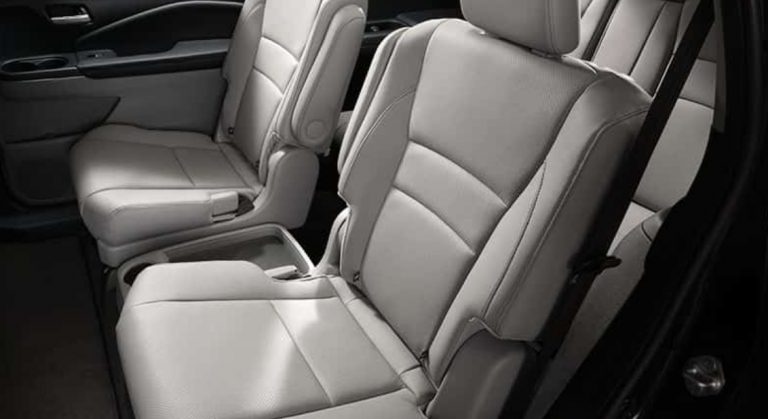 The facelifted Honda Pilot remains to be one of the best in its segment, with Honda's assuring build quality, potent powerplant, solid AWD system and practical interior. You can't go wrong with one as your 3 row SUV of choice.
Prices start at $31,450, but the EX trim at $34,330 is what we'd recommend. 
Photos: Honda
3) Ford Expedition – 3rd Row SUV
If you have the budget and a proper American full-sized SUV is what truly intrigues you, then there's little out there that can top the Ford Expedition right now. It's also one of the newest model we have here, with the latest generation arriving at showrooms in November 2017.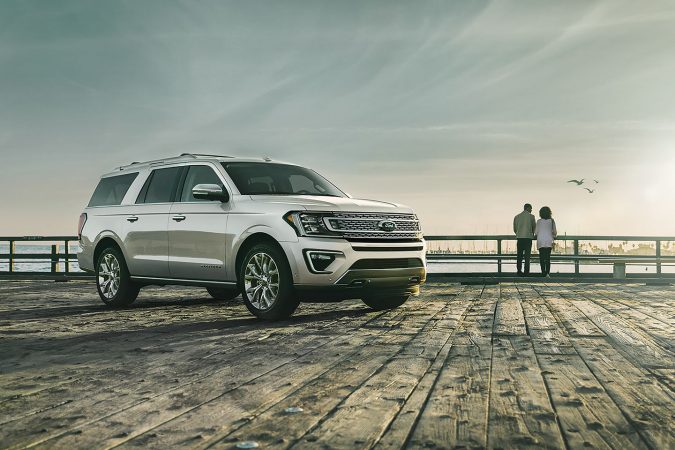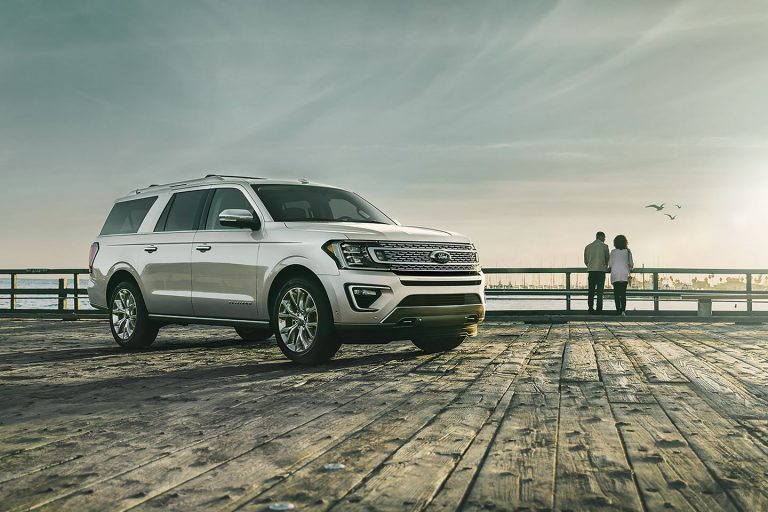 The Ford Expedition might seem like your typical American-engineered massive SUV, but in fact it's thoroughly modern one you scrutinize it. And with an even larger Max variant available, the Expedition is just the right 3 row SUV for those who yearns for a genuine 3 row cruiser SUV.
Underneath the hood lies a 3.5-litre twin-turbocharged EcoBoost V6 engine that outputs an admirable 365 horsepower and 569 Nm of torque, a comparable figure to those that relies on big displacement V8s. And thanks to those turbos, it'll also muster 20 mpg combined.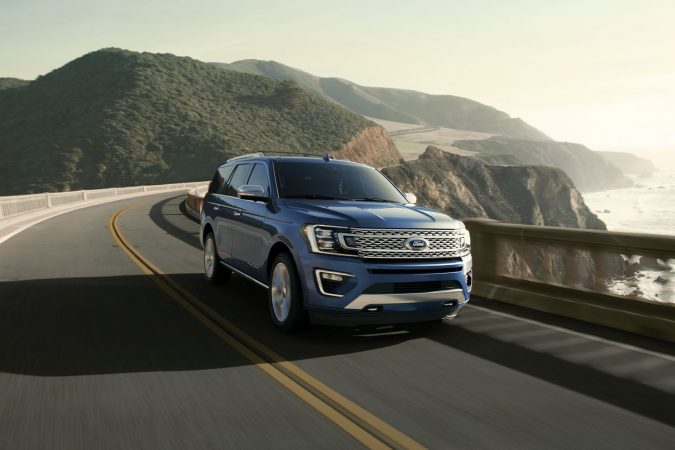 The engine delivers its power to Ford's most recent SelectShift 10-speed automatic transmission, and the transmission is available in both RWD or 4WD guise. Interestingly, the 4WD variant comes with a BorgWarner 2-speed transfer case with electronically locking differential.
If there's any massive SUV out that that deserves the title of a mile eater, the Ford Expedition is it. The twin-turbocharged V6 provides mighty torque on tap, with effortless off-the-line performance that's deceiving of its stout nature.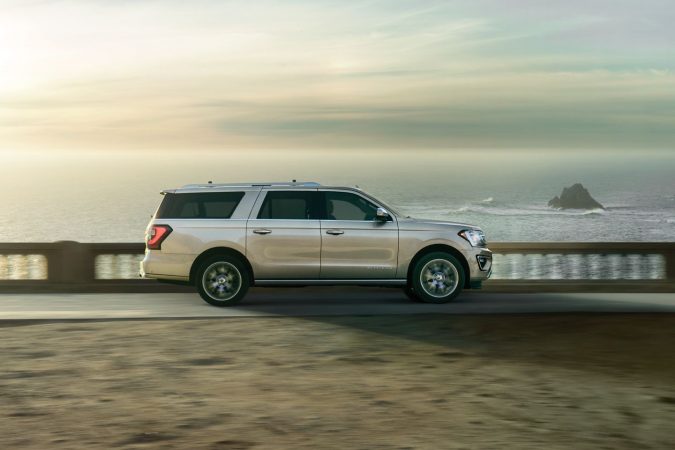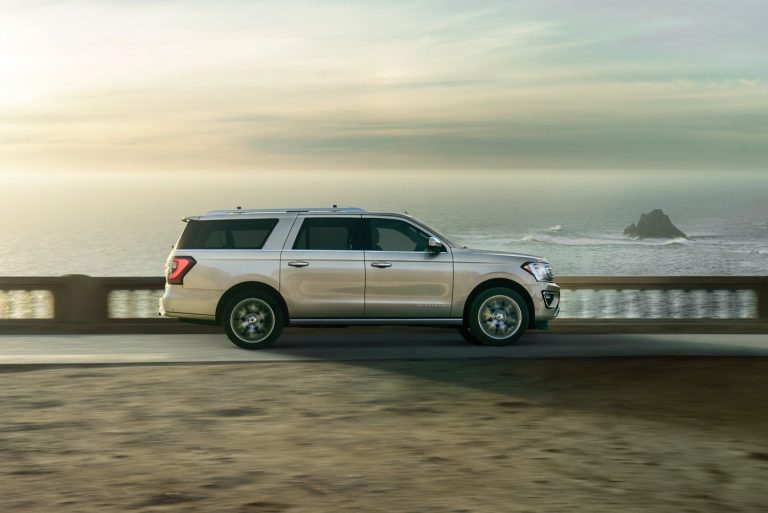 Thankfully, the 10-speed transmission is slick and modern too. Depress the throttle slightly, and it shifts up quickly and fluidly for fuel efficiency and refinement, but whenever you need the torque the transmission reacts promptly and downshifts rapidly, yet somehow covertly.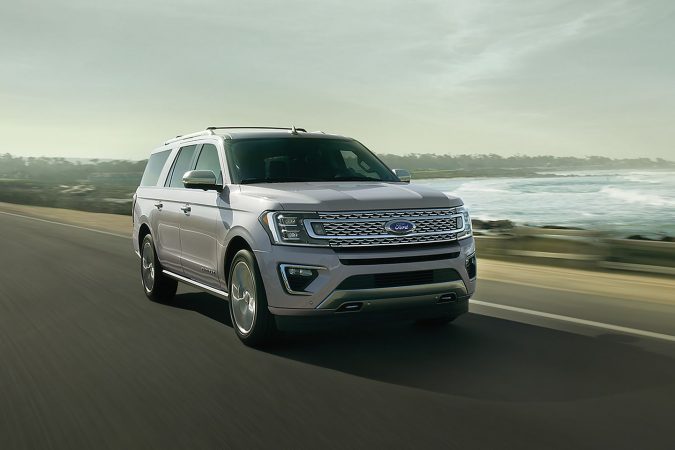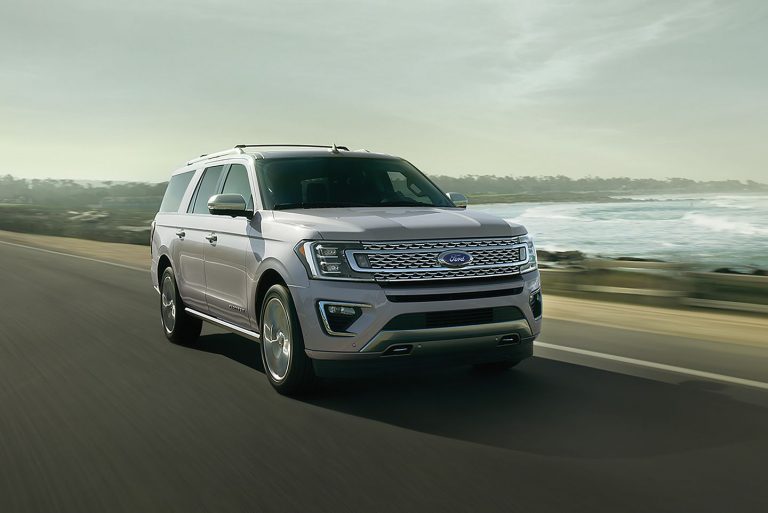 You might imagine coercing this large SUV to corner without wallowing all over the place is a daunting ordeal, but you might be pleasantly surprised. The Expedition isn't exactly athletic, but its composed and decorous cornering mien is confidence inspiring.
Move inside and the Ford Expedition touts all the bells and whistles you can expect from any premium SUV. It comes with a solid kit in its basic form, but there are admittedly pricey options to bolster the whole premium SUV experience.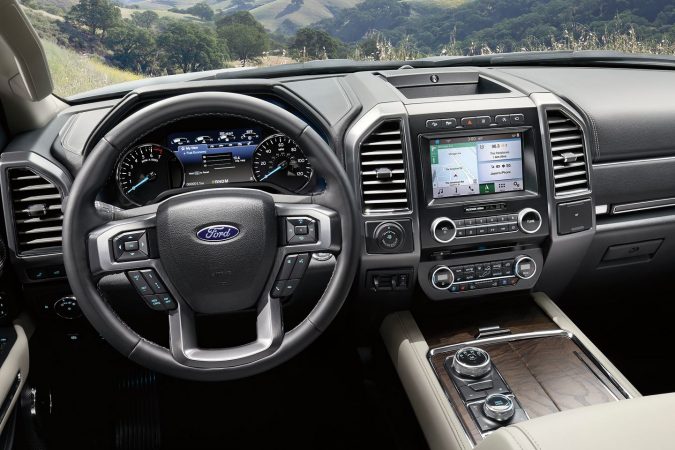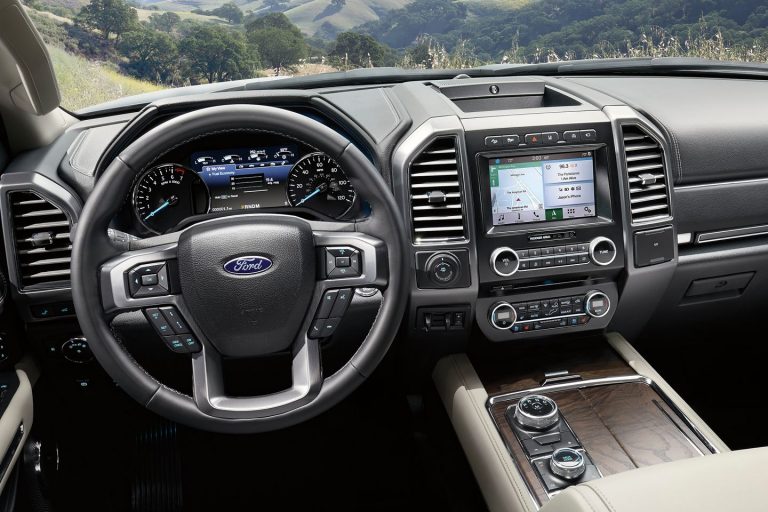 However, with the Expedition's massive rear passenger doors, occupants can easily slide in and out of the 3rd row. The second row bench slides forward and back, and both rows offer capacious seating, so it's a genuine 8-seater in every sense. Intriguingly, in its higher trim the second row can be opted with captain's chairs in lieu of bench seats, transforming it into an upmarket 7-seater.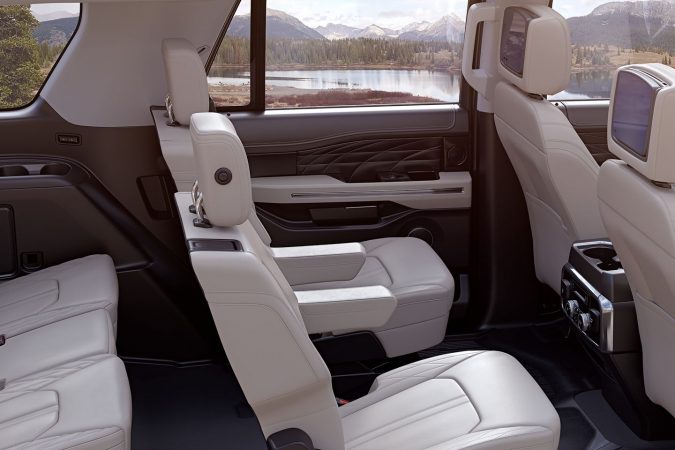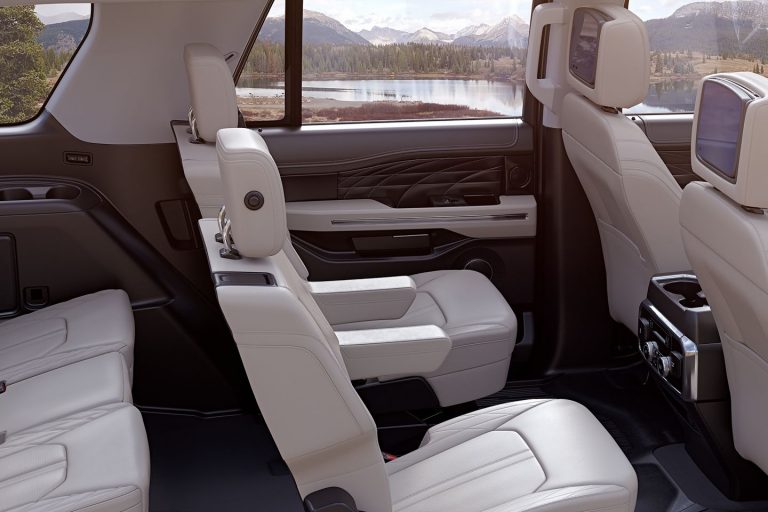 What's especially impressive though lies behind the 3rd row seat, where you'll locate a cavernous 20.1 cubic feet of luggage space. The Max model bumps this up to a stupendous 36 cubic feet. Fold down the rearmost row, and that turns into 63.6 cubic feet for the standard model and 79.6 cubic feet for the Max model. It'll also tow 9,300 lbs, a class-high.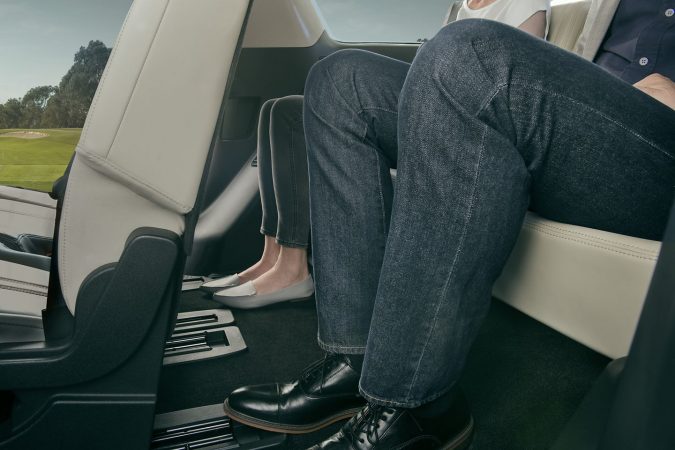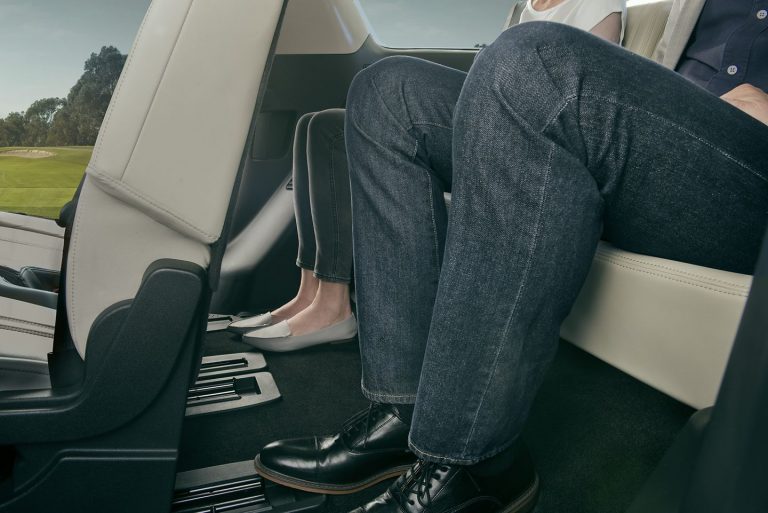 The Ford Expedition is a segment leader, and it sets a high benchmark for others to follow suit. Certainly, it's a bit pricey and not all that fuel efficient, but for a full-sized 3 row SUV that does everything very well, its difficult to top.
Prices start at $52,130, and we reckon it's a great base model. The XLT Max for ~$2,000 more may be worth it if you want a truly terrific people mover.
Photos: Ford
4) Mazda CX-9 – 3 Row SUV
Fun and driver entertainment is one of the least of any automotive manufacturer's worries when it comes to a 3 row SUV. That said, if there's a marque that's unorthodox enough to break the norm, it'd be Mazda. And the Mazda CX-9 is just the evidence for that.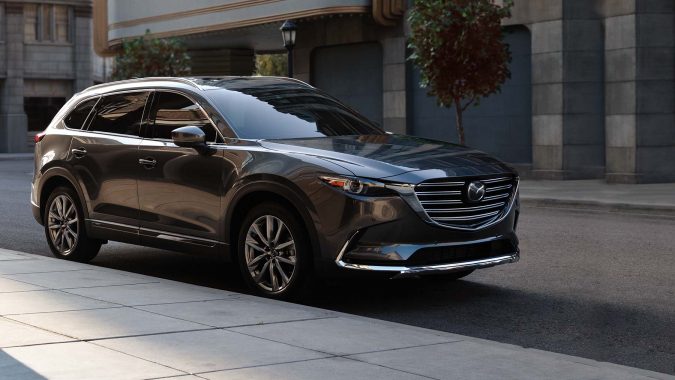 Despite the sleek design with a gallant, sharp fascia and overall suave body lines, don't let that fool you. Underneath all that debonair façade resides a modest 2.5-litre turbocharged inline-4, and that remains the fact for all CX-9 models. A mistake? Not so much.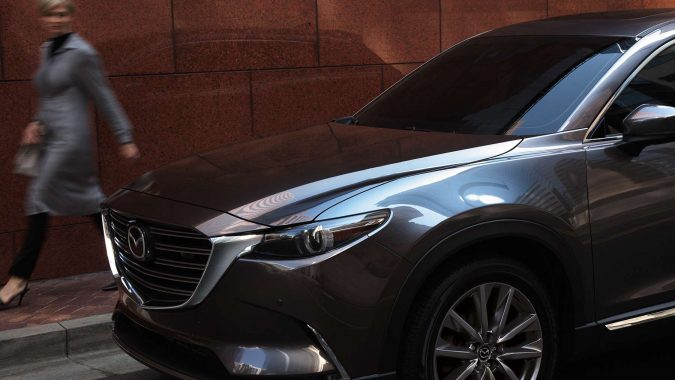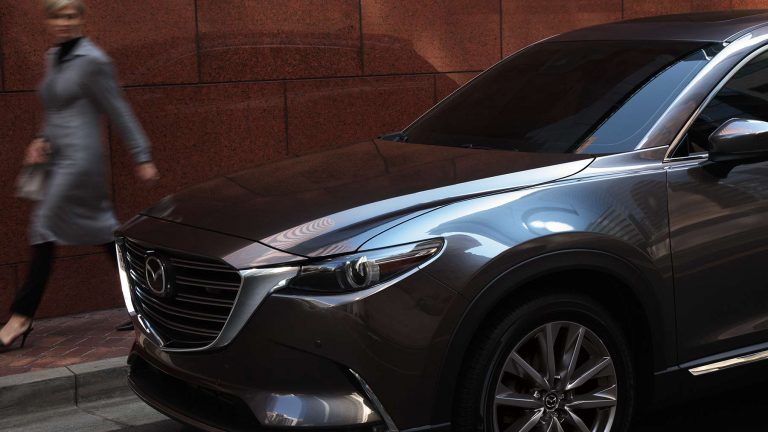 With 250 horsepower and 420 Nm of torque to work with, it's not exactly a sloth. That power is delivered to a 6-speed automatic transmission driving the front wheels with optional all-wheel drive, which enables a century sprint of 7.1 seconds. Certainly on par with its peers, and all that with a 24 mpg combined fuel efficiency rating.
All that specs may read like they belong to a normal run-of-the-mill hatchback, and somehow it behaves akin to one in the twisties. With an accurate and quick steering, respectable road traction and markedly amenable chassis, the CX-9 tracks preened through corners. AWD coaxes you to push it even harder.
Sometimes it can take a tad long to settle, but the exceptionally tidy and poised cornering attitude is laudable. Feet off the pedal, and the suspension copes rather well on arduous terrain with its excellent composure.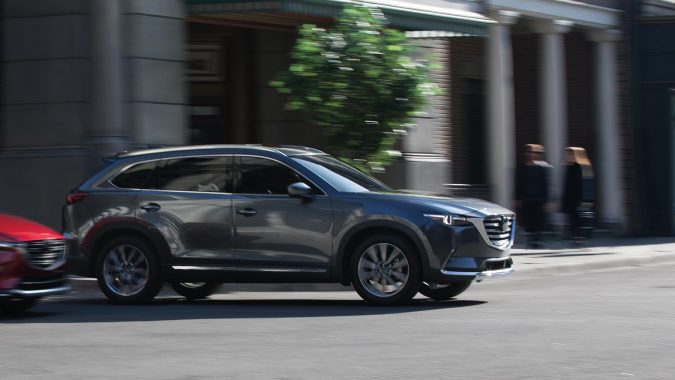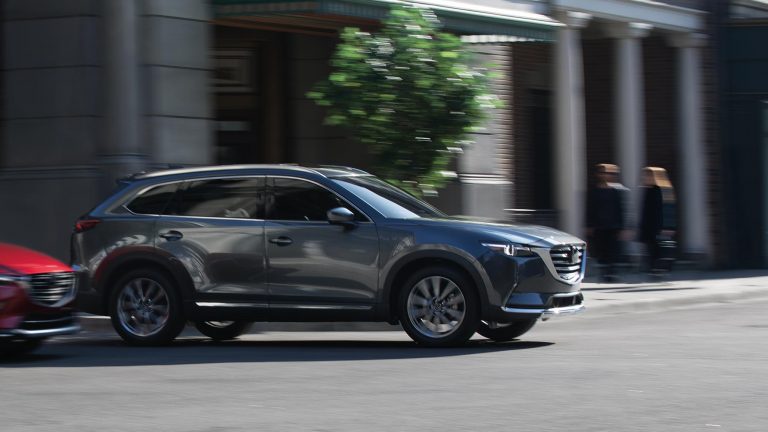 The engine is just as expected, refined and smooth and somehow also surprisingly voracious. It delivers a good jab, certainly sufficient for a 3 row SUV. The transmission isn't particularly noteworthy.
As of late, Mazda has been praiseworthy in terms of interior design, and with their flagship SUV it's no exception. Clean and slick, with a 7.0″ or 8.0″ infotainment system perched on top of the centre console.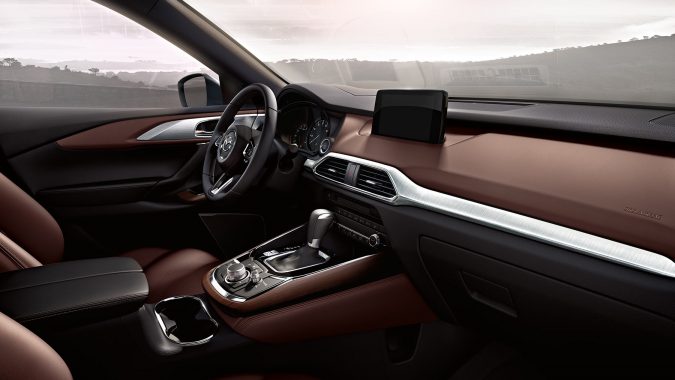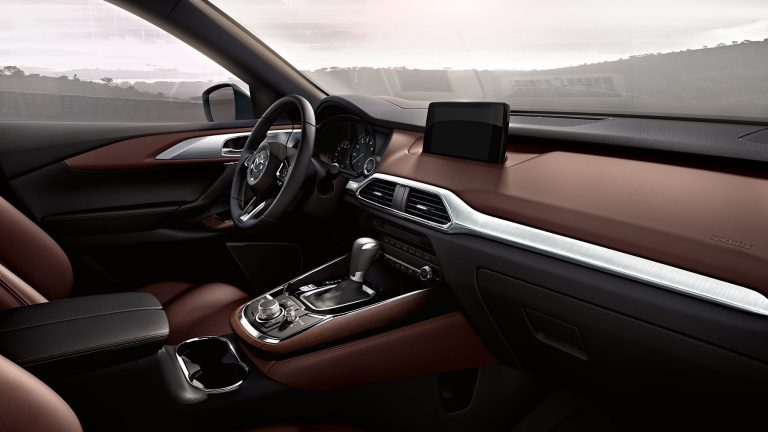 The seats are somewhat firm, but provides adequate space for adults in the first 2 rows. The 3rd row feels more like an afterthought at times with lacking headroom and legroom, so it's only really appropriate for children.
Behind the third row you'll find 14.4 cubic feet of cargo room that expands to 38.2 once you fold the rearmost seats down. With only 3,500 lbs of towing capacity though, the CX-9 is best thought as a larger 5-seater urban luxury SUV than a bona fide workhorse.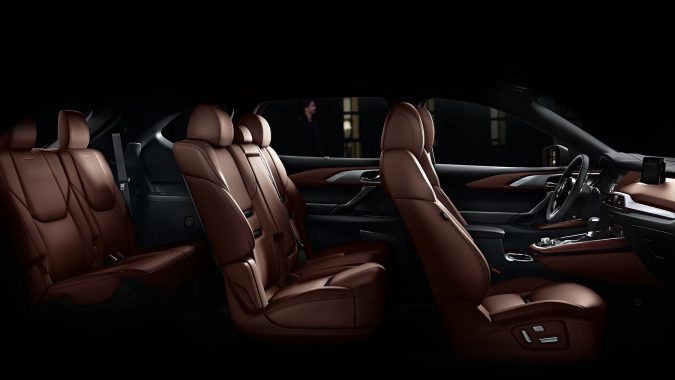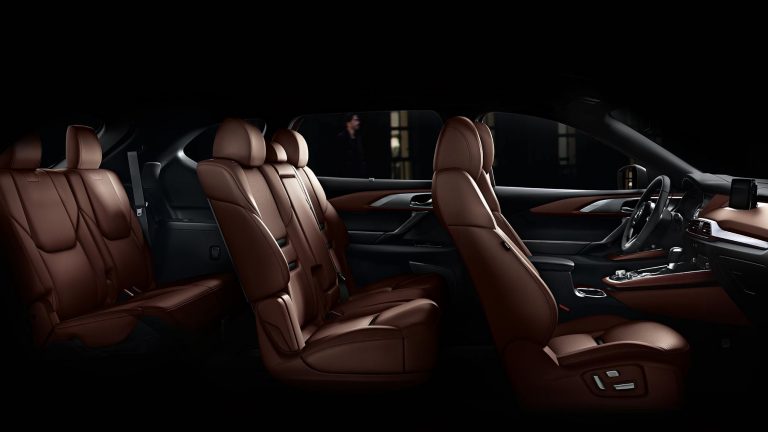 With all that said, the Mazda CX-9 is one worthy contender thanks to its invigorating dynamics, upscale interior and suave styling. If you want something with modern chic styling that offers a premium feel, it'd be hard to go wrong with the CX-9.
Prices start at $32,280, but the Grand Touring trim at $40,840 for an upmarket feel is what we'd recommend. 
Photos: Mazda
5) Toyota Land Cruiser – SUV With 3rd Row Seating
Into a proper, full-sized 3 row SUV that's essentially the last word in modern Japanese luxury? Look no further to the Toyota Land Cruiser, or its upscale sibling, the Lexus LX, with optional 3 row seating arrangements.
The Land Cruiser is a household name by now, and despite the stark direction switch it has taken, it maintains an ardent cult following. Going all the way from a rugged, proper off-road trail exploration truck to a genuine luxo-barge, the Land Cruiser is well honed for contemporary upper-market appeal.
It's not particularly modular, with solely one drivetrain available. Propelled by Toyota's 3UR-FE 5.7-litre naturally-aspirated engine, it puts out 381 horsepower and 543 Nm of torque. It's also introduced over 10 years ago, albeit refined over the years, but that's just Toyota's philosophy in reliable, proven designs. It is thirsty at 15 mpg combined though.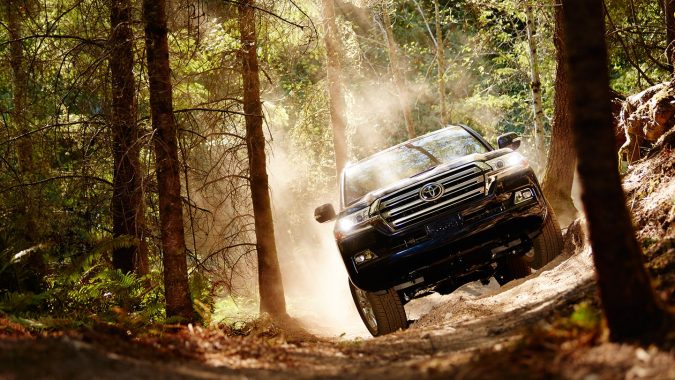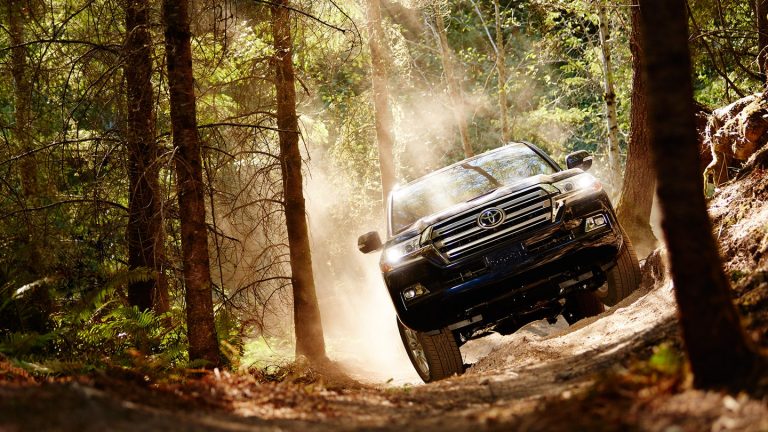 The engine powers an 8-speed automatic transmission that drives all four wheels, all the time. A genuine 4WD system powered by a no-nonsense 'no replacement for displacement' V8. Despite the status switch to a luxury SUV, the Land Cruiser adheres to its venerated heritage.
Predictably, despite the Land Cruiser being markedly portly, weighing close to 6,000 lbs, the potent engine hauls the big SUV along at a respectable pace. It gets off the line quick, with prompt low-end torque that tapers off. The 8-speed transmission isn't noteworthy, but it feels modern enough.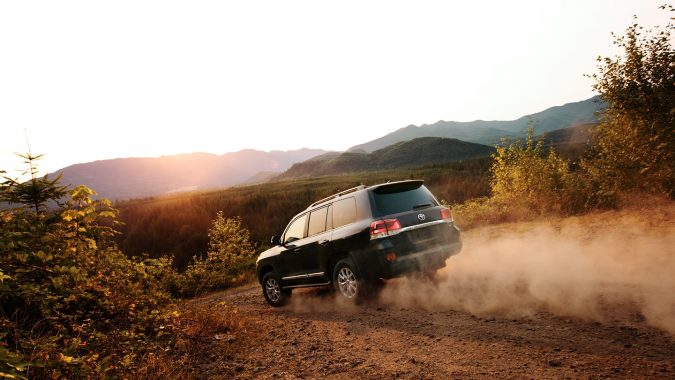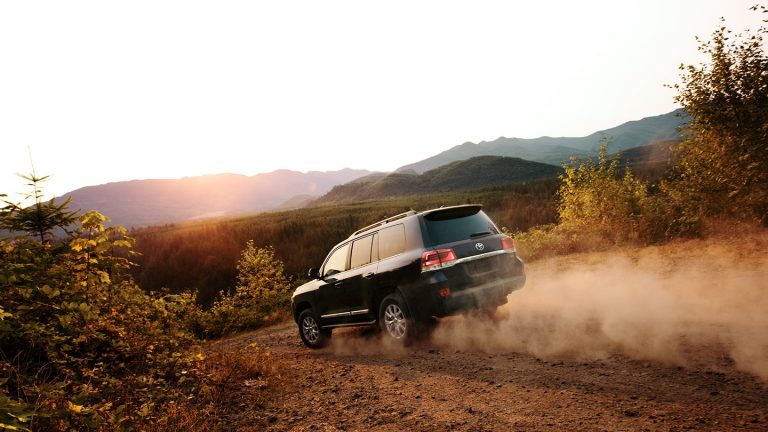 Much like the drive train, the underpinnings of the Land Cruiser remains faithful to its off-road pedigree. Perched right on top of a ladder frame chassis with a multi-link solid rear axle and independent front suspension is just ideal for an expedition SUV, but doesn't do it favours on the road.
However, backed up with Toyota's Kinetic Dynamic Suspension System, you might be surprised at how well the Land Cruiser copes with corners. It controls its heft rather well, and its surprisingly apt at dampening bumps and undulations. However, it can be bumpier than its rivals when dealing with bumpy, slow speed thoroughfares, where its rugged nature manifests.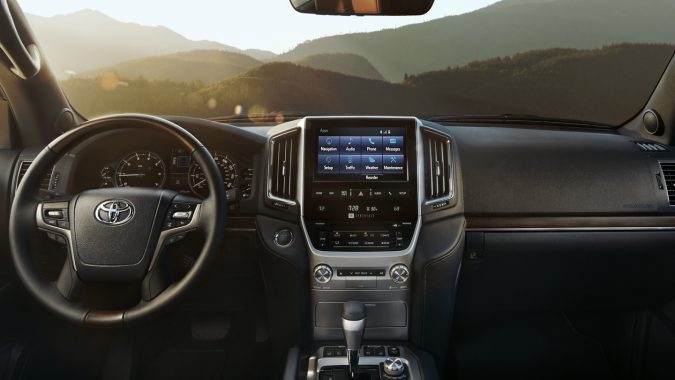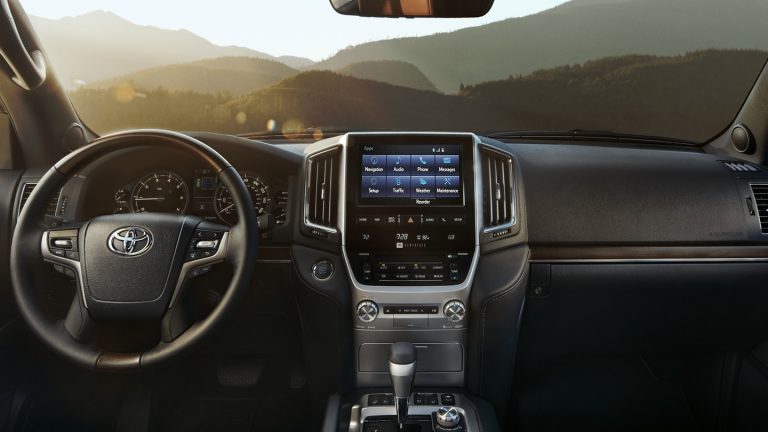 With the incongruence between the lavish nature and the pragmatic foundation of the Land Cruiser, it translates to a startlingly capable workhorse. It'll tow 8,100 lbs and manage itself perfectly well off the beaten path thanks to its brilliant and ample off-road assistance. It's 8.9″ ground clearance means that it'll reach places you might not expect.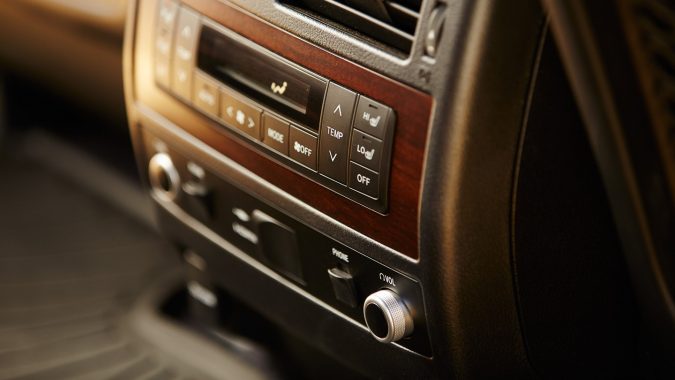 Being a posh, elegant Japanese luxury SUV, you can only expect an interior that correlates to its price premium. Front passengers are pampered with Toyota's finest, most commodious leather seats and in-seat entertainment, with tons of features that comes as standard. A 9.0″ infotainment touchscreen resides at the centre, and that powers a 14-speaker JBL audio system.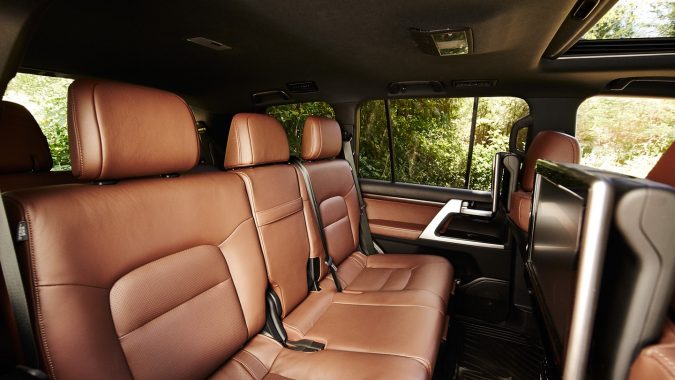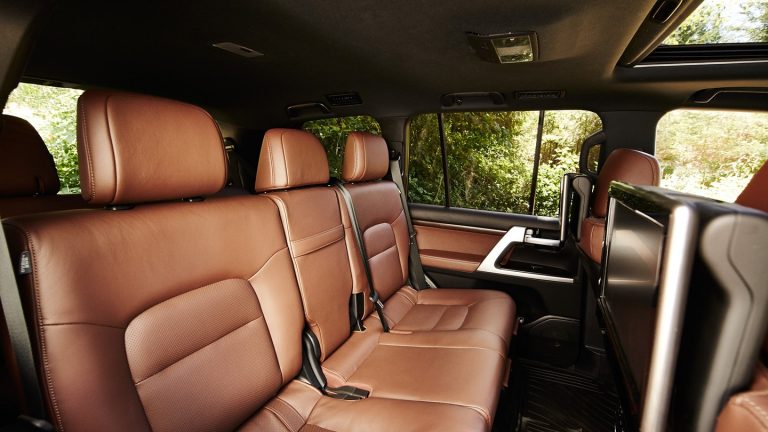 Second-row passengers enjoy ample space too, in fact, it'll easily seat 3 adults without qualms. Optional dual 11.6″ rear seat entertainment system is also available at an additional $2,200. The rearmost seats however suffers a bit more, and it'll struggle to accommodate adults. It's more akin to jump seats rather than genuine seating. The space behind the 3rd row seats will take 16.1 cubic feet of cargo.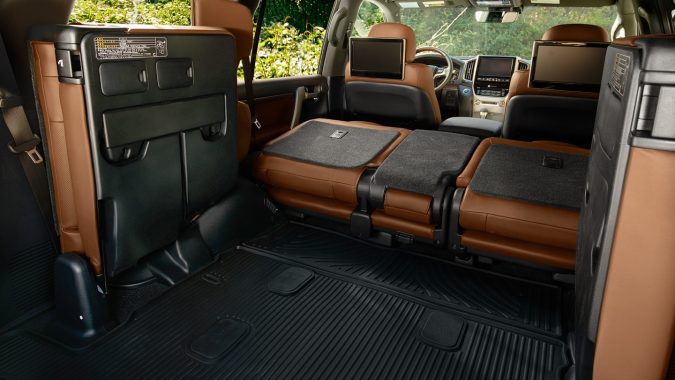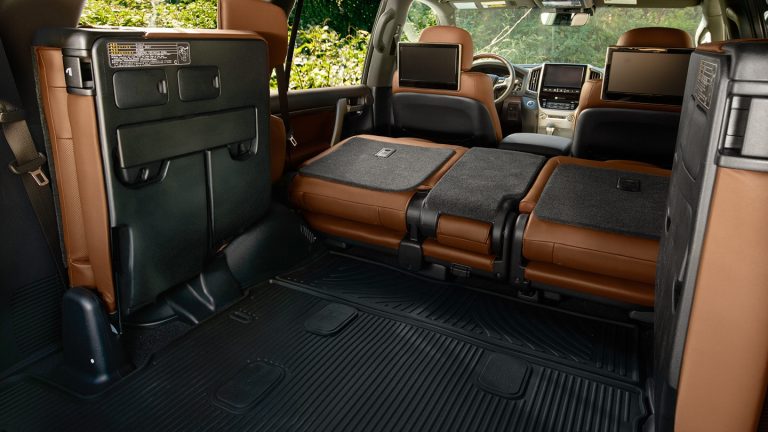 The Land Cruiser fulfills a niche market in its segment: a genuinely qualified off-road machine that has a price premium with a cabin to match. And that all comes with a handsome look that some may deem forgettable, but it's quite unassuming and befitting of the Land Cruiser title.
Prices start at $85,015, and it's up to you to spec it as you see fit.
Photos: Toyota
6) Dodge Durango – Third Row SUV
Dodge has the habit of sticking with a certain generation of models for an extended period, and the Durango is no exception. Being 8 years into its 3rd generation, the Durango might seem outdated amongst all of its rivals.
However, if you want something that is quintessentially American in some regards, the Durango is one of your best bet here. Having just received a facelift that introduced the alter-ego 'SRT' trim,
Regardless of whether if you've opted for one of the sportier trims, the Dodge Durango comes standard with the 3.6-litre Pentastar V6 that's been in Dodge's lineup for awhile now. Make no mistake, it's a potent engine putting out 290 horsepower and 353 Nm of torque, enabling a competitive 7.4 seconds 0-62 mph sprint.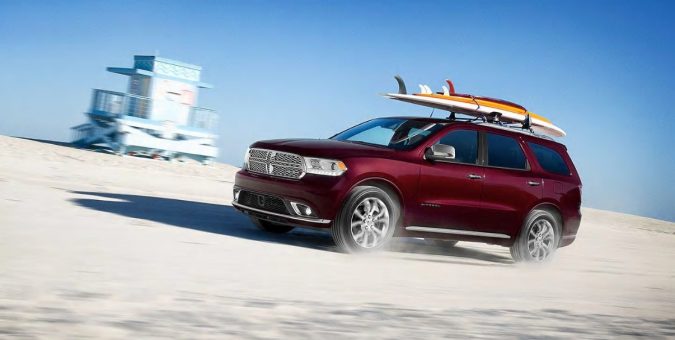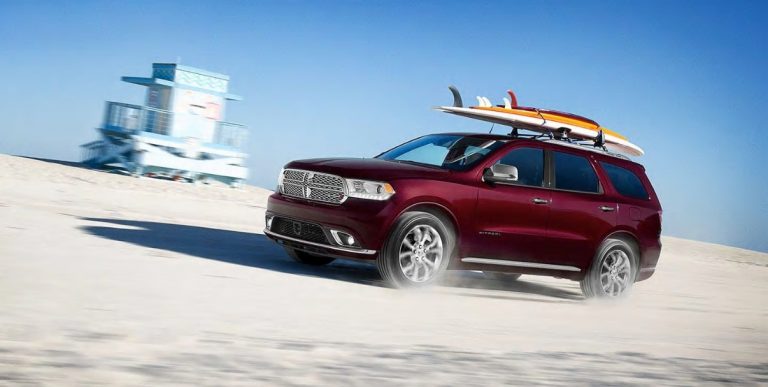 However, if you want the full-fat Durango experience, you can do a lot worse than finding a 5.7-litre HEMI V8 powered Durango. With 360 horsepower and a mighty 530 Nm torque on tap, it hauls the Durango along from 0-62 mph in 6 seconds, and it sounds the part too. From 2014 onwards, all Durango received an 8-speed automatic that provides either AWD or RWD depending on the option.
You'll find the Pentastar V6 to provide agreeably adequate acceleration, as it's quite bubbly albeit not particularly thrilling. It'll muster a solid 21 mpg combined though. However, if you want an engine befitting of the Durango's enamouring muscular looks, opt for one of the 5.7-litre V8 variants instead.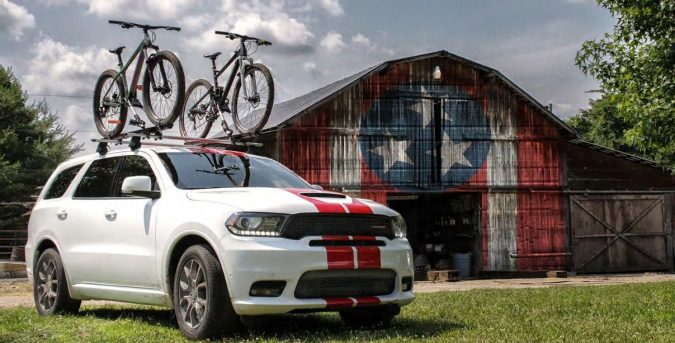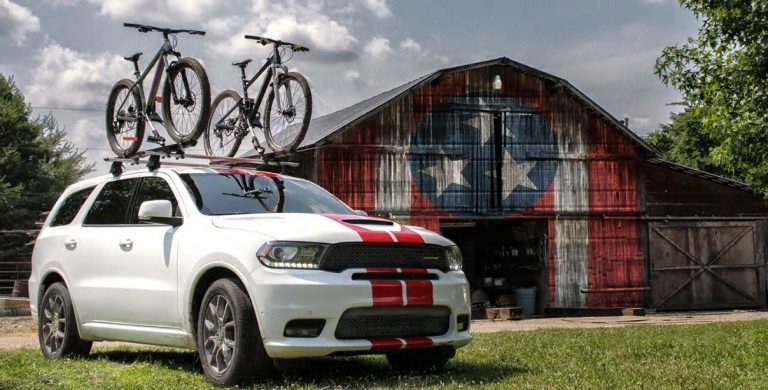 The V8 offers a sonorous growl that nothing else can quite compare, it will haul the Durango along at a swift pace frivolously with over 450 Nm torque on tap, while most of the wallop comes in at midrange. It's an aging powerplant by now, but it'll manage 17 mpg combined thanks to cylinder deactivation technology. You'll find the 8-speed to perform admirably as well, responding to throttle inputs appropriately.
While a V8 powered 7-seater SUV may raise an eyebrow or two when described with the word sporty or agile, the Durango will pleasantly surprise those with doubts. The RWD variant treads the grey line of being just energetic enough, while retaining important comfort characteristics.
The Durango responds positively towards driver inputs, and tracks with a with a preened and poised line, while not being overzealous in its cornering endeavours. It's confidence inspiring and maintains composure should you encounter an unexpected mid-corner bump.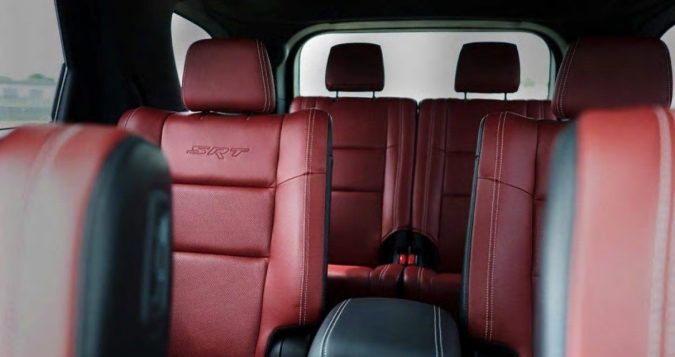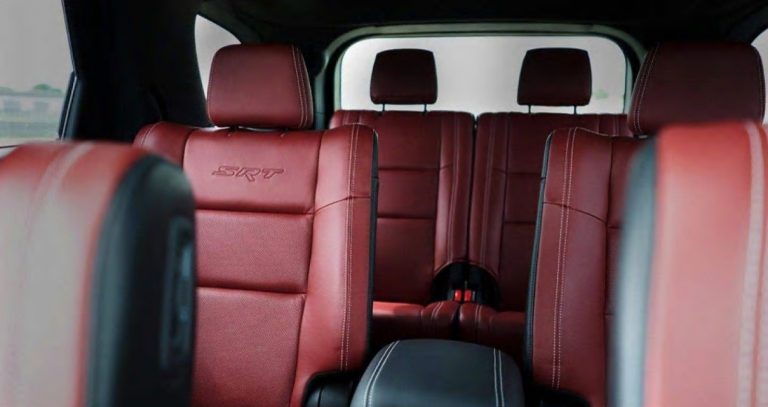 Ultimately, the viability of a 3 row SUV lies in its cabin and practicality. The Durango sports an agreeably upmarket interior with a sturdy fit and finish. Opting for the luxury-infused trims endows the cabin with a liberal amount of lavish leather and synthetic suede.
You'll find the Durango to provide front seat passenger space aplenty, while second and third row seats aren't the most capacious, but commodious enough to seat adults. The Durango also touts one of the best infotainment system with its optional 8.4″ touchscreen infotainment display.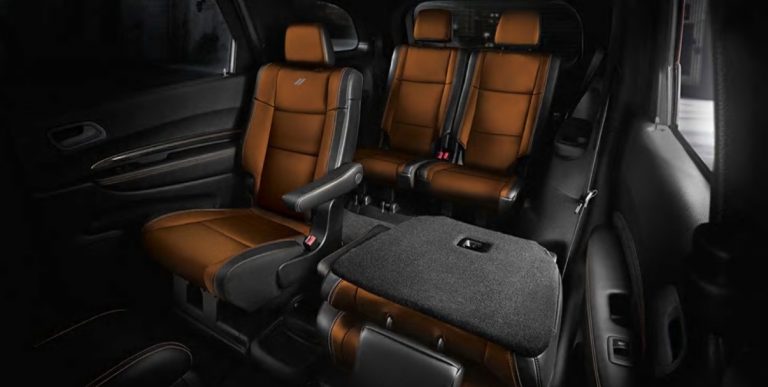 The Durango continues to perform respectably, with 17.2 cubic feet of cargo space with the third row upright. It'll go up to 85.1 cubic feet with the back 2 rows folded. If pure towing brawn is what you need though, the Durango dwarfs its competition with a 7,400 lbs maximum towing capacity with the V8 RWD drivetrain.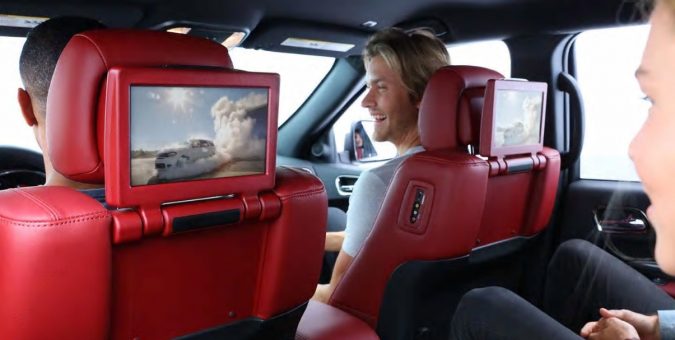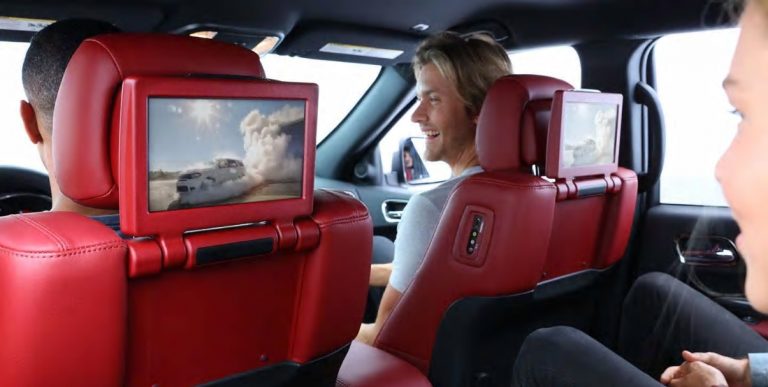 Right now, the Durango is in a class of its own if you have the budget for it. Its menacing, muscular styling is appropriate for the powertrain it harbours within. If a sporty 7-seater infused with the American spirit is what you seek, little will whet your appetite more than the Dodge Durango, especially if you're going for the S/RT.
Prices start at $29,995, but the R/T trim at $43,995 is what we'd recommend. The S/RT starts at $62,995, which is a viable option for some.
Photos: Dodge
Best 3 Row SUV – Verdict
Nowadays, big premium sedans are losing the point, with almost all major manufacturers going the route of sportiness rather than plush, passenger pandering comfort. Understandably then that people seeking for that relaxed cruiser are piqued by the idea of a large SUV instead.
Therefore, we can only really see 3 row SUVs that offers unparalleled practicality and comfort in one package to take off in sales now, with their Achilles heel being weak economy figures. However, hybrid large SUVs are slowly phasing into the market, and it's only be a matter of time until hybrid 3 row SUVs or even electric variants take over the market.
For now though, the above 3 row SUVs we've listed is what we personally think are the best 3 row SUVs being offered on the market right now. This is by no means an exhaustive list, but it'll point you towards the right direction, and perhaps even help you make that purchasing decision.