Whilst many would question our desire to photograph cars, it is a unique way in which we can experience cars up close and personal. Observing the most intricate details of multi-million-dollar supercars to the aging life marks on an all-time classic. Hence, that's why we obsess over finding the best lens for car photography.
Every car tells a different story no matter how old it is. As enthusiasts, we can appreciate every car in its own way and photography allows us to tell this story through images and share this for the world to see.
When it comes to car photography, however, there are a variety of different lenses that can be used to achieve the required results. Whether you're looking for a wide interior shot to some close-up details, there is a range of lenses that fit the purpose.
The type of lens required will vary when it comes to which type of car photography. For example, motorsport will typically require a longer telephoto lens whereas shooting an indoor car show will suit a faster prime lens much better.
Here's a shortcut to help you scroll down on the important topics of the best lenses for automotive photography:
Best Lens For Indoor Car Shows
Whilst the pandemic has hampered the ability for these shows to go ahead as they normally would, they will return in full force.
For these types of shows, generally, a wide-angle lens and a fast aperture prime lens will be your best friend. The confined nature doesn't generally allow for a telephoto zoom lens to be utilized.
The main problem with these indoor car shows is the lighting. Whilst to the human eye the light is fine and the cars stand out perfectly, to the camera this is considered low light. Therefore, the more budget-orientated lenses really do not suit these kinds of events due to their slower apertures compared to the more pricey options available.
Not only does the faster aperture work better in the low light conditions on offer, but there is the added advantage of blurring the background. The faster the aperture, the narrower the focus window becomes. This can be a lifesaver due to shows usually being heavily populated and often with ugly structures in the backdrop. Having the car be the main subject of focus is crucial and these fast aperture prime lenses give the best performance in this area.
An alternative way to block out the crowds is to shoot the interior of the cars. Being a confined space, the wide-angle lens can offer a great chance of capturing the entire dashboard area in one shot and capturing the time and effort the manufacturer/ owner has put into making their car their own.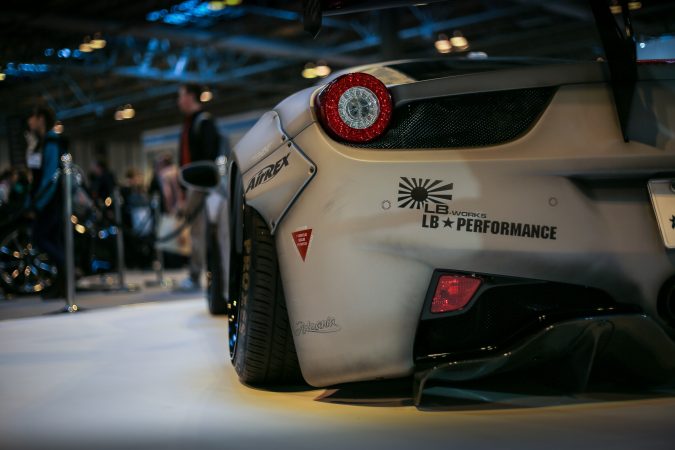 Best Lens For Car Photography: Indoor Car Shows
Not only a dashboard shot but cars such as the Rolls Royce Phantom have quite the unique headliner. Rolls decided to give the car more atmosphere by giving the headliner a star pattern so it mimics looking up at the night sky. This is an ideal situation to get a wide-angle lens in there and capture this along with the seats to fully show off what the designers attempted to create.
Next up comes the polar opposite, a macro lens. Having purchased a Sigma 105mm f2.8 Macro during the lockdown, I started to think about how I could apply this lens to automotive photography. Whilst this may not be the most conventional lens for automotive photography I believe there are some unique shots to be obtained this way.
Being able to really hone in on the smallest of details is something that a lot of photographers tend to miss out on. Armed with the macro there is no shortage of shots available to you. From each handcrafted dial to the stitching on the steering wheel and even exterior details like carbon fiber weave or even details hidden within the light clusters (some manufacturers like to place their logos in here for example).
They put the time in to place every detail in its specific place, so why not make the most of this? The added bonus of a lens like the aforementioned Sigma is the ability to double up as a fast aperture prime lens and is highly suitable in the darker situations that will be experienced at the shows.
Best Lens For Motorsport
Whilst any lens can be used for motorsport photography, a telephoto zoom lens will be the most common go-to lens. Due to safety, spectators must be situated a safe distance away from the action which generally means you are a long way away from the track.
A lens with a minimum of 300mm (450mm on a crop sensor) will be suitable for the majority of circuits. Most circuits also offer up fence-free viewing which further aids lens selection as the faster aperture telephoto lenses have the ability to cost thousands of dollars. This is great for a professional but for an amateur, something a little cheaper is likely to be the way forward whilst still being able to pull off spectacular results.
Having myself primarily used a Nikkor 70-300mm AF-S f5.6-6.3 over the past two seasons, there really are minimal complaints with image quality, focal length, and even the weight of the lens.
Another key aspect of a good lens that is commonly overlooked is weight. Race Days typically last 8 hours for a full day of national racing, with races even going as long as 24 hours. Carrying around heavy equipment for this duration of time is going to be very intensive and get very tiring very quickly.
Utilizing a lighter lens offers up less strain when taking your shots and can even result in more consistency due to less fatigue throughout the day, consistency being crucial in motorsport photography.
Not only this but the lighter weight of the lens allows for smoother panning shots further increasing consistency. A smooth controlled motion is crucial for obtaining panning shots, especially at shutter speeds such as 1/30 down to 1/10 for the really challenging motion blur.
Best Lens For Car Photography: Motorsports And Racing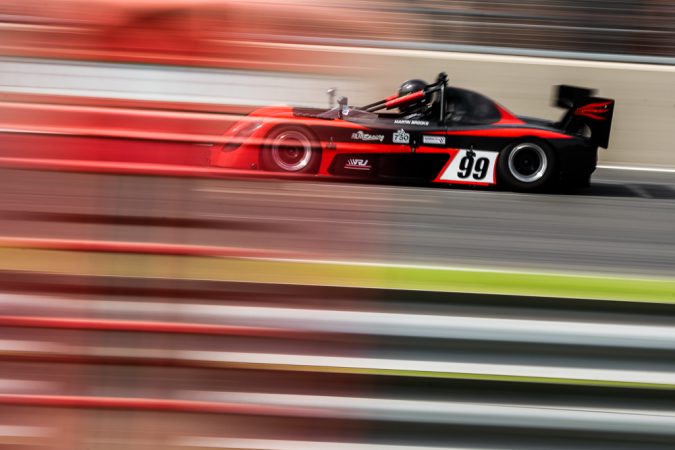 Now panning on a fully extended 300mm lens is going to be very tricky handheld due to the increased sensitivity caused by the extra zoom. A monopod is a popular tool to help stabilize the camera body and lens whilst panning at the same low speeds as mentioned before.
The monopod will also offset the weight of a heavy lens if the extra zoom is really required depending on the situation at hand.
So whilst a telephoto lens is the most common for motorsport photography, it is not your only option. Utilizing a wide-angle lens can also create some really interesting results. Not only does it allow you to show off the various scenery at the track, but it can also be great for the more artistic photos you may see on Instagram for example.
These are commonly achieved with a wide-angle lens due to the freedom given and can really start to show off the speed of the car compared to the backdrop rather than a car panned against a barrier which doesn't quite have that dramatic appeal.
So overall there are two recommended lenses for motorsport photography. A telephoto zoom lens of 300mm minimum and a wide-angle lens. I have continued to use the 18-55mm kit lens which is great for beginners but someone doing this full time will look towards a Sigma Art f1.8 for great performance in all conditions, rain or shine.
Best Lens For Car Press Photos
Shooting press photos for a manufacturer or an automotive media outlet requires the highest quality of photos. This requires high-end glass to carry out such an important task.
Prime lenses will be your friend here as they offer sharper images with less distortion than generally accompanies a zoom lens of any length. These lenses will come with a heftier price tag compared to a zoom lens of similar length. However, the quality of the lens and the resulting images will be unrivaled.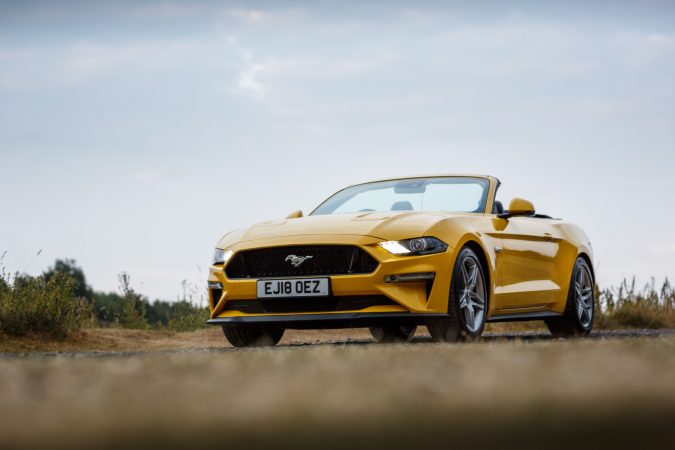 A 50mm prime lens is commonly referred to as the holy grail of lenses for automotive photography. A fine balance of focal length and quality with the lightness makes it suitable for any situation.
Seeing as the majority of press shoots see photographers given close access to the cars, distance is not an issue although utilizing a telephoto lens can add a nice compressed effect to the photo. An example could be a head-on feature shot, shot at 300mm. This will make the car stand out nicely whilst giving the background a nice compressed and blurred look.
A common style of the photo seen on various manufacturers' websites is a rolling shot. Again a 50mm lens will be more than enough for this. These styles of shots commonly take place on flowing country roads for sports cars and through towns/cities for SUVs and smaller city cars.
Best Lenses For Car Photography
Now that the basics have been covered in regards to what is needed from a lens, it is time to look at the best lenses currently on the market from budget to professional. These lenses will range from different brands so may not suit all camera bodies but equivalent lenses are readily available.
Nikon AF Nikkor 50mm f1.8
The 50mm is a must-have in any automotive photographer's kit list. This Nikon example works very effectively in all conditions. This particular lens has been regarded as one of the best 50mm lenses which is nothing to be sniffed at.
Featuring a silent motor and a seven-element optical formula, the quality of this lens has been a critical element of focus for Nikon. There is also the highly useful feature of a manual focus override switch that can be activated at any time (ideal in tight situations or for focusing on objects).
This lens also comes with a mount that is fully weather-sealed for both dust and moisture meaning usage in tricky conditions shouldn't be an issue, but depending on where you live, there might be a lot of rain so weather sealing is a highly useful feature. The lens barrel and filter threads are plastic meaning they should be durable with a rubberized focus ring for extra grip.
Overall this lens is lightweight and definitely a winner when it comes to optical quality, performance, and weather protection.
Sigma 100-400mm f5-6.3
This particular Sigma lens features very respectable focal lengths for a very respectable price. Telephoto zoom lenses often command much higher prices due to the sheer technology required to maintain sharpness whilst offering up a variety of lengths.
This lens comes with optical stabilization and a hypersonic motor which not only helps the autofocus to function silently but also quickly which is essential in the fast-moving world of motorsport.
Rather conveniently there is a zoom lock function. So if you find the perfect focal length for a particular corner, you can lock this in place and capture to your heart's content without worrying about accidentally rotating the lens.
There is also a manual override function that allows you to fine-tune the final focus for your shot after the autofocus has done its job. Also useful in motorsport if the shot requires you to pan through an object such as a tree, having that extra flexibility can really help dial in the final focus and get the car fully sharp.
As with the Nikon lens, this lens also features weatherproofing. A special coating has been applied by Sigma on the front and rear of the lens which repels any water and prevents it from finding its way into the lens itself.
The overall construction is a highly durable plastic with a few parts made from metal and glass. With there often being dust, mud, or rain at motorsport events, the fact this lens is protected against all of those is a huge relief and allows for continuous shooting without any worries about damaging the lens.
Canon EF 16-35 f4
This particular lens is the very first ultra-wide L series lens launched by Canon and features image stabilization, useful for windy days or longer exposures.
The lens (like the previous two) is protected on the front and rear elements with a flouring coating which helps to repel dust and water away from the critical components.
Another feature that boosts this lens's performance is the inclusion of the ultrasonic focus motor which provides silent and very high-performing autofocus in all conditions whether it's rain or shine.
Whilst this lens is classed as a professional lens, it is not too big or bulky and can therefore be used in most situations, perfect for an indoor car show. The only downside of this is that the price is a little higher than the other options featured on this list.
As previously mentioned, image stabilization is featured on this lens and a dedicated switch on the lens barrel ensures it can be activated or deactivated at any moment. If the desired intention is wide-angle panning, this lens can detect the panning motion and automatically switches to image stabilization panning mode from the normal mode for that extra boost in sharpness.
Like the Nikon lens, the Canon features a rubberized focus ring for extra grip. Durable plastic is once again used for the lens barrel and filter threads along with a metal mount for added longevity.
As a wide-angle lens for a variety of automotive photography purposes, this lens cannot be beaten for its quality and versatility.
Sigma 105mm Macro f2.8
Finally, a lens that often gets overlooked for automotive work but has the ability to pull off some spectacular results providing you aren't afraid to get up close and personal.
The construction of this lens differs from the rest in this list, mainly down to the body being made from metal this time rather than plastic. This gives off a much more premium feel despite the reasonable price tag that accompanies this lens.
Inside this lens, you will find a 9-blade-rounded diaphragm which gives off a smooth blur to the out-of-focus aspects of the image whilst creating beautiful bokeh when lights are involved.
Despite being a macro lens, Sigma has still managed to maintain the ability to keep a reasonable distance from your subject with a minimum focus distance of 142mm. This is also a bonus as any shadows from the lens will not get in the way of the main subject.
Like with the above lenses, the Sigma here is fitted with a hypersonic motor for accurate and quiet autofocusing. However, at shorter distances, manual focusing is a better bet as the lens can often struggle to pick up the subject. This is not an issue though and manual focus can be enabled quickly using the dedicated switch on the lens barrel.
It will come as no surprise that this lens is also dust and splash resistant so there should be no fear in getting up close and personal with subjects. More applicable at a racetrack with all the dust and fluids you may find in the paddock area but caution should always be exercised.
Overall a highly popular lens for macro photography and durable enough to be used for motorsport and car shows alike.
Best Lens For Car Photography: Final Thoughts
So overall, any of the lenses mentioned above can be used in an effective manner for automotive photography. The most important aspect boils down to how the user will utilize them in any given scenario. The creator of the image is the most important factor in any form of photography.
That being said, these lenses are some of the very best when it comes to affordability whilst maintaining high-quality images. Whilst there may be alternatives that suit your individual purposes better, these lenses are a great place to start the path to taking stunning automotive images.
FAQs On The Best Lens For Car Photography
If you're still curious to learn more about the best lens for car photography, our FAQs here might help…
How To Take Good Pictures
For a beginner, learning how to take good pictures can be rather tough. Starting out, it's a good idea to spend a bit more time getting acquainted with your camera. You may even consider using manual mode to properly understand the capabilities (and limitations) of your camera. From there, you should try practicing your technique. Primarily, it would entail learning the right methods to gain good composition. On top of that, there are leading lines, rule of thirds, and more that you'll have to study and adapt. Also, if you're usually taking photos at night, consider getting an external flash over the built-in flash. Tiny details like framing, white balance, ISO, or shutter speed shouldn't be ignored, either. From there, all you need to do now is keep on practicing.
How To Take Aesthetic Pictures
To capture a good aesthetic picture, there are several techniques that you can practice to get better at it. For starters, you need to have a good understanding of composition and concepts like the rule of thirds. You'll also have to be wary of your personal style, which gives your photos a sense of identity. With that in mind, don't be shy with using photo editing suites to give your photos that style that you're known for. To help provide context to the aesthetics in question, you should also pay closer attention to the subject and theme. Try to shoot photos as if you're telling a story. And while you're doing that, gradually adjust the angles, lighting, composition, and so on until you've fine-tuned the aesthetic you want.
How To Pose With A Car
When you're looking for the best lens for car photography, you might also be curious about posture. Specifically, if there's a subject alongside the vehicle, how can they best pose themselves with the car? The right pose is crucial, as it ultimately conveys a theme or message when you're shooting a particular car. So, they both have to match. When you're taking more stylistic shots, it's worth taking a more outgoing approach to poses. Some find that standing with your feet at shoulder-width apart and putting your hands on your hips provides a bold and confident look. You could also change things up a bit by leaning on the car, such as resting by the hood.
How To Take Pictures Of Cars
Besides just using the best lens for car photography, it's also important that you have the right techniques. First thing's first, there's lighting. Rather than going for a shoot in the middle of the day, try doing it just after sunset or just before sunrise. At this time of day, the natural lighting is softer and there's no direct sunlight. In doing so, you'll also have to be careful with reflections. How wary you need to be will be dependent on the reflectiveness of the car's surface. To give your car a sense of motion, you should also think about taking driving shots. Elsewhere, pay attention to the color of the car, as well as its background to ensure that you have the composition nailed down.
How To Make Pictures Look Like Film
There's a lot of charm with film-style images that digital photography can't easily replicate. At least, not without some editing, which is pretty easy once you get used to it. For example, there are plenty of tips on how to make your digital pictures feature the grainy aesthetic of film, all using Lightroom. In a nutshell, you begin by reducing the contrast of the original image. Then, adjust the white balance and tint to bias it more toward being yellow-green. Once that's done, use the tone curve tool to lift up the shadows and darkness of the image just a tiny bit. Next, use the HSL tool and adjust it so that the colors appear more muted, as they would be on film. Finally, you can then manually add some grain to the image.