Once the uber-sporty division of Seat, CUPRA has recently launched the Formentor VZ5. Not only is it handsome and practical, but the VZ5 is also the Spaniard brand's most powerful car. As the flagship to shine down on all CUPRAs, the Formentor VZ5 can output 390hp from its unique five-pot motor. It's quite exclusive too, with only 7,000 that will ever be made.
Clearly, you'll need a very capable set of boots to pair up with all that power. Thankfully, Goodyear has the answer. Following an 18 month-long partnership, Goodyear has crafted a set of rubber made specifically to best suit the Formentor VZ5. For that, Goodyear evolved from the award-winning Eagle F1 SuperSport's recipe, and adding in a few extra ingredients.
Now, this UUHP (ultra-ultra high performance) Goodyear tyre will be matched in 255/35R20 for CUPRA's Formentor VZ5. This gives it excellent handling in the dry and wet, not to mention making mincemeat of braking. This is thanks to special innovations undertaken to make this tyre a reality. There is a large closed outside pattern, which improves performance and cornering in the dry.
For The Road, And The Race Track
Plus, there are super stiff sidewalls to help with providing better handling and stability. It looks like the tango between Goodyear and CURPA won't just end once the road ends. Goodyear is the exclusive tyre supplier to the PURE ETCR; the world's first all-electric multi-brand touring car championship.
Moreover, Goodyear happens to also be a supplier of racy tyres to the WTCR-FIA World Touring Car Cup. In both hotly contested championships, Goodyear will be bringing their expertise to provide track-honed versions of the Eagle F1 SuperSport for those teams racing electric CUPRA e-Racer in PURE ETCR, as well as the CUPRA León Competición in WTCR.
Finishing off, Hans Vrijsen, the Managing Director Consumer OE of Goodyear EMEA, commented:
We're pleased that drivers of the exciting CUPRA Formentor VZ5 will benefit from the superb performance of the Goodyear Eagle F1 SuperSport. We worked in very close collaboration with CUPRA to perfect the tyre around their requirements, and the fact that they chose Eagle F1 SuperSport for their flagship car is a testament to the performance credentials of the tyre.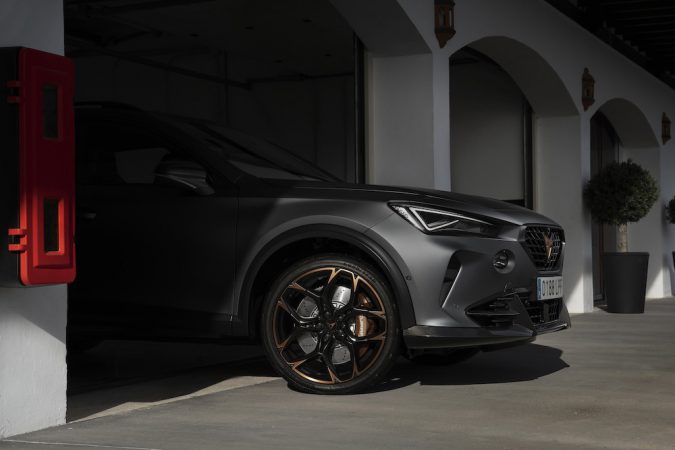 AI Car Expert Thinking 

.

.

.