Unveiled recently in a stunning display of luxury and cutting-edge technology, Mercedes-Benz's newest offering, the Vision One-Eleven, promises to reshape the future of high-performance electric vehicles.
From Experimental Legacy to Electric Future
Mercedes-Benz has a long-standing tradition of being a design and technology pioneer, with iconic experimental vehicles like the C 111 from the 60s and 70s shaping its automotive lineage. The new Vision One-Eleven draws inspiration from this innovative tradition, merging a futuristic aesthetic with powerful electric motor technology.
Sleek Exterior: The One-Bow Design
The body of the Vision One-Eleven utilises a striking One-Bow design, a signature Mercedes-Benz style marker. Its sporty silhouette is a blend of a low-slung front end and muscular hindquarters, yielding an extremely sculptural feel.
Its striking copper-orange alubeam paintwork, reminiscent of the distinctive colour of the C 111, offers an element of extravagance that adds to its unique character.
A High-Tech Interior that Combines Luxury and Minimalism
The interior design of the Vision One-Eleven is a masterstroke of juxtaposition. It merges a lounge-like feel with the minimalist approach of a super sports car. In lounge mode, the seats fully integrate into the interior sculpture, offering a completely new and exceptionally airy spatial concept that is perfect for relaxation.
Contrastingly, in race mode, the interior transforms into a driving machine, emphasising the vehicle's dual functionality.
Powering the Vision One-Eleven: YASA Axial-Flux Motor
At the heart of the Vision One-Eleven lies the highly efficient axial-flux motor developed by British electric motor specialist, YASA. The motor is compact, but it packs a motorsport-like power output, making it ideal for electric high-performance vehicles. This is further complemented by a liquid-cooled cylindrical-cell battery with Formula-1-inspired cell chemistry.
An Enhanced User Experience with Augmented Reality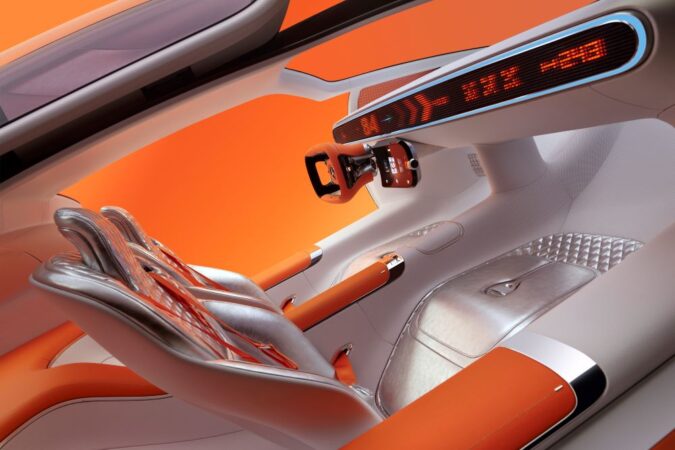 Mercedes-Benz is taking the user experience to new heights by introducing a futuristic user interface using augmented reality (AR). With the Magic Leap 2 augmented reality headset, drivers will witness a seamless spatial blend of the physical interior and digital user interface.
This concept, which marks the next step from a screen-based UI to an AR UI, presents an innovative approach to car-user interaction, positioning the user at the centre of the experience.
Driving Towards a Sustainable Luxury Future
Mercedes-Benz's Vision One-Eleven is a testament to the brand's relentless pursuit of innovation, luxury, and sustainability. With recycled polyester fabric interiors and sustainably processed leather, the car blends high-performance electric drive with a commitment to environmentally friendly design.
This model, which successfully bridges the gap between iconic luxury and eco-conscious responsibility, is a signal of the broader performance spectrum that Mercedes-Benz is working towards.
In conclusion, Vision One-Eleven is more than just a car; it's a bold statement of Mercedes-Benz's vision for the future of electric performance vehicles. It encapsulates the brand's commitment to innovation, luxury, and sustainability, driving us towards a future where performance doesn't have to come at the cost of our planet.