Introducing the New E-Class
The latest E-Class comes with a generously dimensioned interior and an impressive wheelbase of 2961 millimetres, providing ample passenger space. With up to 540 litres of luggage capacity, the E-Class is perfect for long trips or family outings.
A Modern Touch with Radiator Grille and MBUX Superscreen
The radiator grille features a black panel-like surface that connects it to the headlamps, giving the car a modern look. The optional MBUX Superscreen offers a seamless digital experience, with simplified, colour-coded icons on the central and optional passenger displays.
Revolutionary Electronics Architecture
The new E-Class boasts a more software-driven electronics architecture, with screens and the MBUX infotainment system sharing a powerful central onboard computer, resulting in improved performance and speed.
Digital Vehicle Key for iPhone and Apple Watch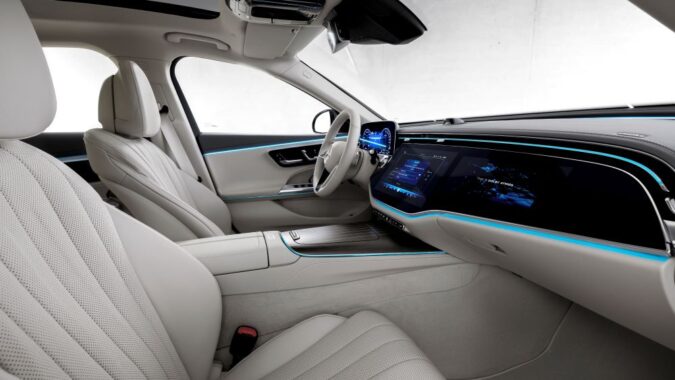 Now you can start and lock your E-Class using your compatible iPhone or Apple Watch. Share the digital key with up to 16 people, assigning different rights to family members and friends.
Sound Visualisation and Entertainment Options
The optional Active Ambient Lighting with Sound Visualisation allows occupants to "see" music tracks and sounds of films or apps. The entertainment programme includes third-party apps like TikTok, Angry Birds, Webex, Zoom, and Vivaldi browser.
Artificial Intelligence and Comfort Routines
The E-Class utilises artificial intelligence to automate comfort functions based on your preferences. Use templates for standard routines or create your own custom routines.
Enhanced ENERGIZING COMFORT and COACH Features
The Anti-Travel Sickness programme helps alleviate symptoms for passengers, while the ENERGIZING COACH plans to introduce a bio-feedback function to reduce stress with breathing exercises.
Digital Vent Control and Intelligent Blocking Concept
With THERMOTRONIC automatic climate control, enjoy enhanced comfort with Digital Vent Control that adjusts the front air vents automatically. The intelligent blocking concept ensures that the driver is not distracted by dynamic content on the passenger screen.
Impressive Aerodynamics and Rear-Axle Steering
With a Cd figure of 0.23, the new E-Class maintains excellent aerodynamic properties. The optional rear-axle steering with a 4.5-degree angle reduces the turning circle by up to 90 centimetres, offering agility and stability.
Electrifying Efficiency
Half of the new E-Class models at launch will be fourth-generation plug-in hybrids, setting new standards in efficiency. Both diesel and petrol engines feature intelligent support from an integrated starter-generator (ISG), making them mild hybrids.
ATTENTION ASSIST with Distraction Detection
ATTENTION ASSIST can detect signs of microsleep and driver distraction, providing visual and acoustic warnings to ensure safety.
Automated Valet Parking
With the optional pre-installation for the INTELLIGENT PARKING PILOT, the E-Class is prepared for Automated Valet Parking (SAE level 4), allowing fully automatic parking and unparking without a driver.
Eco-Friendly Materials
The new E-Class uses resource-saving materials, including upholstery made of undyed alpaca wool combined with recycled materials and certified recycled raw materials in seat foam.
In conclusion, the new E-Class is a perfect blend of comfort, technology and efficiency, offering an exceptional driving experience for the modern driver.