If there's one thing we can say for certain in today's automotive world, is that SUVs are selling by the bucket loads. Pretty much everyone and their mums are going out to buy an SUV. With each generation, they become ever more capable. More comfortable, safer, and faster; yet, a vehicle will only be as good as the tyres that it sits on. With Falken bringing its high-tech know-how to try and make the very best of SUV-borne rubber, does the Falken Azenis FK510 make the cut?
After all, cars (including SUVs) are so refined nowadays, that expectations are naturally high. At any price point and regardless of what you're driving, you'd want a set of tyres that can do everything. Drivers want them to be comfortable to drive over the most pothole-ridden B-roads, while also being quiet. Plus, with SUVs becoming ever sportier, you'd want a set of tyres that'll go around the bends quite well without crashing, too. So, how does Falken's FK510 fare in our gauntlet?
Testing On The Range Rover Evoque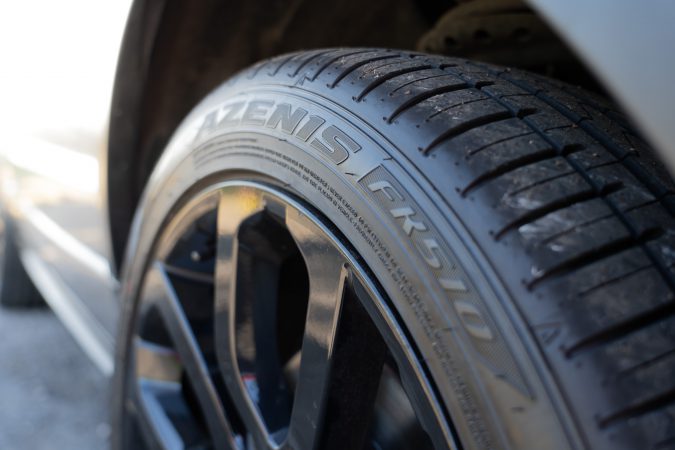 On their website, there are 53 different sizes with which you can get the FK510 tyres at the moment. You could have a quick glance and notice that Falken is clearly targeting the higher-end of the SUV market. They've cited specific models made for the Jeep Compass PHEV, Porsche Macan, and the Mercedes G-Class. Diameter-wise, you can find these Azenis FK510 from anywhere as small as 17-inches, all the way up to 22-inches. And just so we're clear, these are tyres designed for SUVs or crossover-type vehicles.
Falken has also listed three different speed indexes for the FK510 – H, W, or Y. It can be compatible for driving upwards of 300 km/h (186 mph) in the top trim. In our specific testing, we've been handed a set of the FK510. Our chariot of choice to fit these fresh rubber on? That would be the Range Rover Evoque, with 4-wheel-drive and a punchy little diesel motor to see if that torque unsettles the FK510s.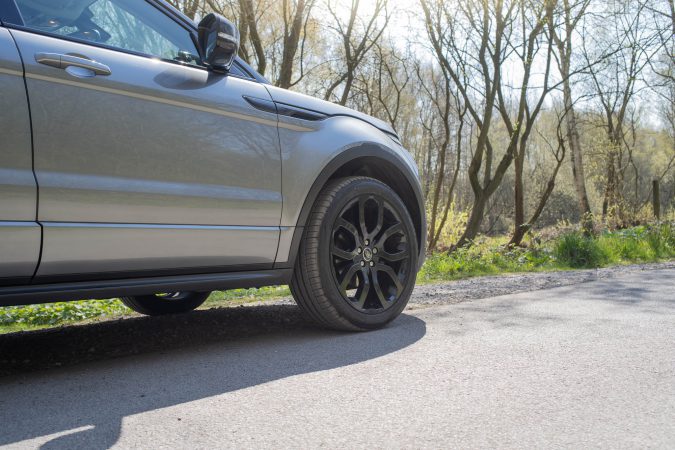 For our Evoque, we've paired it with the FK510 in 245/45/20 sizing. It's quite nice that we've been sent these tyres too, as the FK510 is the improved successor to the older FK453CC. We've tested the latter on the very same Evoque a while back, and it's left us rather impressed with its jack-of-all-trades approach. There are ample amounts of traction in both wet and dry conditions, not to mention good comfort and little road noise. But will the FK510 mark a big leap forward?
One Small Step, And A Giant Leap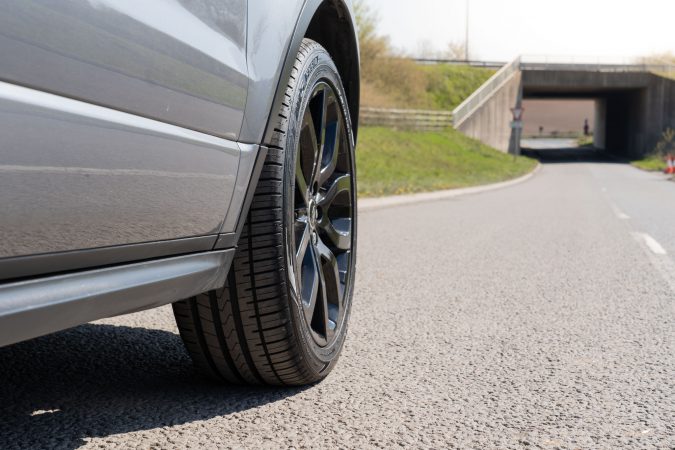 In short, the FK510 is an all-around generational evolution of those FK453CC that we've tested from a while back. We can certainly feel where all those research and development dollars went into while Falken was making these. Unfortunately, however, we've not been able to do a long-term test with the FK510 just yet (we are putting the miles on this year). This is seeing as they're a new product. With those FK453CCs we had earlier, we've been able to have a good run-in for 22 whole months with the Evoque. This totalled over 16,000 miles.
Although, our short time with the Falken Azenis FK510 has been a good one, so far. Actually, it's more than just good. Mostly, there have been minor improvements over its predecessor. Through our 2 weeks of testing, we've covered around 400 or so miles with our FK510-equipped Evoque. While we could only give you our initial driving impressions for now, stay tuned as we'll keep you updated as we keep testing these over time. By then, you'll know how these fair over a year and many thousands of miles later.
A Great All-Rounder – Falken Azenis FK510 SUV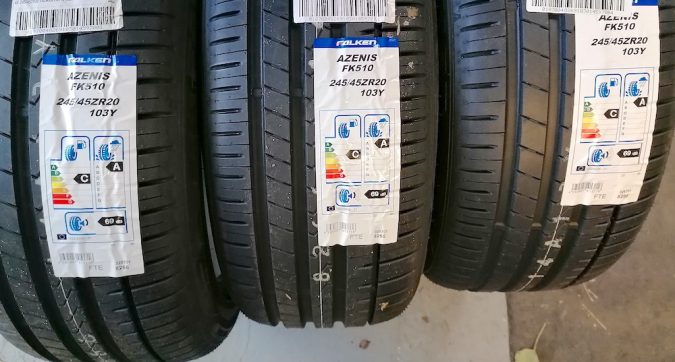 Now, for the customary stickers. Although they may seem rather unimportant to some, these labels are actually quite helpful in telling you the specs of the tyres. Think of them as nutritional information on the back of your cereal box. So, be sure to keep an eye out the next time you visit a tyre shop. Following EU standards, Falken's Azenis FK510 meets fuel efficiency – or rolling resistance, to be more precise – at a rating from B to E, depending on the exact model of the tyre you get.
As for grip on wet surfaces, the FK510s have been given an A rating, while noise emissions are rated at 1-2. In decibels, the latter was found to be around 69-72dB. Overall, these on-paper figures mark an improvement over the old tyres in terms of fuel consumption and road noise. For our specific testing, our set of FK510s have been marked with a C rating for fuel usage, A for wet traction, and 69dB. In contrast, our old FK453CCs were rated at E for fuel, and B for grip on slippery surfaces.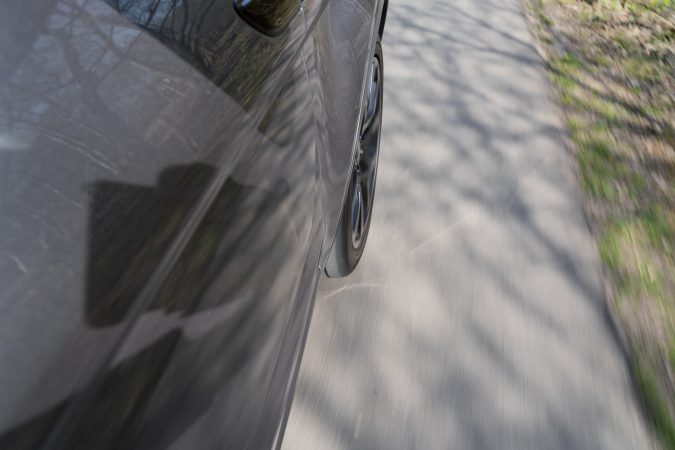 In terms of noise, there's also a 2dB improvement (read: quieter) for the FK510. However, we doubt that you'll ever be able to notice these 2 decibels drop. Otherwise, much of everything else is similar. If we look at how they perform in the real world, comfort is very good on the new ones, as well. Falken's FK510 dampens out potholes, speed bumps, undulations, and other road debris rather nicely, just as the FK453CC did. What about the rest of the tangible experience, then?
Falken Azenis – Traction In Everyday Weather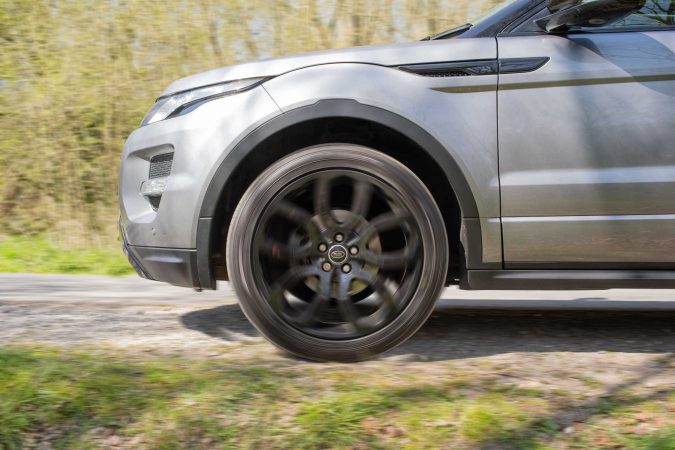 Our Range Rover Evoque has around 180hp from its four-pot diesel, and enough torque to give a fairly realistic test of how the FK510s perform. This should thus yield us a result that can fit the broader range of similarly positioned SUVs and crossovers on sale today. More importantly, its 4WD system – as with many other equivalent cars – aren't always engaged. At lower speeds (or sometimes higher), it could move all that power completely to the rear or front wheels altogether.
As we don't have that even four-wheel power delivery, this should be a good way to test the FK510's traction and see if it loses any grip. Thankfully, this never happened while we tested ours. In the dry, the traction from Falken's latest and greatest is very good. There's never any fear of losing control, and you could count on it sticking onto the tarmac if you ever need to do emergency braking. In the handling department, the FK510s work well too, just in case you want more spirited driving.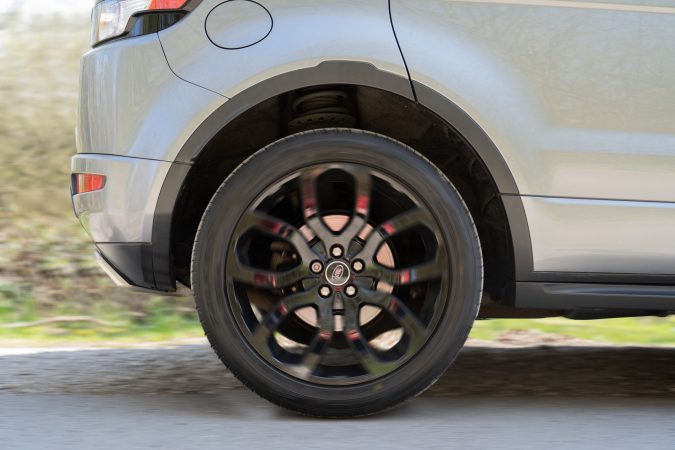 Alas, we've only had these on for just a few, and we've not been able to do any extensive wet weather testing on the FK510 as we'd want to. Nonetheless, there's no shortage of damp days since we've had them, so it gave us a good idea of how they'd handle them. In this regard too, we've found it to work great on slicker surfaces. The grip is constantly present, so long as you're driving modestly. We'll be sure to keep you updated later on if the weather starts raining cats and dogs, though.
A Very Hardy Construction – FK510 SUV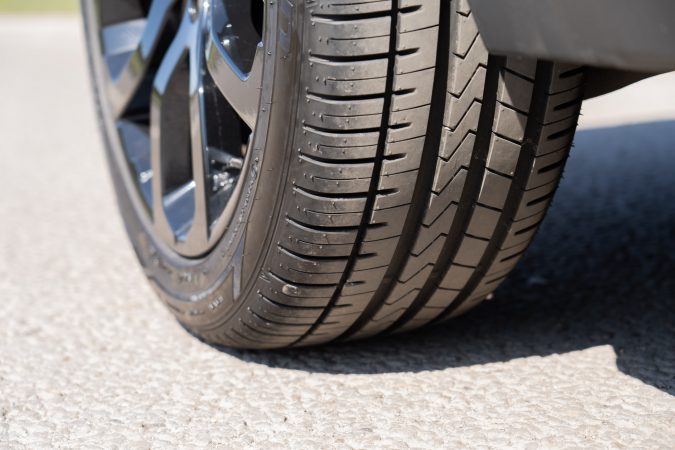 Summarising these quickly for now, if you're ever thinking of getting a set of Falken Azenis FK510 for your car, you'll likely never be devoid of grip in regular driving. In wet, and especially drier conditions, the FK510s offer exceptional stickiness for this class. We even had the chance to test its predecessors, the FK453CC in summer tyre trim during bad winter weather. This is definitely something you should test carefully, as summer tyres don't often have the grip to handle the low temperatures as well.
Yet, it still got on with the job. There was ample traction on mild UK snowy roads… Provided you're careful with the throttle pedal. We'll also make sure you add any of our experiences later on. This is on the off chance that we get to test the FK510s in the snow, which are also a set of summers tyres. If you're afraid of petrifying instances like aquaplaning, or if you'd like to enjoy some high-speed mountain pass driving, then the FK510 would suit the job quite well.
High-Tech Rubberised Engineering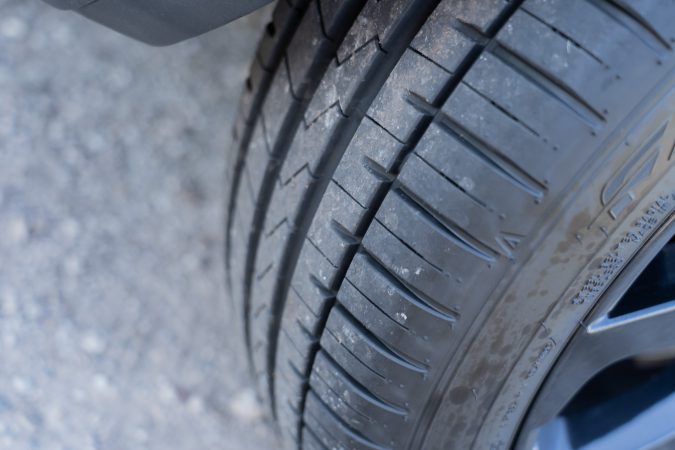 Another important consideration when choosing a set of tyres is how long could you keep driving on them before they wear out. You'll then be happy to hear that Falken's Azenis FK510 are expected to wear well, but allow our test to play out to find the real measurement for you.
We should also take some time to discuss more on the tyre's construction and the engineering that went into it. This is what's resulted in these small leap forwards for the FK510 over Falken's old FK453CC. There are a few key technologies and design improvements that they've made here. Aside from the rubber compound itself, the grooves are made to ensure as much water is expelled from the tyres as possible. It's these minor improvements that allow the FK510 to have such great grip…
1. A High-Performance Tread Profile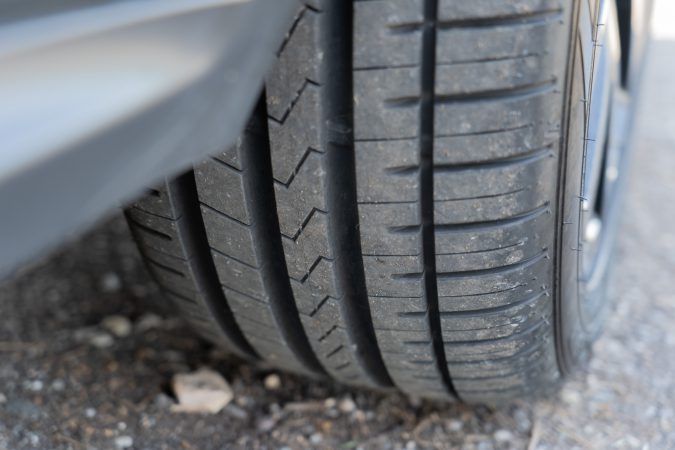 The primary grooves that run across the circumference of the FK510s are inspired by high performance tyres. These grooves are made to be as wide as possible. Primarily, this was done to ensure maximal water displacement from the surface of the tyres. For you, this is to make sure you can have confidence-inspiring handling on wetter roads, and without the risk of losing control, such as aquaplaning. The latter is caused by a build-up of water between the road and the tyres.
2. Adaptive Constant Pressure Tread Design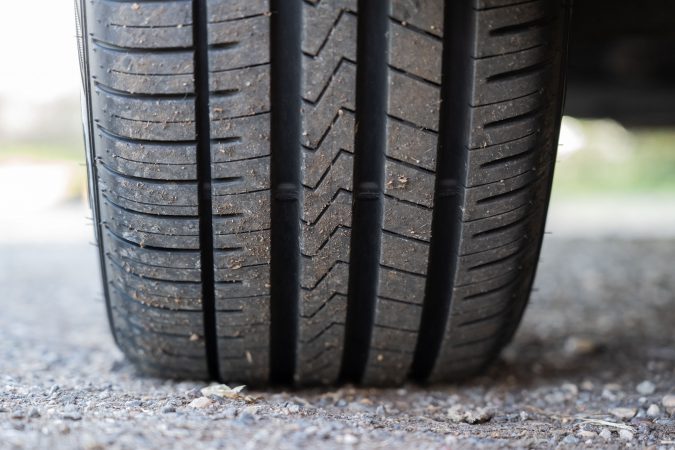 Falken has adopted their adaptive constant pressure, or ACP, designs for the treads on the FK510 SUV. This innovative and clever pattern is able to effectively enhance the surface area of the tyres in any situation. The expanded contact area will hence be able to give a larger contact patch on the surface of the road. Not only does this reward you with excellent stability in the corners, but also better grip in general. Plus, the treads will wear more less and more evenly thanks to this.
3. Blade Sipes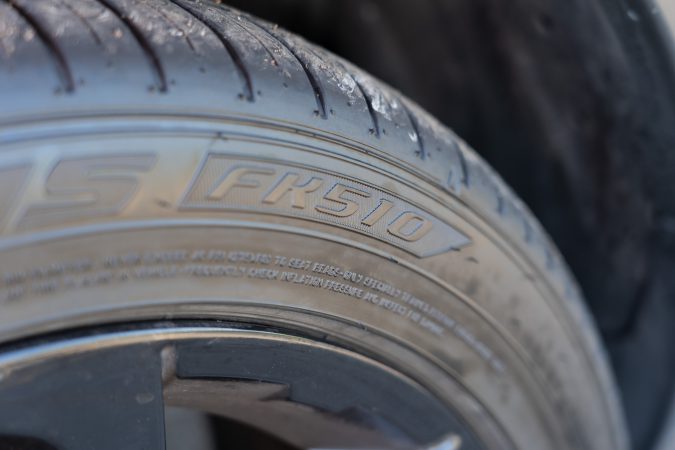 Now, Falken's FK510 also has a so-called "sharp" high-performance tread profile. This time, though, we'll be looking along the side of the tyres; on the shoulders and the upper edge of the sidewalls. Here, Falken has implemented blade sipes that run perpendicular to the main grooves. It not only provides the FK510 with better breaking force through films and pools of water, but also enhances the footprint of the contact patch under cornering. The result is great handling and good wet grip.
A Good Match For Any SUV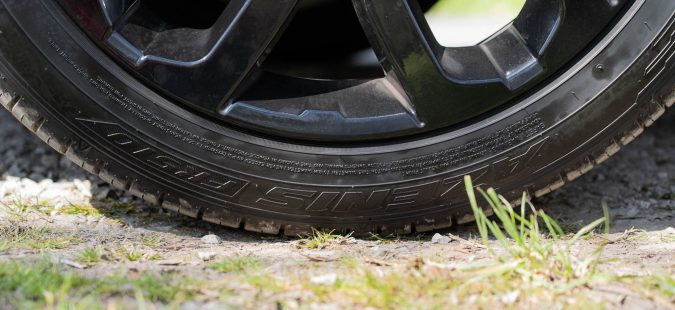 We've concluded our initial impressions rather positively for the Falken Azenis FK510. Our time with it has been a very good one so far, indeed. Whether it's a dry and sticky spring day or a very damp afternoon, there's no shortage of traction when you need it. Over long journeys, the FK510s are composed and quiet. It never emits far too much tyre "roar" to disturb your tranquil cabin.
If you're really pushing it in the corners, it handles far better than we expected given there is a heavy SUV pushing the tyres. Not to mention the relatively lengthy tread wear. This should get you through a decent amount of distance in its usable lifespan. In all, the Falken FK510 is one of the better sets of tyres that we've had fitted on our Evoque. If you have a similarly sized SUV or a crossover, then these are worthy of consideration as a great tyre for a British climate.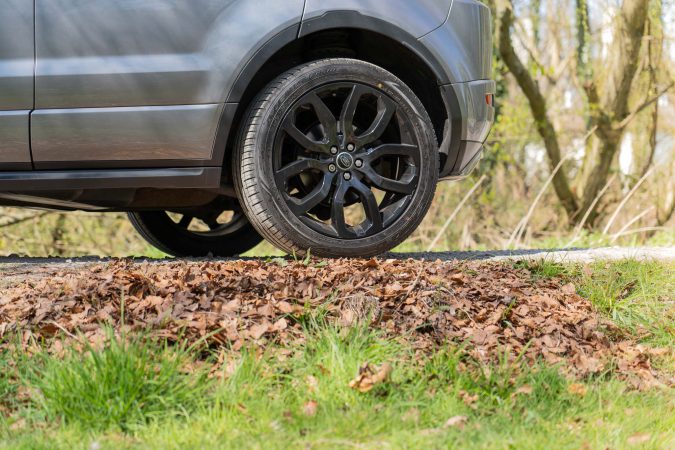 There's plenty of different sizes, as well, so you'd likely have one that'll fit your particular car. In terms of pricing, we think the FK510s are quite reasonable. Meanwhile, the competition might charge similar offerings for around 30% more. You can shop around to find the best prices, but we've found that Halfords is selling FK510s for as little as £80 each in our Evoque fitment size. For now, do give these a try for your car, and feel free to stick around as we'll keep updating you on our long-term tests of the FK510s.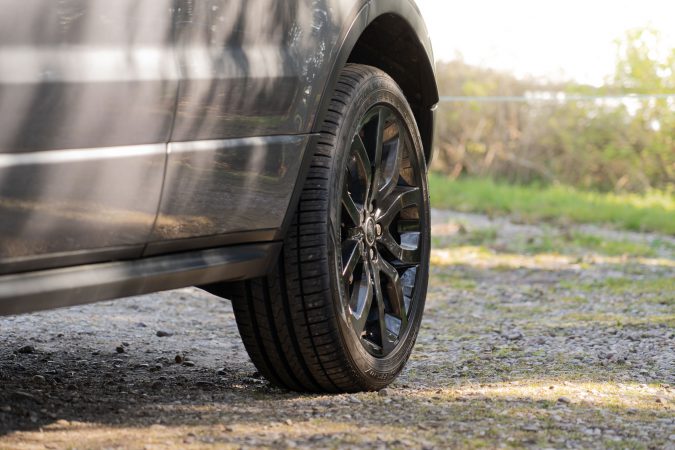 Check Back For Long Term Updates…
We are testing the tyre through the seasons. Check back to find out more.