Ferrari's latest marvel, the SP-8, emerges as an epitome of luxury and performance, tailor-made for an elite clientele.
Exclusivity at Its Best
For car enthusiasts in the UK and around the world, Ferrari has always been synonymous with passion, elegance, and unmatched performance. Now, adding another jewel to its crown, the brand has unwrapped its latest creation – the Ferrari SP-8.
But this isn't just any car; it's an embodiment of a client's dream, meticulously curated and designed at the Ferrari Styling Centre led by the legendary Flavio Manzoni. Diving deeper, this stunning roadster inherits its roots from the F8 Spider, while boasting the essence of Ferrari's One-Off series, designed around individual requests, ensuring it's as unique as its owner.
A Tribute to Power and Culture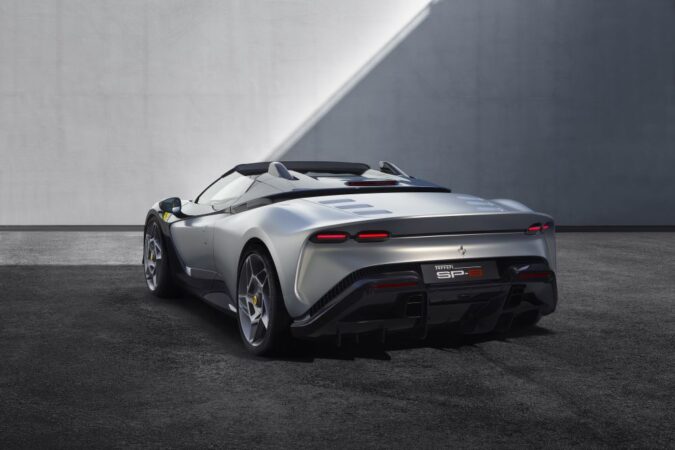 The SP-8's name isn't random. It pays homage to its robust 3.9-litre V8 twin-turbo engine, which has been showered with accolades, bagging the Engine of the Year award four times in a row. The number '8' holds special significance too, especially for its Taiwanese commissioner, symbolising luck, success and achievement in Chinese traditions.
Design That Commands Attention
One glance and it's clear: this is no ordinary car. Its most distinctive feature? The complete absence of a roof. This design not only magnifies its sporty allure but also promises an invigorating open-air driving sensation. The aerodynamic marvel has been perfected through relentless simulations, wind tunnel tests, and track trials.
But it doesn't stop there. The SP-8's carbon-fibre front seamlessly transitions to the rear, flaunting a striking two-tone effect. The removal of the retractable top allowed designers to reimagine the rear, crafting it into a bold, full-volume design.
From the impressive 3D-printed aluminium grille at the front to the revamped headlights and wheel rims, every element of this car screams exclusivity.
Luxury Inside Out
Step inside the SP-8, and you're welcomed by an exquisite central console housing the F1 gearbox commands, a feature Ferrari aficionados will recognise from the SF90 Stradale. The chic interior is adorned with laser-etched Navy Blue Alcantara details, gradient effect cloth, and iridescent twill fabric carpets, offering passengers an unparalleled blend of luxury and comfort.
The colour palette too is nothing short of extraordinary. A custom matte Argento Micalizzato shade graces the exterior, harmoniously pairing with the glossy iridescent Blue Sandstone carbon-fibre section. Another distinct hue, Blu Scuro Stellato, perfectly bridges these two sections.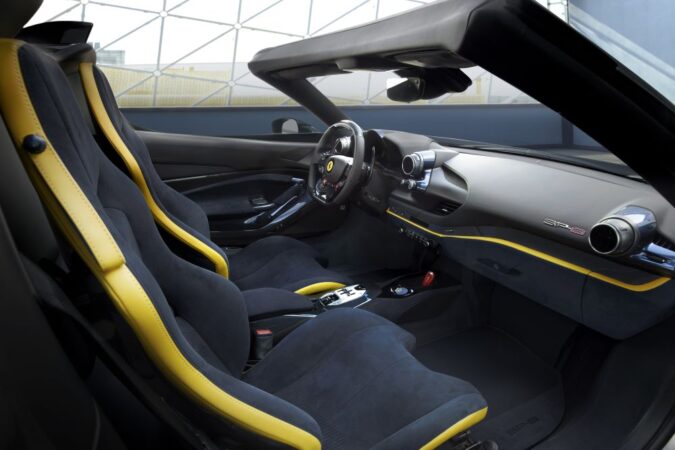 Spotting the SP-8
Starting October 24th, fans can feast their eyes on this beauty at the Mugello Circuit during the Finali Mondiali Ferrari 2023 event. If you miss that, fret not! The SP-8 will hold its regal presence at the Ferrari Museum in Maranello from November 16th, 2023, until March 2024.
So, if you're in the mood to witness automotive brilliance, make sure to catch the SP-8 in all its glory. A car this special doesn't come around often!