Monterey has always been a hub for car aficionados, and this year was no different. Casa Ferrari lit up the scene during Monterey Car Week with a reveal that left many a jaw dropped. Ferrari, the Maranello-based company, pulled the covers off a unique 812 Competizione, and it's not just any model – it's Tailor Made.
Not Just a Car – It's an Artwork
Drawing from the core concept of a blank sheet, which signifies the commencement of the Ferrari Styling Centre's creative process for every fresh model, this particular Ferrari is exceptional. Out of the limited 999 Ferrari 812 Competiziones in the world, this unique model stands out.
Not merely for its exclusivity, but for the commemorative plaque embedded in its interiors, acknowledging its creative roots.
Auction for a Cause
Ferrari North America played a crucial role in commissioning this unique piece of art. But here's the twist: It's not just for show or sale. This gem will go under the hammer at the Ferrari Gala in New York City come October 17.
And while many will clamour for a chance to own it, there's a heartwarming story attached. Every penny from this auction is earmarked for charity, especially for educational projects – a cause close to the Prancing Horse's heart.
Craftsmanship and Innovation at its Peak
The journey to conceptualise and bring this car to life wasn't a short one. Over a year went into honing the craftsmanship techniques that gave birth to such a masterpiece. Balancing impeccable technical execution with the vibrant creativity stemming from Ferrari's Chief Design Officer, Flavio Manzoni, wasn't easy.
Yet, every line, curve, and detail drawn was inspired by those iconic yellow cards that bear the first brushstrokes of Maranello designers' imaginations.
Sporting a matte Giallo Tristrato hue, the 812 Competizione's unique features are delineated in matte Nero DS Sketch. From the carbon fibre blade on the front to the iconic louvres on the side, every detail is a nod to Ferrari's rich twelve-cylinder heritage.
Inside the Dream Machine
Stepping inside this beast offers yet another visual feast. The cockpit, adorned with new-generation Alcantara (comprising 65% recycled polyester), boasts design sketches embroidered directly onto it – a shift from Ferrari's typical leather motifs. The interior elegance is further enhanced by the black trilobal Superfabric lining the carpet and rear wall.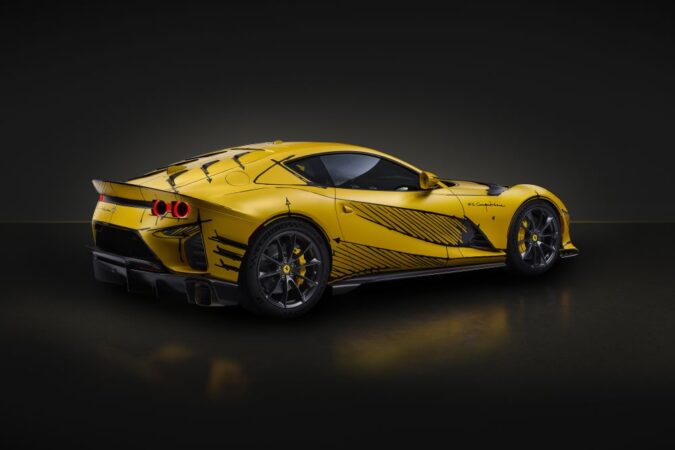 Drive the Dream
The 812 Competizione isn't just about looks. Designed for collectors and enthusiasts who value the quintessential Ferrari tradition, this car promises uncompromised performance. Whether on open roads or racetracks, the driver experiences an unparalleled bond with the car.
With its independent four-wheel steering system, this car offers impeccable agility and cornering precision. And let's not forget the heart (or rather, the engine) of the beast: an exhilarating 830-hp V12. Pure power, spectacular delivery, and that iconic Maranello 12-cylinder roar.
Personalise with Ferrari Tailor Made
For those who dream of a car reflecting their personality, Ferrari's Tailor Made programme is the answer. It offers Ferrari enthusiasts a chance to personalise their beloved machine, with a dedicated team and personal designer ensuring the car remains true to the brand while embracing the owner's unique tastes.
In sum, this unique Ferrari 812 Competizione is more than just a car; it's a blend of art, passion, craftsmanship, and innovation, ready to hit the roads and create history. Whether you're an automotive enthusiast or just someone who appreciates fine artistry, this car's got something to make your heart race.