Despite owning perhaps the most illustrious history and back catalogue of any carmaker today, it's odd that Ferrari doesn't like to reference its past. A competitive brand, they prefer to look forward than back. Hence, why you won't see that many retro-inspired creations from them. Although, they seem to have made an exception when creating their latest and greatest Daytona SP3.
Ferrari hasn't made it a secret that the SP3 – which also carries the famed Daytona nameplate – is based upon the old 330 P4. The significance of this particular classic culminated in a historic 1-2-3 all-Ferrari finish at the 1967 edition of the 24-hours of Daytona. That 330, among many other old Ferraris, is what I'd consider being a cornerstone piece of the brand's lustre and heritage.
Bringing The 60s To The 20s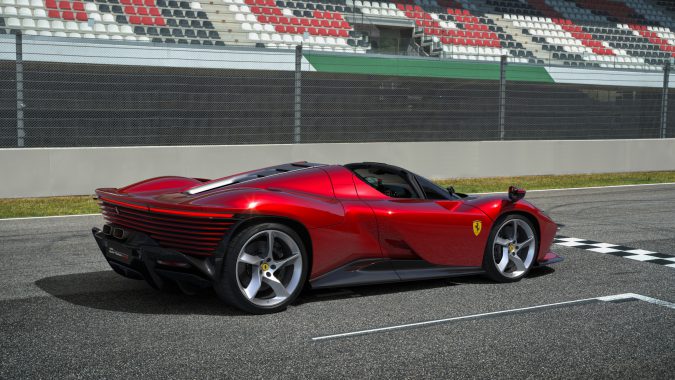 Unsurprisingly, Ferrari would choose it as the basis of a homage (a rare term in the world of uber-expensive Ferraris). At its core, the Daytona SP3 is built atop the underpinnings of the topless LaFerrari Aperta. However, it lacks the hybrid system, which is instead replaced with a gloriously naturally-aspirated V12. A 6.5-litre block, it's roughly a similar tune to the 812 Competizione.
And what a majestic engine that is, with 840hp and revving its way to an ear-piercing 9,500RPM. Despite the Targa, it's also the most aerodynamically efficient car Ferrari's ever made, without a tiny hint of active aero. The styling is, of course, quintessentially 60s, with the same taut haunches that the 330 carried all those decades ago. It even has pop-up headlamps!
Still, the Daytona SP3 carries mostly modern touches. Gone is the gated manual of yesteryear, and in comes a 7-speed dual-clutch box. Its construction too, is mostly made of carbon fibre, with quite a few learnings from F1. That's not to mention Ferrari's fantastic set of electronic nannies to keep you from crashing what will be an exceedingly rare car. All of which… Has been sold out.