If one tries to find a tangible meaning of what a Ferrari is, then look no further than its V12s. Since the Prancing Horse's founding in 1947, the front-engine V12 format has always formed an integral part of its stable, either for motorsport or the public roads. Now, the line between Silverstone and Mayfair blurs even further with Ferrari's latest special editions. This now leading off where the F12 TDF last left us.
A continuation of the big 12-banger grand tourers, in comes the 812 Competizione, and the drop-top Competizione A. The letter 'A', by the way, standing for 'Aperta'. Built on top of the 812 Superfast, the 6.5-litre twelve-cylinder motor has been retuned. Now pumping out 819 horsepower – without the aid of any forced induction, mind – the engine will rev out to an eardrum-piercing 9,500RPM redline.
Reengineering The V12
This is thanks to new extra-lightweight titanium con-rods, a diamond-like carbon (DLC) coating on the pistons to reduce friction, and a rebalanced crankshaft. The cylinder heads and cams have been given a smacking DLC coating, too. Countless other little bits and pieces were fettled with such as intake system and ignition. All of which derives from Ferrari's learnings in Formula 1.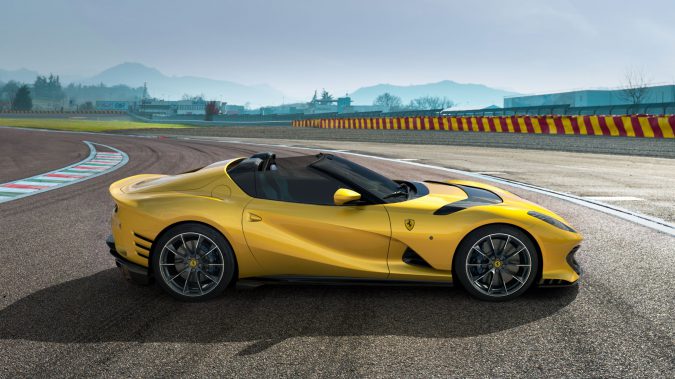 Just to make sure you can properly hear that V12 sing, Ferrari has retuned the exhaust too. Acoustics are guaranteed to not be a problem, even with particulate filters installed. Aerodynamics is a key focal point to match the mechanical and electronic tweaks. On the front, there is a central "blade" on the bonnet, which helps with both aerodynamics and cooling.
Aerodynamics Aplenty
Every single vent and channel on the regular 812 has been redesigned, which includes a massive overhaul of the underbody aero and rear diffuser. Another prominent focal point of the aero is around the back. Accompanying the now-larger ducktail spoiler are patented louvres replacing the glass rear window. Overall, this rejigging on the Competizione(s) resulted in a roughly 38kg weight loss.
4-wheel independent steering, and Ferrari's new Slide Slip Control (SSC) version 7.0 should make sure you avoid slamming your new 812 Competizione or roof-down Competizione A into a wall. If you're thinking of getting one, then you're unfortunately out of luck. Ferrari's promise of bringing the V12 into the new age is already sold out. Just 999 units of the Competizione, and 599 of the Competizione A were made.