Sealy, Texas, was buzzing with excitement as the acclaimed hypercar manufacturer and high-performance vehicle specialist, Hennessey, pulled the covers off its revamped Venom 775. A reincarnation of the iconic Ford F-150, this beast is not just another pickup on the block.
The Power Underneath
Imagine harnessing the power of a supercharged 5.0-litre Coyote V8 that has been fine-tuned and revved up to an impressive 775 horsepower. That's precisely what the guys over at Hennessey have done, taking the Ford F-150, which in its original state boasts a 5.0-litre Ti-VCT V8 with 400 hp, and supercharging it into a monster.
Thanks to Hennessey's seasoned technicians, who've had a rich history of "making fast cars faster", they've equipped this pick-up with a 3.0-litre supercharger, air-to-water intercooler, upgraded fuel injectors, and a high-flow air induction system. They didn't stop there; a stainless-steel cat-back exhaust ensures a smoother flow and an addictive roar.
The result of all this tinkering? An astounding 775 bhp and 727 lb-ft of torque, which translates to a swift 0-60mph in just 3.6 seconds.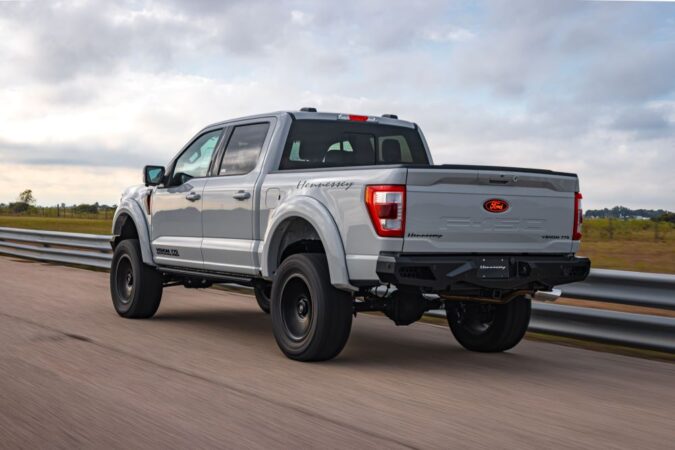 Looks to Match the Beast Within
It's not just about raw power, though. The Venom 775 showcases Hennessey's attention to detail in aesthetics and functionality. A 6-inch lift combined with swanky 20-inch 'Hennessey' 10-spoke alloy wheels and rugged 35-inch off-road tyres make this beast ready for any terrain.
The team has thoughtfully enhanced the suspension, added multi-piston Brembo brakes with eye-catching red callipers, and adorned the truck with a custom 'Hennessey Venom' bumper equipped with LED lights.
As if that wasn't enough, there are power-operated AMP running boards for easy access, illuminated badges, and a cabin boasting embroidered 'Hennessey' head restraints along with special Venom 775 badges.
What's the Word from Hennessey?
John Hennessey, the brain behind this masterpiece and the company's CEO, beamed with pride.
"The Venom 775 is not just a pickup truck. It's a powerhouse designed to outshine the likes of stock TRX and Raptor R. We've not only ensured top-notch performance on all terrains but have also maintained the F-150's renowned features. And for those who adore luxury? We've got you covered."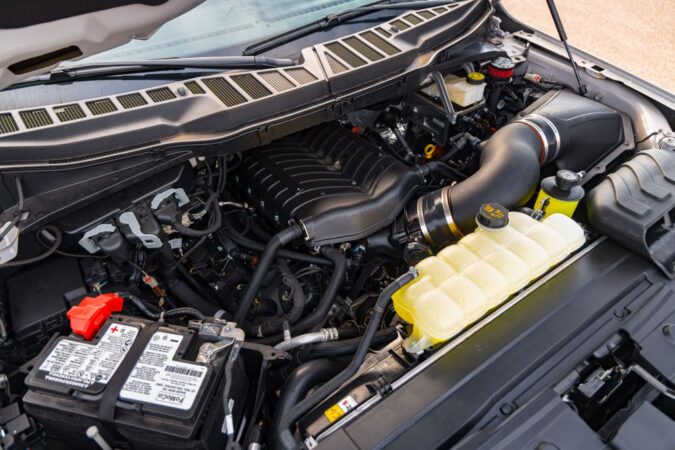 Limited Edition with Global Reach
For those itching to get behind the wheel, here's the catch: Hennessey is only rolling out 250 units of the Venom 775. But worry not, every upgrade comes with Hennessey's seal of trust, and a 3-year / 36,000-mile warranty.
The integration with the factory system is so seamless that drivers can still enjoy all the F-150's original driving modes. Whether you're in the UK or elsewhere, Hennessey's got you covered as they're shipping these beauties globally.
So, gearheads and truck lovers, if the Venom 775 sounds like your cup of tea, it might be a good idea to reach out to Hennessey directly or their authorised dealers. But you might want to be swift; something tells us these won't hang around for long!