The Announcement of a Beast
Hennessey Performance, Texas's own high-performance vehicle wizard, has unveiled its latest transformation: a supercharged upgrade for the all-new, seventh-generation 2024 Ford S650 Mustang Dark Horse. Offering a perfect blend of power, performance, and design enhancements, Hennessey's latest creation promises to redefine the limits of the iconic American pony car.
Pedal to the Metal: Performance Upgrade
Ford's S650 Mustang Dark Horse, freshly redesigned for 2024, is naturally powered by Ford's Gen-4 Coyote 5.0-liter V8 engine. A factory rating of 500 horsepower is achieved through the addition of GT500 connecting rods and a dual throttle body, matched to a choice of Tremec 6-speed manual or Ford's 10-speed automatic transmission.
A pair of multi-piston Brembo performance brakes grace each axle, ensuring the high-powered beast maintains excellent handling capabilities. Taking this remarkable foundation, Hennessey's seasoned technicians have fitted a high-performance supercharger and a high-flow air induction system.
Add in upgraded fuel injectors, a new fuel pump, and HPE Engine Management software, and the upgraded 'H850' Dark Horse now snorts out a breathtaking 850 horsepower and 650 lb-ft of torque – a jaw-dropping 70 percent increase in power!
Sleek and Stylish: Design Enhancements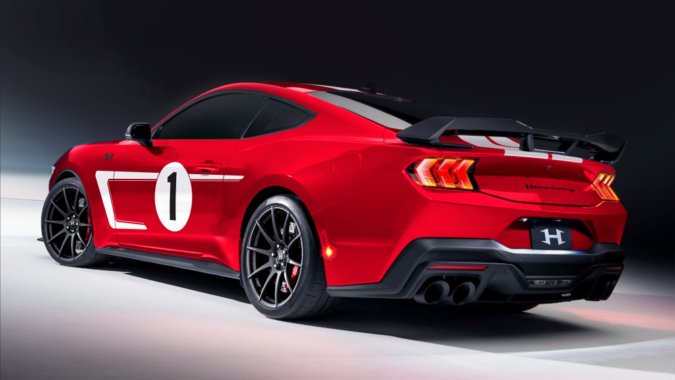 But it's not all under the bonnet. The Hennessey 'H850' Ford Mustang Dark Horse is dressed to kill. A carbon-fibre front splitter, side skirts, and rear spoiler provide a performance-inspired aesthetic, while forged aluminium alloy wheels add a touch of brilliance.
Hennessey's badging and script grace the quarter panels and rear fascia, and unique 'Heritage' graphics are an optional extra.
"Our Most Capable": John Hennessey
John Hennessey, founder and CEO, stated that the supercharged 850 horsepower Dark Horse model "will be one of the most exciting and powerful muscle cars on the road," and we are inclined to believe him!
A Promising Warranty and Production Schedule
These exhilarating upgrades come with a reassuring promise: Hennessey's comprehensive 3-year / 36,000-mile limited warranty. Production is slated to begin in the fourth quarter of 2023. Interested in taming this beast? Reach out to Hennessey Performance directly to secure your 2024 S650 Ford Mustang Dark Horse.
In a world of electrification, it's refreshing to see that the spirit of the muscle car is still alive and roaring louder than ever, thanks to the dedicated team at Hennessey Performance. Watch out, Britain – the Dark Horse is coming, and it's bringing 850 horsepower with it!