One of the most vital auto maintenance procedures is an oil change. You should decide to receive your services from a reliable service center that offers the best oil for your car. One of the most well-liked locations for oil changes is Valvoline. Do you worry about your maintenance and wonder how much is Valvoline oil change?
Oil changes at Valvoline might cost anywhere from considerably low to a high price. The cost of a Valvoline instant oil change varies. Along with oil changes, Valvoline Automobile Care provides other crucial services to keep your car in good running order. An oil change is one of the crucial services Valvoline provides to clean and smooth out your engine.
This process also prolongs the life of your engine by keeping the oil and filter clean and free of impurities. The length of an oil change, whether transmission fluid is included in an oil change, what constitutes a full-service oil change, the cost of a Valvoline instant oil change, and other Valvoline oil change costs will all be covered in this article.

Valvoline Oil Change
Valvoline Instant Oil Change is a subsidiary of Valvoline Inc. which offers maintenance services for a wide range of automobiles. These services include oil changes, antifreeze replacements, differential fluid swaps, battery replacements, belt replacements, and fuel system cleaning services.
They also undertake replacements for lights, wipers, and transmission fluid, as well as emissions testing in states where services are outsourced by state regulatory bodies. All stores feature oils and goods from Valvoline. The 2020 "Franchise 500" ranking published by Entrepreneur magazine placed Valvoline Instant Oil Change at 57th position.
Valvoline Instant Oil Change
All the moving components in the engine of your car utilize oil as a lubricant. These include the camshafts, bearings, crankshafts, cylinders, and pistons. It's not good news that these parts could fail or shatter if they prematurely wear down because of the oil.
Are you tired of waiting hours for something as basic as an oil change? no longer. No matter how busy they are, your neighborhood Valvoline service center promises a 15-minute oil change (also known as a stay-in-your-car oil change).
A Valvoline Instant Oil Change facility ought to be accessible to you. You may get it for a small portion of what other auto repair shops would charge. In order to ensure that you don't overlook the next appointment for an oil change, the service team and personnel at the service center will keep track of your car's maintenance history.
Valvoline Oil Change Prices
At Valvoline, an oil change costs between $39.99 and $89.99 depending on whether the oil is conventional or fully synthetic. Any extra quart of oil will incur an additional fee. Even discount coupons are occasionally made available by Valvoline for its oil-changing services.
You can use the estimator provided by Valvoline to determine how much it would cost to change your oil or get any other service performed there. Simply enter your vehicle's information, the service you require, and, if you're having an oil change, the type of oil you prefer to use. The estimate will then provide you with a service price range.
Three different types of oil changes are available to customers of Valvoline. These have the following prices:
Valvoline Conventional Oil Change Price – $40
High Mileage/Synthetic Blend – $65
Full Synthetic – $90
Valvoline instant oil change prices are fairly reasonable. Many times, the price is less than that of its rivals without sacrificing quality. A complete oil change is offered by Valvoline. This service includes up to 5 quarts of Valvoline oil, a new oil filter, and the manufacturer-recommended maintenance of your car's chassis components. There are several factors for the significant price difference, including the following-
How Much Is Valvoline Oil Change, Factors Affecting Price #1: Car Make And Model
Larger vehicles will require more oil than the standard four to five quarts used in an oil change. Also, manufacturers may advise using a particular (and more expensive) type of oil for a luxury automobile.
How Much Is Valvoline Oil Change, Factors Affecting Price #2: The Type Of Oil Used
Full synthetic oil is at the top end and has additional additives to safeguard an automobile's engine. The most affordable oil is conventional, and in the middle are synthetic blends which are combinations designed to offer some of the advantages of synthetic oil at a cheaper cost.
How Much Is Valvoline Oil Change, Factors Affecting Price #3: Your Location
The price of an oil change, which includes labor, might vary depending on where you live. Expect to pay more for the service if you live in a location with a higher cost of living. Even within the same city, prices can range amongst branches of the same chain store.
Valvoline Express Care
Valvoline has a number of independently operated Express Care facilities. They use Valvoline premium motor oils, filters, and automobile servicing chemicals to guarantee that you get reliable quality products. Express Care technicians offer quick full-service oil changes as well as a variety of preventive maintenance services, many of which can be completed without an appointment.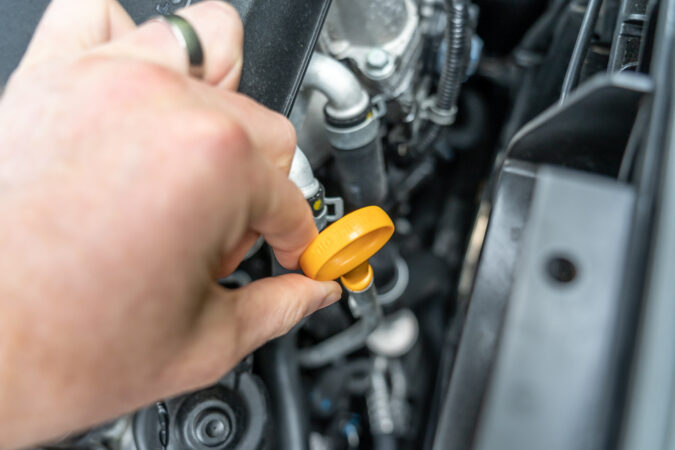 These services include automatic transmission, radiator, coolant, and power steering services, tire rotation, wiper blade, and light bulb replacement. Most places also provide services for fuel systems. Most vehicle brands and models, including premium, diesel, and hybrid models, can be serviced quickly, amicably, and professionally at Express Care locations.
Valvoline Inspection
You'll receive five quarts of high-quality oil, a new oil filter, and a lubricated chassis when you get a full-service oil change at a Valvoline. They will also perform a free 18-point safety inspection. The maintenance makes sure your engine operates well and provides the best performance.
The 18-point safety inspection includes the following and more-
Transmission fluid
Air filter
Coolant level
Both tail lights and headlights
Washer fluid for windshields
Battery test
Tire pressure check
Power steering fluid
Valvoline Locations
Valvoline runs and franchisees about 1,400 quick-lube stations. This makes it the second-largest network in terms of the number of locations in the US for the Valvoline Instant Oil Change brand.
Valvoline Full Synthetic
Valvoline's base product is the brand's Premium Conventional grade motor oil. This high-quality oil is made specifically for conventional automobiles. The oil is reasonably priced and offers your engine good protection. Even while conventional oil is the most often used variety, that does not necessarily mean that it is the best oil for your car.
Conventional oil is a blend of additives and goods with a petroleum base. The addition aids in enhancing the oil's functionality and extending its life. Conventional oil, however, will degrade more quickly than synthetic oil.
Valvoline primarily offers and advises its clients to use synthetic oil. Compared to regular engine oils, this kind is made to last longer and preserve your engine better. Many different hydrocarbon compounds are used to create synthetic oils.
A man-made product that is intended to be more stable than natural items is created by combining the molecules. Additionally, synthetic oils contain chemicals that enhance their functionality.
The main advantage of synthetic oil is that it has a longer shelf life than regular oil. Twice the life compared to regular oil can be achieved using synthetic oil. This implies that utilizing synthetic oils allows you to go longer between oil changes. For different kinds of cars, Valvoline offers a selection of synthetic oils. They consist of;
How Much Is Valvoline Oil Change, Types Of Oils #1: Valvoline Fully Synthetic Oil
Full synthetic oil is the oil that Valvoline uses the most frequently. This kind of oil can tolerate extremely high temperatures and is made for high-performance engines. Since only synthetic base oils are used in their production, they are referred to as fully synthetic. Fully synthetic oils have a longer average lifespan than other types of oils and can offer your engine more protection.
How Much Is Valvoline Oil Change, Types Of Oils #2: Valvoline High Mileage Synthetic Oil
Additionally, Valvoline sells high-mileage synthetic oil. This kind of oil is intended for vehicles with a mileage of over 75,000 miles. Oil usage and leakage may be decreased as a result. In general, high-mileage synthetic oils are more expensive than other kinds of synthetic oil.
Valvoline High Mileage
Your engine needs high-mileage motor oils if your car has more than 75,000 miles on it. According to Valvoline, its High Mileage motor oil is the first of its kind in the world. Its MaxLife Technology was created specifically to combat the wear, deposits, sludge, and leaks that lead to high mileage engine breakdown. The high-mileage motor oil categories offered by Valvoline are 0W20, 5W20, 5W30, 10W30, 10W40, and 20W50.
The goal of MaxLife Technology is to prolong engine life after 75,000 miles. This high-end synthetic blend recipe is created to offer a thick and long-lasting anti-wear film, safeguard against deposits and sludge, rejuvenate aging engine seals, and withstand motor oil breakdown under difficult circumstances. The Valvoline High Mileage motor oil comes with the following specialties-
Enhanced anti-wear additives offer a thick and durable layer of anti-wear film to help prevent vehicle engine failure,
Detergents added to the mix assist prevent deposits and sludge.
High-end seal conditioners assist in treating and preventing leaks.
Superior antioxidants prevent motor oil deterioration in extreme conditions.
The high-mileage motor oil categories offered by Valvoline are 0W20, 5W20, 5W30, 10W30, 10W40, and 20W50.
Valvoline Vs Mobil 1
Many automobile owners use one of two well-known brands of motor oil in their vehicles. Because Valvoline and Mobil 1 are such well-known brands, you can find them in the majority of auto repair shops and service facilities. Which is superior between Valvoline and Mobil 1 and how do they differ in this article?
The two closest rivals in the motor oil market are Valvoline and Mobil 1. They both tout themselves as performance motor oils. Similar characteristics can be found in Mobil 1 Extended Performance motor oil and Valvoline Advanced Full Synthetic motor oil. Additionally, they have the same 5-quart volume and a viscosity grade of 5W-30 SAE.
Unbiased organizations examined samples of 5W-30 grade. They discovered that compared to Mobil 1, Valvoline SynPower motor oil can offer four times greater wear protection.
Valvoline
The American manufacturer Valvoline Inc. produces and distributes lubricants, additives, and motor oil under the Valvoline brand. It also owns chains of auto repair shops known as Valvoline Instant Oil Change and Valvoline Express Care. With a 10% market share and 1,400 locations, it is the second-largest oil change service provider in the US as of writing this.
Dr. John Ellis founded the Valvoline corporation in 1866 after learning about the lubricating properties of crude oil. One of the original Original Equipment Manufacturers, Valvoline was the sole oil brand recommended when the Ford Model-T was mass-produced. The corporation developed its first proper single-grade oil in the 1940s and 1950s, followed by the all-climate oil, which I suppose refers to multi-grade.
Synthetic blends, high-performance oils, and their well-known high-mileage oil were all developed by Valvoline throughout the years. The business is still one of the biggest and most reputable oil producers in the world today.
Mobil 1
Despite having a shorter history than Valvoline, Mobil 1 has made just as many advancements and helped the industry develop. The business began producing synthetic oils in the late 1960s to lubricate diesel engines utilized in Alaska's harshest weather conditions. In 1971, their first totally synthetic oil became commercially accessible, and at the time, it provided the best lubrication and protection of any lubricant.
Mobil 1 would play a significant role in motorsports, sponsoring and supporting a number of F1 and Grand Prix teams. The business would keep up its involvement in the sport in the twenty-first century and create a line of lubricants suitable for sports cars in general manufacture.
Valvoline Vs Mobil 1: Synthetic Blend Oils
Fully synthetic oil is replacing synthetic blends as a superior and cleaner alternative. Even so, both manufacturers have a few alternatives available, and this is where the differences can be seen. The obvious choice is Valvoline because it offers synthetic blend oil at a substantially lower price. The greatest option is Valvoline Daily Protection if you still require synthetic blends.
Valvoline Vs Mobil 1: Full Synthetic Oils
For a number of reasons, Mobil 1 wins the whole synthetic oil category overall. Full synthetic oils are more modestly offered by Valvoline, but they also have a hazy application.
Although Valvoline Advanced Full Synthetic oil is designed to function with any engine, Modern engine oil is more expensive while performing the same function. Similar problems exist with Mobil 1's Super Synthetic oil, but at least the other choices are more focused and provide more evident advantages.
Valvoline vs Mobil 1: High Mileage Oils
Even though both businesses lack some goods, Valvoline would win this category handily if its 150k oil were always available. As it stands, Mobil 1 has two full-synthetic choices versus Valvoline's one, giving it the advantage. With its Extended Performance option, Mobil 1 also provides the 20,000-mile service schedule, which Valvoline cannot currently match in this market.
Valvoline Vs Jiffy Lube
Since they both provide the same maintenance services to comparable clientele, Jiffy Lube and Valvoline may initially appear to be very similar businesses. Let's examine the key distinctions between the two businesses, though, to gain a better grasp of each.
How Much Is Valvoline Oil Change, Valvoline Vs Jiffy Lube #1: Pricing
The first and most obvious distinction is between the prices charged by each business. Jiffy Lube markets itself as a cost-effective solution that will save you both money and time. At more than 2000 sites around the world, they offer incredibly quick service. However, over the years, Jiffy Lube's consumers have developed some less than favorable opinions of the company.
As an alternative, Valvoline has earned a stellar reputation among the public over the years for its somewhat higher costs and quick oil changes. They have a higher reputation because of their remarkable performance and excellent service in 1400 sites throughout the world. Valvoline employs premium oils and filters that they make themselves when performing oil changes.
Jiffy Lube uses premium oils as well. However, because they use a variety of oils from various brands, their costs may vary.
How Much Is Valvoline Oil Change, Valvoline Vs Jiffy Lube #2: Services Offered
Jiffy Lube and Valvoline both offer a regular oil change service with 5 quarts of oil, a new oil filter, a change of transmission fluids, power steering, etc., making their services quite comparable.
However, there will be some differences in what you receive. Additionally, Jiffy offers their free top-off policy, which includes an additional 2 quarts of any fluid your car might require in between oil changes and is quite helpful. However, you must upgrade to Valvoline's Express Care Service, which is more expensive than their normal service, in order to receive this.
How Much Is Valvoline Oil Change, Valvoline Vs Jiffy Lube #3: Customer Service
You anticipate receiving courteous, professional treatment as a customer. For many people deciding where to send their car, the service offered at a garage can frequently make or break their decision.
Whether it's your first automobile, the first time you've had any maintenance done on it, or just your routine oil change appointment. Social media, internet evaluations, and word-of-mouth all have a rapid spread when it comes to the kind of service you receive from employees.
According to web research, Jiffy Lube has received numerous complaints about its impolite personnel and for overcharging for services that were not required for the vehicle. They have also been accused of having faults with poor workmanship, such as loose oil caps, which are unworthy of a paid professional service.
Additionally, a large portion of their workshop personnel is reportedly untrained and intent on upselling extraneous things. This is accomplished by finding the clients who are more likely to accept these added fees and may not completely grasp them.
On the other hand, before they can begin working, Valvoline mechanics must complete 270 hours of practical training. This is shown in the excellent appreciation for their seasoned staff, who upsell extra goods and services with less pressure.

Valvoline Transmission Fluid Change Cost
Most likely, you routinely replace the oil in your automobile or truck. Most people adhere to a plan or perform this task on their own every few months. Have you considered replacing the fluid in the transmission?
Every time you drive, a lot of heat and pressure are applied to this lubricant, which makes it work very hard. As crucial as changing the oil in a car is replacing the transmission fluid. Similar to how an engine cannot function without oil, transmission cannot function without fluid.
The fluid serves as a lubricant and cooling assistance for a transmission's numerous intricate clutches and gears. It should be changed at least every 30,000 miles, or at a period specified in your owner's manual. Changing the transmission fluid typically costs between $119 and $179 at Valvoline. The amount of fluid and whether the filter has to be updated will determine this.
The average cost of a transmission flush at Valvoline is $150. Smaller automobiles may only be charged around $100 for a transmission flush, while larger cars may need one that costs over $200. A decent generalization is that a flush will cost around twice as much as a fluid replacement.
How Much Is Valvoline Oil Change: Conclusion
A Valvoline instant oil change is offered at competitive rates. Oil changes at Valvoline frequently cost less than those at its rivals without lowering the standard of the parts or the level of service. Additionally, Valvoline offers three different types of oil changes.
Utilizing high-quality products and providing dependable service has helped Valvoline establish a solid reputation. The business provides high-quality lubricants that help reduce friction, prevent wear on various parts, and stop sludge from forming. Depending on your needs and budget, Valvoline offers a wide variety of products.
FAQs On How Much Is Valvoline Oil Change
How Much Is An Oil Change
Depending on where you live, an oil and filter change using standard oil will typically cost between $35 and $75. You should expect to pay extra (anything from $65 to $125) if your automobile needs synthetic oil, but you can offset some of the expense since synthetic oil lasts longer and needs to be changed less frequently.
How Much Is An Oil Change At Jiffy Lube
For an oil change, Jiffy Lube will charge you around $50. For a 4-cylinder engine with about 5 quarts of oil, you should budget $40 to $50. You should expect to pay about $45 for an entire oil change, which includes the price of the oil, labor, and a new filter.
How Much Is An Oil Change At Valvoline
Depending on the particular service and the location, the cost may change. The typical price range for a Valvoline quick oil change is $40 to $100.
How Much Is An Oil Change At Walmart
A basic oil change at Walmart can cost as little as $22 while a more complicated oil change can cost as much as $50. Oil changes with synthetic, semi-synthetic, and high mileage are more expensive. Tire rotation, fuel system upkeep, headlight repair, and wiper blade installation are extra charges that could raise the cost.
How Much Is A Synthetic Oil Change
Don't be shocked if an oil change with filter replacement costs $75 as premium synthetic oil alone can cost between $20 and $30 for a five-quart bottle.
Does Valvoline Do Tire Rotations
Valvoline does offer tire rotation services. In order to maximize the life of your tires, Valvoline inspects your tires to determine whether they require a quick, easy tire rotation. This prevents uneven tread wear, which may cause poor traction and handling.
Does Jiffy Lube Rotate Tires
For your car's optimum performance and tire longevity, Jiffy Lube offers tire rotation services. Depending on their placement on the car, your driving habits, and the state of your suspension, tires wear out in different ways. Your tires will wear more uniformly if you rotate them frequently. The majority of tire manufacturers advise rotating tires every 5,000 to 8,000 miles.
Do You Need An Appointment At Jiffy Lube
No appointment is required. Just drop by the Jiffy Lube service center in your neighborhood whenever it's convenient for you.
Where Can I Get An Oil Change For Cheap
With slightly varying options, Walmart provides a few different oil-changing services. A basic oil change can cost as low as $22 while a more advanced oil change can cost as much as $50. Oil changes with synthetic, semi-synthetic, and high mileage are more expensive.