If you've ever owned a black car or van, you'll know how unforgiving they can be when it comes to showing dirt and grime. For our test, we put the K 3 Premium Power Control Pressure Washer from Karcher to the ultimate challenge: cleaning our black VW Transporter camper van. The pressure washer touts its modernity with features like app control, multiple cleaning kits, and variable pressure settings. But does it truly deliver? Let's find out.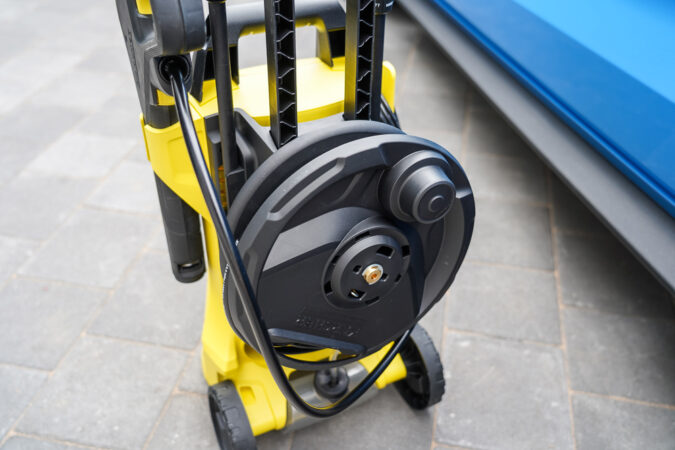 Features and Benefits
The App
An exciting feature is the Home & Garden app. Aimed to serve as a handy consultant, the app offers a array of practical tips for a variety of cleaning situations. Not just that, you'll find extensive information on the device itself, application tips, and a gateway to the Karcher Service portal.
Power Control
The spray gun comes with a built-in G 120 Q Power Control display. This allows you to set and check pressure directly on the lance, giving you full control over your cleaning process.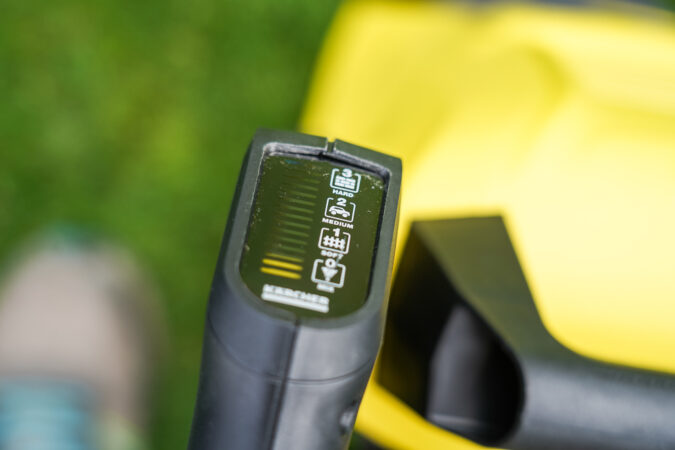 Car Cleaning Kit
The Car Cleaning Kit that accompanies the washer offers a wash brush, foam jet, and 500 ml of car shampoo. Ideal for vehicle cleaning, it worked wonders on our VW Transporter, leaving it looking showroom-fresh.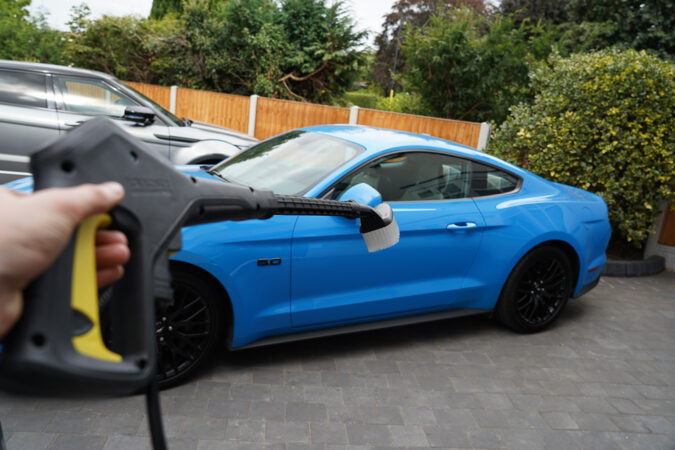 Home Kit
For general home cleaning, the T 1 Surface Cleaner and 500 ml of "Patio & Deck" detergent do a splendid job. The detergent tank is integrated, making it easy to apply cleaning agents.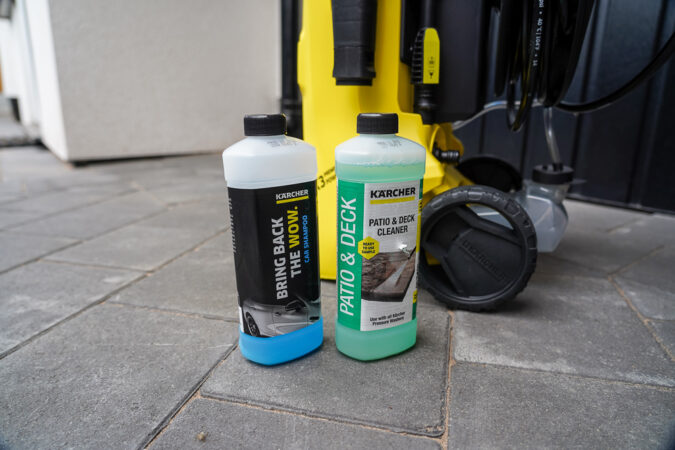 Physical Design
Its hose reel, extendable telescopic handle, and the Quick Connect system enhance its usability. The pressure washer also comes with a stable stand that doubles as a carrying handle, making it super convenient to transport and store.
My Personal Experience Testing: From Grime to Shine
Let me take a moment to speak directly from the heart — or perhaps more appropriately, from the nozzle of this pressure washer. Cleaning a vehicle, particularly a camper van like my black VW Transporter, can be a chore. With its large surface area, 20-inch alloy wheels, and challenging-to-reach wheel arches, getting it spotless is often a time-consuming and laborious process. Enter the K 3 Premium Power Control pressure washer, and the narrative changes entirely.
Blowing the Dirt Off
I started with the body, and let me tell you, this machine is a revelation. The power control feature helped me adjust the water pressure perfectly. In an almost poetic fashion, the dirt and grime that were staunchly clinging to my van began to dissipate. In minutes, what would usually take hours with a bucket and sponge, the majority of the van was free of dirt.
20-inch Alloy Wheels
Next up, the alloy wheels. These are 20-inch beauties that deserve to shine, but road grime, brake dust, and mud had other ideas. I switched to the Car Cleaning Kit's foam jet and applied a generous layer of the provided car shampoo. After letting it sit for a few minutes, I took the wash brush to scrub the wheels gently. It was almost as if the wheels were begging for this clean-up. A quick pressure rinse, and they looked as if they were just rolled out of the showroom.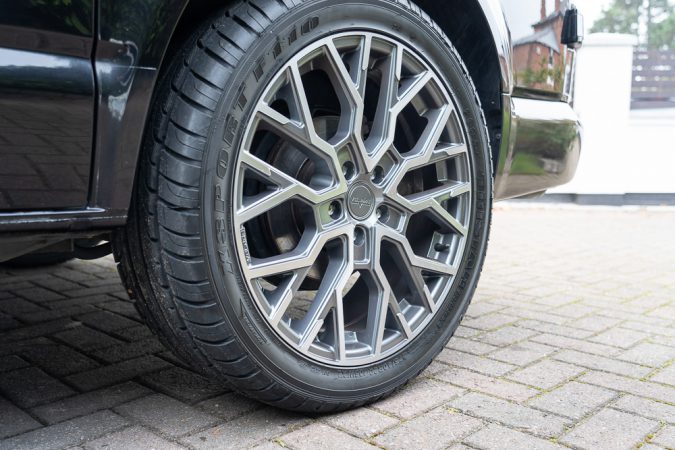 The Wheel Arches
The wheel arches are generally a tough area to clean, especially if you've been on a few long trips. With the Dirt Blaster spray lance, I was able to dig deep into these areas. The combination of high pressure and a targeted jet stream dislodged the compacted mud and grime effortlessly. I was shocked at how quickly I could complete what is usually a painstaking task.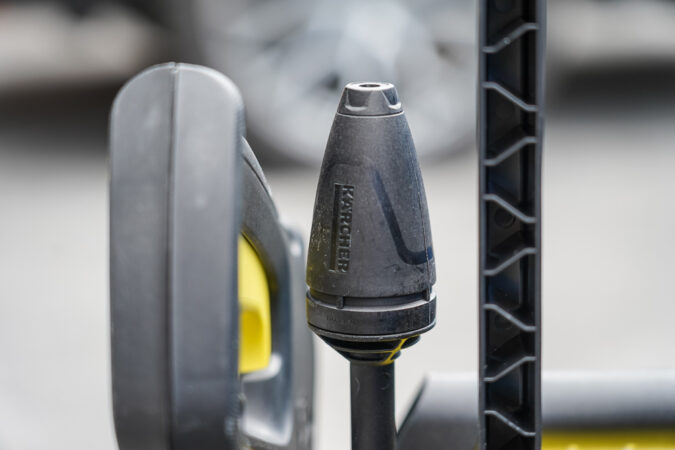 The Final Rinse
Finally, the rinse. I adjusted the pressure down to a softer setting for a gentle rinse to wash away any remaining soap suds and debris. The experience was akin to a soft rain shower gracing the earth after a scorching hot day. It was therapeutic, not just for the van but for me as an avid car cleaner.
Final Thoughts
From the initial grime-busting to the final rinsing, the K 3 Premium Power Control was a marvel to use. I achieved in less than an hour what would normally take half a day. The van looked majestic, the wheels sparkled, and those often ignored wheel arches? They were as clean as they've ever been.
So, do I recommend this pressure washer? Emphatically, yes. It's not just a machine; it's a game-changer. For anyone who takes pride in their vehicle, investing in this wonder of modern cleaning tech is more than worth it.
Specifications
Voltage: 220-240 V, 50-60 Hz
Pressure: 20 – max. 120 bar
Flow Rate: max. 380 l/h
Area Performance: 25 m²/h
Water Feed Temperature: max. 40°C
Power Rating: 1.6 kW
Weight: 5.6 kg (without accessories)
Final Thoughts
The K 3 Premium Power Control pressure washer excels in almost every department. The innovative features, including the supportive app and the variable power control, make it stand out from the competition. We were especially pleased with how it performed on our VW Transporter camper van, which we can all agree is a tough vehicle to clean thoroughly.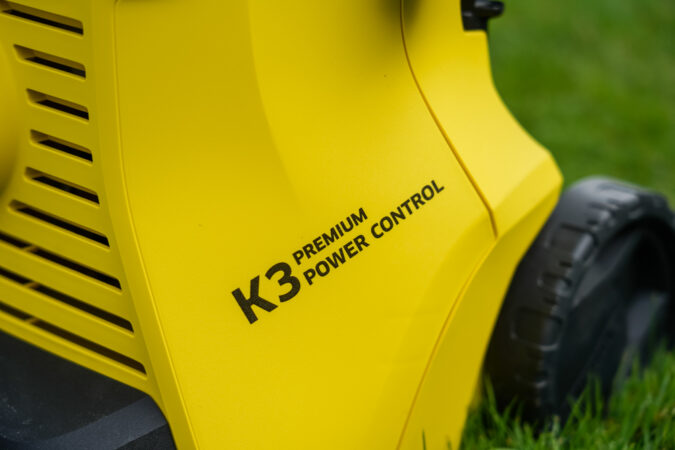 Things We Love About The Karcher K 3 Premium Power Control Pressure Washer
Excellent cleaning capabilities
User-friendly app with practical tips
Multiple accessories for versatile cleaning
Compact and easy to store
If you're in the UK and on the hunt for a pressure washer that brings a blend of modern design and robust performance, the K 3 Premium Power Control is highly recommended. It may lean towards the higher end of the price scale, but for the features and performance, it's a worthy investment for any car enthusiast or homeowner.