Choosing a camera bag is hard enough. Though it's even harder when you're a photographer here at Motor Verso. We take a lot of photos. So naturally, we can get a little bit picky when it comes to choosing the right camera bags that are up to the task. It needs to be able to carry ample quantities of cameras, lenses, and all that jazz. Plus, it'll also have to be robust enough to stand up to torture. Manfrotto, especially, has been making bags for photographers for a while now.
So, has their new Advanced² Befree bag won a place in our daily photoshoot inventory? For around £125 – though currently advertised on sale at just over £106 – it's no small change. However, within the world of specialized camera bags, it's fairly competitive. And it boasts quite a handful of extra features on the flipside. Well, as you'll learn more in our review of Manfrotto's Advanced² Befree, this well-rounded rucksack is well worth the price.
Big enough for all you need, and plenty versatile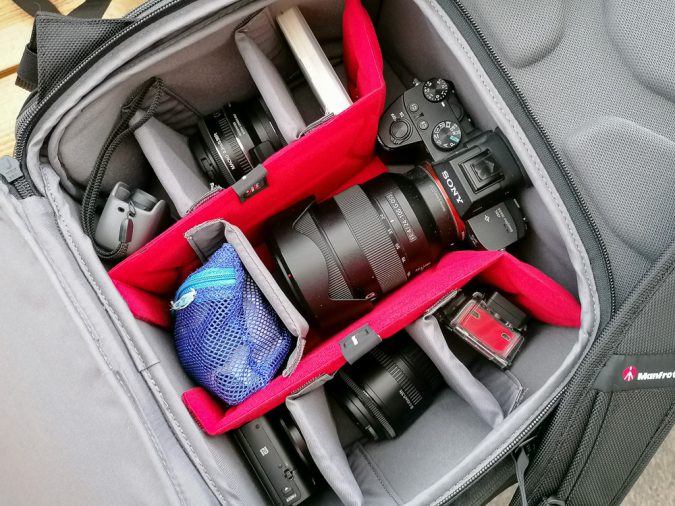 Dimensions-wise, the Manfrotto Advanced² Befree is a typical backpack size. It's not too large, but big enough to fit everything you might realistically need for a photo shoot. If you're inclined to travel a lot, then you'll be glad to hear that it fits the standard size for carry-on luggage. The exterior of the bag is made out of water-repellent material. Though note, that it's not completely water-proof.
Thankfully, Manfrotto does include a fold-out rain protector that you could cover the bag with if it starts raining cats and dogs. It's very versatile as well, aside from just storing your cameras. You could remove the internal partitions and dividers altogether, and transform the Advanced² Befree into an everyday or travel backpack. So, it's a great choice for when your camera bag needs to double as your daily companion, like students wanting to carry around books.
Lots of storage for cameras, lenses, drones, and more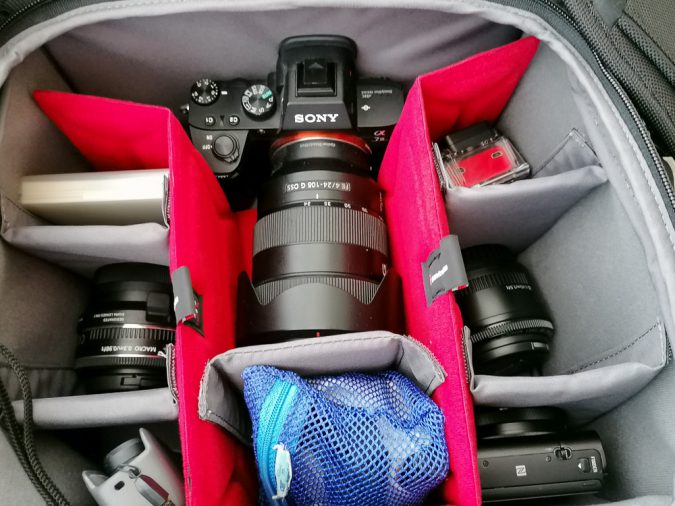 Speaking of the inside, that's where we'll find the main attraction of Manfrotto's Advanced² Befree. It can store DSLRs or Mirrorless cameras from a wide variety of different and popular brands. You should find a healthy amount of space for your camera to fit snugly in there, with a lens readily attached. Moreover, you could store a small foldable drone here, like a DJI Mavic.
The bag can fit up to four lenses realistically, which I'm sure is more than enough for most. Though you could squeeze another one or two smaller lenses for up to six in the main compartment. The storage here is modular, so you can rejig the dividers as needed to fit any size or shape of the camera and its lenses. In the Advanced² Befree, there's still plenty of added space in the main compartment for extra accessories.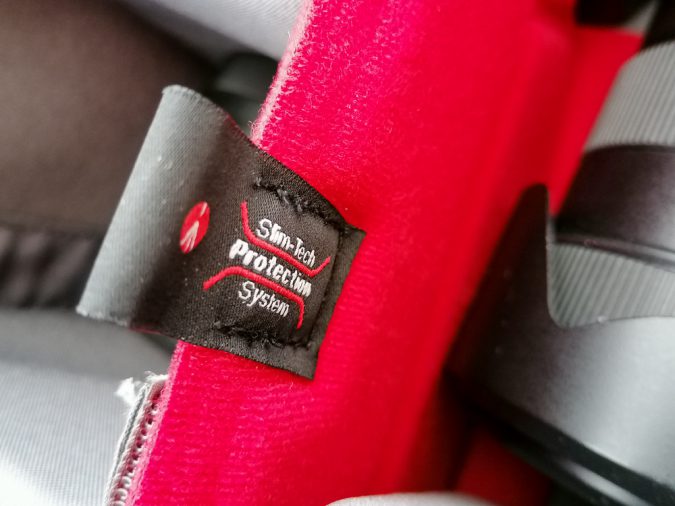 This includes batteries, action cameras, an Osmo video camera, including a smaller backup compact camera. Those are the ones that we tested, anyway. Just as important in a bag carrying thousands of pounds worth of equipment, the Advanced² Befree is quite robust. This is thanks to Manfrotto's Slim-Tech Protection System, which puts a very dense layer of foam around the main camera storage area. So, it could certainly take a beating or two.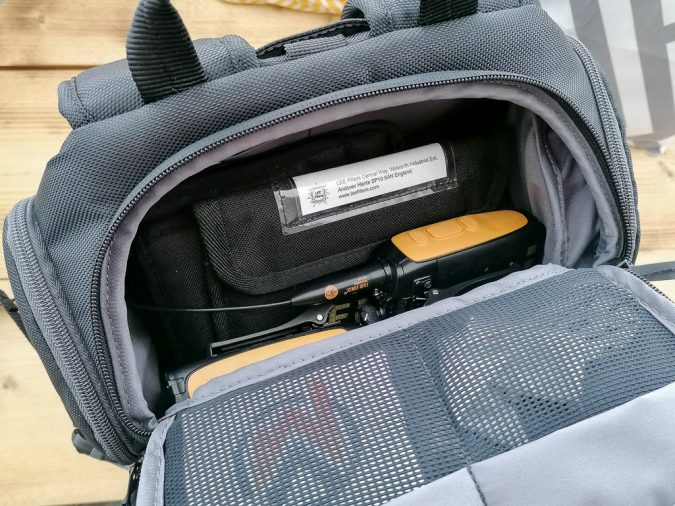 In a separate zipper accessible from the top of the bag, there's another smaller compartment. You could put a compact camera in here, albeit without as much protection. Otherwise, extra bits and bobs can go here, as well. As you can see, we use this spot to store our radios while out on a shoot. There's also some added netting where you might want to keep your SD cards or small clothes.
There's even more on the insides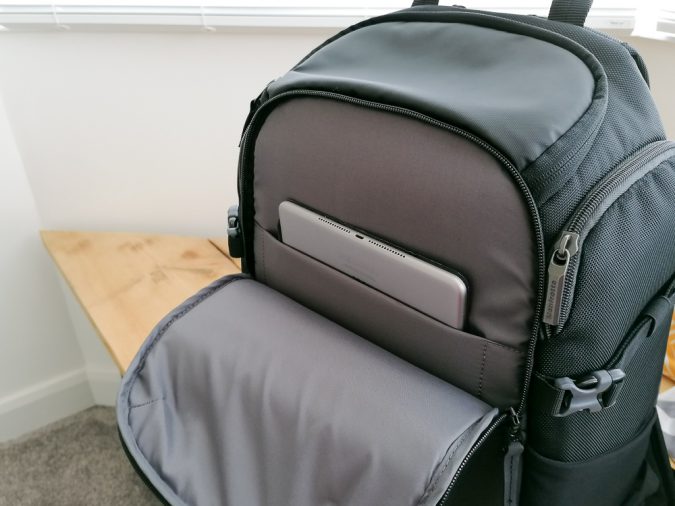 But wait… There's more! Aside from being able to store camera gear, the Advanced² Befree makes a great laptop (up to 15-inches in size) and tablet (no bigger than 9.7-inches) bag, too. There's a decent amount of protection for them in here. Albeit it's not as sturdy as the main compartment for your cameras and lenses. One thing that you will need to look out for here is that the laptop/tablet compartment is on the outer side of the bag.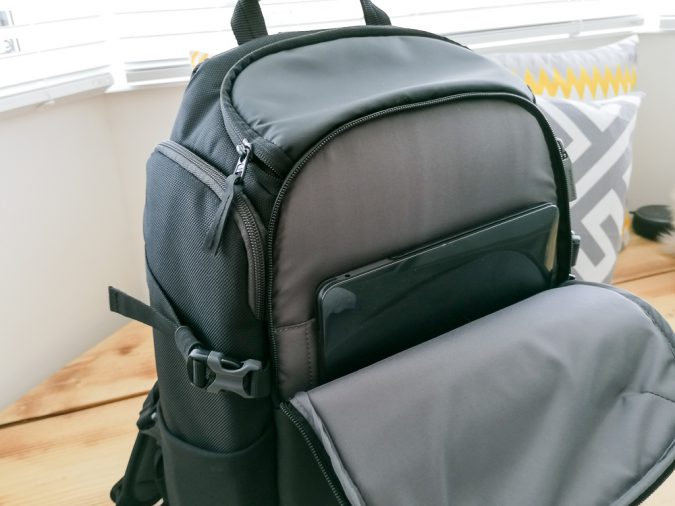 This means it's facing outwards as you're wearing it on your back. Theoretically then, there's nothing to stop someone unzipping this flap open and stealing your laptop or tablet away before you notice it. Although, the big upside with this is that it makes for taking your laptop or tablet in and out quite an easy process. All without having to move around your cameras, mind. So, it's handy for when you need to take it out in a pinch, like at an airport or customs check.
Handy side compartments for bigger things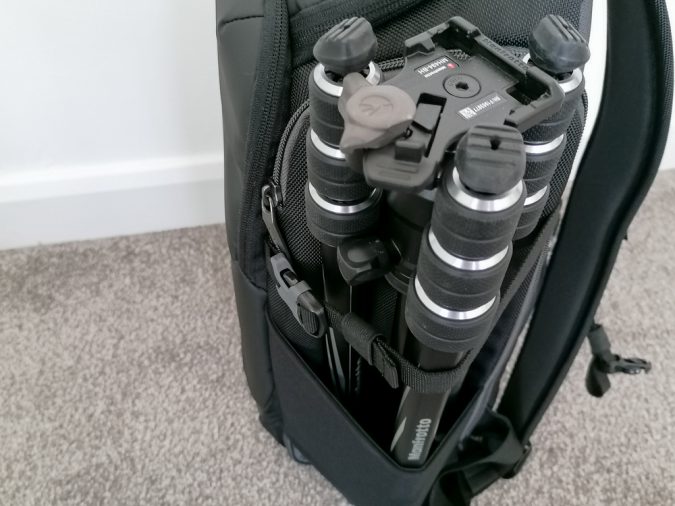 Along the (out)side of the Manfrotto Advanced² Befree bag, there are a few other storage options here. If you look closely enough, then you'll find a couple of small, zipped compartments where you could store valuables. You can put your wallet or phone here, or as we used it, lens filters. It's fairly hidden, so that's a good bonus for security. Meanwhile, you can also carry a good size camera tripod.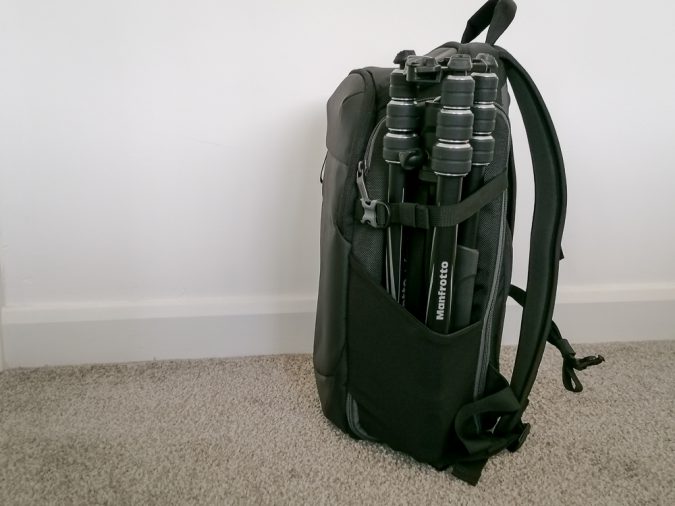 If you have a smaller tripod, like the ones that Manfrotto also sells, there's an expandable zipped compartment on either side. Though for most of the larger tripods, you'll have to settle for the side pockets. We did find that whilst carrying a large tripod, understandably it can make the bag a little weighty on one side. Unlike some bags, the Advanced² Befree bag isn't able to distribute that weight as well enough. Though you could balance that out with a water bottle or a second tripod on the other side if you'd like.
Manfrotto Advanced² Befree – Conclusion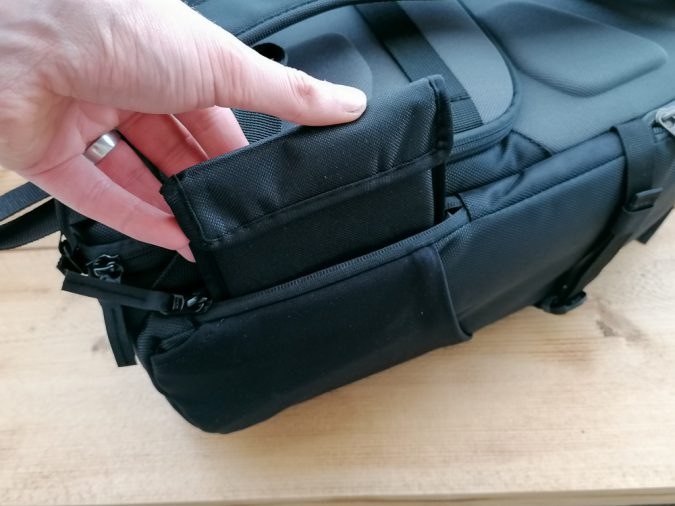 Overall, Manfrotto's latest Advanced² Befree bag is a great option for anyone looking to find a great camera bag. Its competitive pricing and added versatility make it a great choice for more casual users or first-time camera-bag buyers. For professionals, there's plenty to tempt you here, with loads of storage and a robust build to haul around for a long shoot. Either way, you'll surely find we will lug this around for quite a while, it is exactly the kind of bag we use.