Fans of the Citroen C4 Cactus may be disappointed to find out that Citroen's new C4 will be replacing the model entirely.
Citroen will also be offering a fully-electric version called the e-C4 with a quoted 217-mile range.
This new crossover will combine elements of the C4 and C4 Cactus, to create Citroen's next generation of family vehicle.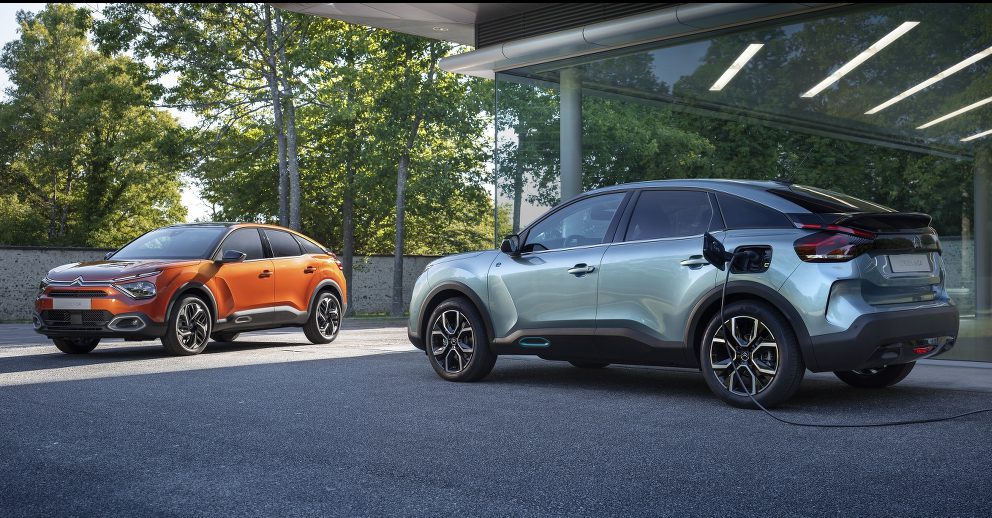 Changes to The Design – New Citroen C4
The original C4 Cactus boasted very bold looks but following a facelift in 2018 significantly mellowed the highly divisive 'Airbump' design by reducing the size and moving them closer to the side skirts.
This new Citroen C4 has taken inspiration from the C4 Cactus with a new 'Citroen LED Vision' front light cluster, chunky black plastic trim, and bodywork laden with intersecting lines. Purists may dislike the busy appearance, but it helps Citroen to stand outin the increasingly competitive crossover market.
Buyers will have the choice of 31 exterior colour combinations to further personalise their new Citroen C4 to their liking.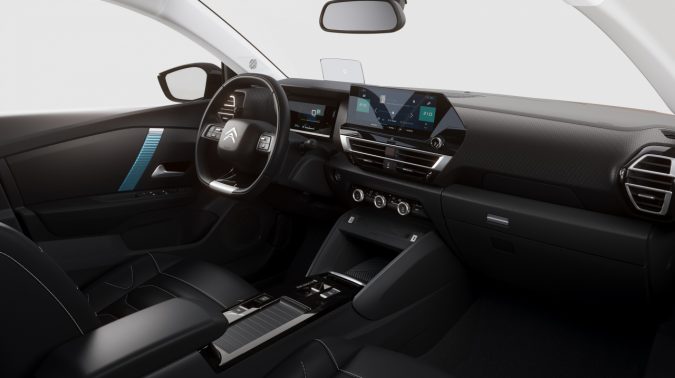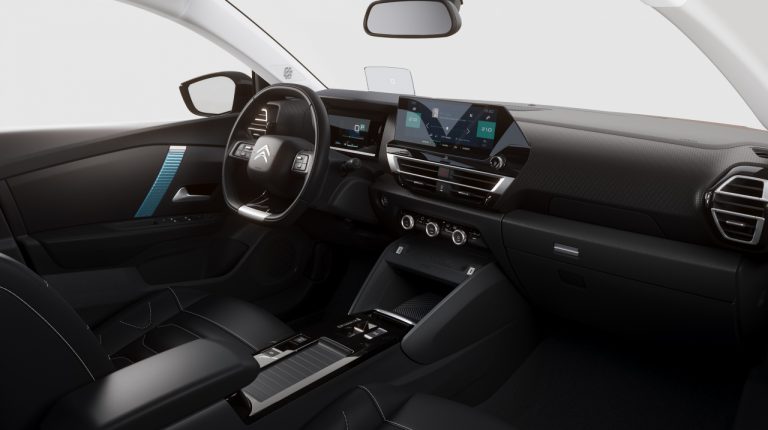 The boot has a 380 litre capacity, and 16 additional storage compartments in the interior, ideal for families with plenty of luggage to transport on a regular basis.
20 driver aids will come as standard from conventional options such as active safety braking, collision detection, and lane departure warning, to more advanced tech such as hill start assist, trailer stability control, and highway driving assist (which combines cruise control with lane departure warning for a semi-autonomous driving experience on the motorway).
Interior Evolution
Citroen are pushing the envelope and taking inspiration from the likes of Tesla with a very minimalist, yet futuristic interior.
Fans of the C4 Cactus will notice that the new Citroen C4s interior appears to be an evolution of that cars with a 10 inch touch screen display in the middle of the dashboard, and a smaller screen above the steering wheel including key information such as speed and revs.
The climate control can be operated via the touchscreen or physical buttons located beneath the display, making it easier to adjust while driving instead of navigating through several menus.
The 10 inch infotainment system will act as a hub for the multimedia system and phone connection, and features voice recognition software.
Wireless charging for smartphones is available using the charging mat integrated into the centre console, and 'ConnectedCAM Citroën' comes as standard – a camera on the front bumper is capable of taking photos and recording footage, which is saved to an integral 16GB memory card,  therefore negating the need to install an aftermarket dashcam.
This system is currently available on the C3 and C5 Aircross SUV.
New Citroen C4 Engine Options
Three different petrol options are available all from a 1.2l inline three-cylinder powerplant. Buyers have the choice of 99bhp, 128bhp, or 153bhp depending on the trim.
Only one diesel is on offer – a 1.5l engine producing a reasonable 101bhp.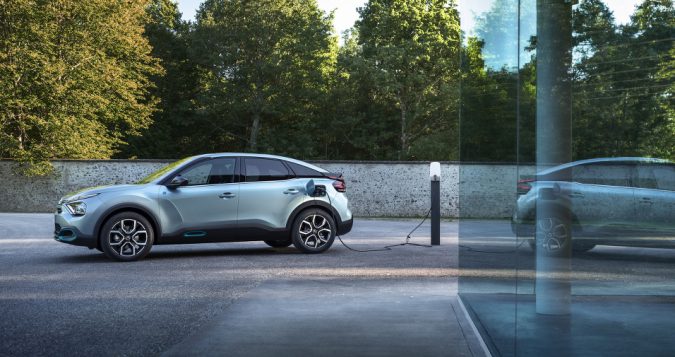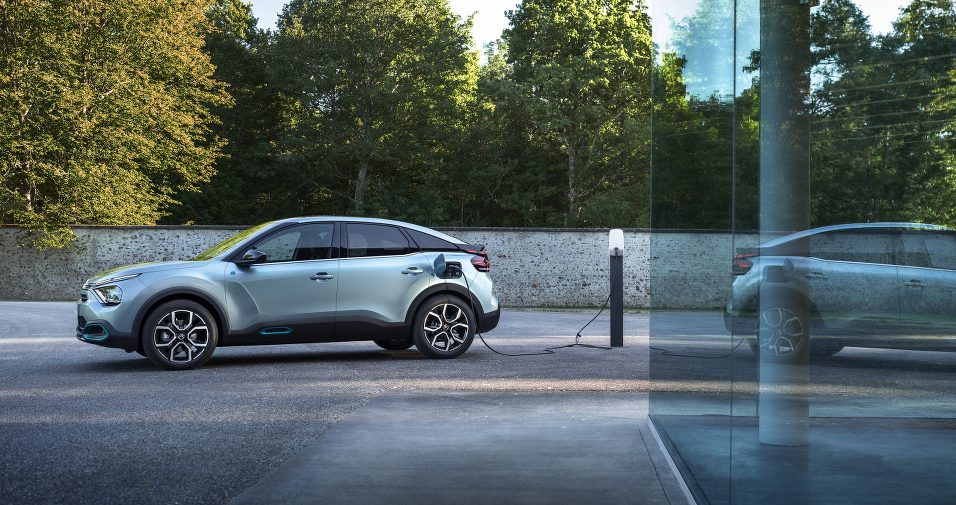 The most exciting development is the introduction of a fully-electric option for the new Citroen C4 range.
The e-C4
The e-C4 is the fully-electric, zero emissions version of the new Citroen C4. A 50kwh battery pack powers a front axle mounted motor producing 135bhp, and is capable of accelerating from 0-60mph in 9.7 seconds in sport mode.
All e-C4s will come with a 'brake' feature which slows the car automatically when not pressing the accelerator – the energy generated by slowing the car is then fed back into the battery maintaining charge for longer and increasing the range.
The e-C4 boasts a range of 217 miles from a single charge, and is capable of charging the battery from 0-80% in just 30 minutes. However, this figure only applies when using a 100kwh public charging station, a 32kwh wall-box installed by Citroen or a domestic plug socket can take anywhere from 5-7.5hrs.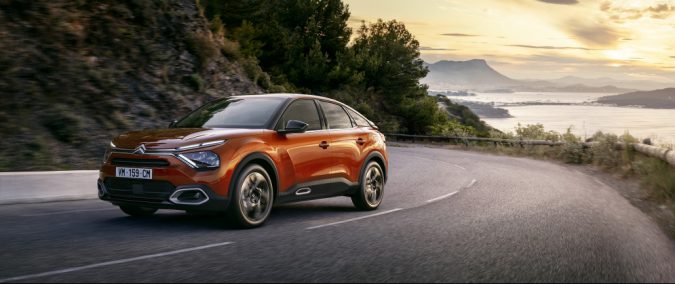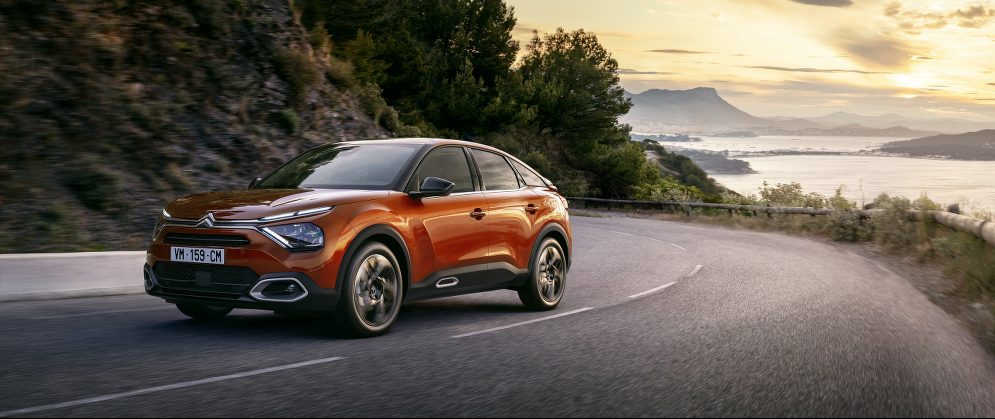 Buyers will also be able to program when to charge at home using the 'MyCitroën' app to take advantage of off-peak electricity times.
The e-C4's battery comes with an eight-year or 100,000mile warranty for 70% battery capacity, depending on which rolls around first.
Comfort Focused
Citroen are keen to mention that the new Citroen C4, regardless of if it is powered by electricity or fossil fuels, has been designed with comfort as their main focus. In fact designers created a 'Citroën Advanced Comfort® programme' to follow to ensure that every aspect of the car contributes to a relaxing driving experience.
All Citroen C4s will be equipped with a new suspension design integrating 'Progressive Hydraulic Cushions', first introduced on the C4 Cactus and C5 Aircross SUV.
This setup aims to offer optimal ride quality, and a 'magic carpet ride' according to Citroen. Citroen cite that suspension comfort has been a focus of the brand for the past 100 years, and is evident in revolutionary models such as the DS with hydropneumatic suspension back in 1955.
Twenty patents were filed for new suspension components exclusive to the C4 so we are expecting a game-changer in terms of ride comfort.
Pricing
The new Citroen C4 will not be available to purchase until 2021, with pre-orders starting from Autumn of this year.
The cheapest variants are expected to start around £20k with the e-C4 at approximately £30k.
You can keep up to date with the latest developments by visiting the official Citroen website.