Everyone loves a good restomod, and why shouldn't they? The idea of taking the joys and simplicity of an old car, and then add some modern quality of life touches is very appealing. Especially so when it's done properly, á la the Porsche Singer or an Eagle E-Type. There's been a growing trend recently of taking classics, and turning them into new-age EVs. Well, it looks like Opel has been taking notes.
Meet the one-off Manta GSe ElektroMOD. Nerdy name aside, this is Opel's restomod of the old Manta, which is now celebrating its 50th birthday. So, what does this mean? Well, the old Manta's four-pot has been chucked away in favour of a more sign-of-the-times electric motor. It's quite an upgrade on the performance side too, as it can muster 147PS and a 225Nm of torque.
Old Meets New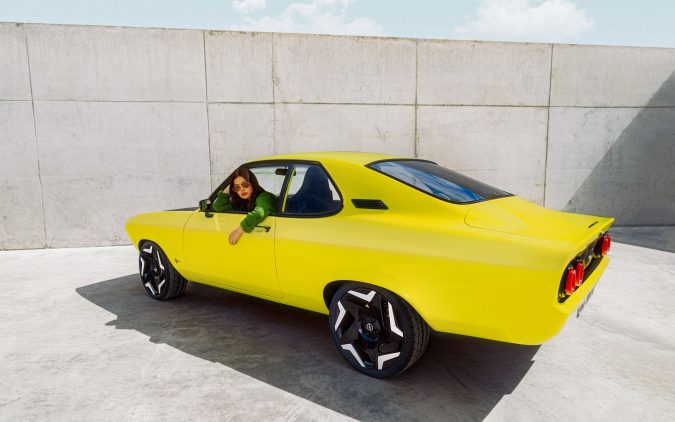 Interestingly, the Manta GSe still keeps the original four-speed manual gearbox. Joy, oh joy, and you can actually use it with the electric motors. Though if you'd rather not tire your arms with changing gears yourself, you can click it into fourth to drive in auto. Right at the bottom is a 31kWh lithium-ion battery, with the Manta GSe capable of 124 miles of range. Not a lot then, but certainly enough to have a boot load of fun with.
Just to help it move along, this Manta carries some of Vauxhall-Opel's regenerative braking tech. Charging is done with a 9kwh onboard charger, and a full top-up should take just under four hours. The outer shell of the Manta GSe is fittingly retro-futuristic, and with more than just a few cyberpunk-y details. Still, there's a lot of Vauxhall and Opel's current design language that remains.
Up front, the twin brand's blackened Vizor-styled "grille" stretches from end to the next across the entire width. The Pixel technology buried deep in that front-end can even let you write and display messages. This is quite a big departure from the old Manta and its quad circular lights. It's more faithful in the rear, however, with its classical round taillights given a more 3D-esque LED design.
A Sign Of The Times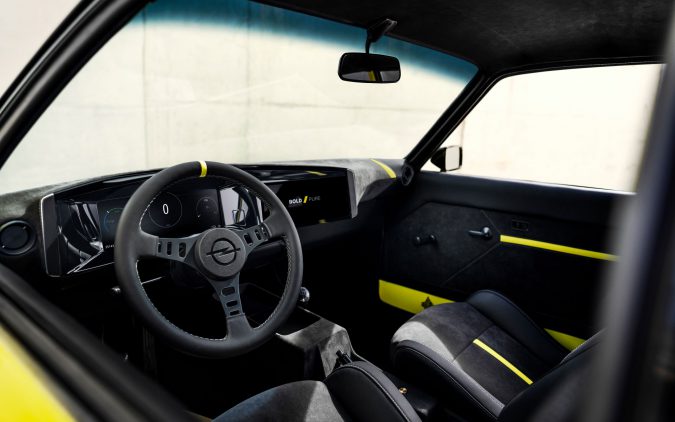 You won't find any chrome trim back here, just a big badge that says "M A N T A". Inside, the cabin is just as unique. The old dials and gauges have been replaced with a 12-inch and 10-inch screen respectively. The sound system gets an upgrade as well, thanks to Marshall. The sports bucket seats should give you ample support, as you hold on tight to a three-spoke Petri wheel.
There's certainly no leather or cloth here, just a whole herd's worth of Alcantara. It's a shame that Opel's new Manta GSe is a one-off, as I can imagine quite a few people would be keen to line up for this. Though it does preview a (hopefully) exciting future, as Vauxhall and Opel are ramping up to electrify. By 2024, expect every model to have one or more electrified variants.