A Journey Like No Other
The highly anticipated Pole to Pole expedition led by EV adventurers Chris and Julie Ramsey has finally commenced! The team started at the 1823 North Magnetic Pole and will cover a whopping 27,000 km through North, Central, and South America. Their ultimate goal? To reach the South Pole in Antarctica by December.
No vehicle has ever completed this journey, and the Ramseys aim to do it in a 100% electric vehicle.
Showcasing the Power of Electric
The purpose of this thrilling adventure is to demonstrate the capabilities and excitement of electric vehicles. Chris and Julie hope to accelerate the adoption of EVs as a positive step against the climate crisis.
The Expedition-Ready Nissan Ariya
The vehicle of choice is the Nissan Ariya, with some minor modifications made to handle the extreme terrains the couple will encounter. The suspension has been lifted and wheel arches extended to accommodate 39-inch tires, allowing the car to 'float' on deep snow and sea ice.
However, no changes were made to the Ariya's battery, powertrain, or Nissan's advanced electric all-wheel-control technology, e-4ORCE.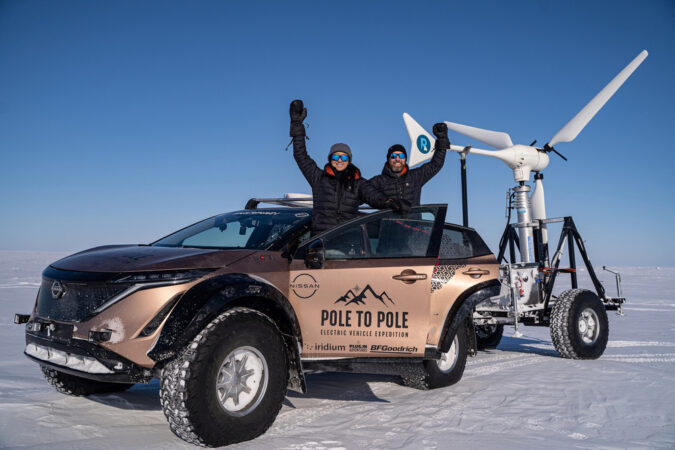 Innovative Renewable Energy Charging
As they traverse remote polar regions, Chris and Julie will tow a unique renewable energy unit featuring an extendable wind turbine and foldable solar panels. This prototype will take advantage of high winds and long daylight hours to charge the Ariya's battery during breaks from driving.
The team hopes this innovative charging method will inspire a transition to electric vehicles for future polar exploration.
A Word from the Ramseys
Chris and Julie are thrilled to embark on this unprecedented adventure, and they're eager to share it with the world. As they cover the 5,000 km journey to their starting point, they are confident in the Ariya's ability to tackle every driving scenario they'll face.
Julie invites everyone to be part of Pole to Pole by following and engaging with their social channels, shining a light on the incredible people, communities, and projects making a difference in the climate crisis.