Driven: 2017 Audi S4 Review
I recently tested out the newest Audi S4, and here are my thoughts on it.
What is the 2017 Audi S4 all About?
Audi makes a model for pretty much every single class and type of car out there. And, dare I say it, pretty much every single car they make is at the very least good. I personally think this is because they've stuck with a no-nonsense business formula. For example, while the R8 is definitely exhilarating and exciting, it's one of the most business-like and robotic supercars you can buy today.
That's not necessarily a bad thing. Audi knows how to make a great car. A good way to know someone is good at making cars is by looking at their middle of the range model.
For Audi, this means that it's their bread and butter, the S4 saloon.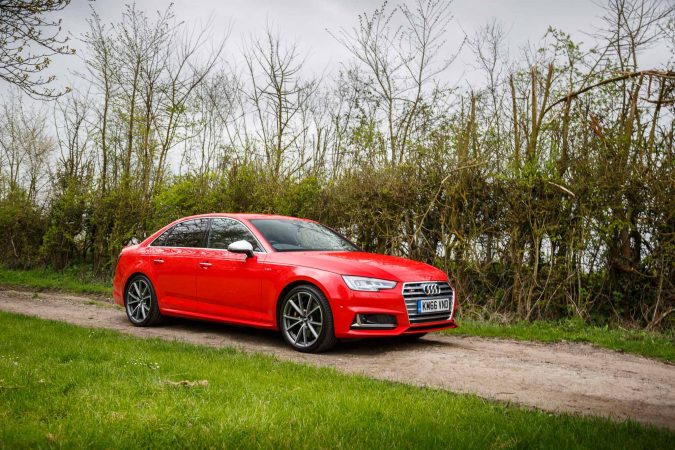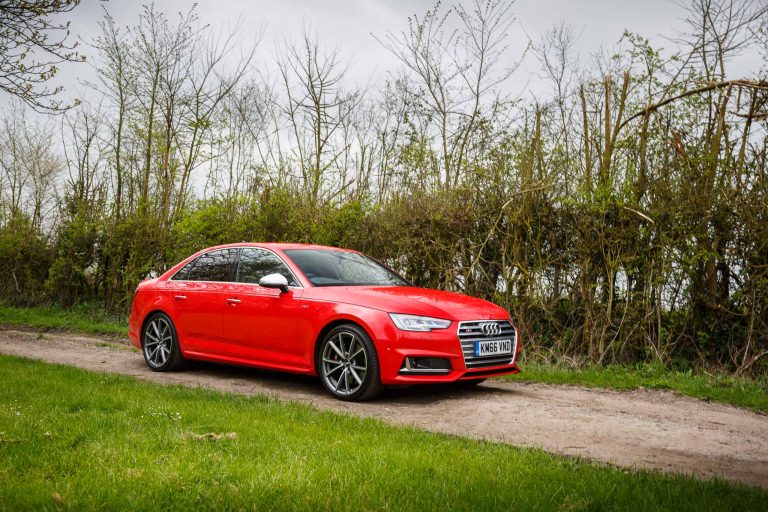 The S4 is pretty much right in the middle. It's sporty, but not as sporty as Audi's RS4. It's big enough for most people, but not full-size. Make no mistake though, Audi has put in new tech in their latest S4. To begin with, it has a new engine, and a new gearbox.
Nothing much has changed on the exterior though. Bar Audi's latest grille design and some dash of contemporary additions in the form of new wheels, headlamps and taillamps, it's largely the same.
The body shape remains familiar. Again, that's not a bad thing per se. It's not a bad looking car. Anyway, Audi isn't known as the company that makes radical changes. They're the kind that would rather stay under the radar.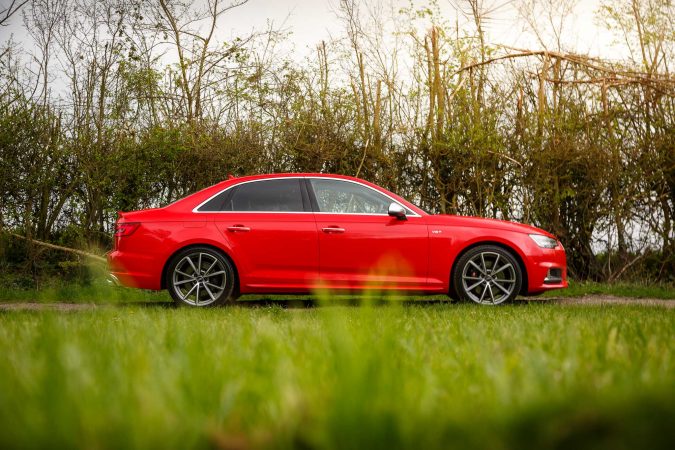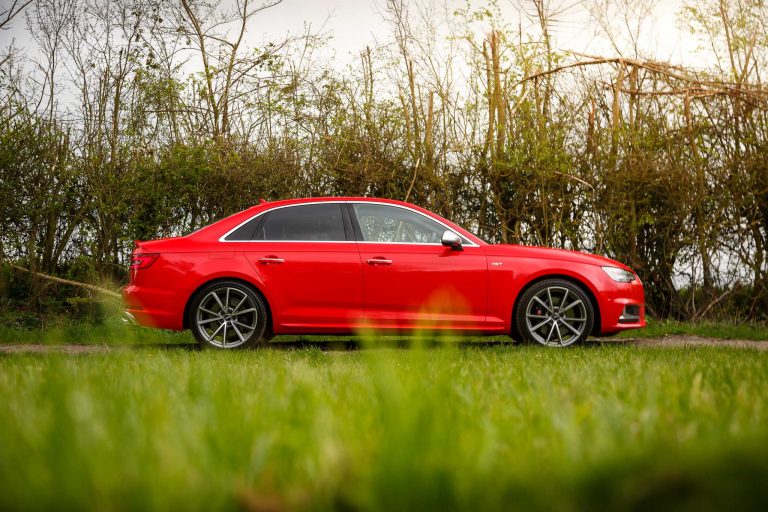 The engine put into the new S4 sounds like a cherry. It's a 3.0 litre turbocharged and direct injected V6. The turbo used is made by BorgWarner, and the aftermarket community would tell you that they know one or two things about making a good turbocharger.
It's a rather well tuned engine as well. It makes 354 PS from 5,400 rpm to 6,400 rpm, and 500 Nm of torque from 1.370 rpm to 4.500 rpm. Anyone would tell you that's a pretty flat response curve. Amazingly, it makes even more torque than the previous supercharged engine, from a lower rpm.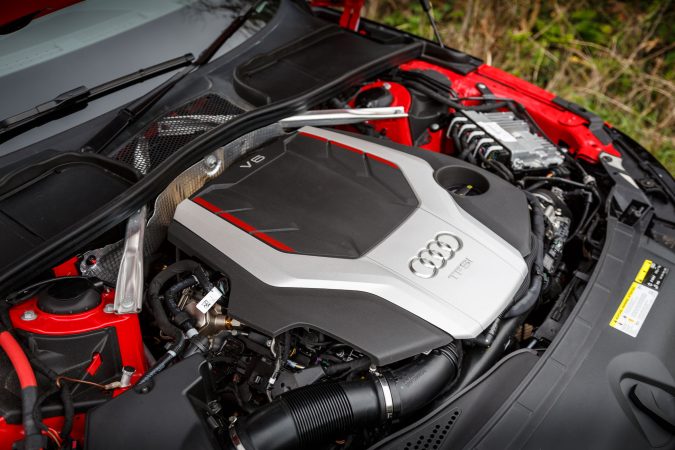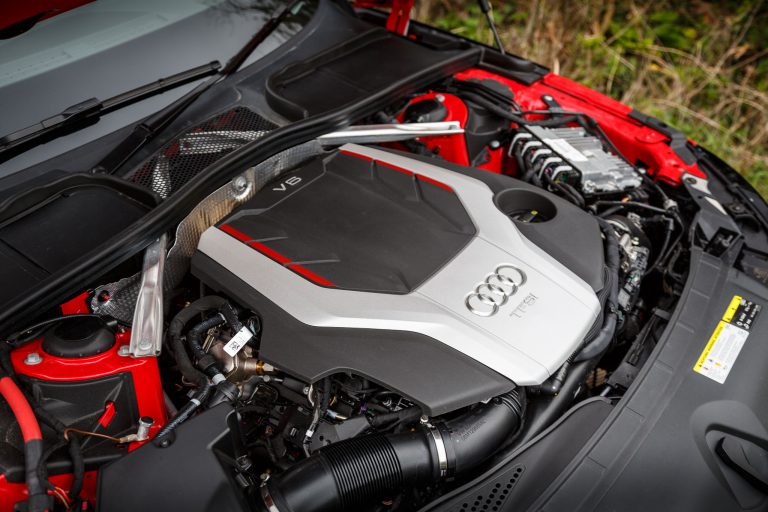 For the new S4, Audi ditched their previous twin-clutch 7-speed and 6-speed manual in favour of a conventional 8-speed automatic. This is to improve smoothness from a standing start and maybe get rid of an option that wasn't selling very well anyways.
This being a Quattro, it's of course all-wheel drive. All of that means that the new S4 goes from 0-62 mph in just 4.7 seconds, and will proceed onto a limited top speed of 155 mph. Thanks to using a turbo, it achieves 32 mpg combined, and puts out 170 g/km of CO2.
How Does it Drive?
The new S4 is faster while being more economical than the last model, which is no surprise since a turbocharger will always be more efficient. While the old S4 was an overall excellent car at handling, it was haunted by hints of understeer and artificial steering. Does the new S4 address this issue?
To begin with, the new S4 weighs in at around 1.6 tonnes, which is similar to last year's S4. But with a promised improvement on overall engine response and refinement, the new S4 looks to top its predecessor in speed.
The new S4 is fast. Real fast. The engine is quite incredible. There's torque everywhere, you don't have to wait for the car to pick up pace. Overtaking is quite literally just a pedal press away.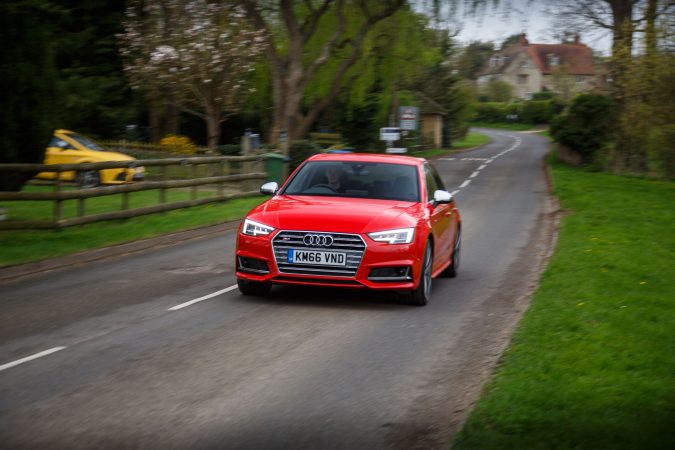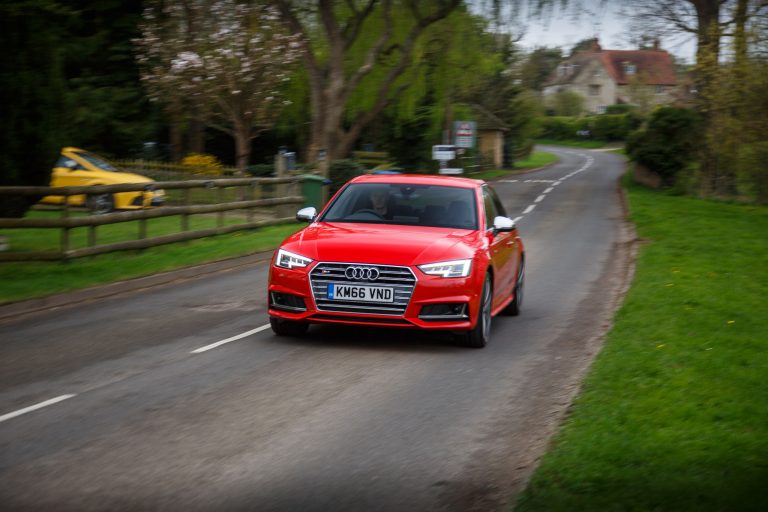 The S4 just feels slick, especially when you kick it into Comfort mode. It's so smooth that it's scary. This is one of these cars that'll just deal with British roads. Which is a godsend, given that most sporty saloons nowadays tend to go overboard.
It's at its best when you select Dynamic mode however. You can feel everything tightening up just enough to make you grin, but not too much that it loses its composure. The 8-speed shifts effortlessly as well, with predictably excellent ratios. But really, when you have 8 gears, there's no excuse for bad gearing.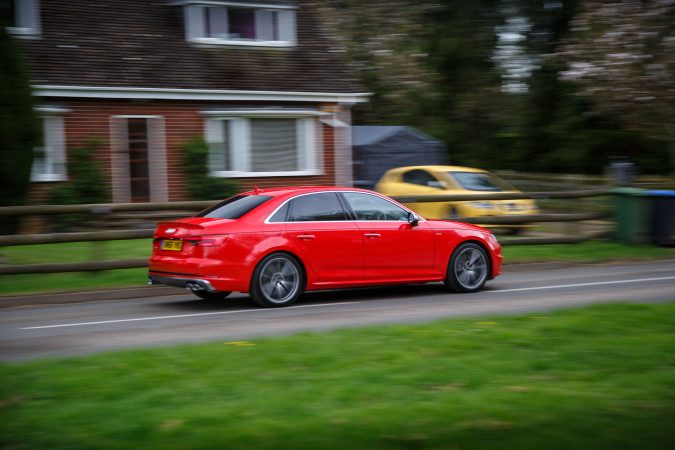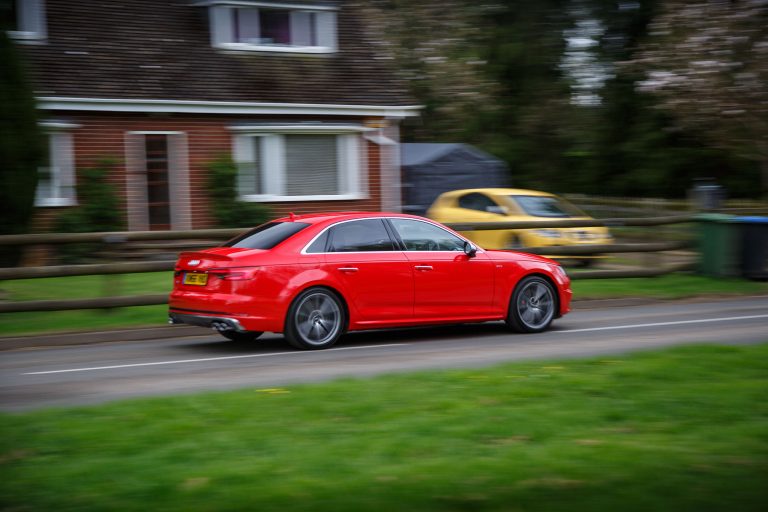 The chassis is remarkable. The underpinning is from the A4, but man is it well sorted. Cornering is seamless and smooth, with a slight hint of oversteer. It's a really stout body, this, as nothing feels like it's going to give. Staggering rigidity.
With plenty of torque on tap, it's not like you have to take corners fast either. There's a lot of clever differential tech put into the Quattro system here, and it shows. However, there is a sense of body roll, but all that smooth-ride has to come somewhere. Audi's dynamic suspension does a pretty decent job at keeping everything in check.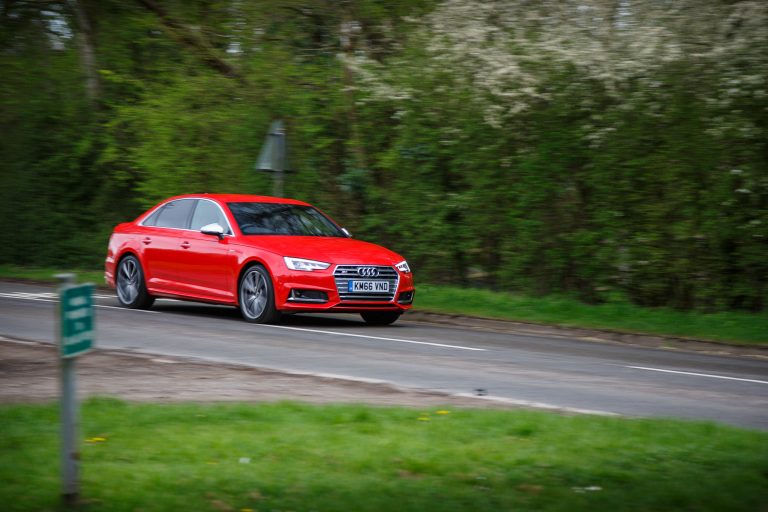 So the S4 won't be nipping at Panameras, Quattroportes, or the M3 just yet. With that said, it's a solid car. There's nothing you can really complain about how the S4 drives.
What's it like inside?
As you can imagine, Audi does not skimp on interiors. The S4 is no exception.
What I, and I believe Audi buyers like about Audi is they're not ostentatious. There's nothing really telling of the S4's hidden ambitions, other than the S badges scattered around the cabin.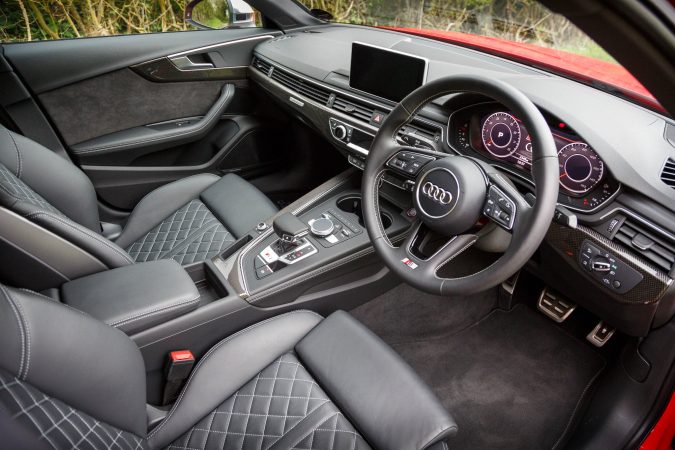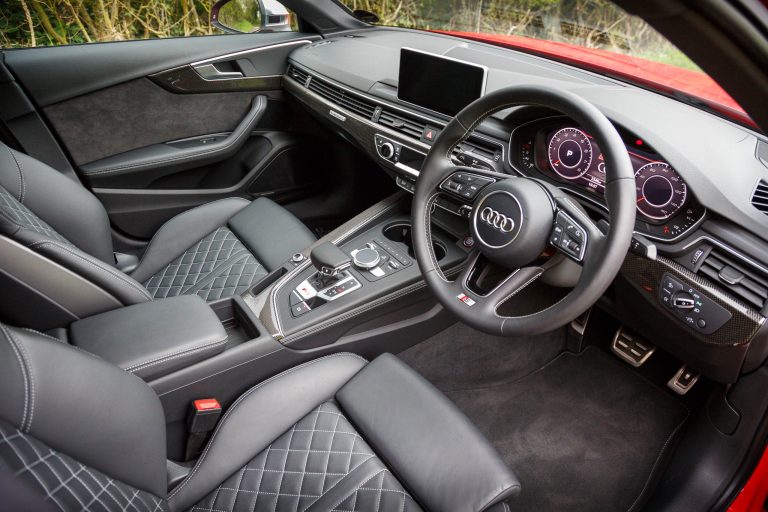 The seats in our S4 were really similar to the ones we had in the SQ7. Well, really, the entire cabin is deja vu of the SQ7. You should check out the SQ7 review if you want to know more about how the interior stands. Just know that it's top notch.
You can actually hear a fair bit of the V6 on the road. It's a lovely, pleasing tone, this engine really sings. Otherwise, cabin noise is minimal. The S4 will happily sit on the motorway at the speed limit and you can still whisper.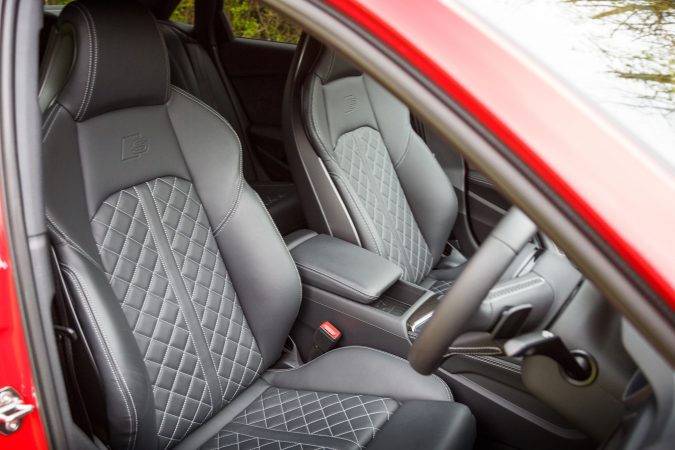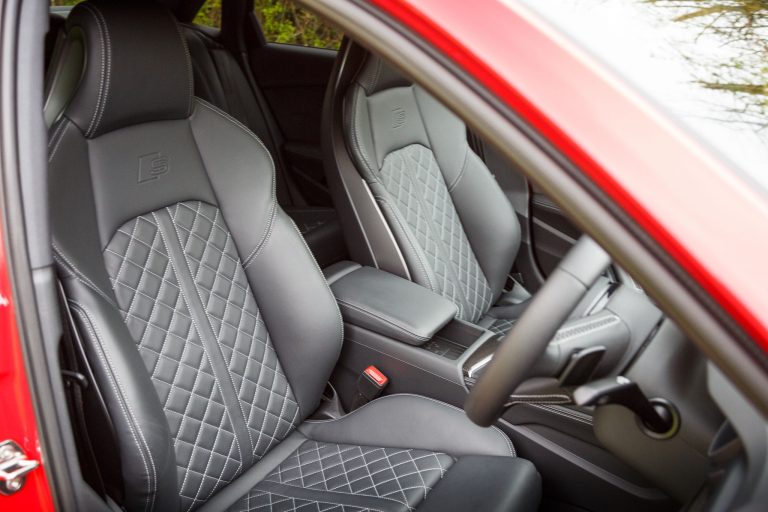 The S4 is very practical, being almost entirely based on the A4. You get quite a lot of breathing space in here, even though it's technically a compact saloon. Rear legroom is ample too, you can fit two adults comfortably in there.
Luggage capacity is 480 litres. If you fold the rear seats, you can get 965 litres. This is actually pretty good, and you can haul a surprising amount of cargo in the S4.
The Experience
The S4 was an amazing drive. This would make an incredible long distance cruiser. The best thing about it is the fact that the S4 looks pretty much identical to the A4. So really, to everyone else, you just look like someone driving a normal Audi.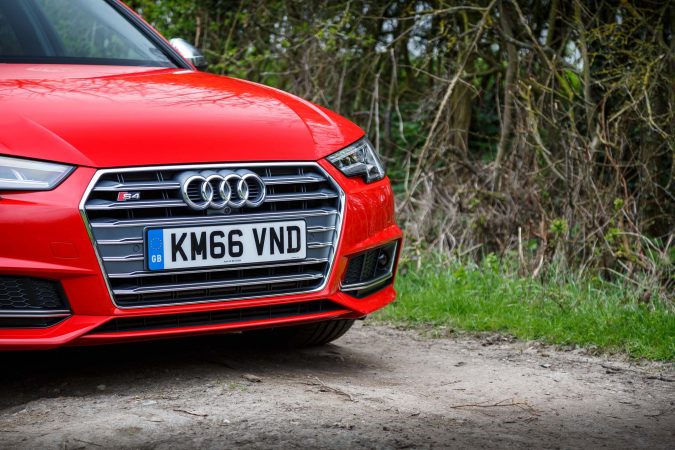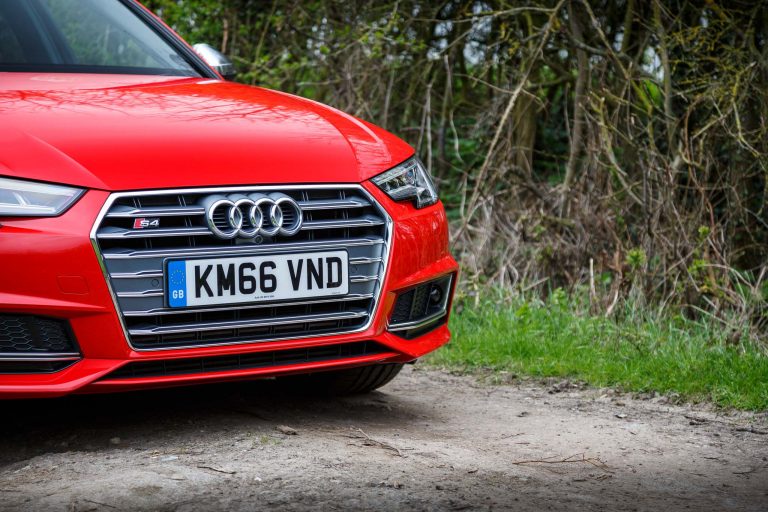 With all that power, the S4 is still very easy to manage. This is attributed to Audi's Quattro AWD system and the use of those sticky tyres. Even in the wet, you can still be pretty brave. That's more than I can say than many other German sports saloon these days.
Verdict
The 2017 Audi S4  is now such a well refined car with a boat load of stuff to offer. The new engine and gear box is very impressive and the A4 platform it is based on, inside and out is solid. There is nothing not to like about this car. But if you want more performance, lets not forget you can still take it up a notch to the RS4.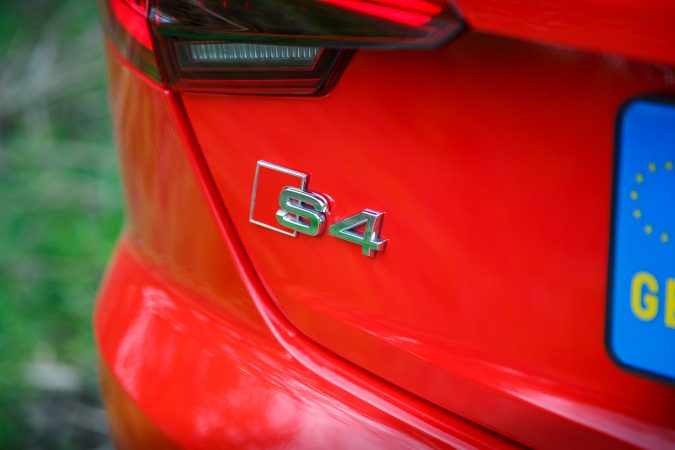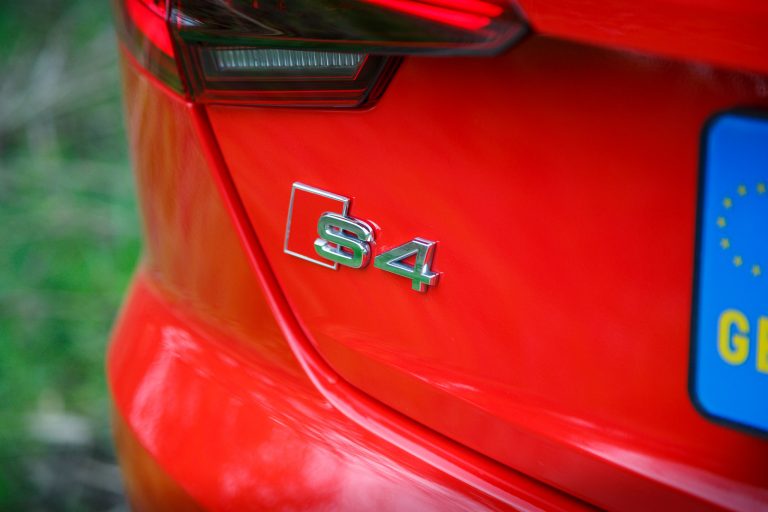 Video Highlights

Specification
2017 Audi S4 Review
Price: £54,105
Engine: 3.0-litre turbocharged petrol V6
Power: 354 hp
Torque: 500 Nm
Transmission: Eight-speed Tiptronic automatic transmission
0-62mph: 4.7 Seconds
Top speed: 155 mph
Weight: 1,630 kg
Economy combined: 31.4 mpg
CO2: 170 g/km
Author: Paul Hadley