A while back, we took the then-relatively new Giulia Quadrifoglio out for a run, and for every step of the way, it was an absolute delight. It's an amazing car with awe-inspiring dynamics and sporting credentials to give the Germans a run for their money. It can drive rings around them for its theatre, poise, thrills, and sheer fun factor. Not to mention, it'll be more than capable of beating lap records.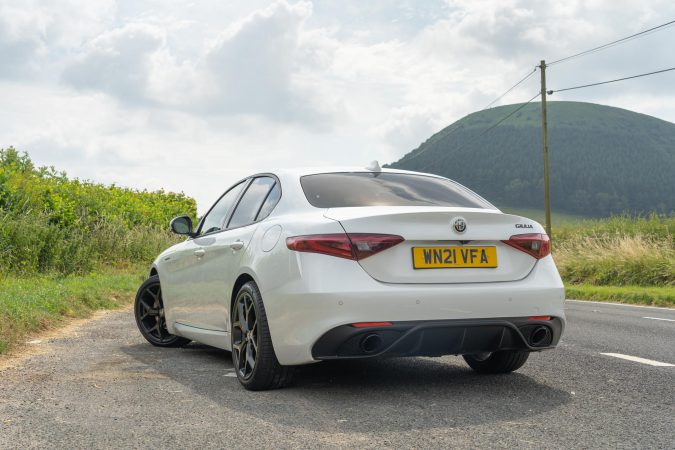 In the eyes of many, Alfa's first go at a rear-wheel-drive sports saloon in two-and-a-half decades was a home run, most keen to compete at the very top of the food chain. But how about we look a bit lower down in the price bracket… Could the more attainable Giulia Veloce be just as outstanding to drive? For those that don't have deep pockets, this might prove to be an appealing offer to its rivals.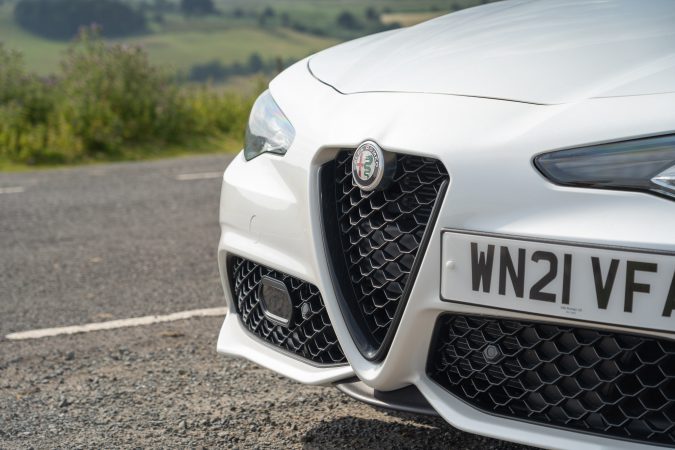 To put this to the test, we've had the pleasure of testing the most recent Veloce trim of the Giulia out for a taste of Welsh roads. Here, in these twisty and challenging country lanes, filled with sweeping roads, and followed by countless peaks and valleys, this is where we'll make (or break) the Giulia. After all, it's the sort of territory – perhaps less sunny than the Amalfi Coast – that will best suit its character.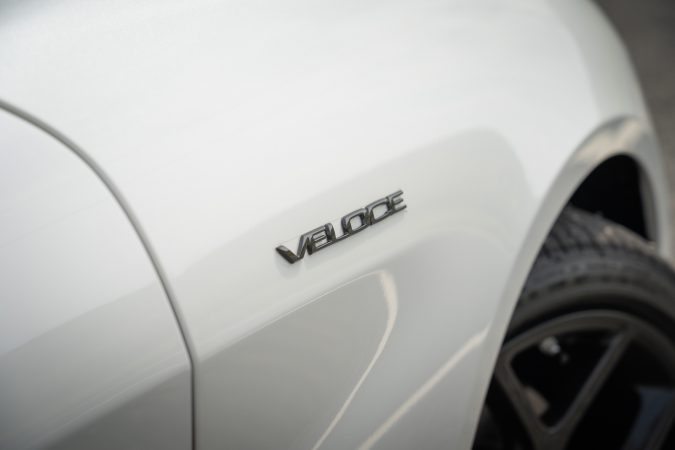 What Is The Alfa Romeo Giulia Veloce About?
At first glance, we can already give the Veloce an A+ for styling, as it looks jaw-droppingly gorgeous. While some of its rivals are restrained in appearance, the Giulia is typically Italian in inheriting the flair of its ancestors. There's drama and exotica in the bodywork – especially when you count the badge – to stand out from the crowd. It exhibits a hue of elegance, without dismissing its sportiness.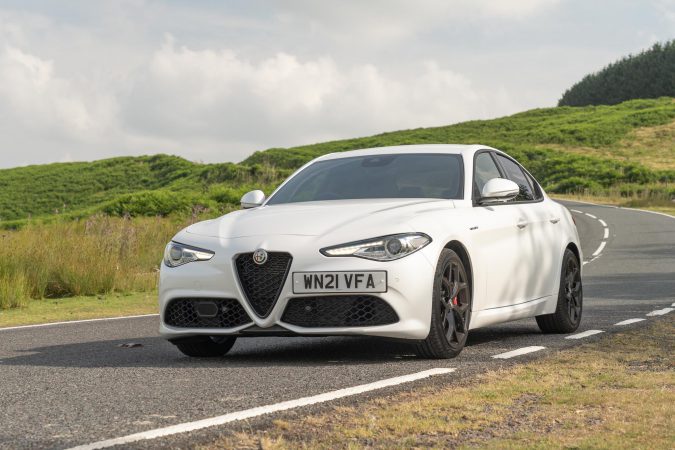 If the M3 appears like it's wearing a tracksuit, then the Giulia is donned with a sharp and flamboyant Neapolitan cut jacket. There's a sensual appeal in a way that captures your imagination and soul. But underneath all this beauty is where the true magic lies. Alfa follows a top-down policy when it came to developing the Giulia family. This meant building the Quadrifoglio and its racy bits first.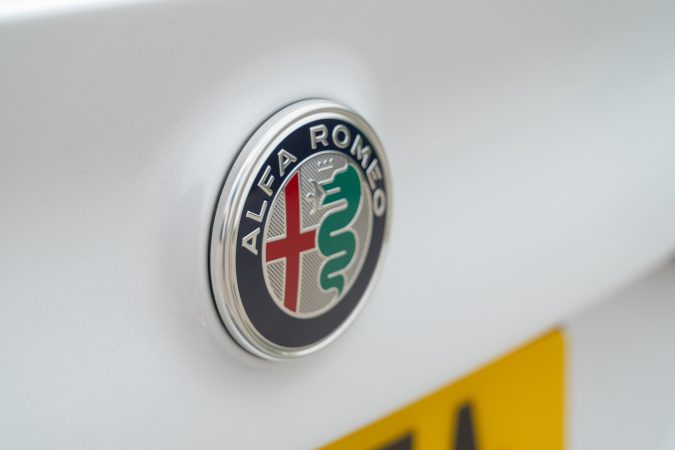 Once that's done, it starts trickling down to the Veloce, which sits nearer to the bottom of the range. As a result of this, a lot of athleticism of the base-trim Giulias are honed in from the more expensive car, which we'd say is good value. We drove the Alfa Romeo Giulia Veloce along Wales' finest roads for at least 200 to 250 miles, and we savoured every moment of it – a testament to its engineering.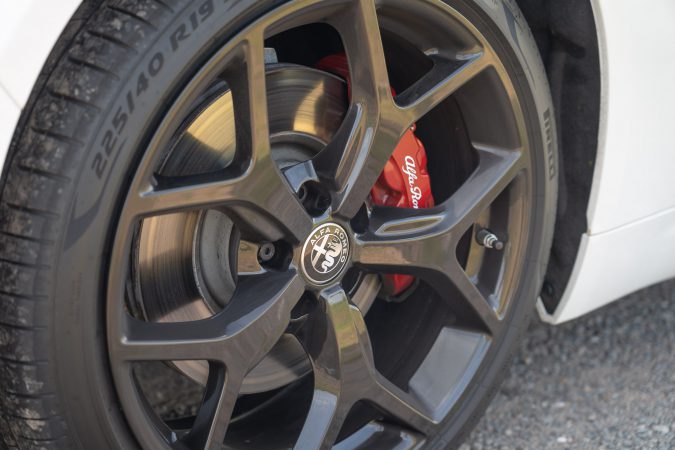 How Does It Drive?
One key ingredient that's missing is the 2.9-litre bi-turbo Ferrari-borne V6 from the hot Quadrifoglio. Nonetheless, you never feel short-changed with this supposed "lesser" Giulia. The Veloce gets a 2.0-litre turbocharged inline-4, which is good for 280hp and 400Nm of torque – both fairly impressive figures. On paper, it can dash from 0 to 60mph in just 5.7 seconds, before topping out at 149mph.
This is technically the most powerful engine you can get in the Giulia, besides the V6 Quadrifoglio. The Veloce sprints off the line rapidly, with a tweaked torque curve to deliver more of that power in lower RPMs. The response is equally sprightly, with practically no turbo lag at all. Moreover, the turbo is tuned to deliver a more progressive and linear power band, available to burst at any RPM.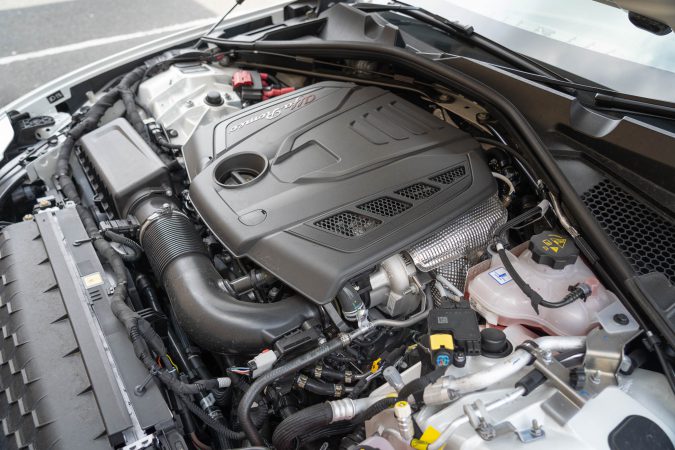 Pairing up with the motor is an 8-speed ZF automatic gearbox, which is wonderful, as it shifts along smoothly and quickly without a hitch. Alfa has reengineered it to hasten up the gear changes, as well as reducing any potential friction loss. It's a great transmission, and although you may normally let it change gears itself, the big metallic column-mounted paddle shifters are too good to not use.
The gear shift tactility makes the Giulia a pleasure to enjoy as a pure driver's car, only shy of perhaps a Ferrari or a McLaren for its clicky paddles. Aside from that, we don't need to drive it for long to remember that the Veloce is still rear-wheel drive. Stamp on the throttle, and you can feel the surging power thrust you forward. It's nothing short of a lively experience, improved by some of the things you can't see.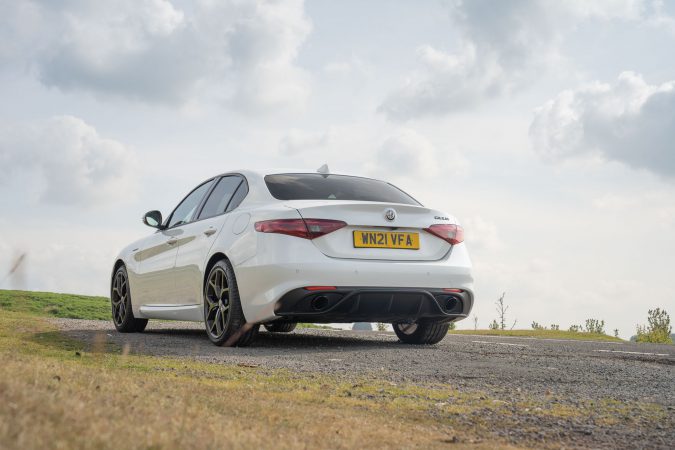 The chassis is exceptionally well balanced, cutting out any feeling of understeer or body roll that may otherwise hamper with its spirited drive. The 'Alfa Link' suspension is a tad softly sprung, made for the mature Veloce to better tackle day-to-day obstacles like potholes and speedbumps. It glides beautifully over the tarmac, with the suspension swallowing every depression and bumpiness.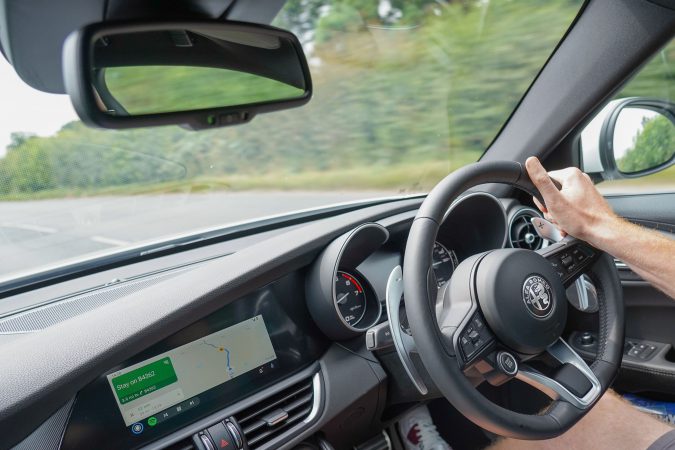 Yet, it doesn't compromise its agility either, as it can keep itself extraordinarily composed and taut while you're chucking it into the bends. Aiding this are a set of racy Pirelli P Zero tyres, which has no problem keeping traction, even when approaching turns at speed. It can inspire confidence to do a lot of naughty things behind the wheel. The steering, meanwhile, needs some getting used to.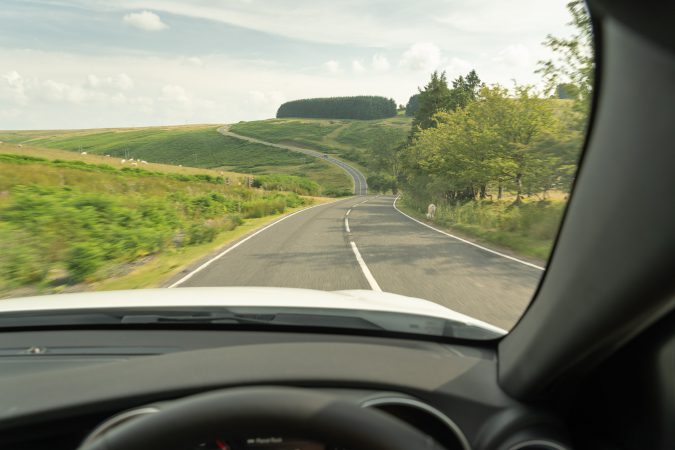 As with plenty of other sporty Italians, the Giulia's steering is hypersensitive. Some might say it might be over-assisted. However, this incredibly sharp and light steering has its merits. You can influence the Veloce's direction much quicker, as it darts about to wherever you're pointing at. Plus, it also has the benefit of making the car feel lighter and nimbler on its tippy-toes than it really is.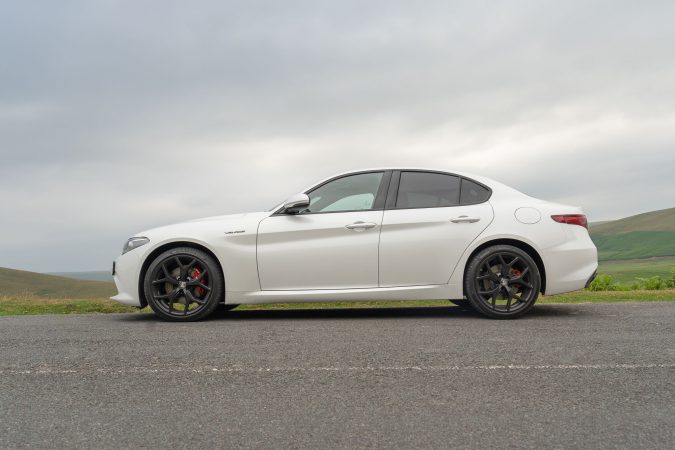 What Is It Like Inside?
Compared to Alfas of the past, the interior of the Giulia Veloce is a night and day difference when looking at refinement. It feels and looks good, built with the same focus towards quality as with its German counterparts. Better still, Alfa's taken great care of its attention to detail on where it really matters. The best example of this is its aforementioned paddle shifters, mounted to the column.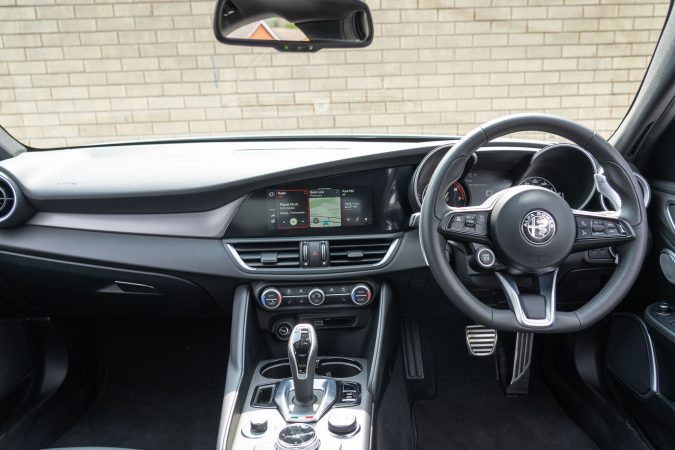 Once again, these are leagues ahead of anything else in this space for sensation. The car is basically trying to encourage you to keep changing gears yourself rather than leaving it in auto, just for the pleasure of pulling it, and feeling that pleasing "click". You also have a big starter button, placed on the steering wheel like a proper racer. Although, it's sadly not bright red as it is in the Quadrifoglio.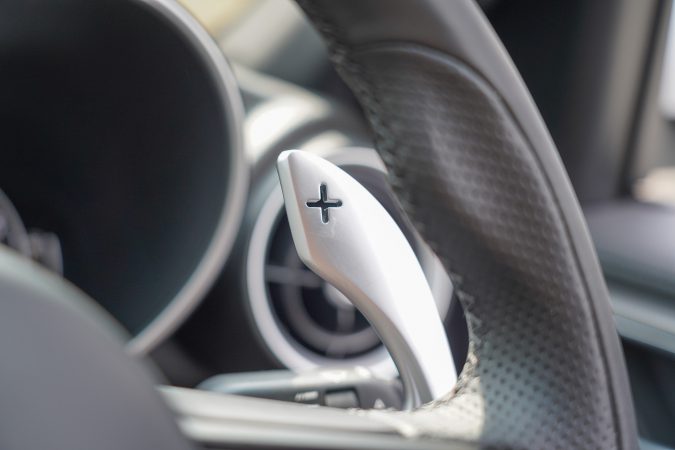 The wheel itself feels nice to grasp. Aside from that, you have an 8.8-inch infotainment display right in the middle, which merges seamlessly into the dash. It's not as sharp or as responsive as what you might find in a similar Audi, BMW, or Mercedes. But, it's functional enough for all the things you need it to do. Staring back at you are two analogue dials – a very rare, but welcomed sight and do remind me of various Maserati models I have driven in the past.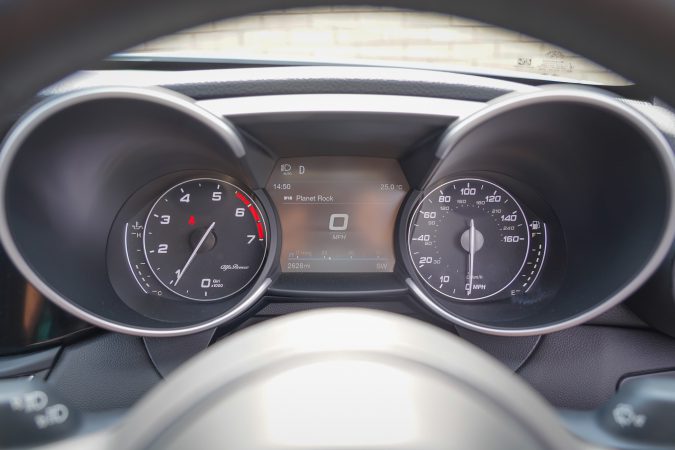 Both are flanking another 7.7-inch TFT display, which can provide you with useful information such as when you need to shift up a gear. As for the more practical side of things, the cabin, in general, is a great place to spend time in. However, the rear passengers will feel somewhat compromised with cramped legroom. In the centre console, you might have also noticed a tiny rotary knob.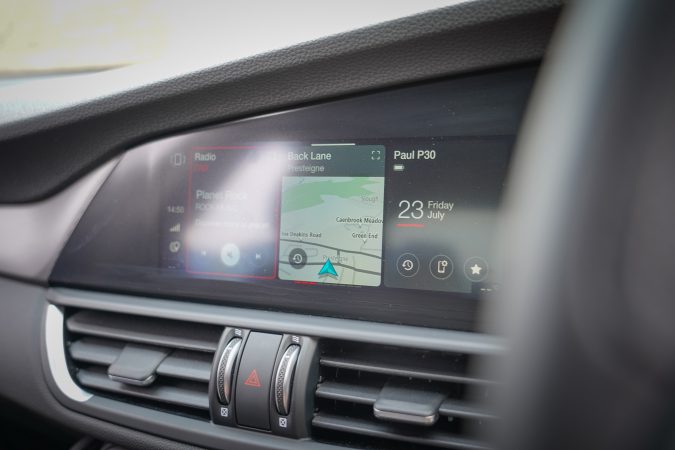 The Experience
This is a part of Alfa's D.N.A system that lets you choose between one of three driving modes. This being D for 'Dynamic' (or sport mode, technically), N for 'Natural' (basically your normal setting), and A for 'Advanced Efficiency' (sort of a toned-down Eco mode). One setting missing here is the hardy 'Race' mode from the Quadrifoglio. In each setting, it will fine-tune your inputs accordingly.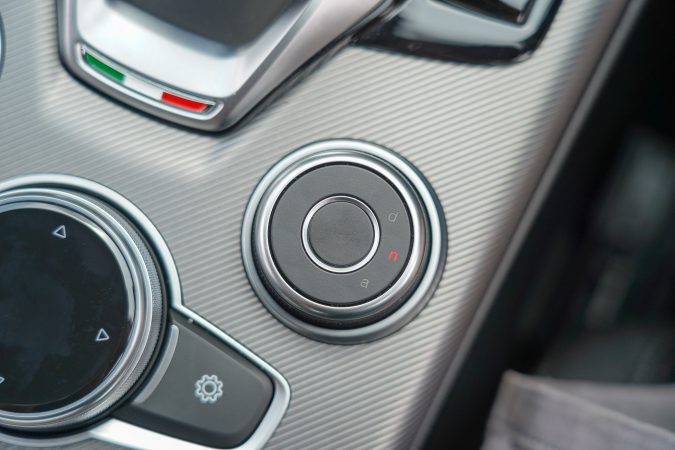 Moving up to Dynamic, the throttle response will get sharper, as the steering tightens up, and the gearbox is keener to shift. The suspension – assuming you've opted for active dampers – can go soft or hard at a press of a button. The one noticeable downside of the Veloce throughout our drive was the sound. You can hear that engine working, but there's not much exhaust note to be heard.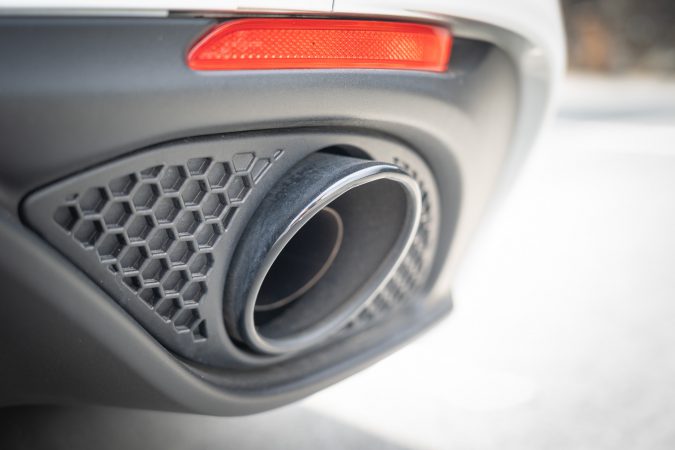 That's compared to the pops, bangs, and crackles of the Quadrifoglio, and its burbling V6 soundtrack. The Veloce is practically silent by comparison. On the flip side, this does make the Veloce a more refined, comfortable, and peaceful car to spend your days with. The Quadrifoglio is rather high-strung in nature, although the Veloce has just enough poke when you need it.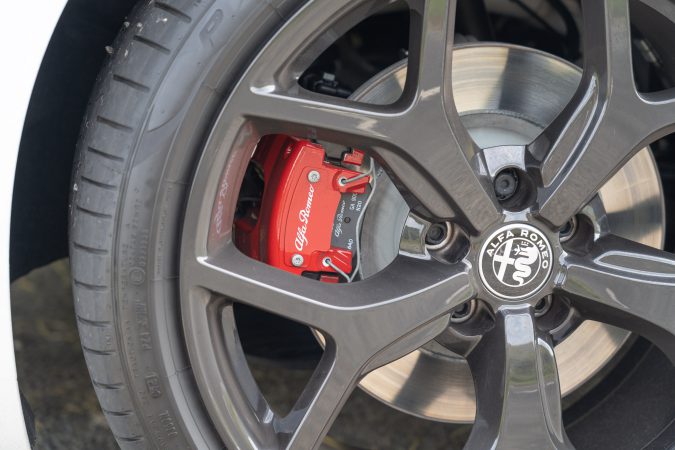 With its performance figures, the Veloce matches the Civic Type R for pace. But it's arguably more fun since it's rear-wheel driven, and it definitely looks mature. Back to driving and commuting, the Veloce will burn through fuel at a rate of 22 to 23mpg when you are pushing the car hard, but can easily cruise at around 40mpg also. That's respectable, granted we were quite liberal with the accelerator pedal at times. One more thing that we've not discussed is its brakes.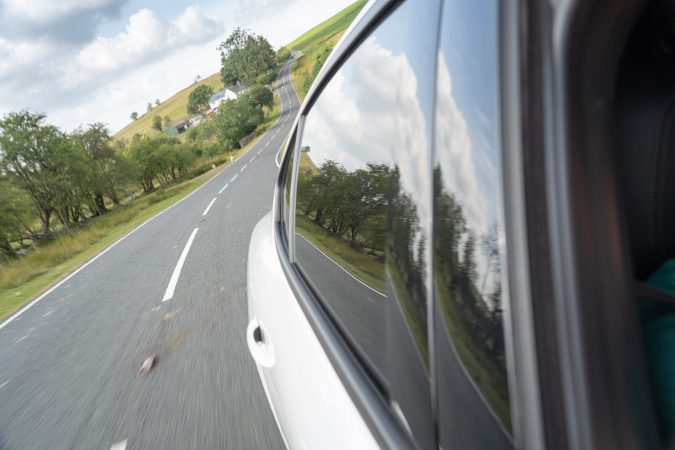 They can more than readily stop you on the spot. Alfa Romeo claims that the Giulia Veloce has a best-in-class accolade for braking, which can slow it down from 62mph to 0 in only 38.5 metres. Speaking off, you get a few safety techs and gadgets by default. These include automated emergency braking with pedestrian detection, forward collision warning, and lane departure warning.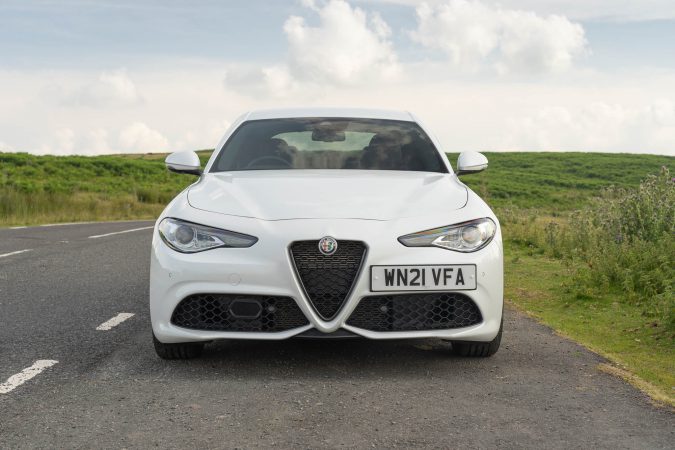 Alfa Romeo Giulia Veloce Cost
The Giulia family starts at £36,595 for the base-level Giulia Sprint. The Veloce sits one class above that, with a sticker OTR price of £40,210. As tested, our Veloce here has £5,050 in options, bringing the total cost to £45,260. The biggest extra that we had was the 'Convenience Pack', which included the little things like keyless entry, as well as electrically adjustable seats.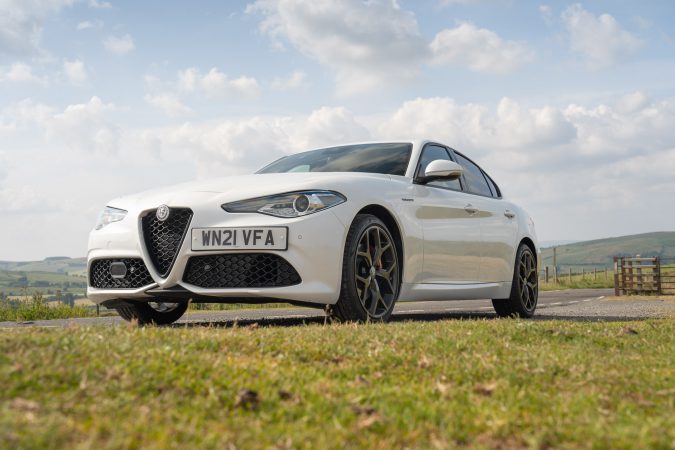 On top of that, we also have a 14-speaker Harman-Kardon audio system, which sounds quite epic to our ears. You do get a lot of stuff as standard, such as the aforementioned safety systems and driver aids, as well as the interior electronics. You, therefore, don't need to spend much when configuring your Veloce. Some options may be worth spending the extra cash on.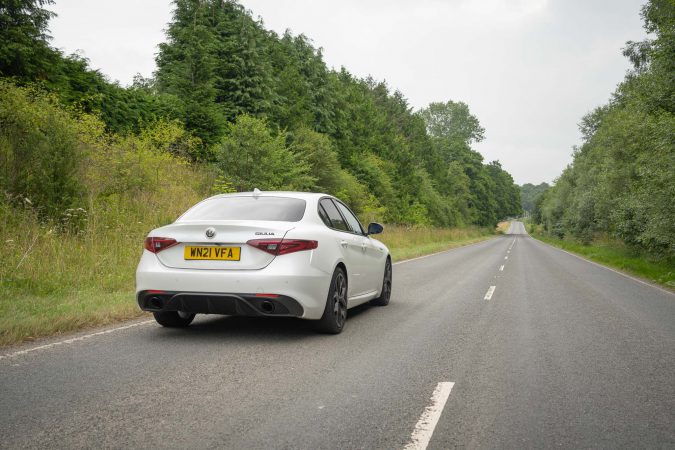 The 'Performance Pack', for example, adds a limited-slip differential on the rear axle for improved handling abilities and traction. Not to mention, you can get the active dampers in this pack, as well. The 'Driver Assistance Pack Plus' is a great option to tick off if you need more aids, such as parking sensors and cameras, an automatic high-beam system, and blind-spot monitoring.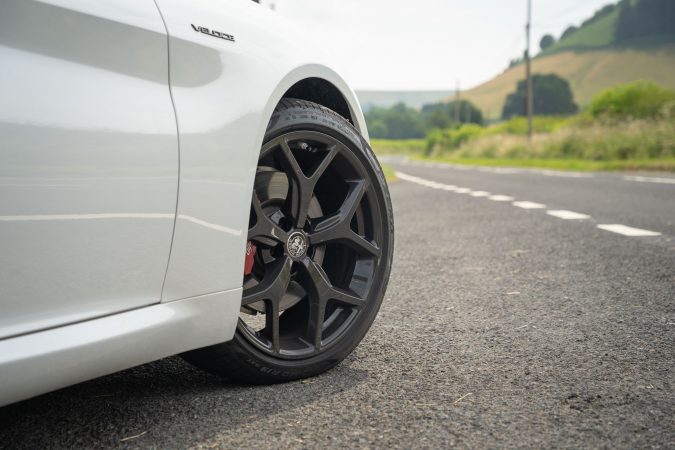 Verdict
Overall, the Giulia Veloce is a fantastic machine that can pretty much do everything. It's a jack of all trades and a master of most. For the price, you get an ample amount of performance, cranked out from an energetic and progressive engine, no matter how small or mundane it might appear. Raw power alone isn't enough, as Alfa has mated its straight-line speeds with brilliant chassis and suspension tuning.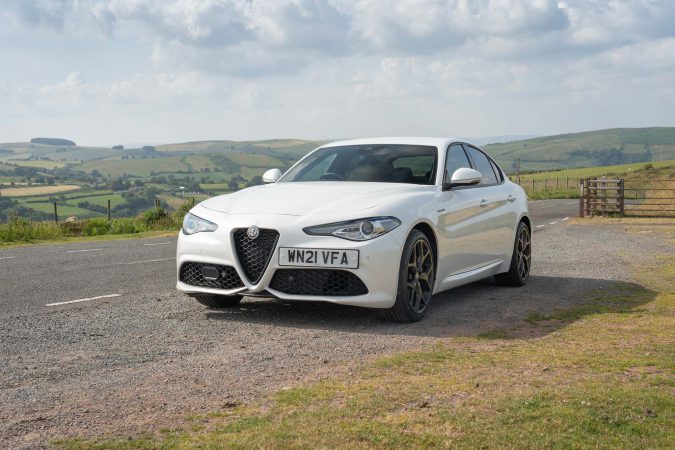 It's relatively lithe with a kerb weight of around 1,429kg. This gives the Veloce a big advantage in its power-to-weight ratio, balanced with 50:50 weight distribution on the front and rear axle. Working with it, the suspension, even when passively set up lets you tear across any challenging terrain with ease, never losing its pace or posture. Yet, it's still a comfy cruiser for commutes and road trips.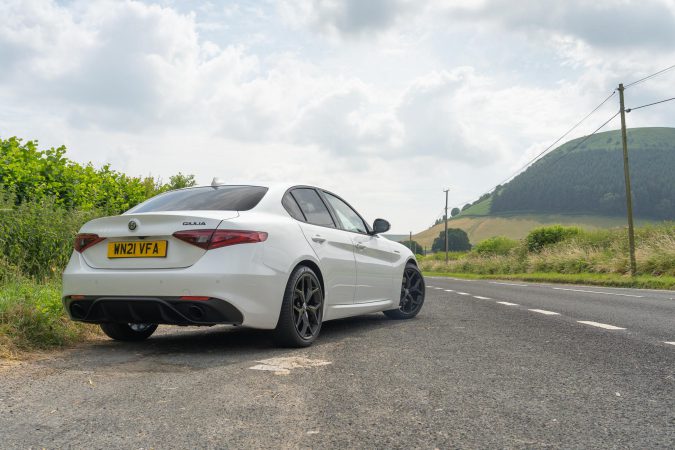 Traction is judged to perfection, as the gearbox shifts seamlessly from one gear to the next. And just to make your day a bit better, you can feel crisp and mechanical feedback anytime you do choose to change gears yourself with its paddle shifters. Drive it for more than a few minutes, and you will slowly come to grips with the uber-fast steering. It takes a moment for your brain to recalibrate.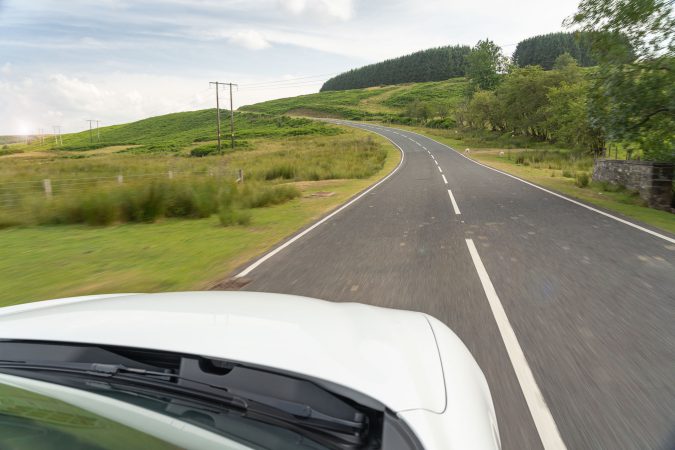 Hop inside, and the Giulia, while a step behind the Germans and Japanese for solid build quality and luxurious feel, is still a nice cockpit to spend time in. If you're willing to forgo the bragging rights of "hey, wanna check out my brand new BMW?", then Alfa's Giulia Veloce is a worthy automotive companion to put a smile on your face and tickle your heartstrings.

Specification
Alfa Romeo Giulia Veloce Specs

Price: £45,260
Engine: 2.0-Litre Turbo 4-Cylinder
Power: 280hp
Torque: 400Nm
Transmission: 8-Speed Automatic
0-62mph: 5.7 seconds
Top speed: 149mph
Weight: 1,429kg
Economy combined: 38.2mpg (WLTP Combined)
CO2: 168g/km