Though you may not typically associate BMW as the maker of MPVs, the 2 Series Active Tourer was their staple people-mover offering for some time now. It's since been refreshed, featuring an up-to-date exterior design, in-car gadgets, interior overhaul, and interesting powertrain upgrades. But, it now enters a market dominated by crossovers and SUVs as most car buyers' big family car of choice.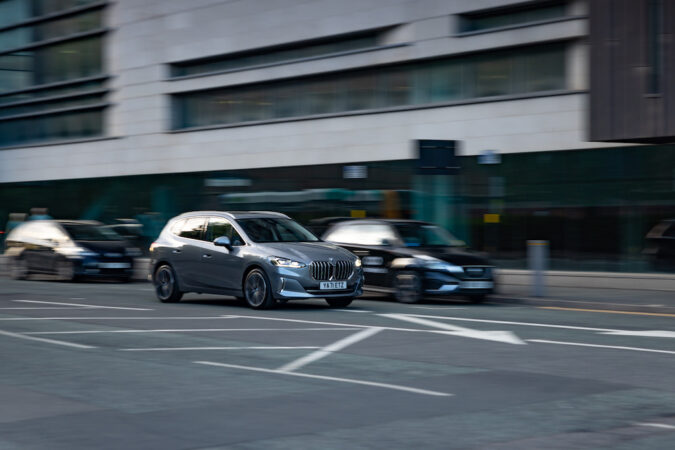 So, is there really a point to the BMW 2 Series Active Tourer even existing at all? BMW's line-up consists of countless other fantastic, high-riding SUVs and crossovers. So, why pick this over the rest? Well, there's a good reason why MPVs still sell in huge numbers, despite the world having been taken over by sports utility vehicles. Quite simply, they're immensely practical and easygoing.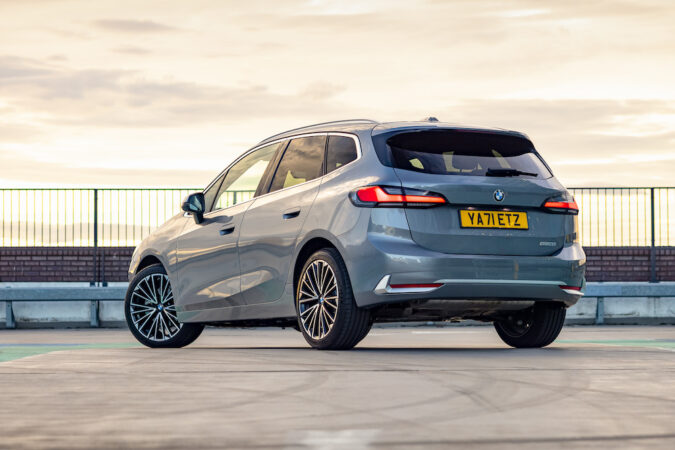 For most people, this 2 Series Active Tourer is the perfect mum and dad wagon… Basically, it's been designed so can easily stick your kids, groceries, and pushchair in the back with no complaints. And, it'll also drive just as effortlessly, as well. Yet, it has all that BMW tech, luxury, and comfort to make going from A to B with hyperactive kids crying and screaming in the back a tad more relaxing.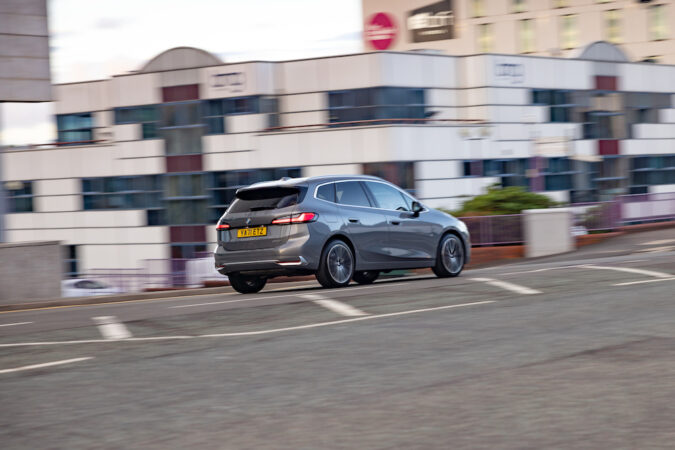 What Is The BMW 2 Series Active Tourer About?
Design-wise, the highlight of the re-designed BMW 2 Series Active Tourer for me are its multi-spoke alloys. They look rather nice and elevate the rest of the car, I think. It gives off that upper-class and sophisticatedly posh look. Though they're optional, it's totally worth the added cost. Meanwhile, the rest of the 2 Series Active Tourer is rather… Odd. Remember, it does carry BMW's new design ethos.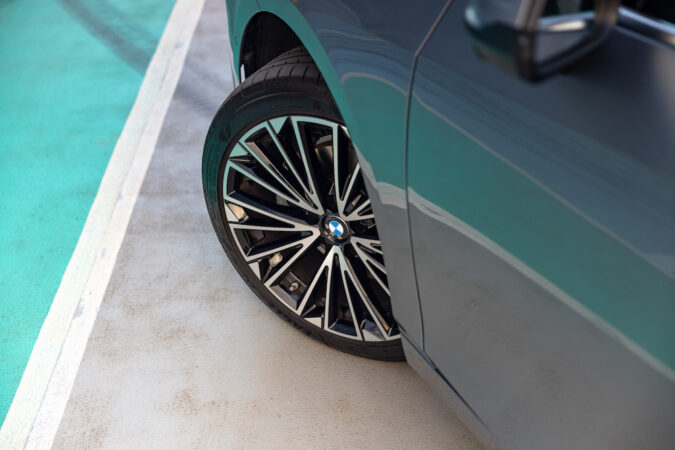 Therefore, you'll notice plenty of sporting lines and sharp edges to give it a more athletic look. That rear three-quarter is my favourite angle, personally. On the other hand, the front three-quarter has what I consider to be a somewhat bulbous and heavyweight appearance. That's especially so when you consider the now-enlarged front grille that you'd also see on every other new BMW model.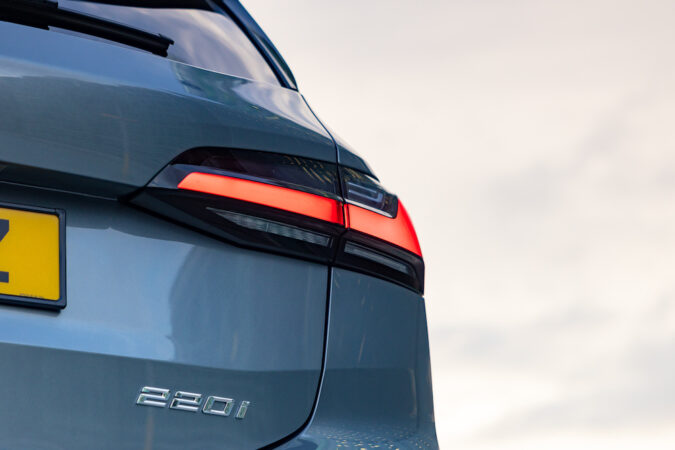 Still, there's at least some function to this form. A pretty cool feature that you may normally miss is the active grille. In essence, the slats in the kidney grille will open when the engine needs additional cooling. But, it would otherwise remain shut to ensure a lower drag coefficient. This would thus yield you better MPGs over time. Speaking of, there's the powertrain that we need to discuss.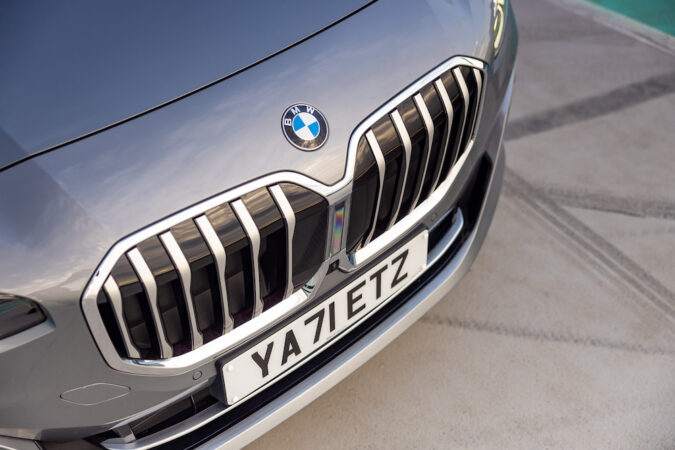 How Does It Drive?
As is the case with many new vehicles today, this 220i Active Tourer is partly electrified. Specifically, it's been fitted with a 48-volt mild-hybrid system embedded within the powerplant. Underneath the flesh, this new 2 Series Active Tourer has a tiny 1kWh battery pack, stuffed under the boot. This will power an e-motor paired with the 220i's 7-speed automatic transmission.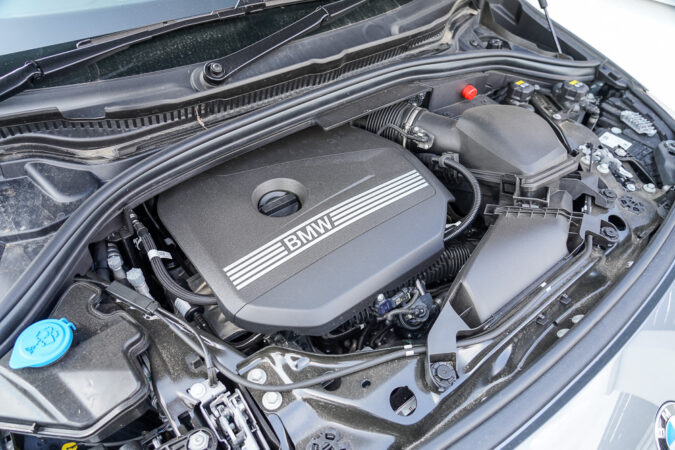 Overall, this combination gains you a modest 19bhp bump in performance. It does have loads of other clever hybrid tricks up its sleeve, too. For example, the ICE engine could dynamically turn itself off while you're coasting. Additionally, it also features regenerative braking built in to continually top up and recharge the battery pack.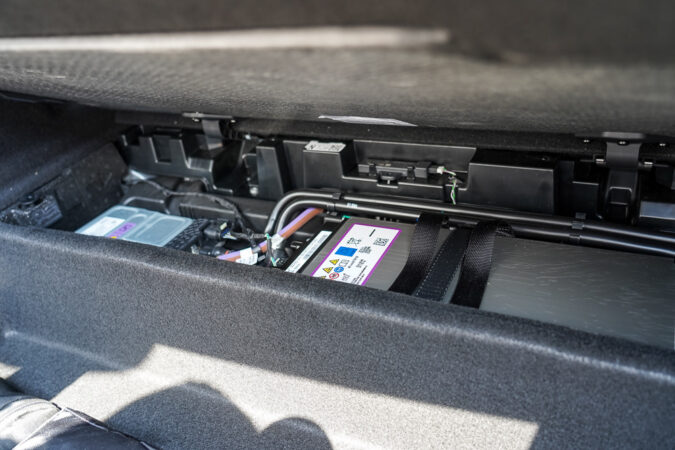 For the most part, the transition between the ICE and mild hybrid is barely noticeable. Still, it's quite the excellent pairing between the mild-hybrid system and the 220i's B38 1.5-litre petrol engine. BMW has done a brilliant job making this modern configuration work seamlessly together.
In regular driving, you can expect somewhere in the low to mid-40s MPG range, which is rather decent. All of which gives you additional control over that engine's uptime as the driver. So, you get ultimate control over how frequently you'd want it running. All in all, the inclusion of a hybrid is massively beneficial to not only refine the driving experience.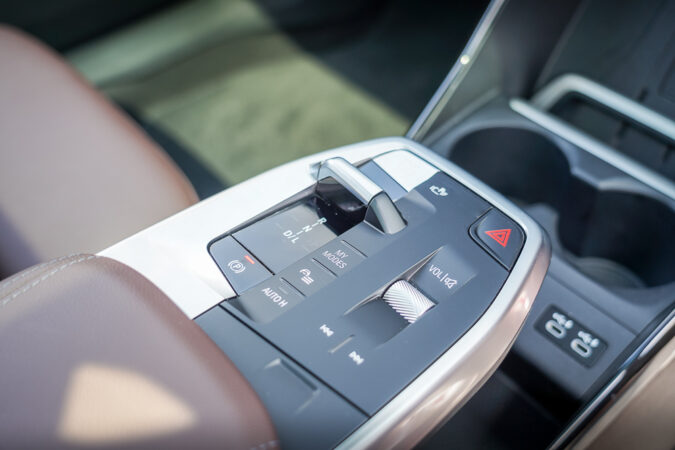 After all, it's now quieter, comfier, and smoother to drive than a standard ICE-only model. But also, a key benefit of mild-hybrid configurations is that they offer you a better fuel economy, not to mention lower emissions, in the long run. Aside from that, the BMW 2 Series Active Tourer drives just like any other typical front-wheel drive BMW. There is a selection of drive modes that you can pick from.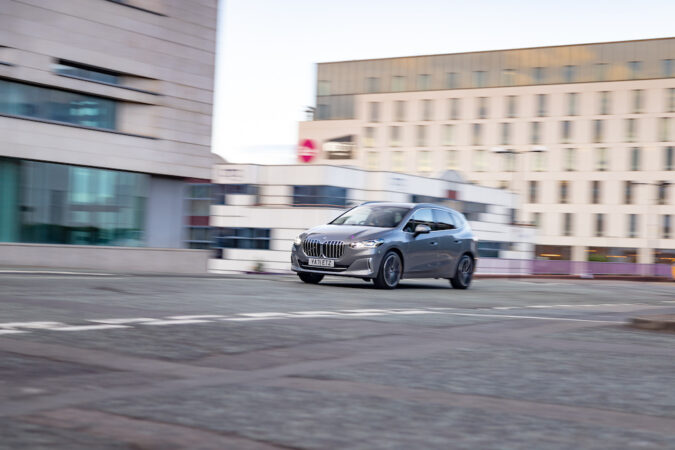 But for an MPV and its intended use case, I've found it better to just leave this in the standard driving modes. It's far comfier, quieter, cosier, and more economical this way. In contrast, switching it into its sport mode made it feel quite twitchy and is mostly unnecessary. Still, this is by no means a sporting BMW model. Looking at the numbers, it only has 170hp and 280Nm of torque between the ICE and e-motor.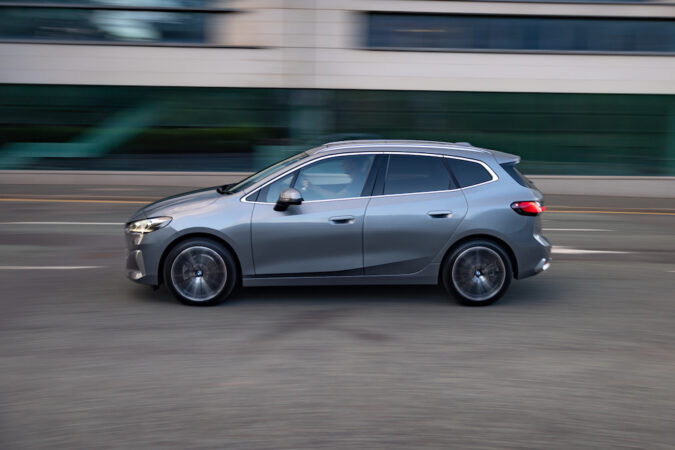 0-60mph will take a relaxed 8.1 seconds, before topping out at 137mph. While not fast, this is a car that's supremely easy to drive and spend those long commuting hours in. The light steering, yet zippy throttle response, combined with a tight turning circle, and good all-around visibility… All make it a breeze to drive around in. Just step inside, buckle up, foot on the throttle, and you're on your way.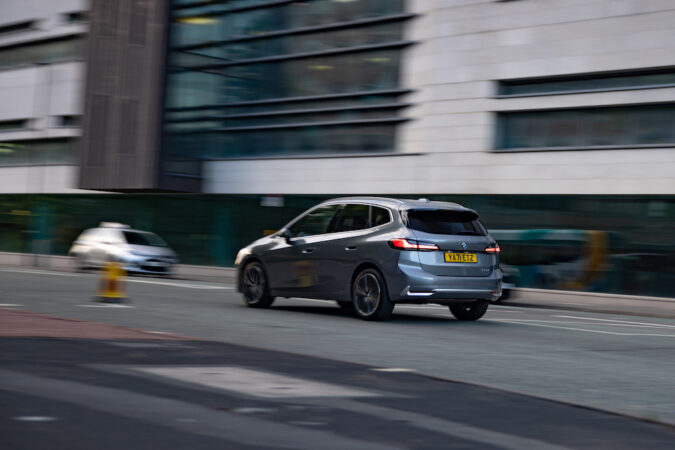 What Is It Like Inside?
Being an MPV, you'd of course expect the interior space to be significant, right? Indeed, that's so with the 2 Series Active Tourer. From the outside, you could already see how its boxy proportions carry into the interior. The doors are large, so getting your kids in the back isn't too much of a tight squeeze. It's also fitted with an electric tailgate, which helps to make your daily errands a bit less cumbersome.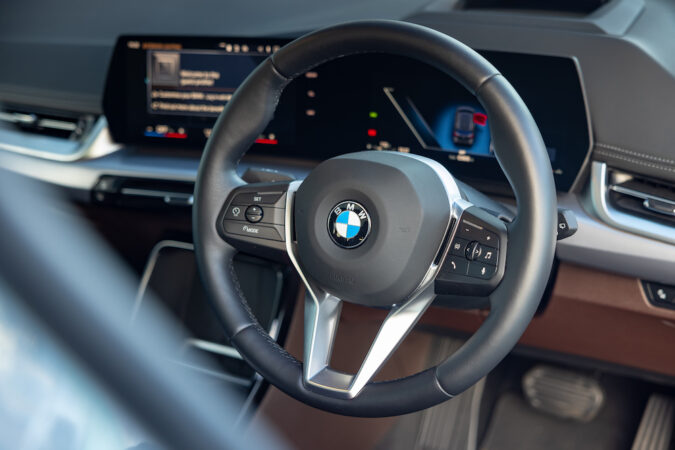 Yet, you can handily relax in this thing when you need to. The interior fit and finish are as you'd expect from BMW. That's to say that the 2 Series Active Tourer is superbly well-put-together, with more than enough luxury trimmings to remind you that you're sitting inside something special. Despite all those cossetting luxuries though, it has a plethora of MPV necessities and other must-haves, as well.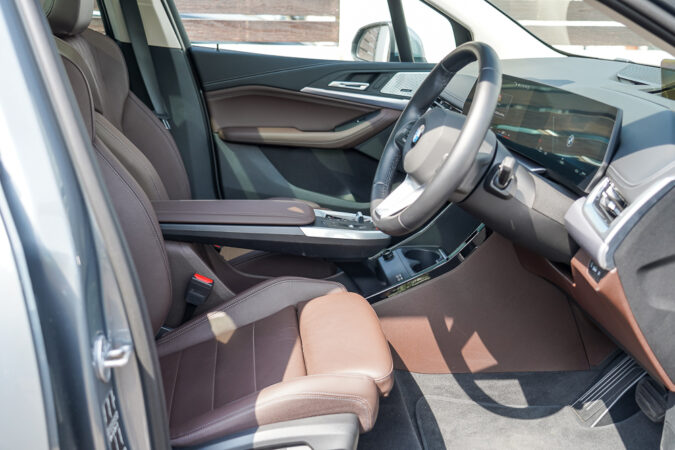 It has a floating centre console, so that does unlock some additional storage space within the cabin. This could at least compensate for the mild-hybrid battery pack that's stored under the boot floor. That's one downside of hybrids – they rob a bit of your cargo space. Other than that, the passenger room remains unaffected, though. Consequently, there's pretty solid headroom and legroom, front and back.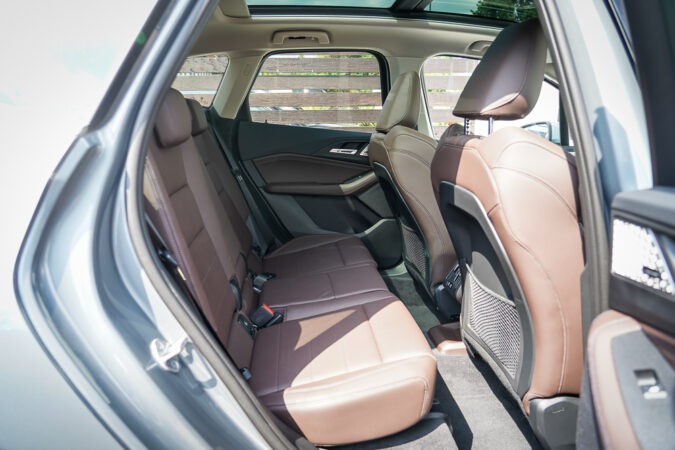 The Experience
Given that this is a BMW, the 2 Series Active Tourer puts a strong emphasis on technology. As such, you'll immediately notice the techy features as soon as you step inside. Your front view is currently dominated by not just one, but two large screens, conjoined together. On the left-hand side, there's your usual central infotainment system, with loads of clever features and functionality inside.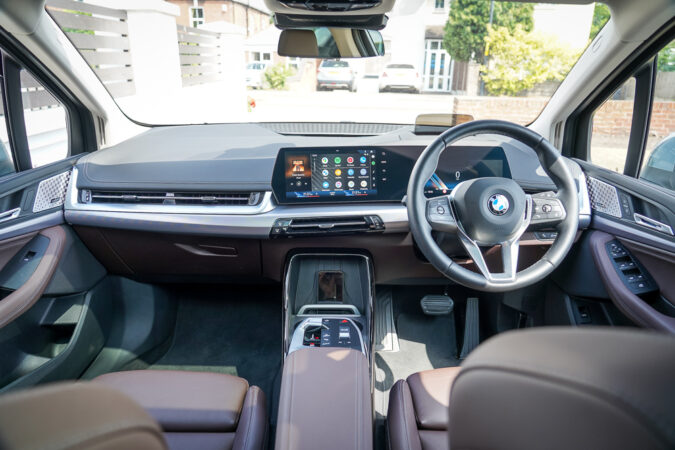 For instance, the surround-view camera system in this is crazily high-tech. It can easily identify all the barriers, obstacles, and other vehicles around you in a bird's eye view. And, providing indicators with how far or close you are to said object. If you get too close, the cameras will even zoom in to let you see in greater detail. It's a super-cool bit of kit, and the rest of the system is just as impressive.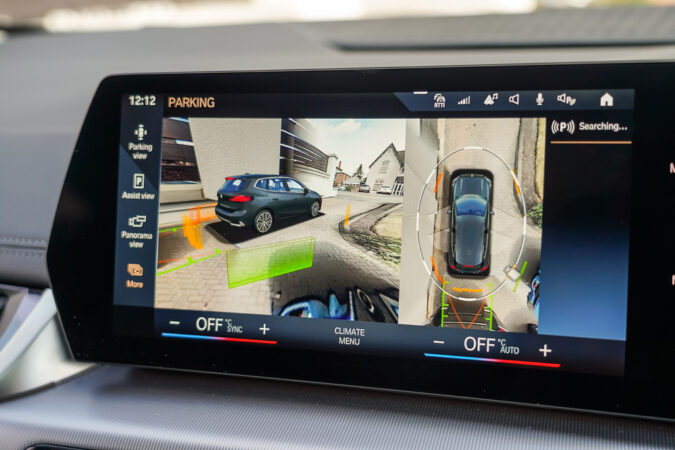 There's wireless Android Auto and Apple CarPlay. Otherwise, the stock BMW interface is already very slick and easy to use. As you're driving along, the digital gauges are easy to read and present you with an abundance of information on the fly. Should you need to, you could also configure the layout as you'd see fit. There's even a heads-up display too, ensuring that you can always keep your eyes on the road.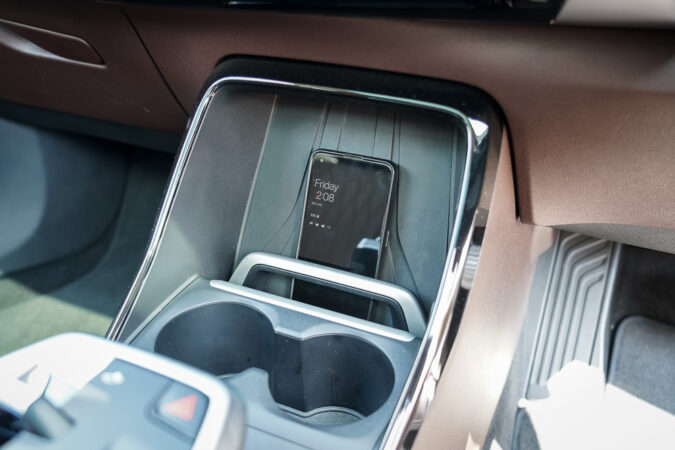 BMW 2 Series Active Tourer Cost
This particular example here costs precisely £39,479.99. Although, the 220i Luxury Active Tourer will start with an OTR price of around £33,105. The rest was mostly spent on options and extras, with its priciest optional kit being the Technology Plus Pack. This provides you with a heated steering wheel, an interior camera, a parking assistant, a wireless charging pad for your phone, and driver aids.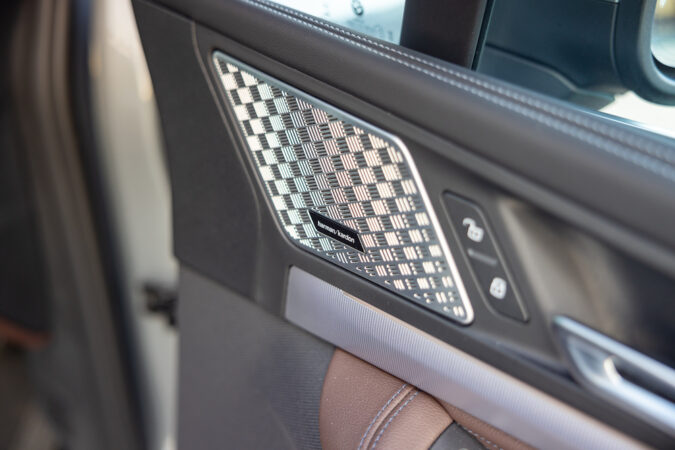 Moreover, our car came with other extras, as well. This included electric memory seats, a panoramic glass sunroof, special multi-spoke alloy wheels, and a Harmon Kardon surround sound system. As for the latter, I am sure it is a great upgrade from the standard in-car system, but I felt I still expected a bit more from the speaker system.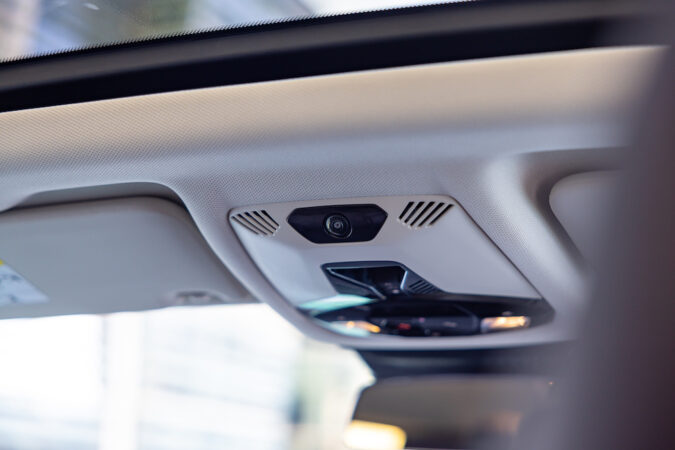 Verdict
The BMW 2 Series Active Tourer drives, looks, and feels like any recent BMW. But, with an added touch of ease of use and greater practicality than the brand's more athletic or bolder models. In all, it's an easy-going car to drive and live with day-to-day.
In practice, the 2 Series Active Tourer is more sensible than getting an SUV or crossover if all you need is a good family car. And, aren't bothered to go off-roading anytime soon. For most people, you won't need a hardy, tall-riding, and rugged SUV or crossover. What you'd need is a boxy MPV that has loads of space, is easy to put stuff in, and is effortless to drive… In short, you need a 2 Series Active Tourer.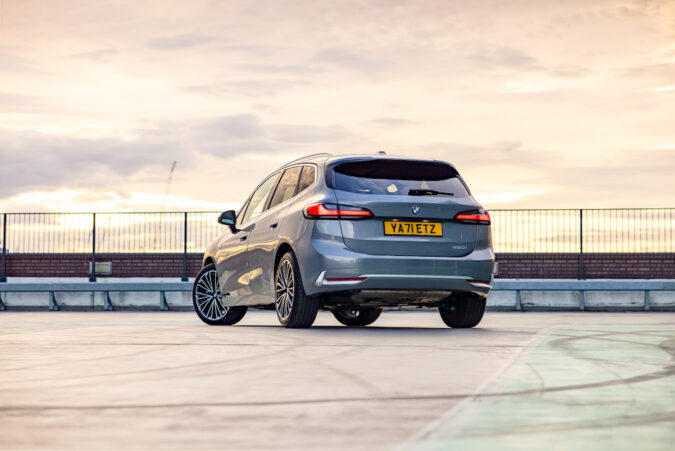 Specification
BMW 220i 2 Series Active Tourer Specs

Price: £39,479
Engine: 1.5-litre with mild-hybrid
Power: 170hp
Torque: 280Nm
Transmission: 7-speed automatic
0-62mph: 8.1 seconds
Top speed: 137mph
Weight: 1,595kg
Economy combined: 44.8-47.9mpg
CO2: 141g/km