If you've ever thought to yourself, "I really like the new Volkswagen ID.3, but I also want something with a bit more flair, spunk, and a car that'll stand out more…", then good news, because the all-new Cupra Born is here. Cupra has always been the go-to answer for those seeking the tried-and-true VW engineering, sensibility, and practicality, but with more fun baked in.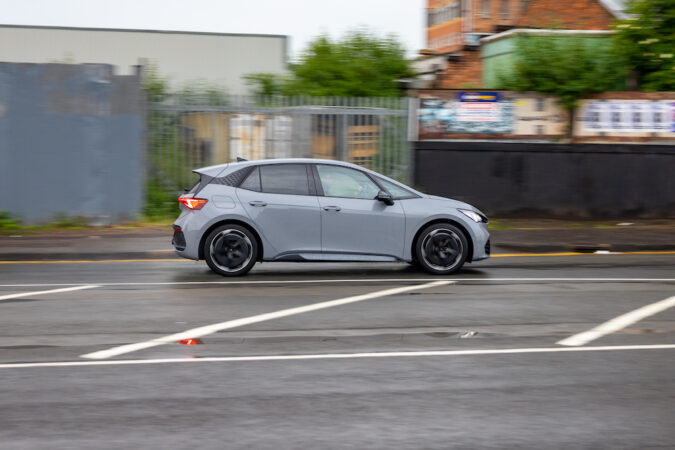 Take a peek at Cupra's line-up today, and you'll notice to no end that very un-Germanic athletic flourishes, experimental design, and that added slice of quirkiness that you don't often get with many VWs. Yet, once you look past its flashy and posh exterior, Cupras are excellent cars and present great value for the money. Their recent push into EVs, such as the new Cupra Born, shows that there's more than meets the eye.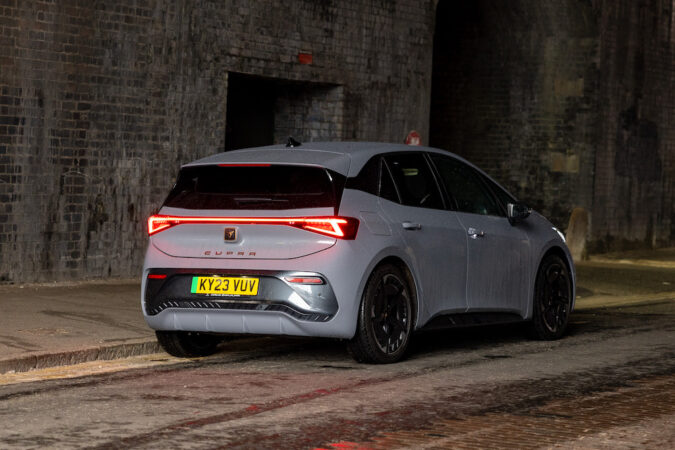 What Is The Cupra Born About?
Aesthetics-wise, the Cupra Born is undoubtedly a pretty striking car to look at. As we mentioned earlier, it does share its underpinnings with the VW ID.3 – which I drove a little while back, and really liked. Thus, it's quite obvious once you notice the similarities in the Cupra Born's silhouette, size, form factor, and general shape. However, put those two cars side-by-side, and you'd quickly see where the differences lie.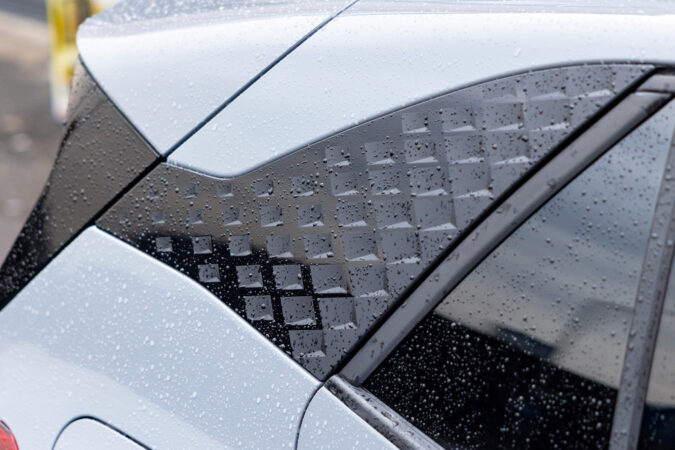 Whereas Volkswagen's approach to electric car design (as is evident with their new ID line of EVs) does tend to stray more toward minimalism, and modernism, and look a tad sterile, Cupra's approach to penning their Born mass-market EV is much more sporty, aggressive, chic, and bold. It's a great insight into what a VW can look like if Volkswagen is willing to let its hair loose every once in a while. But wait, there's more.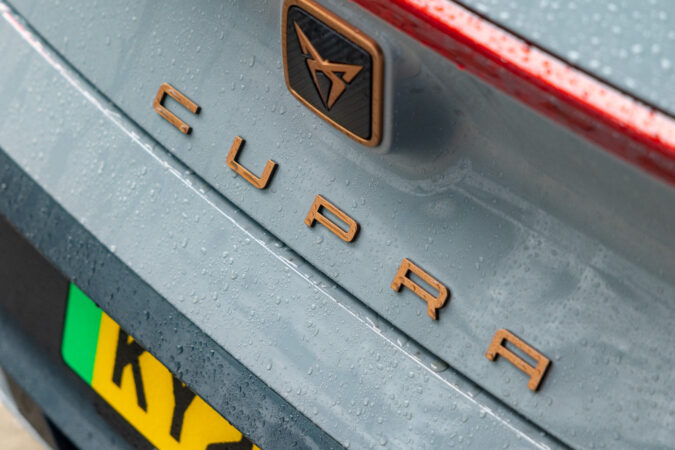 There are a lot of cool design touches around the Born when you look at it up close. Note, its gill-like pattern on the C-pillar, as well as the cyberpunk-esque lightbar and lighting signature throughout. Also, there are its huge 20-inch aero-disc alloy wheels to help cut through the air. Or, even the subtle inclusion of the copper-bronze Cupra accents and badges throughout, which makes it, I think, one of the most handsome EVs today.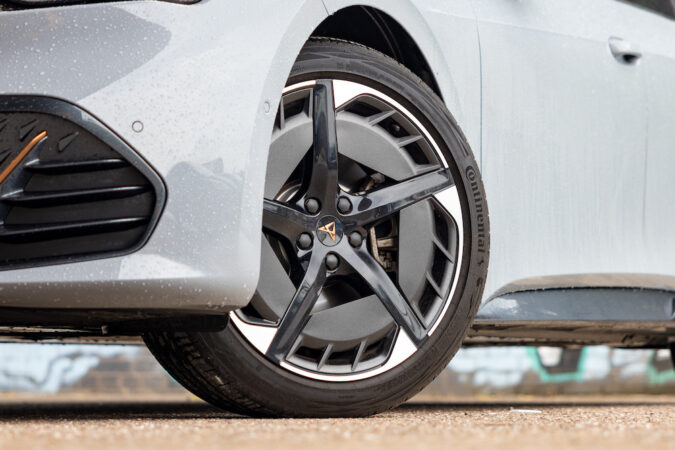 How Does It Drive?
Being an electric car, the Cupra Born gains all the benefits that electrification has to offer when compared to internal combustion engines. It's smooth, quiet, refined, and well-poised on the road. That makes it the perfect commuter car that you can happily and comfortably drive around for hours at a time, and spend a lot of seat time in it more effortlessly. It's a simple sort of vehicle to just get in it and go for a drive.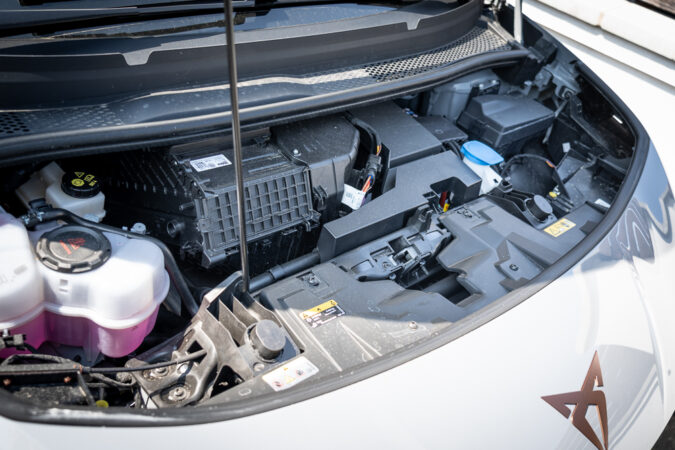 Power comes from a single electric motor that's outputting a modest 204PS (which is around 201bhp) and a respectable 310Nm of torque. That should be sufficient for a 0-62mph time of about 7.3 seconds before it tops out at 99mph. For context, this is pretty similar to the Cupra Born's German sibling, the VW ID.3, in a similar performance spec. It's worth mentioning too, that you do have two powertrain options.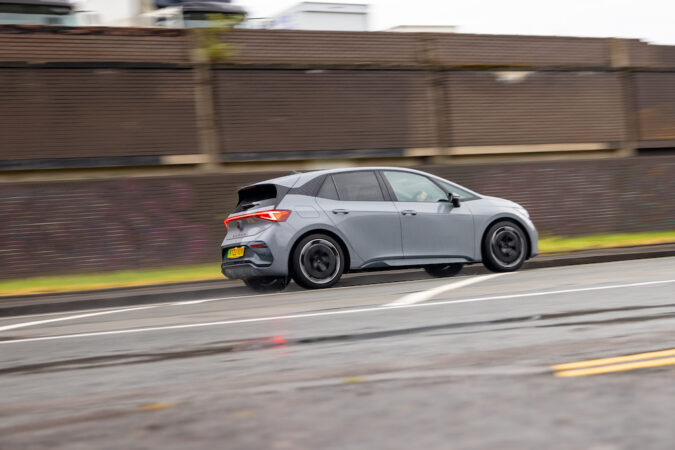 With the Cupra Born, you can either opt for the 204PS powertrain (like the one that we're looking at here), or a more potent 230PS powertrain. By not opting for the higher-spec 230PS alternative, this also means that we're missing out on the Cupra Born's e-Boost function. This system essentially allows you to unlock a healthy 20kW more power from its electric motor momentarily, like when you need to make a quick overtake.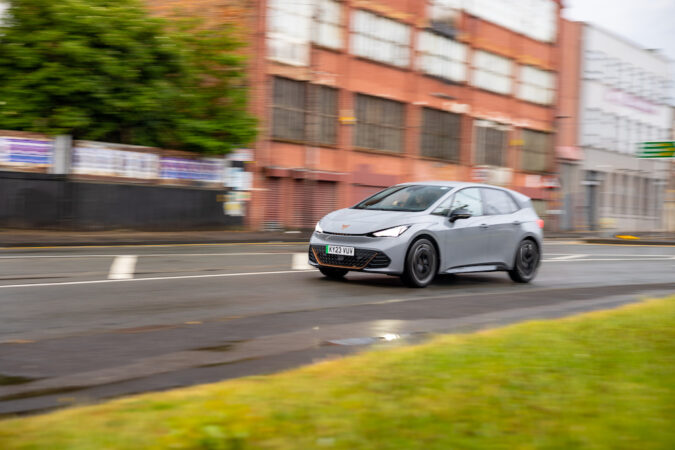 Regardless, and going back to the V3-trimmed Cupra Born that we have here (and its 204PS of output), its lack of outright power and inability to leverage the e-Boost feature doesn't really detract from it in any way. It's an EV that's loaded up with batteries, and thus, it's no lightweight compared to most hot hatches, tipping the scales with a kerb weight in excess of 1.8 tonnes. Still, it doesn't 'feel' that heavy at all.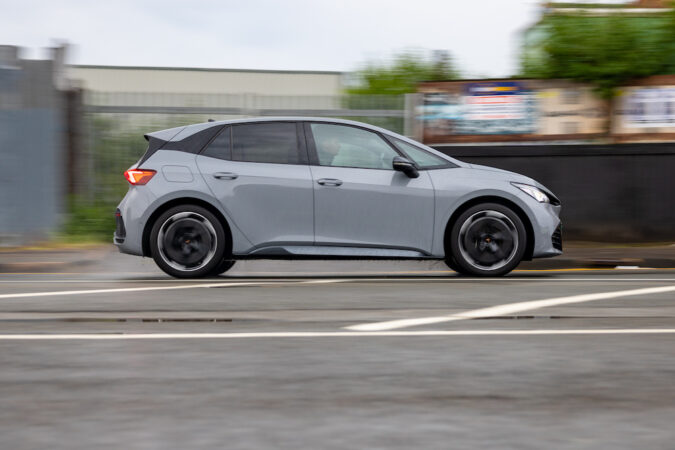 On the road, the Cupra Born is still decently speedy and is pretty light on its feet. Not to mention, I've felt just how eager and lively it is while tackling some more challenging and technical roads, with it quite keen to scuttle about. So, you can have fun with it when the moment and mood desire. The steering does feel a tad light, though combined with a sharp turning circle, it's an easy-going car for normal streets.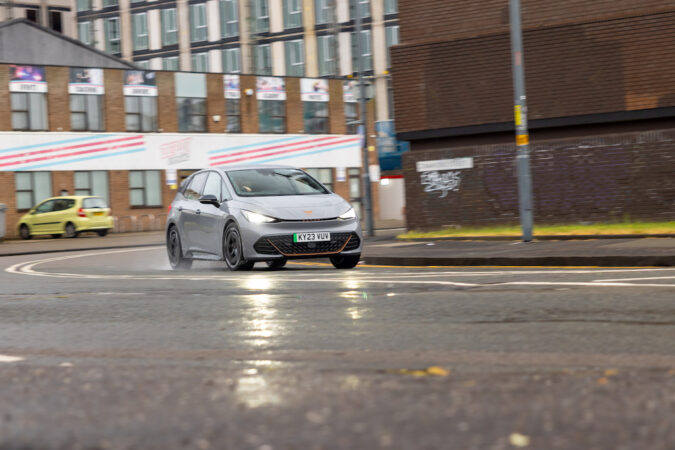 As such, it handles the motorways, lanes, and roads of urban Britain very capably. Granted, with just one motor and a smidge over 200hp to play with, the Cupra Born (in this spec, anyway) isn't near the fastest EV I've driven so far. Particularly, in a straight line. But, it has a bit of poke if you needed it. While it won't blow your socks off, the Cupra Born has adequate performance for most of your daily commutes.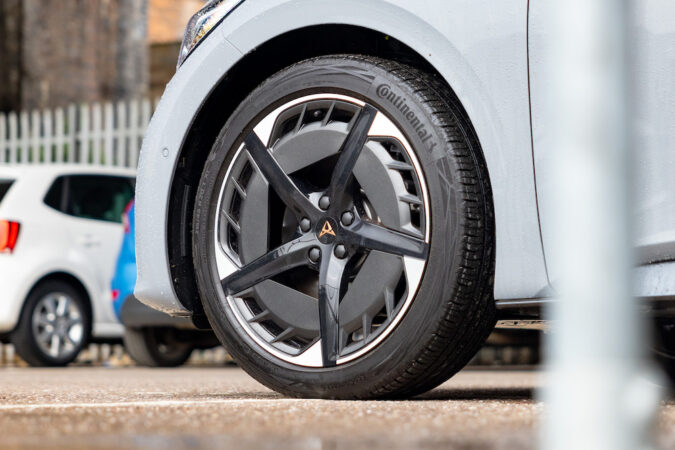 What Is It Like Inside?
A key similarity between the Cupra Born and the VW ID.3 is their immense usability and focus on absolute practicality. From the outside, you might think of the Cupra Born as a fairly smallish hatchback. But, it has a surprising amount of boot space, which should be deep and cavernous enough for a fair amount of groceries and luggage in there. Meanwhile, a bit further in the front, you also get generous headroom and legroom.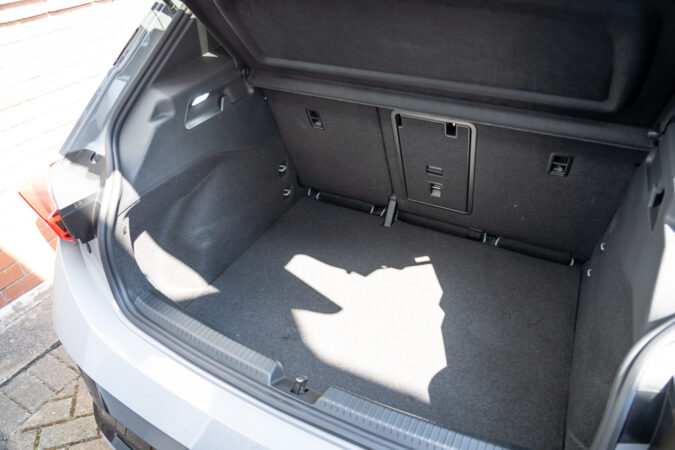 That applies to both the front and rear passengers, even for taller adults. As far as the Cupra Born's use of space goes, then, it's fairly well-optimised. If you've sat inside any of the new VW ID cars as of late, you've probably noticed the familiarness of the interior tech and gadgetry in the Cupra Born. There's its sizeable 12.0-inch infotainment system, which works pretty similarly to the VW systems that I've tested before.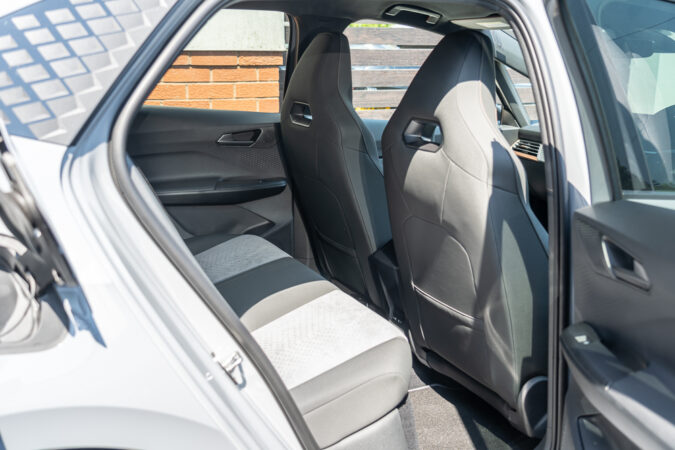 This does mean that you'll have to get used to touch controls, as just like VW, Cupra's also lack any physical buttons and knobs. Within your peripheral view, there's a 5.3-inch digital instrument cluster. Critical car-related information is displayed quite clearly and legibly at a glance, and the Born's user interface as a whole is both intuitive and easy to use. The same praise goes for that infotainment system, too.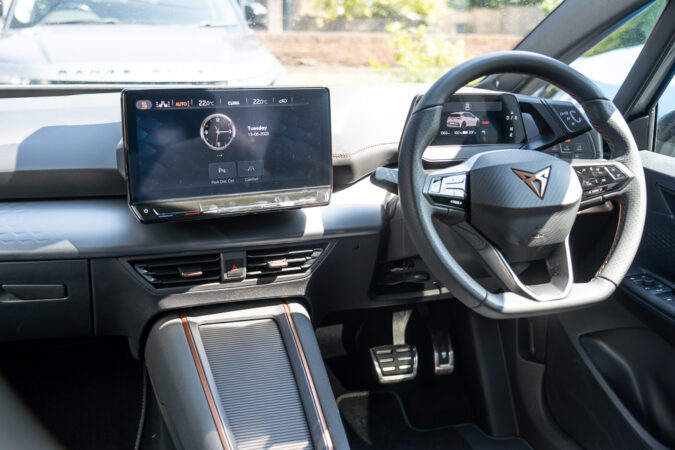 In our higher-spec V3 trim model here, it even came with a cool augmented-reality heads-up display, that projects a massive HUD over your windscreen. That HUD has some neat features, such as how it'll draw a little line in front of you if you're getting too close to the car in front. Although, besides all this tech, there are noticeable differences between a Cupra Born and its sibling, the VW ID.3, with interior design.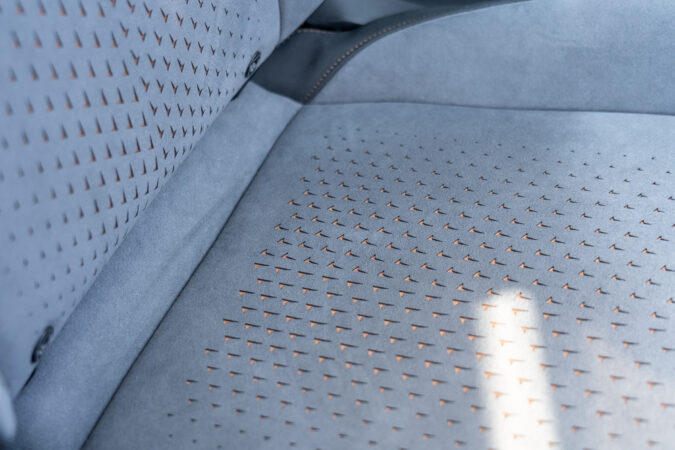 While VW looks toward minimalism and creating a comfortable if not remarkable interior, Cupra's Born is keen to showcase its distinctive visual touches. For instance, there are the familiar copper-bronze accents and brightwork that we saw on the exterior, now carried over into the cabin. Aside from that, even all the Cupra iconography on the upholstery and seats add to the Born's greater sense of theatre.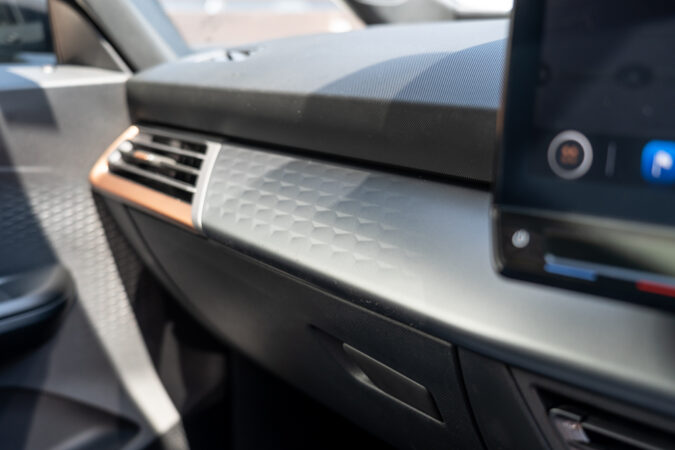 You don't get that vibe with the VW ID.3, if that's your kind of thing. Even the steering wheel on a Cupra Born feels nicer and more sporty to grasp onto. To be fair, there are still some Volkswagen carry-overs on this Cupra Born. For example, you might've noticed the odd drive selector that's mounted on the dash, to the side of the gauges. This might take you a bit of getting used to, but it works well enough.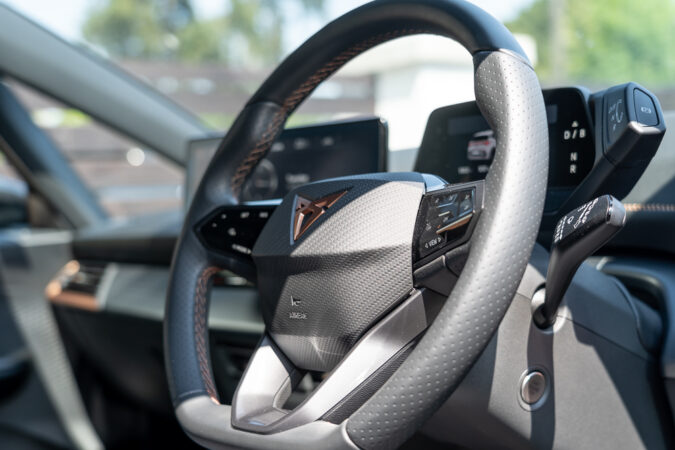 The Experience
The exact estimated range that you can get out of a Cupra Born will vary depending on which battery size you pick. That's right, just like the powertrain, there are two battery capacities to choose from. So, be sure to double-check before you spec your Born. In any case, there's a smaller 58kWh battery pack and a much larger 77kWh battery pack. No matter which battery you choose though, its range is rather good.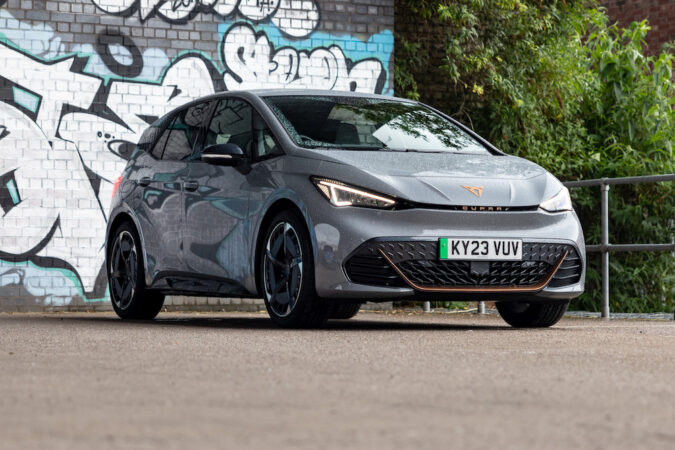 Cupra estimates (as per WLTP testing; combined) that you'll get anywhere from 230 to 260 miles with the 58kWh battery, while the 77kWh battery might eke out somewhere between 300 to 340 miles. Our Cupra Born here is fitted with that aforementioned 58kWh battery pack. That's the net usable capacity, whereas the total gross capacity is 62kWh. In the real world, its actual range gets close to those figures.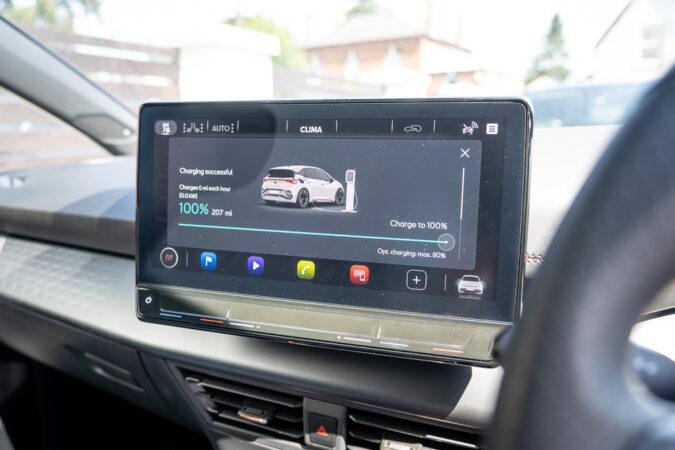 In my testing, with mixed driving and a lot of motorway miles of cruising at a fixed speed, I found that the effective range sits roughly in the 210 to 220-mile threshold. Of course, with more cautious and optimised driving styles, it could more readily match Cupra's estimates. As for charging that battery, it's typical amongst a lot of its rivals in this class, with similar battery sizes.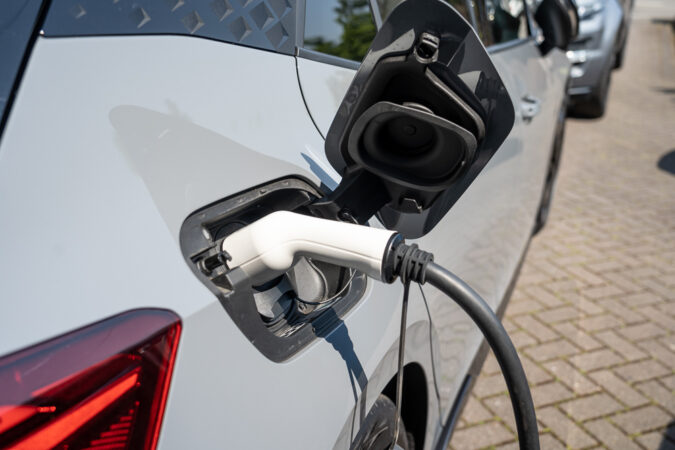 If you're plugging it into an 11kW AC fast charger, a full charge from 0% to 100% will take you just over 6 hours, closer to 6.5 hours. Whereas, with a speedier 135kW DC rapid charger, you could charge the Cupra Born's battery from a nearly-flat state to approximately 80% full in just over 30 minutes. Now, if you want to opt for that bigger 77kWh battery, you could also increase the peak charging input to 170kW.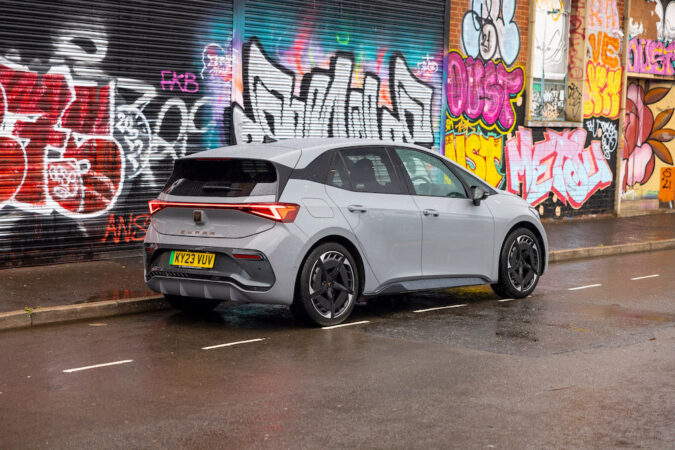 Thus far, I've done some fairly long road trips and drives in the Cupra Born. As with any EV, you do have to plan ahead of time. So, make sure you have easy access to functional charging stations along the route, in addition to checking that the chargers aren't too busy or that the chargers themselves aren't faulty. When you do take those into consideration, the Cupra Born is great for long-distance excursions.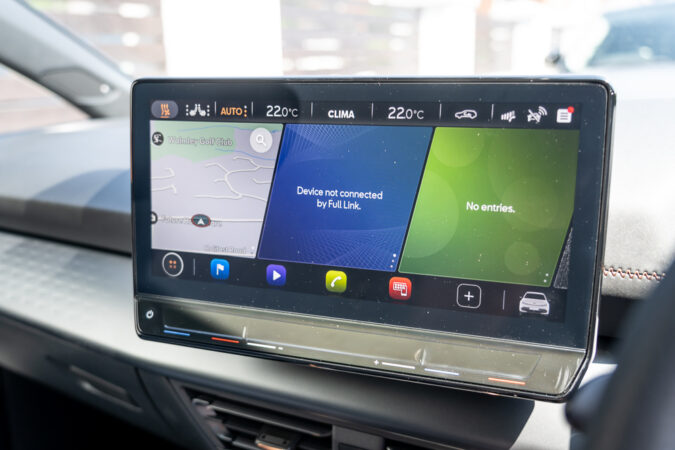 Cupra Born Cost
As tested, our Cupra Born model, as you see it here in that V3 trim, will cost you £41,490. The Cupra Born range itself starts from £36,475. Although, you'll have to pay more if you're upgrading to the higher-spec V2 and V3 trims, compared to the entry-level V1 trim. And remember, you then have to take into account the cost of the two battery and two powertrain options, respectively, and which one suits you.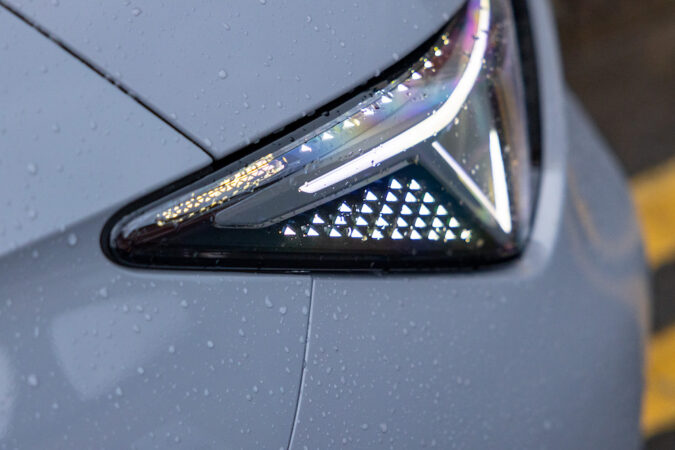 Personally, this 58kWh battery and 204PS powertrain are more than enough for a lot of people. But, if your future plans include longer-distance drives, the bigger 77kWh battery might be worthwhile, thanks to the higher range. Aside from that, if you're looking to extract more performance, the 230PS powertrain could be worth your cash, too. The higher trim levels – V2 and V3 – also offer you more nice-to-haves.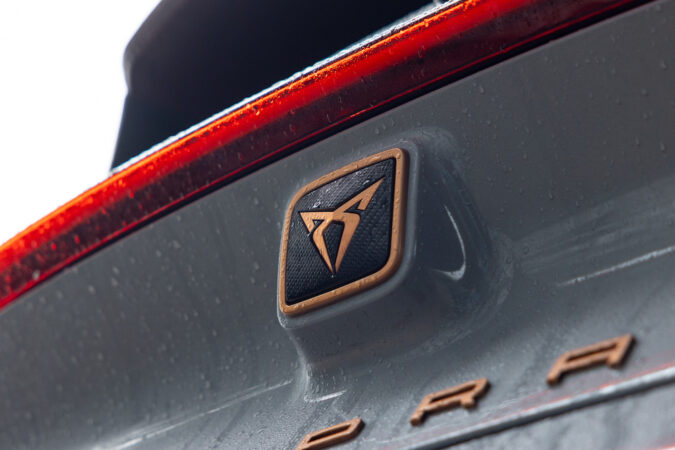 With the V3 trim, for instance, we got the bigger 20-inch alloy wheels, as well as electronically-adjustable front seats, alongside its massage function. On the bright side, the entry-level V1 trim already has a lot of the important stuff included as standard. That includes a healthy suite of ADAS systems, such as its clever adaptive cruise control system, lane-keep assist, a driver attentiveness alert system, and more.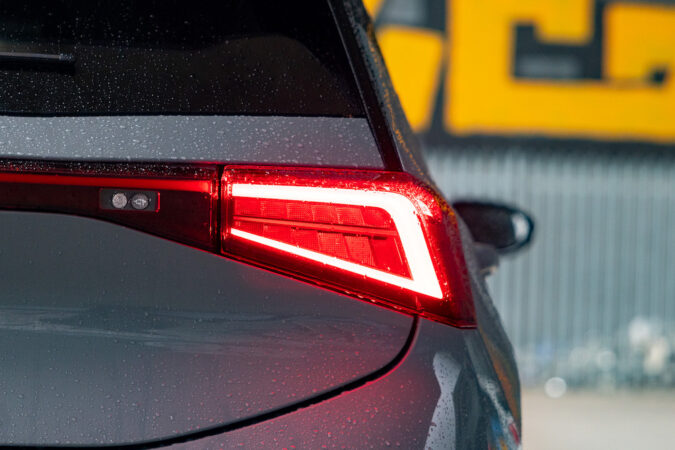 Verdict
On the surface, the Cupra Born might look like a sporting, athletic, and chic hot hatch that appeals to the younger and more carefree crowd. Yet, in practice, it's a great car for pretty much everyone. Whether it's your new daily driver or if you intend to use it as a family runabout, too. The Cupra Born does all its basic car stuff right, such as being easy to drive, easy to live with, very practical, and hugely usable.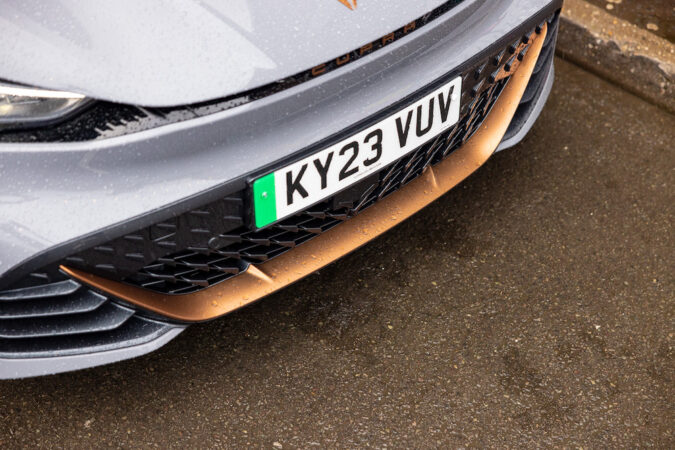 It looks fantastic from the outside, and it makes you feel even comfier when sitting inside. Even the Cupra Born's performance, while not trailblazing, encourages some excitement, still. It takes all those core ideas of what makes a car great, and adds more funkiness and unique elements that are distinctly Cupra. It's an interesting car which adds an abundance of character that's otherwise missing with the VW ID.3.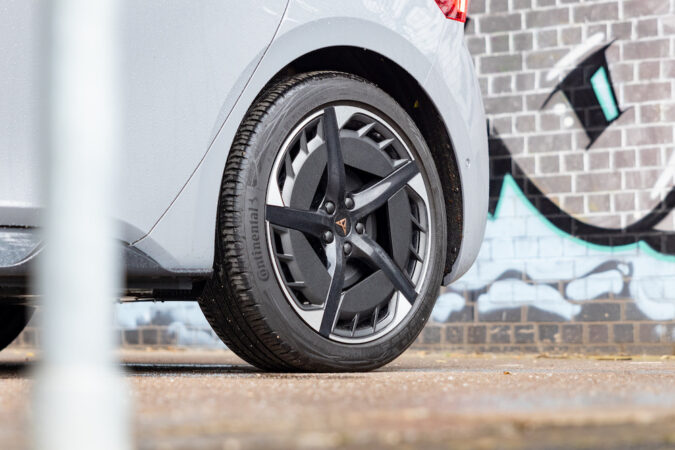 Specification
Cupra Born Specs

Price: £41,490
Engine: Single-Motor EV (58kWh Battery)
Power: 201bhp
Torque: 310Nm
0-62mph: 7.3 seconds
Top speed: 99mph
Weight: 1,818kg
Economy combined: 234.9-265.3 Miles (WLTP – Combined)