Trying to bring back a historic icon and revitalise it for the modern era is no easy task, and certainly not an ambition that I envy. In the car world, especially, these tributes or homages can be particularly risky, and a faithful recreation is so often hard to do. Yet, I think Volkswagen is onto something with their new ID. Buzz electric van. It's as good as a reimagining as you could expect if you were to recreate this classic van.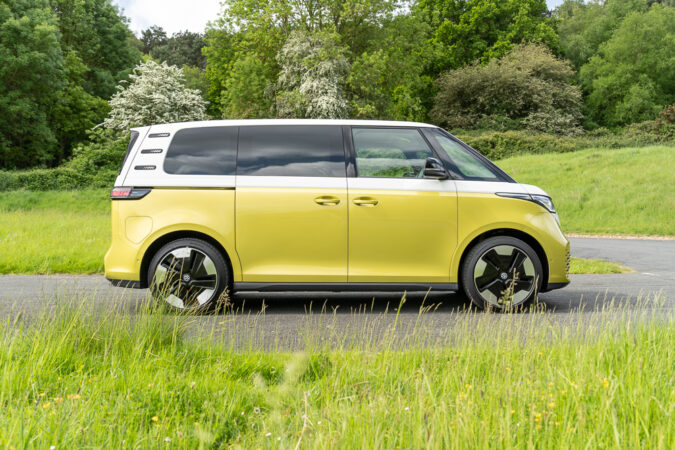 But, besides looking cool and paying close attention to the source material, is there anything else on an ID. Buzz aside from nostalgia that's worth paying attention to? Well, if you're looking for a stylish electric van, that's equally as practical, functional, and easy to live with, the VW's latest ID. Buzz is among the few that you should consider on the market today. That's unless you're willing to overlook its lofty price tag…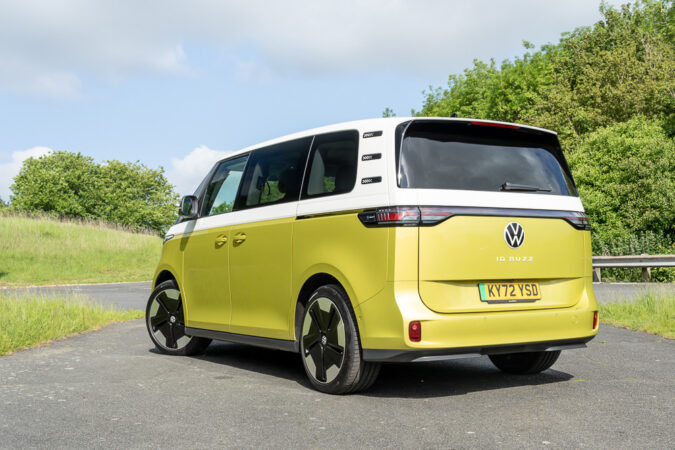 What Is The VW ID. Buzz Style About?
It's hard to get around this fact, but the VW ID. Buzz looks very cool, and it almost looks like a concept car rather than a mass-produced vehicle. As you might've already guessed, the ID. Buzz's design and its entire ethos take close inspiration from the legendary Volkswagen Type 2 van. You'll notice a lot of historic design cues from the old Samba buses, such as the two-tone brightwork, and boxy silhouette.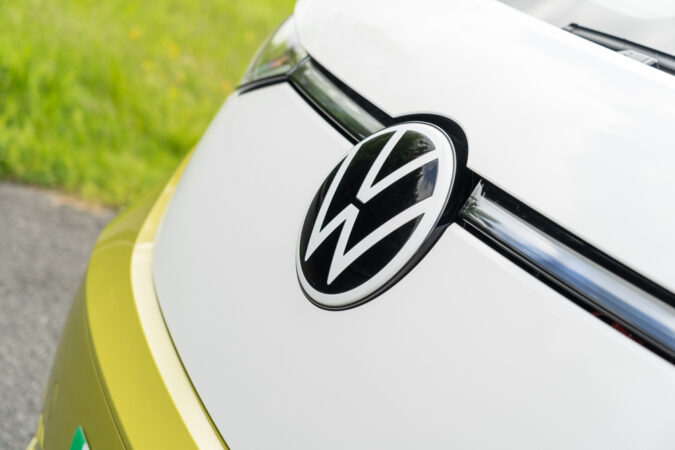 Not to mention, there are the other little details, such as the vents along the C-pillars, or that almost-endless glasshouse stretching from front to rear. They're bright, bold, and colourful, and give a much-needed breath of life to the oft-stale and grey sea of cars typically flanking them on the road. It's definitely a looker, as sleek as its retro-futuristic form can give. Having seen a few of these now, they do turn heads.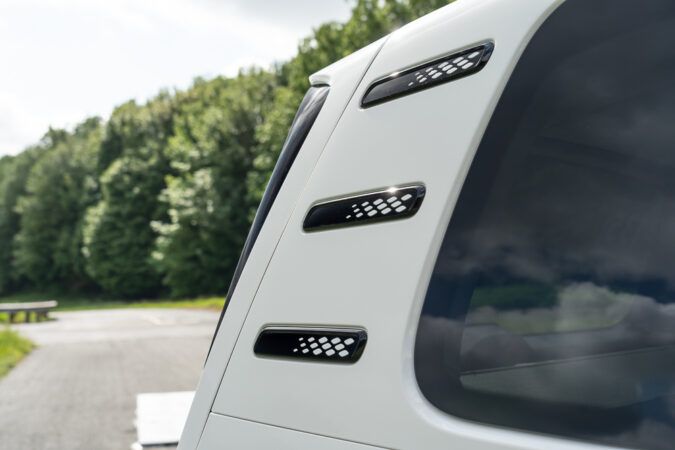 How Does It Drive?
Our ID. Buzz here is rear-wheel drive, and fitted with a single motor in the rear. All of this is powered by a 77kWh battery pack (usable capacity, otherwise, the gross capacity is around 82kWh); more on that later. With the VW ID. Buzz, the performance that you have on tap here is more than sufficient for a van. You're looking at 204PS (around 201bhp) of output, with another 310Nm of instant electric torque.
That should net you a 0-62mph time of 10.2 seconds, and onto a top speed of 90mph. It's not a trailblazer by any means, but there's a decent amount of power and torque for a quick overtake, for example. With a towing package installed (it's optional), you could even tow up to 1,000kg of payload behind your electric ID. Buzz van. Of course, speedy driving was never the intent, as it's made for van or MPV owners.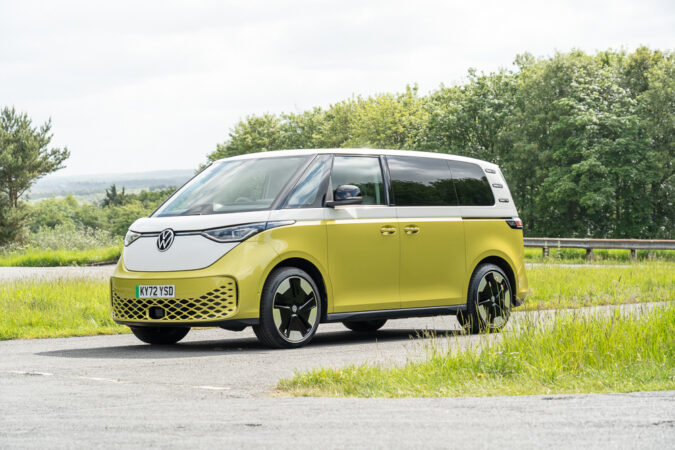 As such, to fulfil that criterion, you'd probably want it to be quiet, refined, and comfortable. Indeed, the ID. Buzz not only filled these requirements, but with the inherent benefits of being an EV, it's then made even better. It's a fantastic daily driver and commuter car, owing to how easy and effortless it is to drive. VW took the time to further look at how well it copes with having to live with and drive it every single day.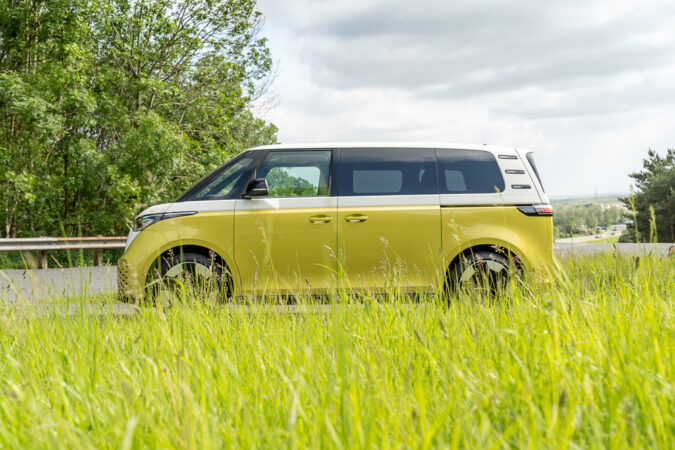 Because it has a flat floor and the battery pack is situated low on the ID. Buzz, the centre of gravity offers you a confidence-inspiring drive when you hurl it down the road at speed. I've also noticed how ideal of a car the ID. Buzz is for us UK motorists. Its physical size and dimensions make it simple to fit into our narrow country lanes. Plus, it has a tight turning radius that allows it to manoeuvre exceptionally well.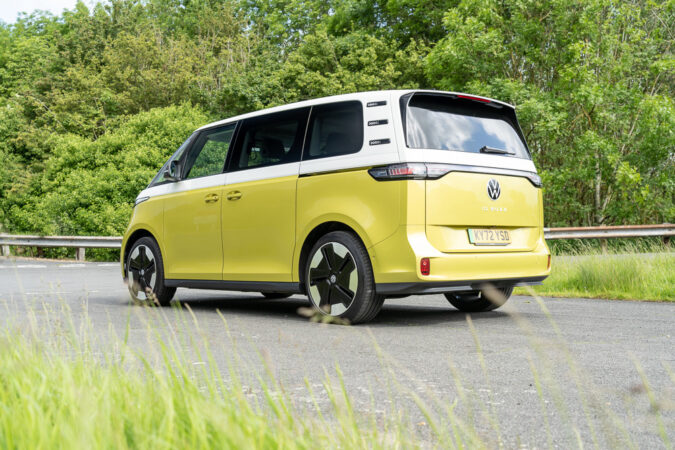 What Is It Like Inside?
For better or worse, most of the controls in the VW ID. Buzz has been simplified for its more minimalistic look. On the one hand, this makes interacting with the ID. Buzz (as with other VW ID cars, too) is much more straightforward. For instance, there's no complex gear or drive selector, as a singular stalk on the right of the steering wheel handles all of that. Using it is as simple as needing to twist it one way or the other.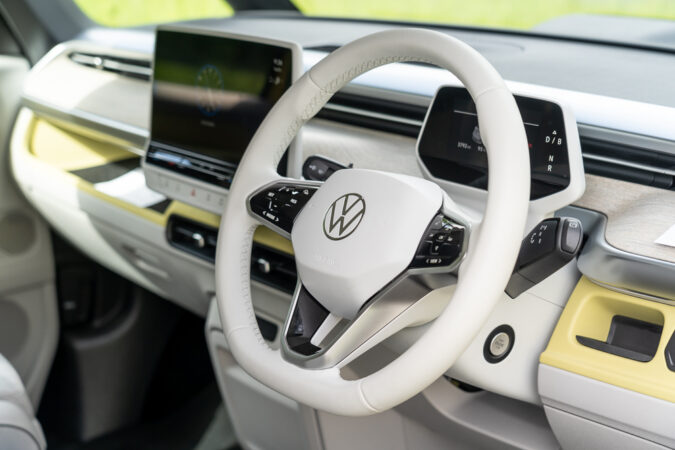 The same goes for most of your other controls, as sets of buttons and switches are combined to create an uncluttered interior, and making them easier to find. On the other hand, whether or not they're easier for us to use is a whole other matter, seeing that this design choice for the interior makes it harder to rely on muscle memory or feel. Besides, most of the physical switches have been replaced with touch controls.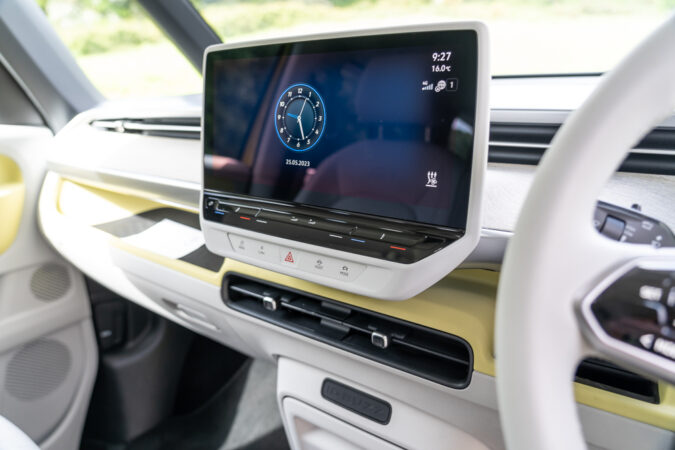 Using those then, it almost always requires taking your eyes off the road for a split second to know where those buttons are and what you're doing with them. Still, once you get around to those touch interactions, the rest of the cabin is a brilliant place to spend time in. The windscreen, for example, is very upright. That gives you the impression that you have a lot more interior space than you actually have.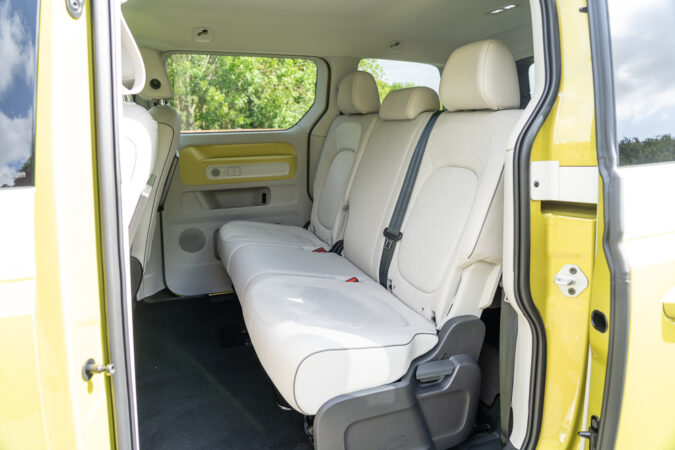 The rest of the interior is equally as spacious and airy. It's in part due to its many large and boxy windows and minimal bodywork getting in the way, further encouraging as much natural light to flow into the VW ID. Buzz's cabin as possible. Speaking of, the boot space is rather large, almost un-EV-like in how little the battery pack protrudes into the interior. It's ideal if you plan on long road trips or camping holidays.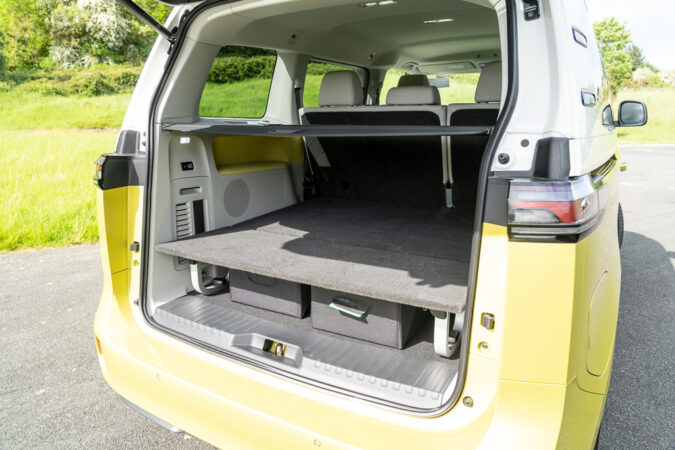 There's ample storage in the back for all your week-long luggage, with numerous cubbies and also hidden compartments to best organise all that cargo. With sliding doors for easier access, you can expect its rear passenger headroom and legroom to be incredibly spacious, even for taller adults. You'll find a lot of tech in the ID. Buzz too, from its slick infotainment system, to the wide array of ambient interior lighting.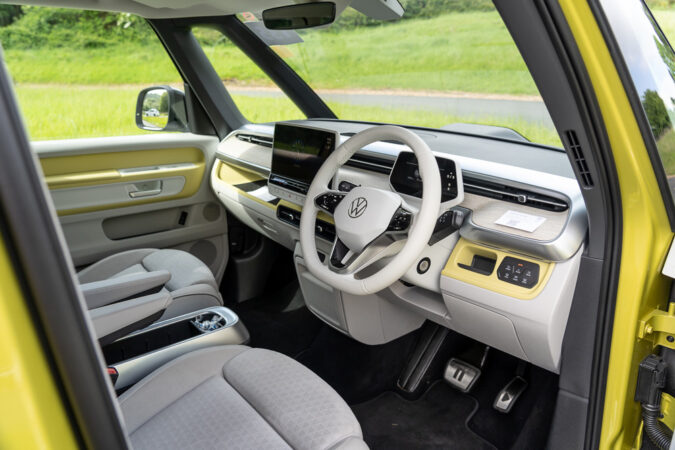 The Experience
With the aforementioned 77kWh battery pack, the VW ID. Buzz is rated for a 255-mile range (combined), as per WLTP testing. In the real world, with realistic conditions and driving scenarios, you should expect a figure closer to the low-200s mark. That's still pretty decent, and with careful driving, you would certainly get closer to VW's official 250+ miles of range. On the bright side, at least you can charge it quickly.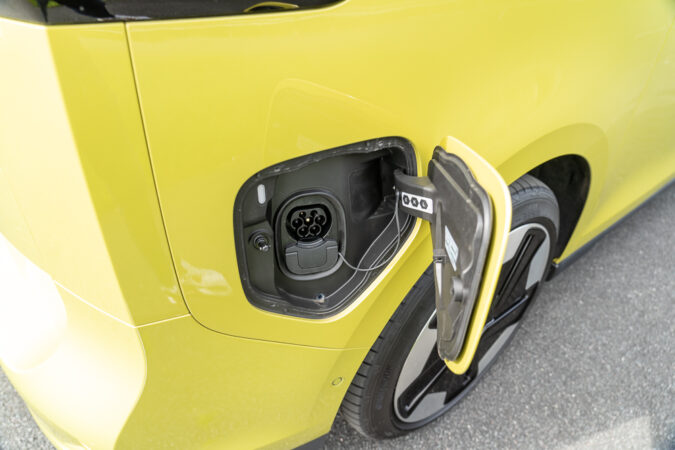 The Volkswagen ID. Buzz is compatible with 170kW DC rapid charging. This means that you can fill up the battery from 5% to 80% in just 30 minutes or so. If you're not in a hurry or you're just trickle charging from home, 11kW AC charging will of course require more time. In VW's estimates, it would take 7.5 hours or so to charge it up to 100% from flat. All in all, the VW ID. Buzz is just about average among other electric cars.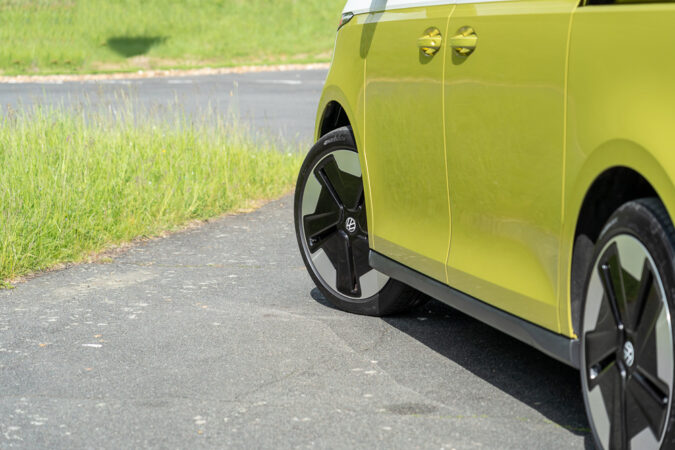 VW ID. Buzz Style Cost
As tested, our VW ID. Buzz here will set you back an eye-watering £72,055. A few optional extras raised it even higher than the already hefty starting price of £63,715. Even for a ground-breaking and iconic electric car, this might be a tough pill to swallow for most would-be, potential buyers. At least, you might be able to remove and cut down some of the more unnecessary or nice-to-have options in the list.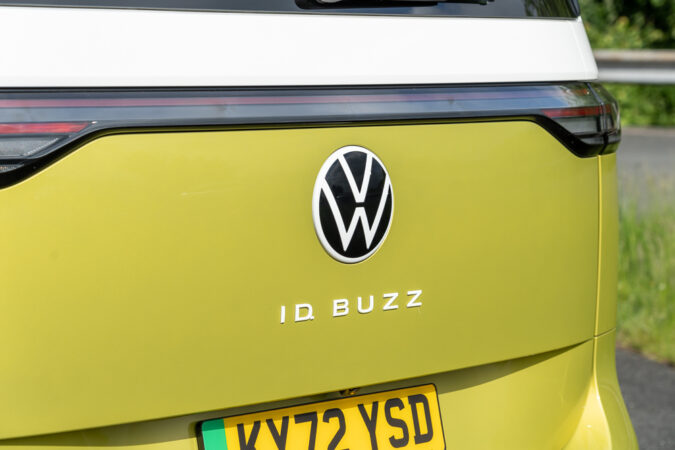 The upgraded infotainment system for £1,560 is a must-have, if you value the larger display, that is. Then, there are the cool bi-colour alloy wheels for £515, which is mainly an aesthetic choice. Next, we have the ID. Buzz's 'comfort seat' package for £2,305, as well as a Type 2 charging cable for £190. If you intend to tow with the ID. Buzz, the £980 retractable tow bar and release option should also be considered, too.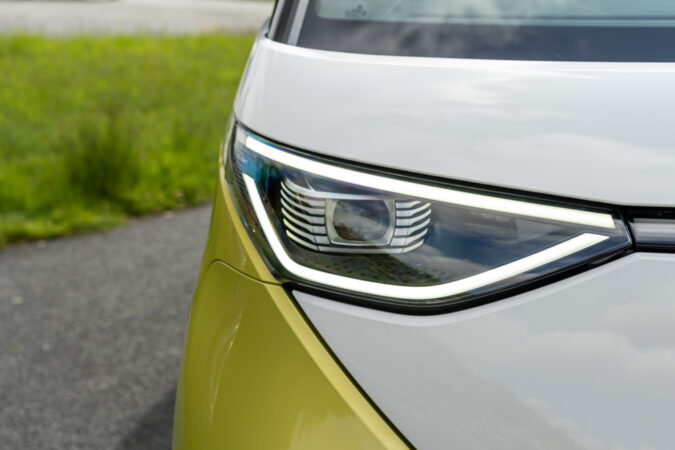 In addition, the single costliest package that our unit here came with was the £2,790 paint combination – pairing this lovely two-tone Candy White and Lime Yellow paintwork. It's worth mentioning that ours was specified with the higher-spec 'Style' trim, which features neat additions over the entry-level 'Life' trim. Its extras include a larger 20-inch alloy wheels, along with better tech features, luxury trim, and more.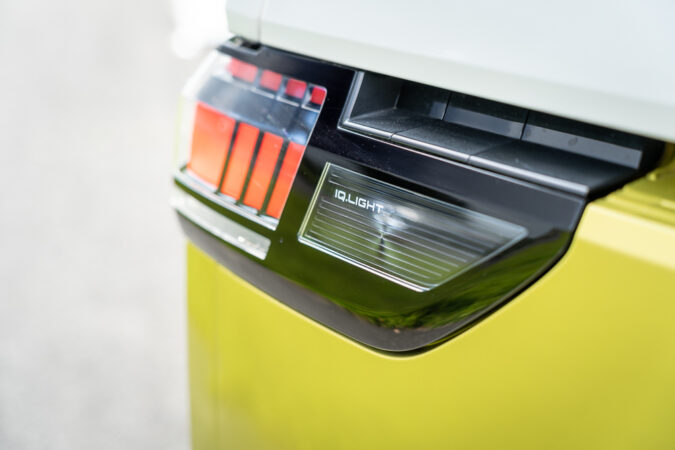 Verdict
The original Type 2  vans were ahead of their time back in the 50s and 60s. Even in this now-modernised body, VW's ID. Buzz is poised to be a future classic someday. Already, it's become a highly desirable and hotly popular vehicle, if not necessarily for its ties to the iconic VW buses of the past. However, if you want to look beyond that and wonder if it's a good electric van for your daily commutes and perhaps even some work…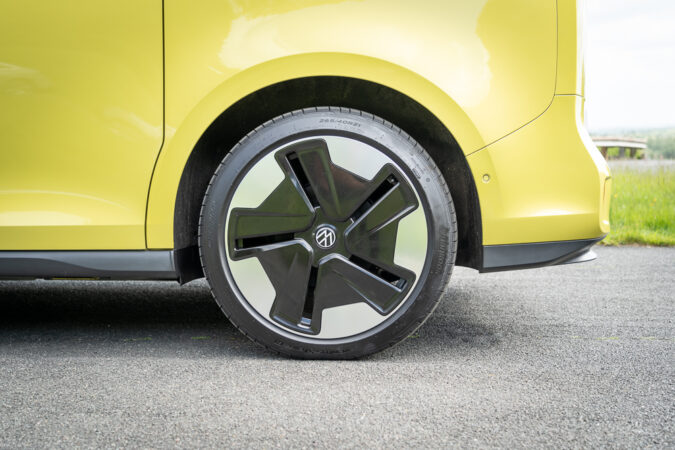 If so, then the ID. Buzz is indeed a compelling option. It's highly usable, practical, easy to drive, comfy, and even easier to live with. The only major caveat and hurdle that you need to get past first is the high asking price. With that said, for most of the ID. Buzz's would-be dedicated and nostalgic target audience, there's not a price too high after having waited so long. If anything, I'd bet VW will have a tough time keeping up with demand.

Specification
VW ID. Buzz Style Specs

Price: £72,055
Engine: Single-Motor RWD, 77kWh Battery
Power: 201bhp
Torque: 310Nm
0-62mph: 10.2 seconds
Top speed: 90mph
Weight: 2,502kg
Economy combined: 255 Miles (WLTP – Combined)