The X-Trail is a pretty important car for Nissan, it's a good-selling model here in the UK, and around the world. It's the sort of do-everything family SUV – practical, utilitarian, and does all you need it to do, without a fuss. The old third-generation X-Trail was getting a bit long in the tooth, and when you'd compare it against the competition, it was hard to find anything brilliant that stuck out… Until now.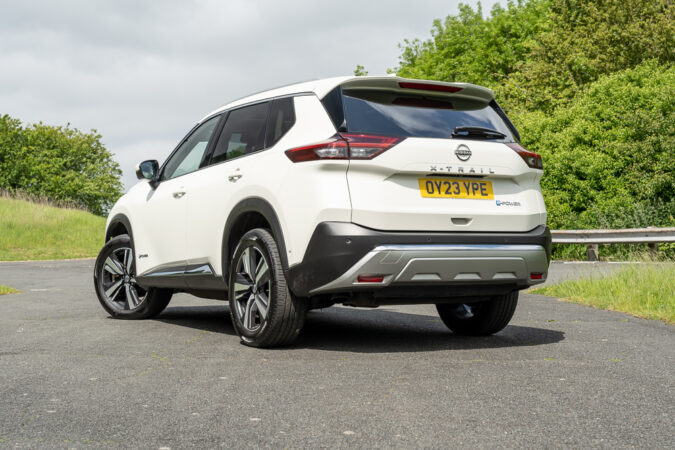 Nissan's new and updated fourth-gen X-Trail is bigger, bolder, and techier than ever before. Besides their modernised design and sharpened interior, there's a lot more underneath that ups the X-Trail to another level. For the first time, the entire X-Trail line-up has been electrified. While it hasn't yet made that major leap forward into becoming a full-EV, its use of Nissan's clever e-POWER setup gets it really close, with little downside.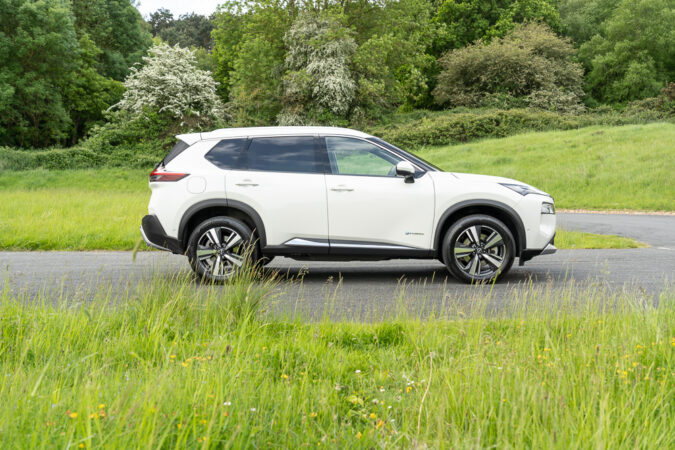 What Is The Nissan X-Trail Tekna e-POWER About?
Along the exterior, the new X-Trail's looks carry a familiar approach to its design that other Nissans have done in the past few years. It carries a sharper, more modern and contemporary appearance that we now have become used to with recent Nissans. Otherwise, it looks as straightforward as you'd expect out of a big Nissan SUV – large, chunky, squarish, sporty, and muscular is this new X-Trail from every angle.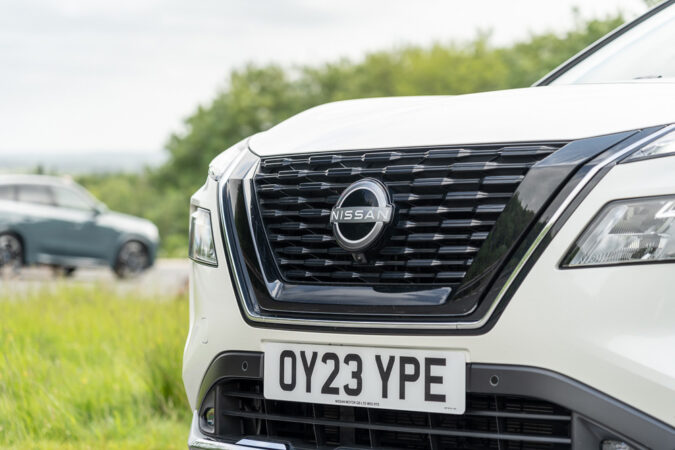 As such, it's a handsome machine. Still, while looks are one thing, the new Nissan X-Trail's biggest USP is underneath that metal bodywork – the innovative e-POWER hybrid-electrified powertrain. It's ideal for a select group of car owners who want to enjoy the benefits of electric cars and want to reap the rewards. But, are perhaps unwilling or not yet able to commit to having to put up with an EV every day.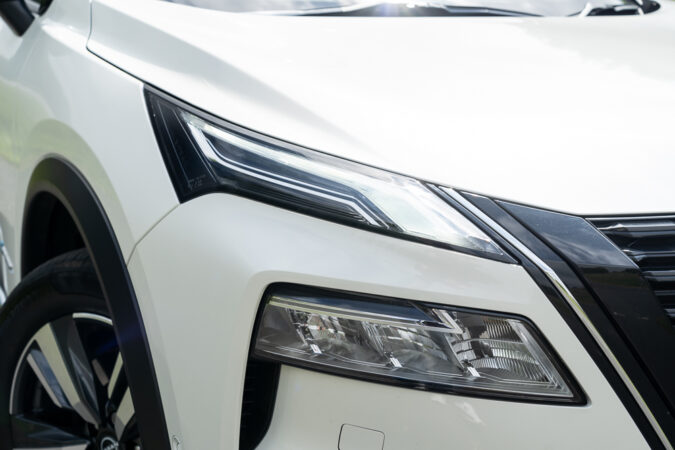 How Does It Drive?
So, how does this e-POWER system work? Well, first off, you do have alternatives besides… The X-Trail is offered with one of two powertrain options – a mild-hybrid, and the aforementioned e-POWER set-up. The latter also has two distinct variants – one with 204PS (around 201bhp) and the other with 213PS (around 210bhp). For those with tighter budgets or who want something conventional, the mild hybrid is your pick.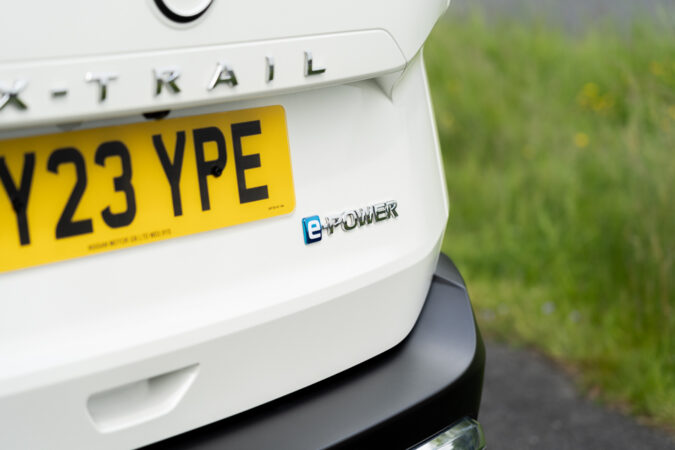 But what about the e-POWER option, like the one we have here? Well, it's essentially a self-charging EV. What it means, is that, unlike a plug-in hybrid, you don't have to plug it in to charge it. Instead, while the whole of the powertrain is electrified – therefore, you have a battery and dual electric motors front and rear for the X-Trail's propulsion – but, it has an internal combustion engine which acts as a power generator.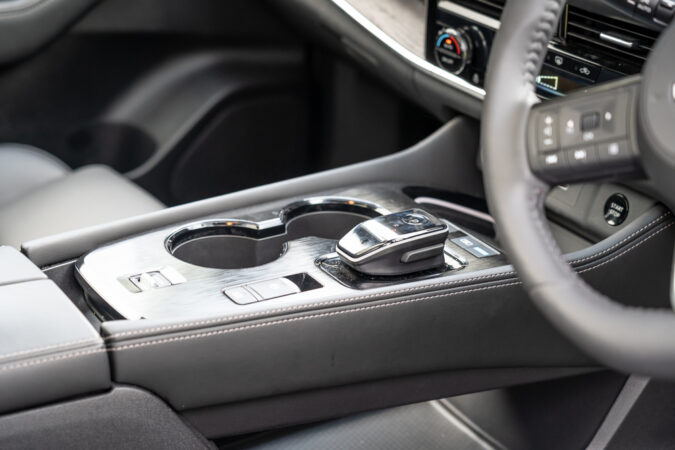 This engine-slash-generator is what keeps the battery topped up. In the real world, you're mostly going to approach the new X-Trail e-POWER like a regular car. Rather than plugging in to recharge the battery, it'll require that you keep it running by filling it up at a petrol station. You may think of this as a nice compromise between an EV and an ICE car. You have the smoothness and instant torque of an electric car.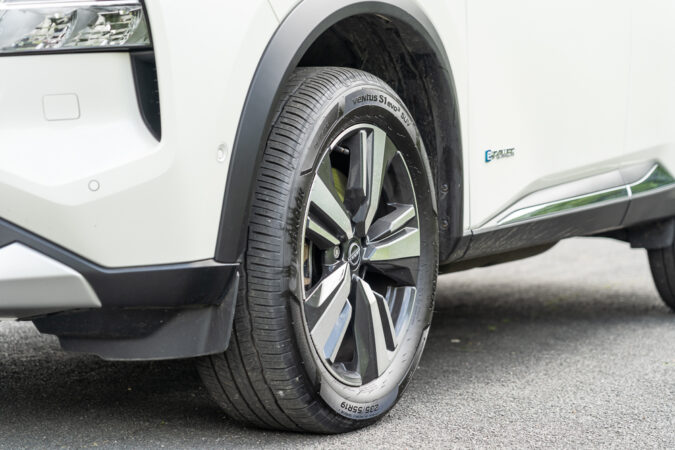 But in return, you don't have to deal with the hassle of owning and running an EV… Like waiting in line at a busy charging station for an hour, dealing with cables or unreliable charging stations, as well as that dreaded moment when the public charging station isn't even working. All it takes is a few minutes at the pump to give you access to hundreds of uninterrupted miles of driving. But, there are downsides.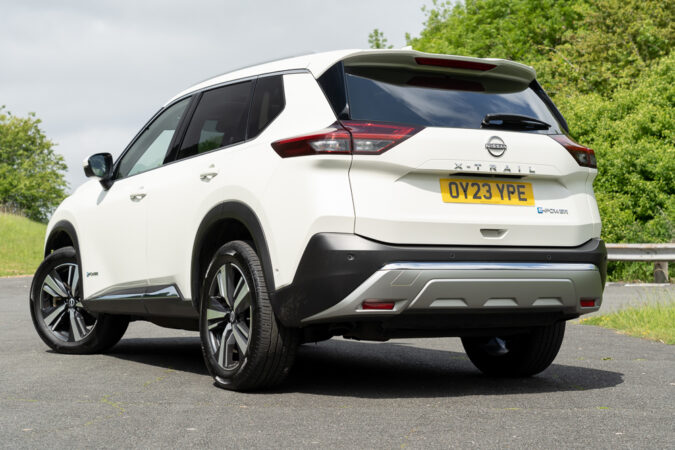 On the other hand, Nissan e-POWER inherits some of the traits of ICE powertrains. For instance, you need to deal with tailpipe emissions, and you will notice the vibrations and noises from that engine whirring as it's keeping that battery charged. As for the specifics, our Nissan X-Trail here is fitted with the higher-spec e-POWER 213 powertrain. Alongside the modest 213PS output, we have a meaty amount of torque.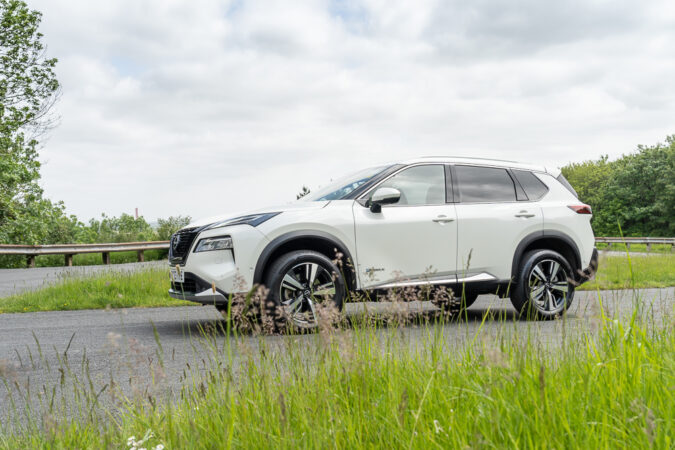 Specifically, it's split between the front and rear motors – 330Nm and 195Nm, respectively. Meanwhile, its e-POWER hybrid powertrain is supported by a workhorse 1.5-litre inline-3 ICE engine. The latter is also the same or similar engine that you'll find in the mild-hybrid and e-POWER 204 models of the new X-Trail. The performance on offer with the e-POWER 2013 should be enough for a 0-62mph time of 7.0 seconds.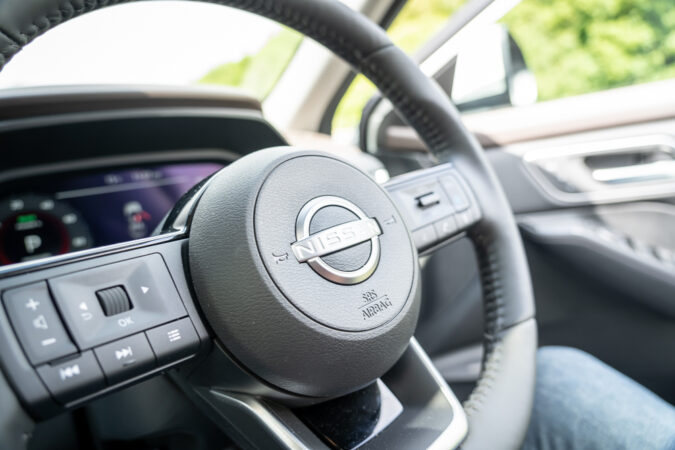 And, topping out at a top speed of around 111mph. Given that it features a dual-motor set-up, this allows the X-Trail to leverage it for the 'e-4ORCE' all-wheel drive system. To drive the X-Trail, it does feel as big as it appears, offering you a commanding view of the road ahead, which I do like. One interesting to note, is as due to the way e-POWER's been designed, you're interacting with the electrics, not the ICE engine.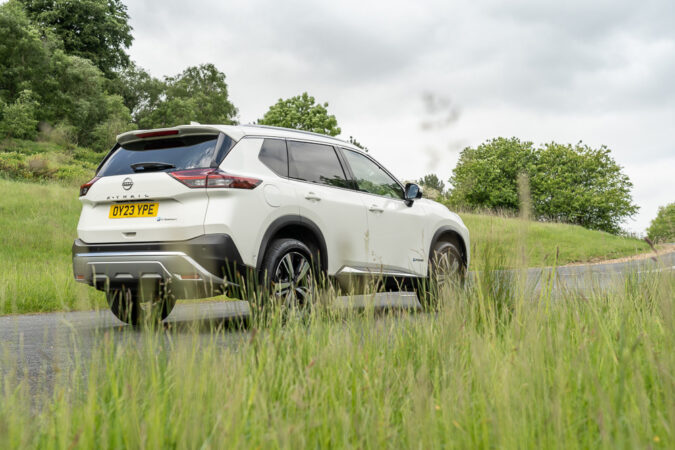 This means that pressing the accelerator pedal lets you interface directly with the electric motors. Hence, pressing harder on the throttle pedal will still get the engine working harder to supply the battery and its electric motors. However, that does result in the engine needing to run at high revs at times to supply more power to the motors, but it is kind of expected when you think about it.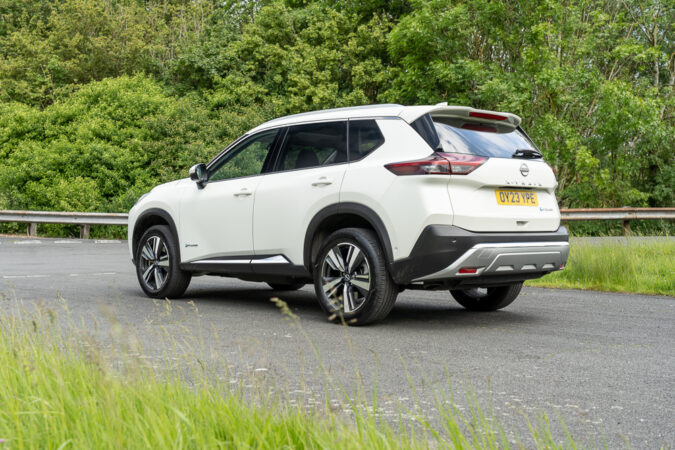 In actuality, the engine is solely there to charge up the battery, not propel the X-Trail. Otherwise, under gentler and more moderate use of the throttle pedal, it's seamless and you'd barely notice how it is actually powered at all. With that out of the way, most of the economical and environmental benefits of e-POWER are best noticed in urban jungles.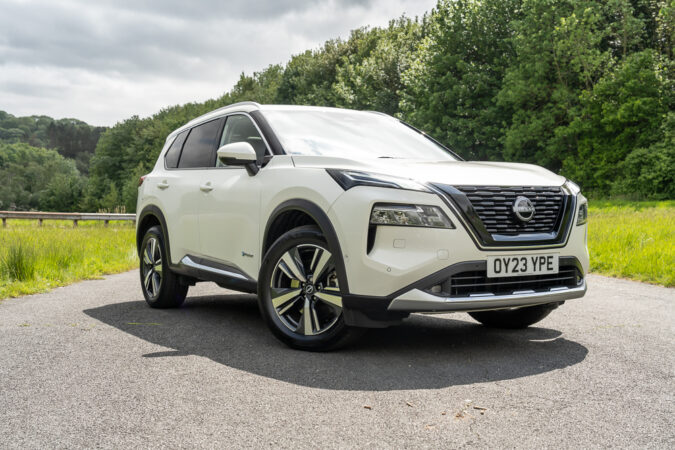 As an example, when you're commuting through a city or town, or generally any scenario where there's a lot of traffic and low-speed movement. In these instances, you're creeping around at lower speeds, being stuck in bumper-to-bumper traffic, and are regularly starting and stopping the car. At this rate, the engine is barely running, which enables e-POWER to further limit tailpipe emissions and reduce fuel consumption.
You could make driving your new X-Trail even more effortless with Nissan's e-Pedal one-pedal driving. It'll make it so that at lower speeds, you could readily accelerate, slow down, and stop by just using the throttle pedal. This is made possible thanks to regenerative braking on the front and rear axles. You typically only see, as with most other EVs or hybrids, regenerative braking on only the front.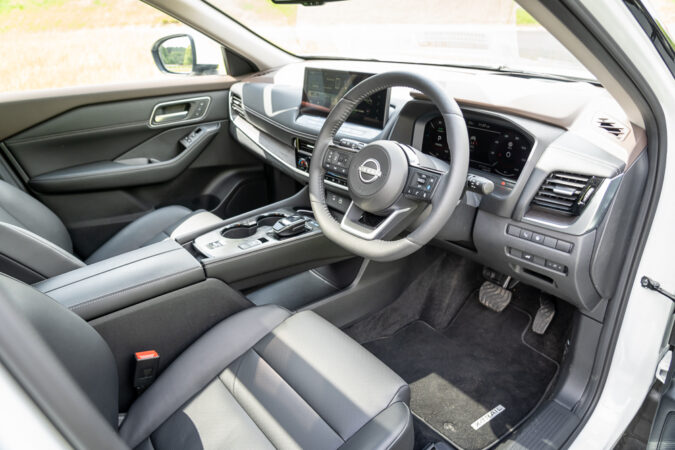 What Is It Like Inside?
Inside, this new and updated Nissan X-Trail is as practical, utilitarian, and no-nonsense as you'd expect of a Nissan SUV. There's an abundance of boot space in the back for all your weekly luggage. Or, if you need to carry more people instead or want the option to, the X-Trail can be specified with an optional third row of seating for a 7-passenger capacity. That makes it even more perfect as a family runabout.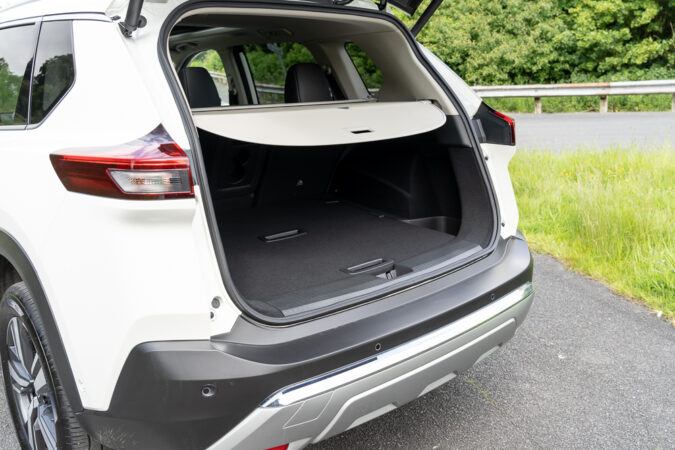 Moving further forward, headroom and legroom elsewhere in the cabin are pretty good, and you get loads of cubbies and storage compartments for your passengers. I also like how Nissan's sharpened the interior of the X-Trail, giving it that modern touch. It's still a back-to-basics, uber-practical SUV, but it has some of those luxury touches that you can relish when you're not using it as your sole grocery-getter.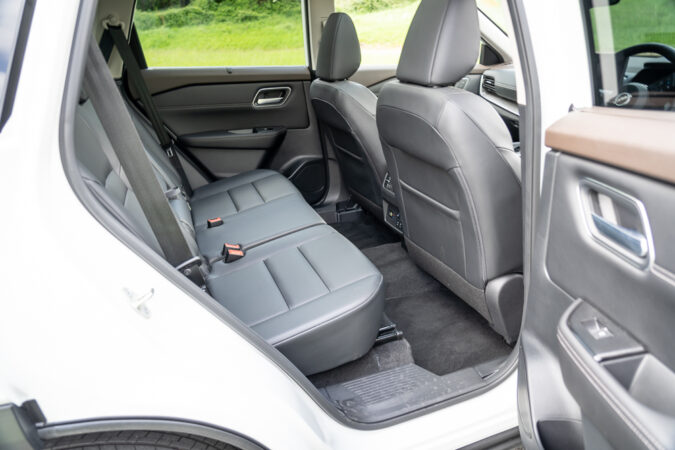 Plus, if my experiences on older X-Trails are anything to come by, I expect this new one to be durable and hard-wearing too, as you would want in a family SUV. Besides that, this new X-Trail is plenty comfortable and suitably posh in all the right areas. As far as in-car tech goes, you're left with two 12.3-inch displays – one for the infotainment system. The latter has all the bells and whistles you really need.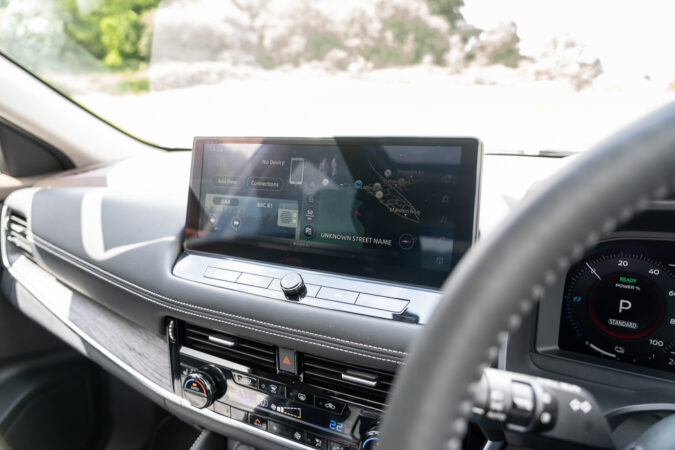 Including, but not limited to, (wired) Android Auto and wireless Apple CarPlay. That other screen will thus function as your digital gauge cluster. You could further make good use of the additional 10.8-inch heads-up display, projecting important data onto your windscreen. Additionally, for all you smart home users, it comes compatible with Amazon Alexa and Google Assistant, with a wide range of commands.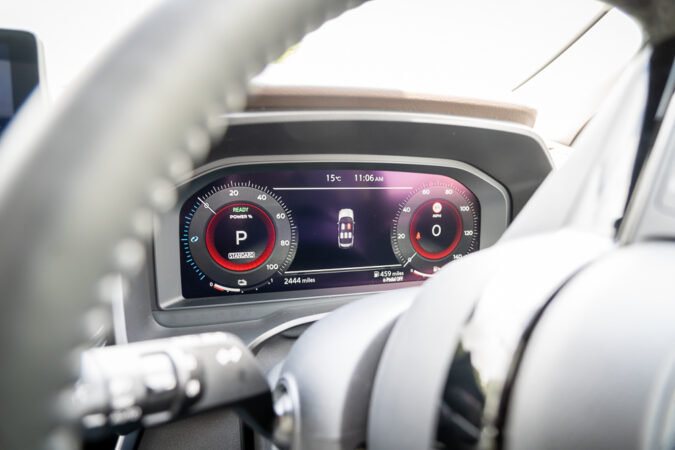 The Experience
One of the notable highlights of any new Nissan model is the inclusion of the company's ProPILOT suite of advanced driver aids and safety systems. This is definitely one of the best ADAS assortments that you can get on the market today. On the new Nissan X-Trail, this includes a clever cruise control system that could brake itself to 0mph in start-stop traffic. Then, resume and speed up once the car in front gets going.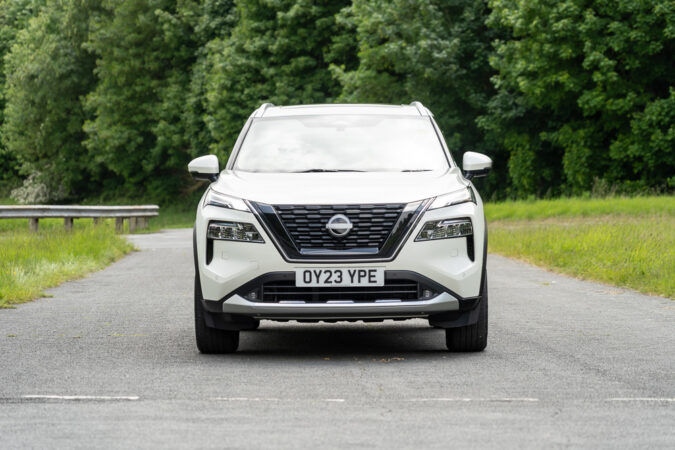 Aside from being able to follow and go with the flow of traffic, this clever cruise control system could then detect traffic signs. For instance, it can spot and tell if there's going to be a change in the allowable speed limit, before adjusting that onto the cruise control system automatically… Without needing manual input from you. That's not even the full extent of the nice-to-haves that Nissan includes in the new X-Trail.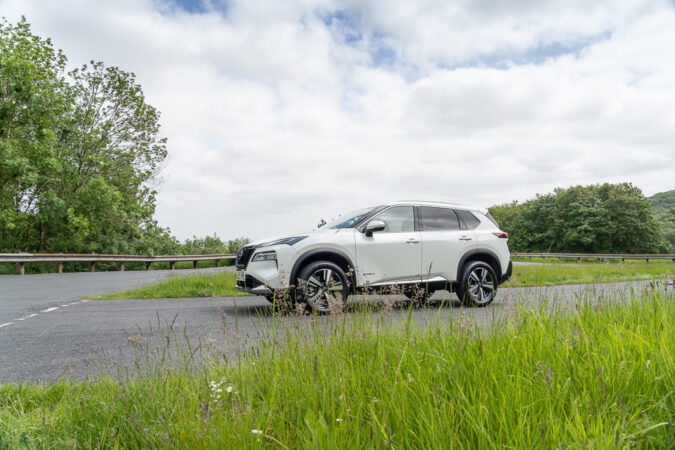 You have the usual affair of automated emergency braking, blind-spot monitoring (not to mention, being able to intervene and take control of the steering for corrective measures), and rear-cross traffic alert. It's also fitted with lane-departure warning, lane-keep assist, and more. For regular day-to-day driving, you'll surely like the 360-degree surround-view camera, as well as the myriad of parking assist features.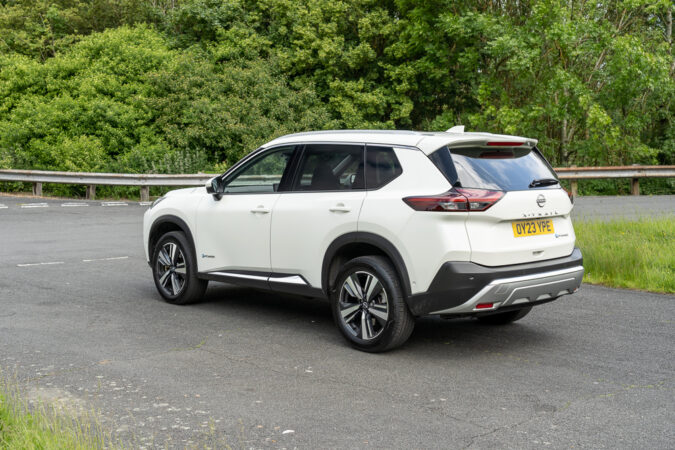 Nissan X-Trail Tekna e-POWER Cost
Although this updated X-Trail range starts off at £32,890, the Tekna trim here, alongside the higher-spec e-POWER 213 powertrain option, will drive the price up to £45,310. You do, of course, get a lot more stuff included when compared to the entry-level Visia trim, such as a meatier suite of ADAS systems, a larger display for your infotainment, as well as skimping on posh upholstery. But, what about the upper Tekna+ trim?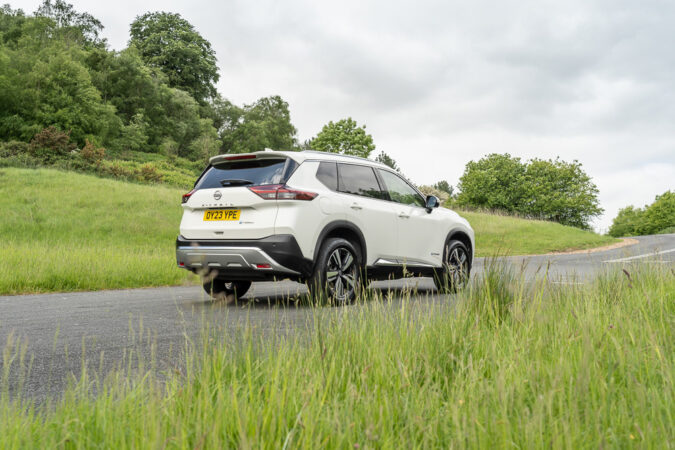 Compared to the Tekna trim, most of what you get in the upgraded Tekna+ variant are niceties such as a set of 20-inch alloy wheels compared to 19-inch, in addition to quilted leather seating. But, going back to the Tekna trim, like the one we have here, there are a couple more optional extras that you could tack on top. No doubt the most popular option will be the £1,000 upgrade to spec your X-Trail as a 7-seater instead of a 5-seater.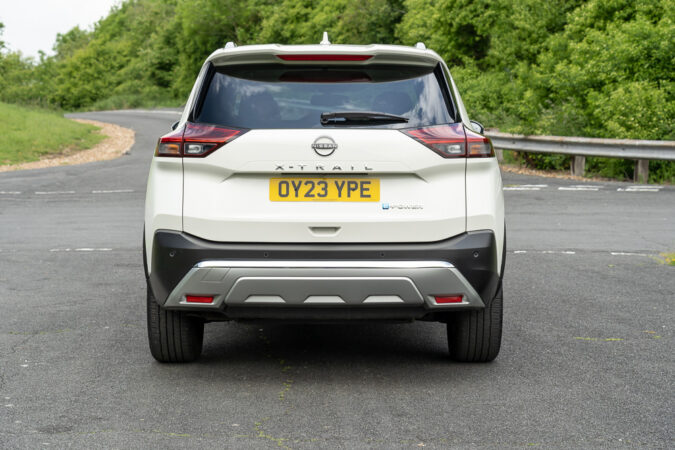 This is up from the standard 5-seater configuration, so it's worth considering (and is actually well-priced), especially if you have a larger family or need to carry more passengers. Furthermore, you could spec your X-Trail with the £590 Bose pack to fit a premium Bose 10-speaker sound system. This otherwise comes as standard equipment if you opt for the pricier Tekna+ trim. In short, you do get a lot for your money.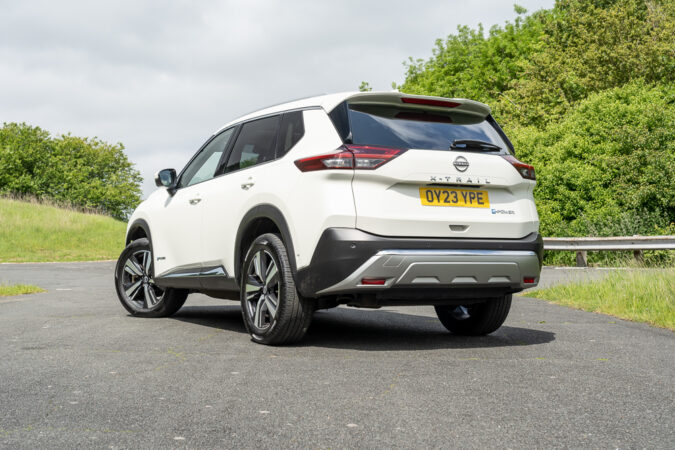 Verdict
Nissan's idea to include e-POWER in the X-Trail rather than turning it into a plug-in hybrid or a full-EV is a good move, I find. e-POWER acts as a good bridge between the ICE cars of yesterday and the EVs that we can expect to see more of tomorrow. It's a great first step for anyone who's keen on adopting EVs but is perhaps not willing to deal with the sheer compromises of owning and living with one day-to-day.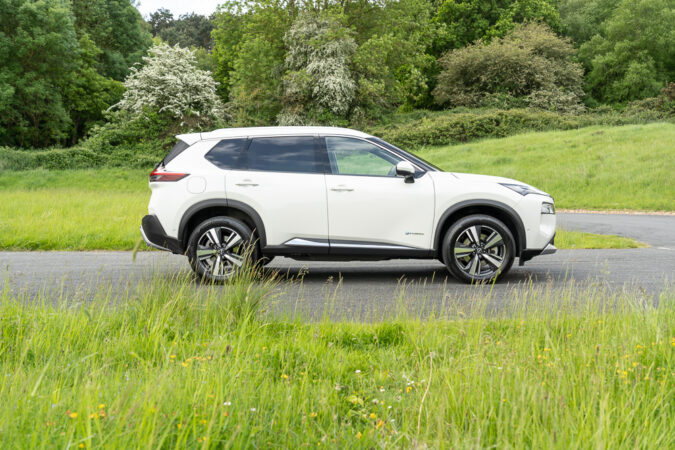 The Nissan X-Trail e-POWER is thus the perfect middle ground for you… Letting you enjoy the familiarity of a typical ICE car. But, still be able to gain the benefits of an EV – that smooth, silent, and instant burst of the electric powertrain. Underneath it all, and looking beside the unique e-POWER system, the new X-Trail is still a solid, robust, and practical SUV that'll do everything you ask it to do, without breaking a sweat.

Specification
Nissan X-Trail Tekna e-POWER Specs

Price: £45,310
Engine: e-POWER (1.5-litre + Dual Electric Motors)
Power: 210bhp
Torque: 330+195Nm
Transmission: CVT
0-62mph: 7.0 seconds
Top speed: 111mph
Weight: 1,880-1,949kg
Economy combined: 43.5-42.8mpg
CO2: 146-148g/km