The luxury car market in the UK is packed to the brim with popular and highly desirable brands like BMW, Audi, Mercedes, Lexus, Genesis, Jaguar, and a bucket load more. Yet, the one household name which isn't mentioned nearly enough is DS… The quirky, cool, left-field, and very French brand that makes some of the nicest luxury cars money can buy. So let's take a look at the DS7.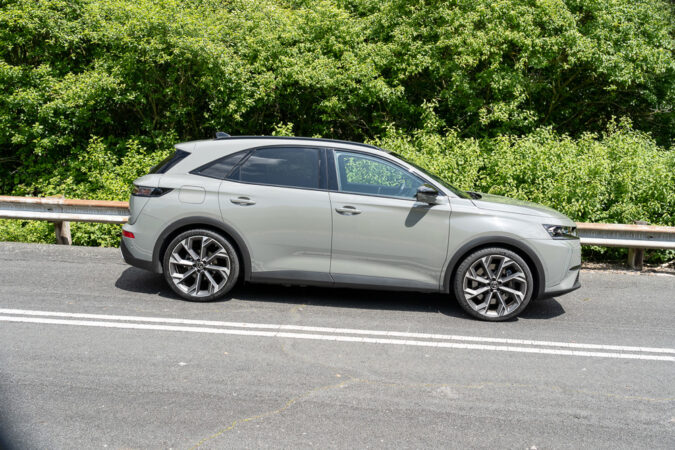 Plug-in hybrid SUVs can be found by the dime a dozen, but few are as intriguing as the DS 7. In particular, if you're looking at their cream of the crop, the DS 7 La Première E-TENSE 4×4. It's a bit of a mouthful, but each of those letters will remind you that this isn't any ordinary hybrid SUV. The DS 7 oozes sophistication and style, but not at the expense of what makes it great; comfortable, efficient, and uber-luxurious.
What Is The DS 7 La Première E-TENSE 4×4 About?
As far as looks go, the DS 7 is a pretty handsome car. With its lowered ride height and when it's squatted down, it does have a sporting and athletic stance. Looking around, you'll find a lot to like with the design on the DS 7, certainly befitting a more haute couture aesthetic. There are those cool vertical exhaust pipes, the slim headlights and taillights, and the almost jewel-like trim, like on the DS 7's front grille.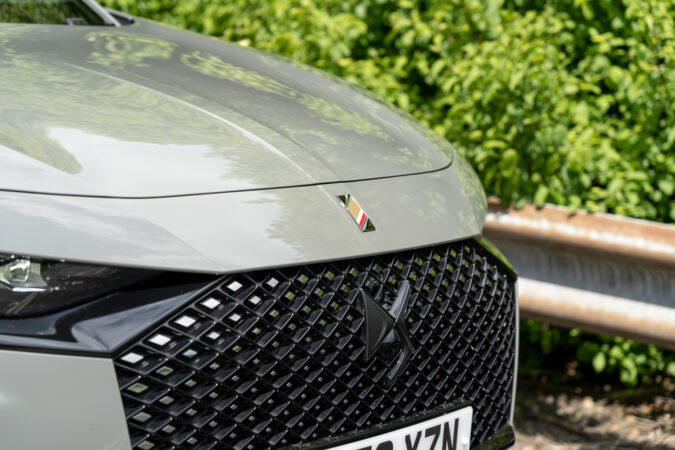 Even when you look closely at the exterior lighting, it has a mesmerising gill-like pattern. That flat grey paintwork that you see on our car here is especially complementary to the massive 21-inch wheels. That signature design ethos further exemplifies the mystique that the not-often-seen DS brand exudes. Given that it shares some of its DNA with Peugeot, the DS 7 also has its signature vertical "claw" LEDs.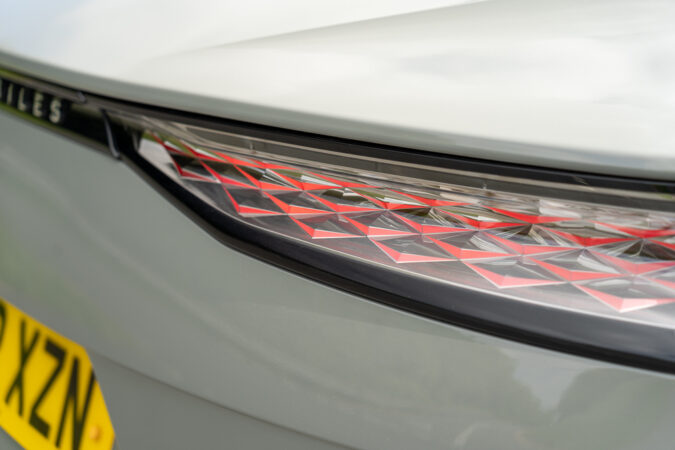 Its silhouette may be reminiscent of practically every other SUV-slash-crossover on the market, it's those little details that make the DS 7 stand out even more. The La Première trim accentuates all its distinctly French flair and touches even better still. The DS 7's styling is what I'd call chic, more so than it is the sporty, aggressive, or muscular SUVs that most of its rivals are doing now, which is rather unique.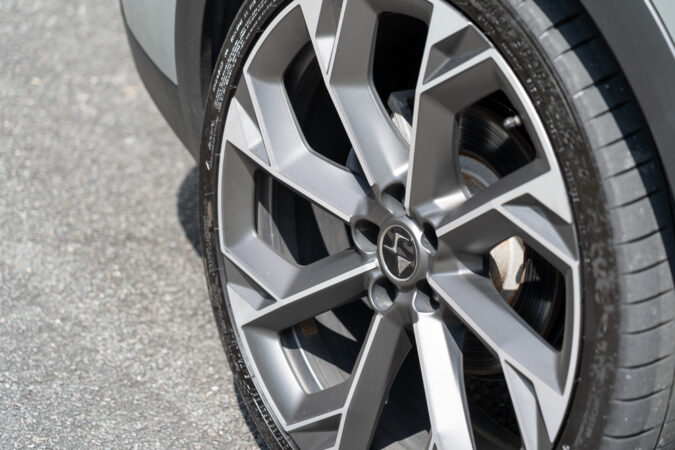 How Does It Drive?
Now, let's dissect its naming scheme even further, focusing on 'E-TENSE 4×4 360'. If you're thinking about getting the top-spec La Première trim, that's the only powertrain option available… A petrol-hybrid which combines a 1.6-litre turbocharged inline-4 engine with twin electric motors for hybrid drive. You'll find its dual electric motors split between the axles, one on the front, and the other on the rear axle.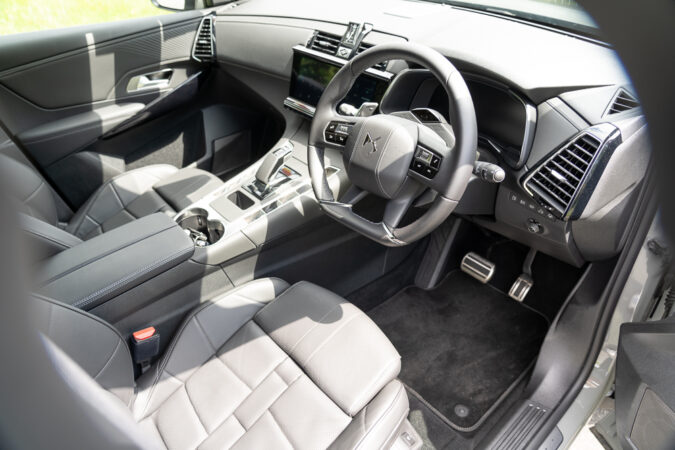 On paper, the 'E-TENSE' 4×4 360 makes for a seemingly potent combination, outputting a healthy 355bhp (or around 360hp, which explains the name). Fun fact, the petrol engine contributes roughly 200hp to the aforementioned total output. But altogether, between the engine and electric motors, it's putting out the equivalent of 520Nm of torque. That'll net you a pretty rapid 0-62mph time of just 5.6 seconds.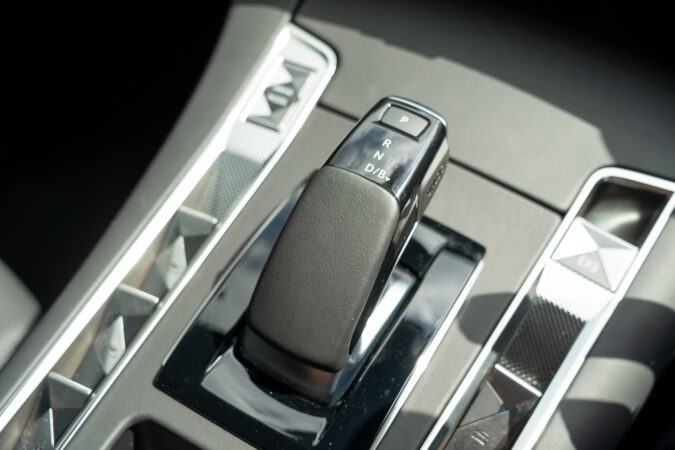 If you find a stretch of road long enough, the DS 7 (with this E-TENSE 4×4 360 powertrain) will top out at 146mph. Moreover, as its name suggests, the hybrid system is configured to deliver all-wheel drive, that will then be driven through a slick 8-speed automatic transmission. DS wasn't kidding around either; the DS 7 even employing some of DS's learnings in Formula E to help fine-tune its performance and handling.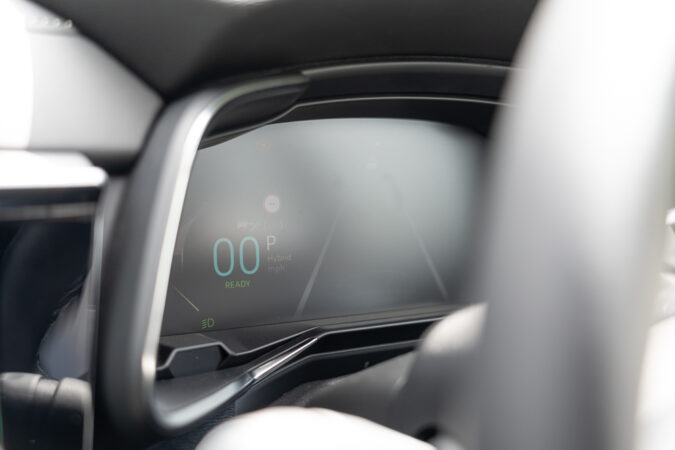 In particular, with the tuning work on both the engine, as well as the chassis and suspension on the DS 7. In the real world though, its outright pace is decent, albeit it's not overly thrilling or adrenaline-pumping. But then again, the DS 7 was never meant to rival a hot hatch. Rather, it's to find that nice sweet spot in the balance between fast and performant, yet remaining comfortable and supple on the road.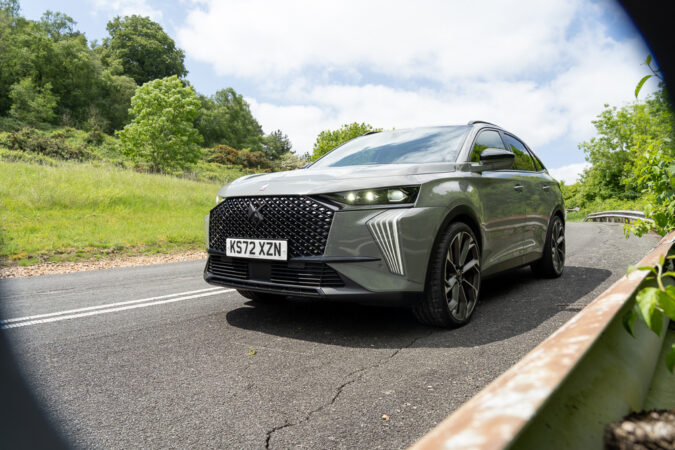 You could have a bit of fun with it if you want to. Especially, as you're clicking through the gears using its paddle shifters and using a bit of engine braking. Nonetheless, a lot of its engine, chassis, and suspension refinements will benefit you more in the long run when it comes to comfort. As is expected from a DS, its philosophy hinges on it being nice to waft around on the motorway and silently cruise about town.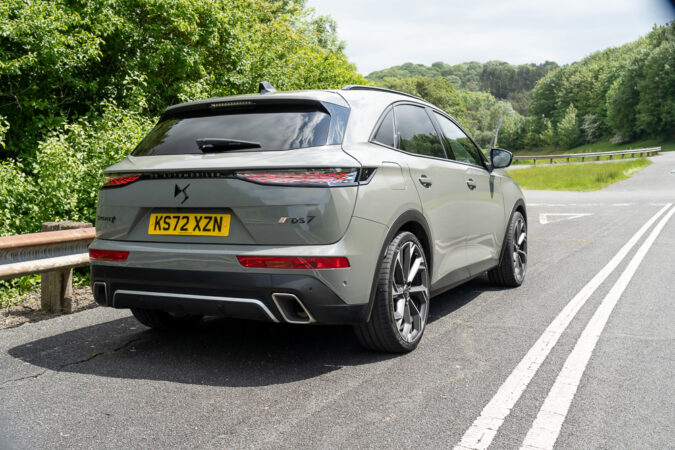 The best example of this is DS's Active Scan Suspension system. It uses a set of cameras that monitors the condition of the roads ahead, and in real-time, could then actively change the damping of the suspension. Thus, ensuring that regardless of where you're driving into, the suspension is always primed and ready to dampen out any imperfections on the road. So, while it might not be fast, it's supremely comfy.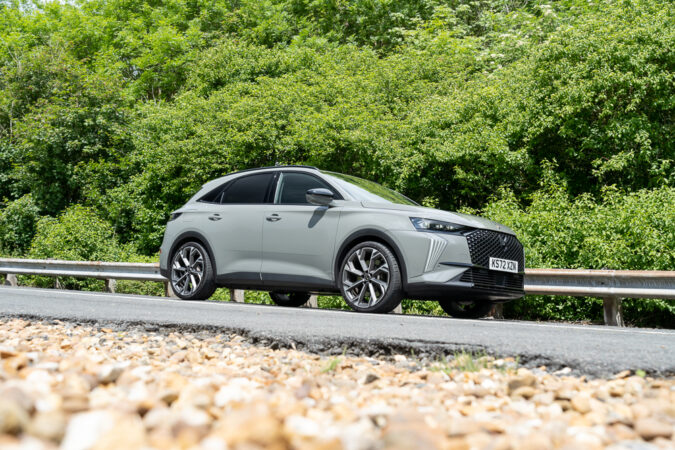 What Is It Like Inside?
If you thought the outside of the new DS 7 is quirky, just wait till you step inside. This is where you'll note lots of DS weirdness. The layout of the cabin itself is typically DS, which borrows some elements from the DS's sibling brands, Peugeot and Citroen, with its sharp and modernist cues. Yet, it's then blended with a myriad of classical and stylistic touches, such as the retro-inspired analogue clock on the dash.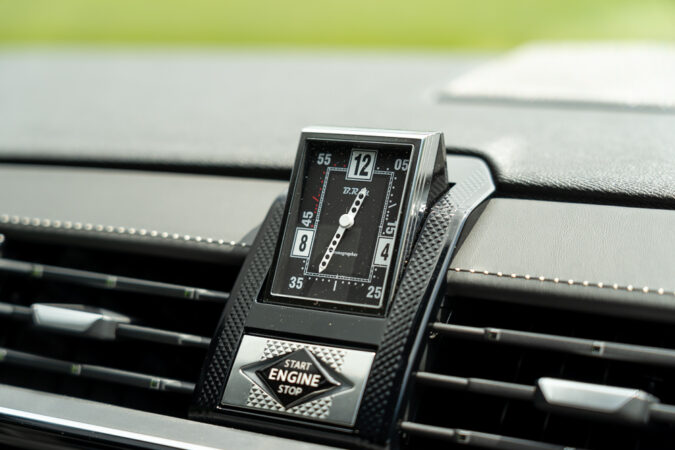 Or, even the odd diamond-shaped engine-start button, not to mention the joystick-like gear selector. It all contributes to creating a plush, luxury feel, akin to sitting in some cyberpunk lounge given how over the top some of it can be on the DS 7. If your regular commute consists of long, boring motorway miles, the sense of occasion and theatre you get sitting inside the DS 7 makes it a great place to spend time in.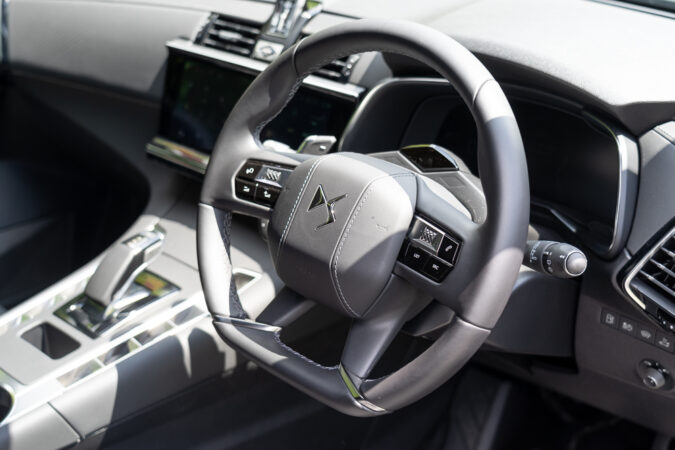 Meanwhile, all that traditional craftsmanship is then mashed together with an excellent mixture of new-age tech. There's a sizeable 12.3-inch infotainment system. Alongside its digital gauge cluster, they both work quite well and are intuitive to interact with. In this La Première trim, you're then rewarded with the DS 7's FOCAL Electra 14-speaker sound system, which will tickle those audiophile heartstrings.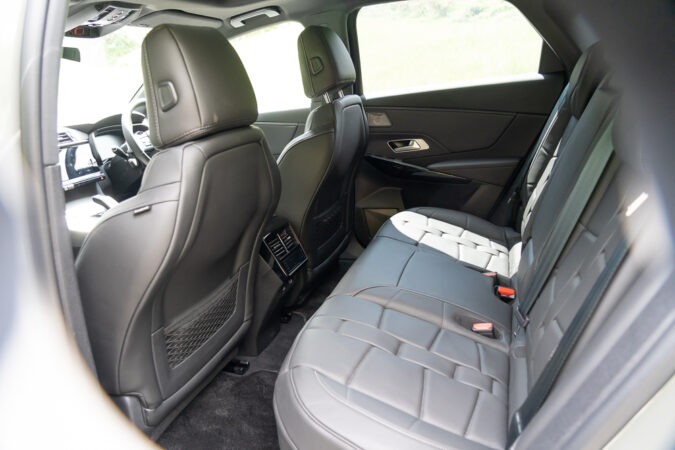 The Experience
Lest we forget, there's another key element of the DS 7 that we've yet to discuss in detail; the 'E-TENSE' in its name, denoting that plug-in hybrid system. If you want to quietly pull out of your driveway early in the morning, you could opt to drive your DS 7 solely on electric power, without cranking the engine. However, its electric-only range is expectedly small, with only enough juice in the battery for up to 36 miles.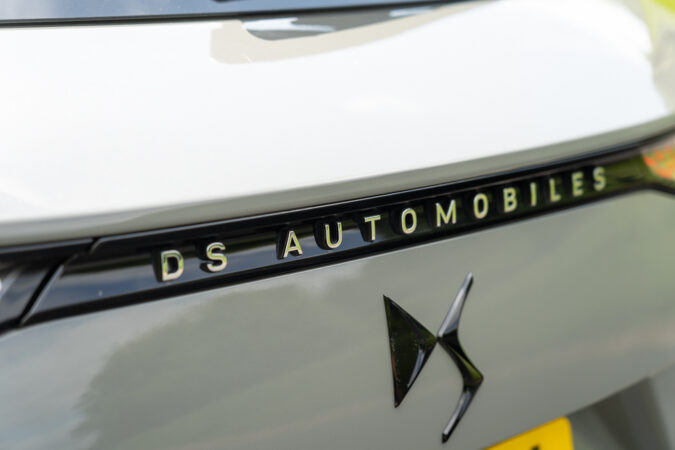 That's not too impressive. Then again, for short drives like quickly heading over to your local supermarket or even going to work… That's assuming that your workplace isn't too far away… 36 miles of range might be sufficient for a lot of your daily commutes. On the other hand, this means that whenever you do need to rely on the internal combustion engine, the DS 7 is impressively fuel efficient (and with low emissions).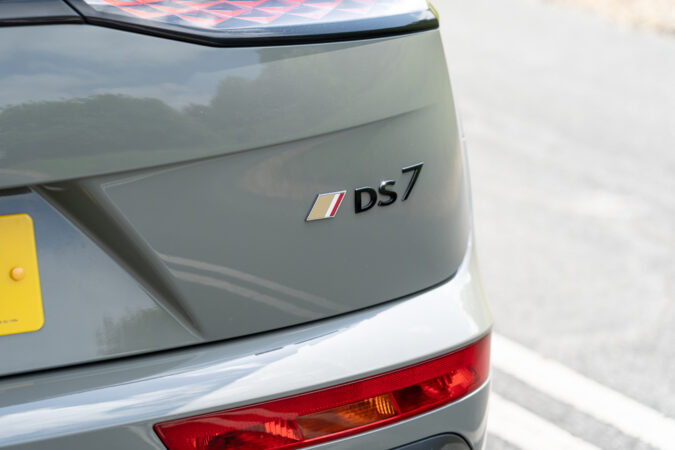 It has a WLTP-estimated combined fuel economy of a whopping 161mpg. Since it's a plug-in hybrid, you'll need to worry about charging it at some point. If you're plugging in your DS 7 into a 7kW charger, you'll be able to charge the car in under 2 hours.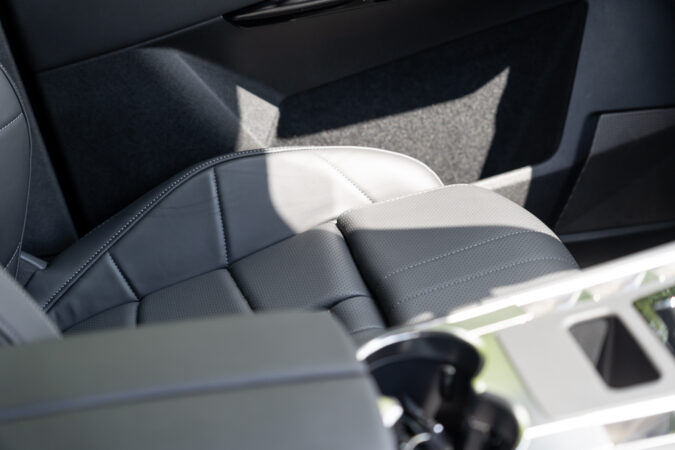 DS 7 La Première E-TENSE 4×4 Cost
On the road, the DS 7 La Première E-TENSE 4×4 360 has an MRRP of £62,940. That's quite costly, although it's worth bearing in mind that this La Première trim is currently the top-of-the-line trim level for this DS 7. Whereas, the DS 7 itself starts from £36,760, though the entry-level models come with diesel powertrains. If you want to get into one with an E-TENSE hybrid, you're looking at the bare minimum of £44,190.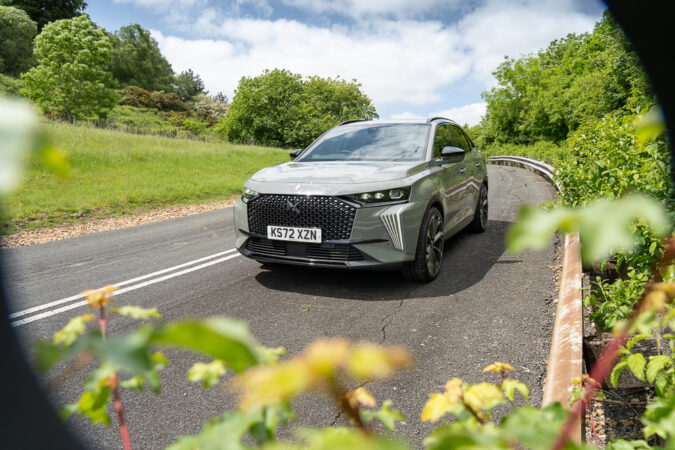 At that price range too, the more budget-friendly E-TENSE hybrid models may not come with dual-motor, all-wheel drive capability. And, you'll have to make do with slightly less power. The bright side of spending extra and getting the range-topping La Première trim is that there aren't too many optional extras that won't already come included as part of the package by default. At most, you'll spend some money on nicer paint finishes.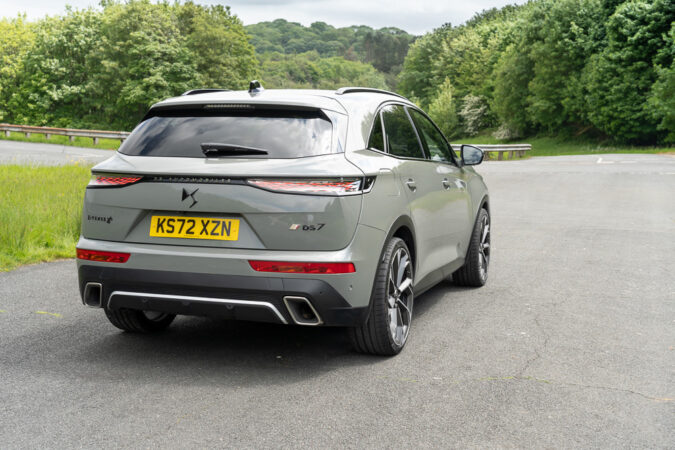 Verdict
Not too many people get to own or drive DS cars around the UK at the moment, which is a real shame, as it's one of the most unique and fascinating luxury brands out there. The DS 7 is the perfect example of this, bringing a distinctly French flavour and influence into the mix that you can't get anywhere else. It's one of the boldest-looking SUVs out there, and that sense of style and presence makes its way to the interior of the DS 7 too.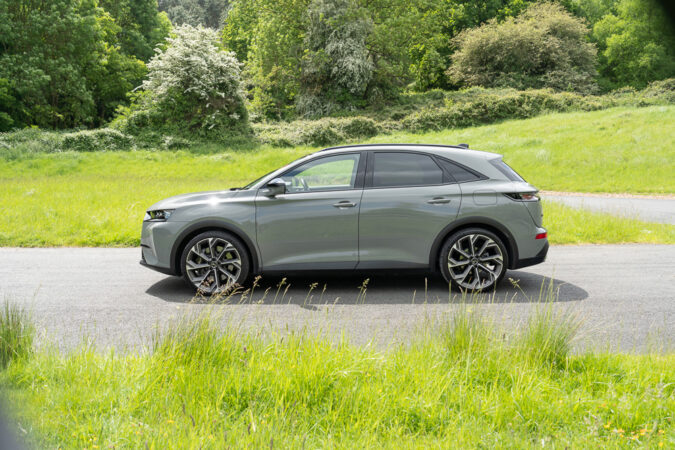 It's a practical and usable, yet luxurious and posh place to lounge about in. Comfort and plushness are the name of the game with its driving feel, cosily handling even the toughest and most pothole-ridden roads here in the UK. Furthermore, with an amazingly efficient hybrid powertrain, it's an easy-going car to live with and own in the long term. It's no doubt expensive, but for some of you, it could be worth it.

Specification
DS 7 La Première E-TENSE 4×4 Specs

Price: £62,940
Engine: 1.6-Litre Turbo, Dual Motor, Plug-In Hybrid
Power: 355bhp
Torque: 520Nm
Transmission: 8-Speed Automatic
0-62mph: 5.6 seconds
Top speed: 146 mph
Weight: 1,885kg
Economy combined: 161.1 mpg (WLTP – Combined)
CO2: 40g/km