I had the chance to drive the new Skoda Enyaq iV electric SUV. It was, by all accounts, a very impressive machine; a perfectly well-rounded electric SUV that's massively practical, easy to live with, and is utilitarian, yet is also comfortable and fun to drive, all at once. It's hard to find faults with it, but what if you thought to yourself, "I like it, but I want even more power out of it, and it has to look more distinct?"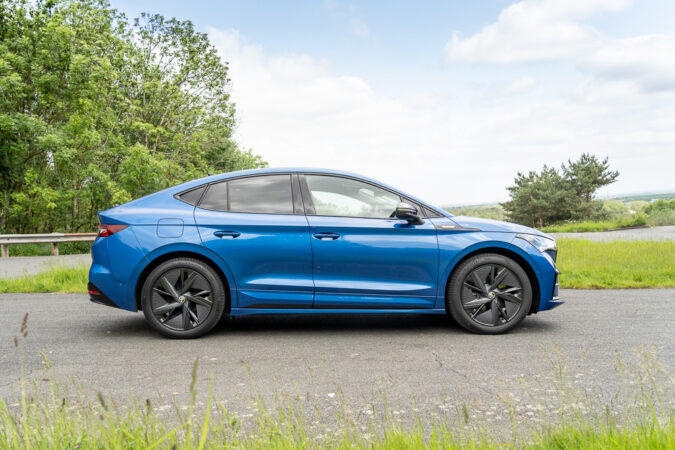 Well, in that case, this here Enyaq Coupe iV vRS should be right up your alley. That particular trim sits just above the 80x SportLine Plus trim that I drove prior. On the surface, it has all the bare minimal improvements here and there. But overall, they make for a huge difference when the vRS is taken into account. So, is it worth upgrading, or should you stick with the non-coupe model?
What Is The Skoda Enyaq Coupe iV vRS About?
One of the major giveaways between this Enyaq iV and the one I drove before is with how it looks. One of the coolest and most sci-fi design elements on this Enyaq Coupe iV is the grille. Being an EV, it won't need any front grilles for intake or cooling. Yet, in its place, instead of a blank slate of glass or plastic trim, Skoda's integrated a massive array of LED lights. Apparently, there are 130 individual LEDs in that faux grille.
This thus creates a powerful light bar that helps to illuminate the road ahead in addition to the headlights flanking it. Equally as attractive are its turbine-style 20-inch alloy wheels, further completing that futuristic look. Otherwise, just like the non-coupe Enyaq iV, Skoda has done well with creating a very aggressive and sporty silhouette that stands out. Its coupe look is a unique form factor, and one that I find attractive.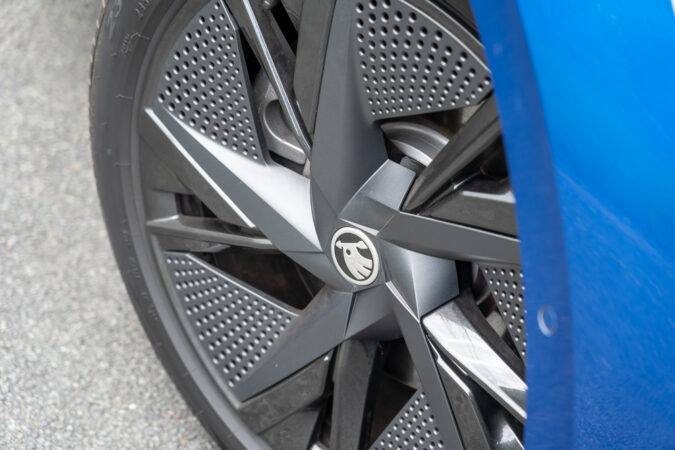 How Does It Drive?
Unconventional appearances aside, the driving experience is another great reason why you should look at the Enyaq Coupe iV vRS if you're shopping for a premium, luxury, electric SUV. When I first drove an Enyaq iV (the aforementioned non-coupe, 80x SportLine Plus model), the one impression that immediately struck me was how fun it was to drive. It wasn't the fastest SUV around, but it had quite a bit of poke in it.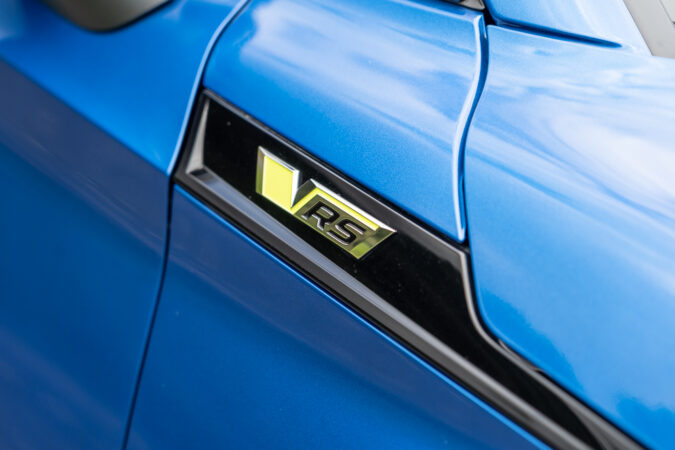 That feeling was rather surprising to me, more so given how utilitarian and practicality-first the rest of the car felt. It wasn't the speediest in a straight line, but it could handily manage a quick overtake. Let alone, a section of technical and challenging roads, or the tighter and twisty corners, which it handled with relative poise. If you don't need the extra pace, then the 80x SportLine Plus is more than sufficient for most.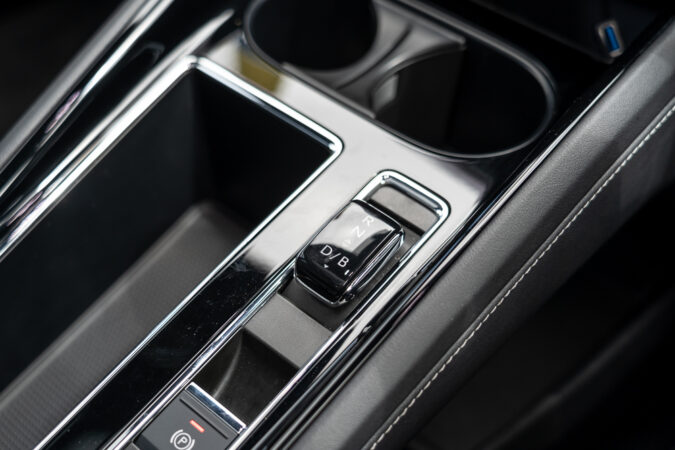 However, I could definitely see some folks who want a bit more. For those people, this Enyaq Coupe iV vRS should suit all your adrenaline-pumping needs. For some context, this vRS is the performance-focused and top-of-the-line range-topper of the Enyaq iV range. It, therefore, has the most amount of power of the lot; a healthy 299PS of output and 460Nm of torque. That'll be good for a 0-62mph time of 6.4 seconds.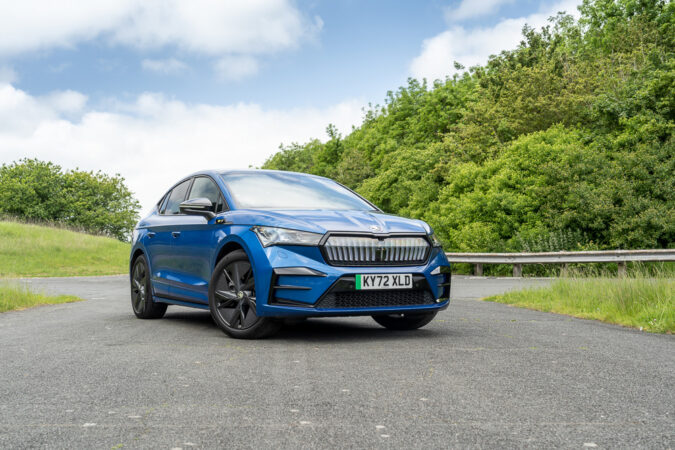 And, before hitting its top speed of 111mph. If you've been through my review of the 80X SportLine Plus, a vRS-trimmed Enyaq iV should be a tad faster on paper. If the former is comparable to any older hot hatch – that's what I compared it to in my review – then this vRS should easily compete with modern performance machinery. In practice, the Enyaq Coupe iV vRS is indeed more engaging on the limit, and more driver-focused.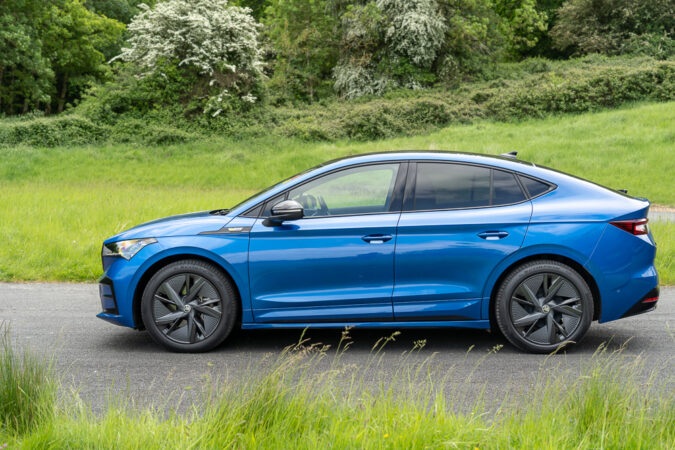 Moreover, it's more exciting to drive exuberantly, and it's just a hair sharper, dynamically. Plus, it can work well as an all-weather car, too. The vRS, as with the 80x SportLine Plus, has a dual-motor configuration. It's worth mentioning that these are the only two in the Enyaq iV line-up that has this. It means a single motor on the front axle, and another on the rear axle, effectively enabling an effective all-wheel drive system.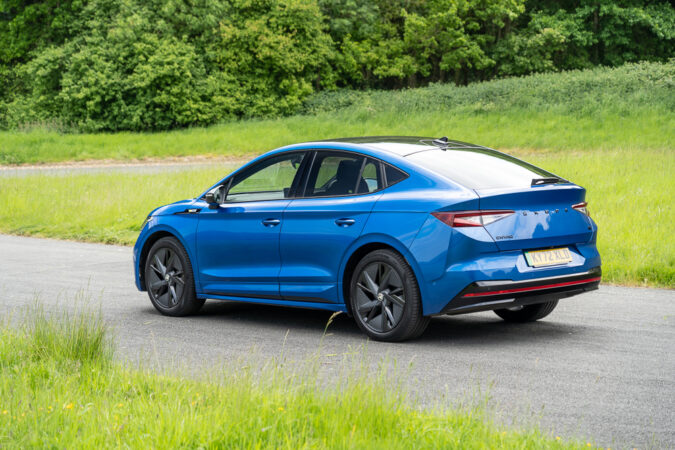 What Is It Like Inside?
Another key similarity between the Enyaq iV and this here Enyaq Coupe iV vRS is with the interior. Most of this cabin is pretty identical. Now, that's no bad thing, as the interior of the 80x SportLine Plus that I drove was a superb place to spend time in. It's comfortable, and plush, and gives you a commanding, focused driving position that you'd normally find in a performance car or a grand tourer, not in an electric SUV.
As far as materials are concerned, the only key difference this time around is that this Enyaq Coupe iV vRS features a full-leather interior rather than the leather-suede mixture from last time. Aside from that, we'd have to look at the other vital point of differentiation between the two models; its sloping, coupe roofline. Sure, from the outside, it looks cool, sporty, and unique. But, from the inside, it's a compromise.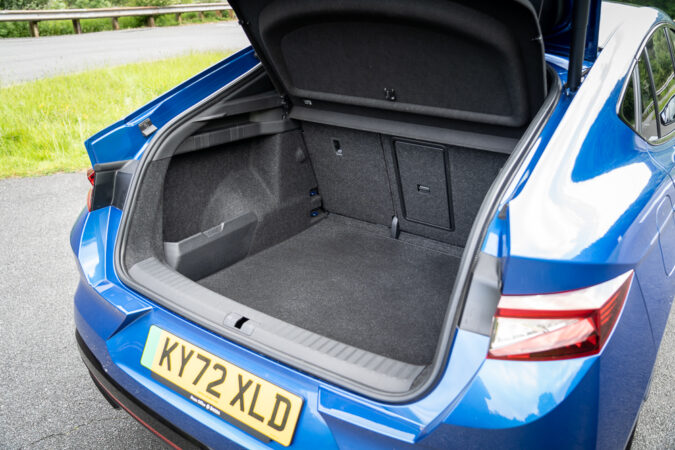 The Enyaq iV, in its coupe form factor, isn't as uber-practical and high-usable as its non-coupe sibling. For tall passengers in the rear seats, you may find the tip of your hair brushing against the headliner in some cases. Meanwhile, unlike the non-coupe models with their boxy roofline, the boot space is also smaller. It lacks vertical space, but it's at least deep and cavernous enough, with adequate storage solutions.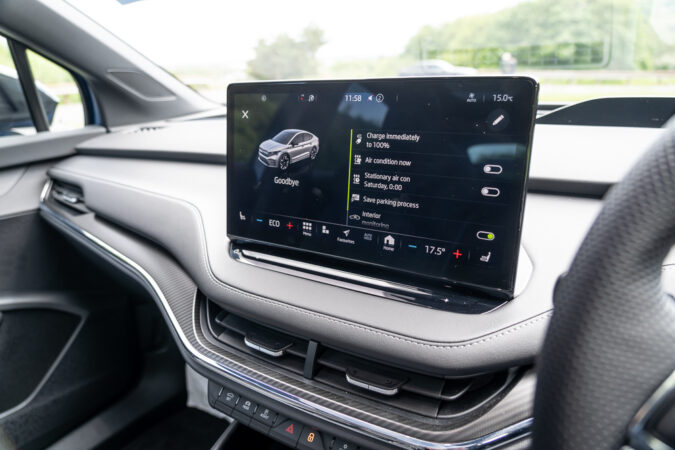 The Experience
Just like its performance credentials, this vRS variant's endurance is further enhanced by the non-coupe Enyaq iV trims… Even compared to the already generously-loaded, near-range-topping 80x SportLine Plus that I drove prior. The vRS here has the same 82kWh gross battery capacity, and its actual usable capacity is similar too, at 77kWh. So, you might think that it has a similar range and efficiency then, right?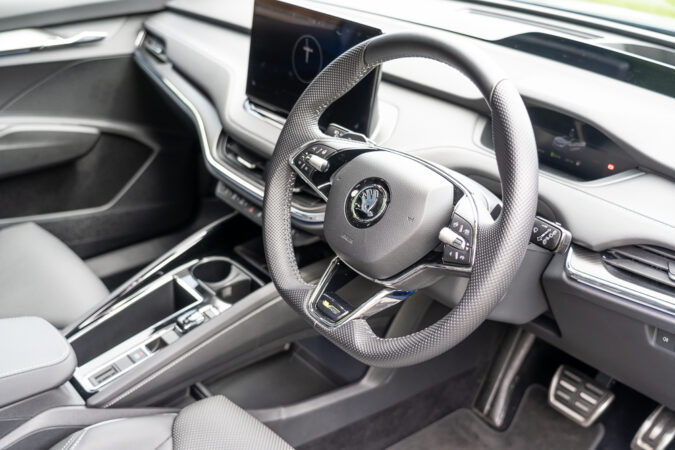 Well, funnily enough, despite having a similar battery capacity, yet paired with a more potent powertrain, and is ever so slightly heavier, this Enyaq Coupe iV vRS actually has an improved range. It'll do as high as 321 miles, compared to 317 miles in that 80x SportLine Plus. I'm not sure how, but I assume there must be some minute changes inside the powertrain and electrified architecture to eke out more efficiency.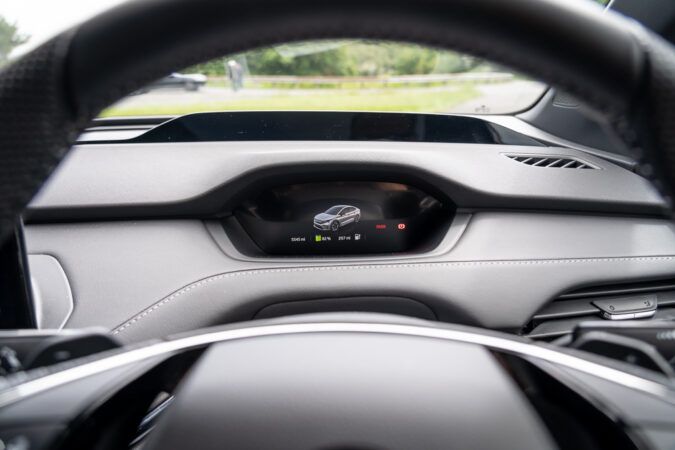 This may explain the tad better economy figures, as well. This vRS is rated at being able to cover 3.7 miles per kWh, compared to 3.6 miles per kWh in the 80x SportLine Plus. Other than that though, charging your vRS is no different than the aforementioned sibling. It's compatible with speedy 135kW DC rapid charging, allowing the Enyaq Coupe iV vRS to recuperate its charge to 80% full in just under 40 minutes.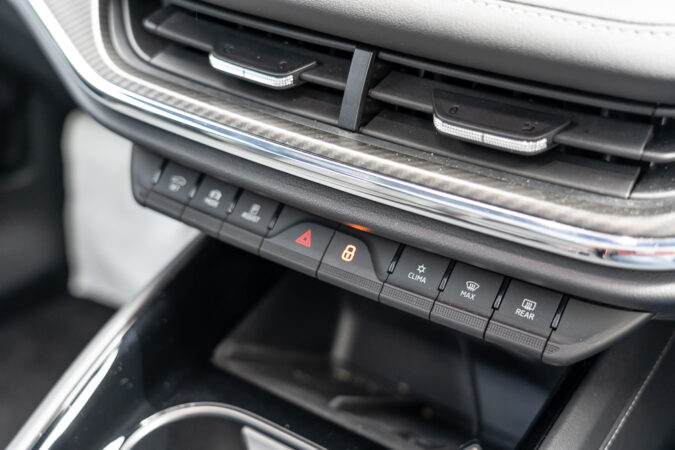 Meanwhile, slower rates are equally roughly unchanged. When plugged into a 50kW DC rapid charger, its battery will top-up in a respectable 1 hour and 30-ish minutes. Besides that, if you're plugging in overnight to charge so you'd have your car with a full battery before you head off to work in the morning, any 7.2kWh AC charger will get it done in 13 or so hours. Which, is pretty much standard fare for any EV.
Skoda Enyaq Coupe iV vRS Cost
The Enyaq Coupe iV vRS starts at around £54,370. However, as you see it here, our example, as tested, will set you back about £55,830. There were only a couple of optional extras included, such as £780 to spec the Infotainment Package Plus pack. The latter adds a cool augmented reality heads-up display interface, that could project important details onto your windscreen, such as your satnav directions and speed.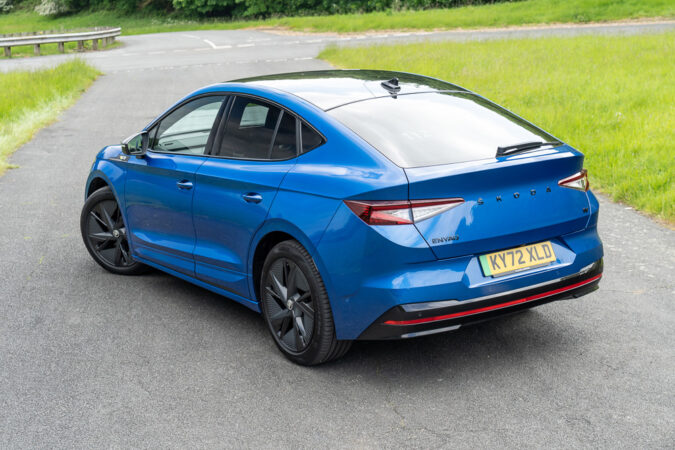 On top of that, our car was also specified with the £680 universal charging cable. Of course, the benefit of top-trim-level versions like this vRS (as opposed to the 80x SportLine Plus or the other entry-level trims), is that most of everything else that would otherwise come as optional equipment does come as a standard fit. If you do want more nice-to-haves on your Enyaq iV, the options list is abundant with nice goodies.
Verdict
If you're struggling with choosing between the Enyaq iV (in particular, that already brilliant 80x SportLine Plus model that I drove for the first time) and the Enyaq Coupe iV vRS… Admittedly, they're both excellent cars. So much so, that it may be tough to pick, assuming the slight increase in price won't deter you. For a lot of would-be buyers and owners, realistically, you won't go wrong with either one, to be honest.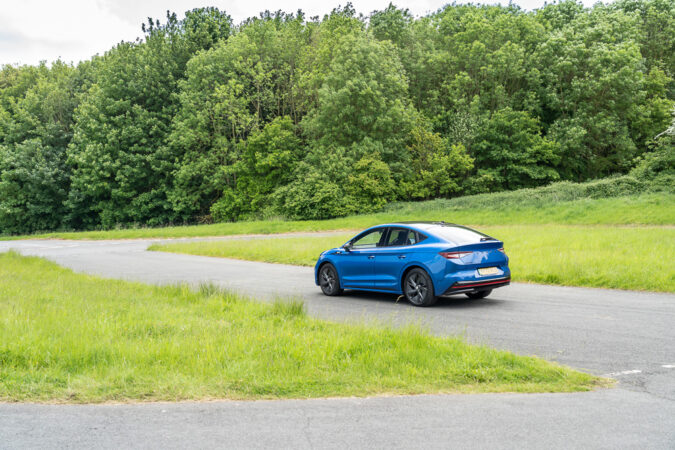 If we're really splitting hairs and nit-picking on it, I'd perhaps argue the Coupe vRS to be more suited for a younger, livelier, and more enthusiastic crowd that values excitement and expression. Whereas, that non-coupe 80x SportLine Plus (as well as the other non-coupe trim levels below it) might appeal more to those who'd want to use this as a family runabout and daily driver, while still having a bit of fun with it.

Specification
Skoda Enyaq Coupe iV vRS Specs

Price: £54,370
Engine: Dual-Motor AWD, 77kWh Battery
Power: 295bhp
Torque: 460Nm
0-62mph: 6.4 seconds
Top speed: 111mph
Weight: 2,258-2,394kg
Economy combined: 321 Miles (WLTP – Combined)