Skoda has always been a pretty interesting brand to look at. On the one hand, their left-field nature makes some would-be buyers think, "but why shouldn't I just get a VW or, (on the pricier end of the spectrum), an Audi?" Yet, if you're willing to give Skoda a chance, they have plenty of compelling cars to consider, like its new Enyaq iV electric SUV. Given the competition, it may very well be one of the best EVs in its class.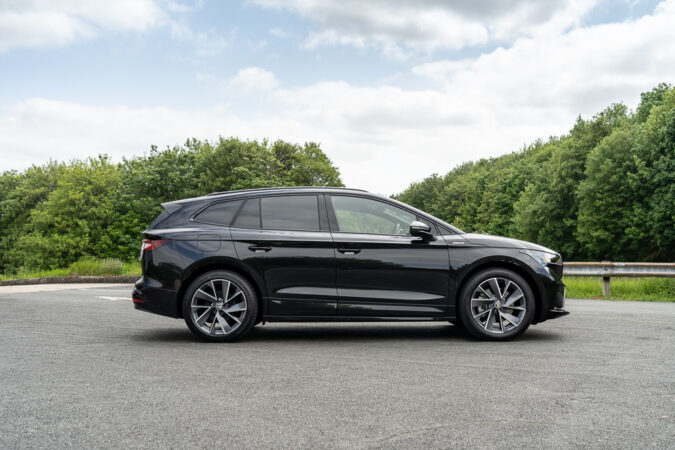 Such high praise from me, but does it have the merits to back it up? It shares much of its underpinnings as the Audi Q4 e-tron and VW ID.4 – also electric SUVs vying for the same market share. Yet, the Enyaq iV has a unique charm that you can't find with its German cousins. The Enyaq iV is a surprisingly fun SUV to drive, and has all the practicality, usability, and comfort that you'd expect, with lots of refinement aswell.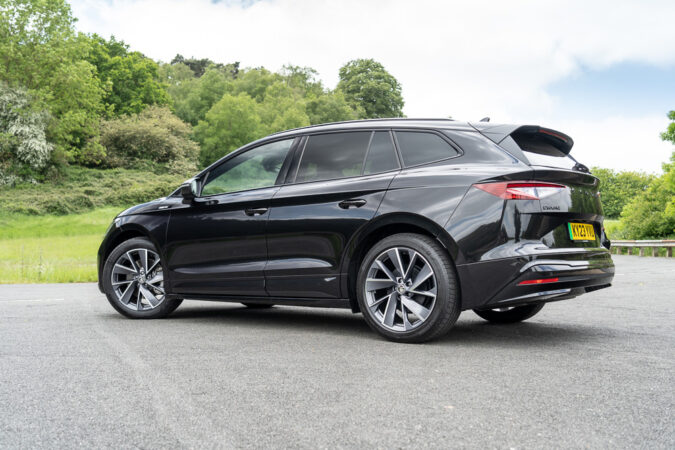 What Is The Skoda Enyaq iV 80x SportLine Plus About?
The Enyaq iV is a pretty handsome car, and even more so in its black trim and paintwork. It has the high-riding stance of an SUV, but is paired with the tight, sharp looks of something like an estate car. Given that Skoda is part of the VW Group, this form factor does bear some similarities in appearance between it and its siblings, the aforementioned Audi Q4 e-tron and the Volkswagen ID.4.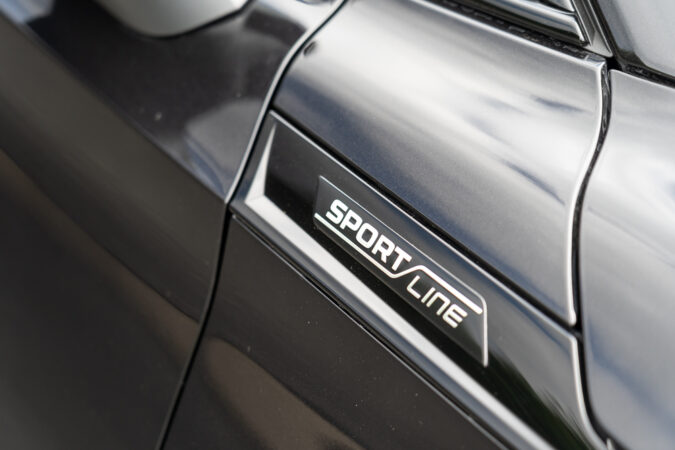 Nonetheless, unlike the latter Germanic twins, the Skoda Enyaq iV has a very sporty and aggressive design, when compared to the more sterile and minimalist approach of either the Audi or the VW. To my eyes, the Enyaq iV is less sci-fi and more gangster in how it makes itself known, particularly when blacked out. That won't necessarily turn heads, especially given the more avant-garde rivals on the market today.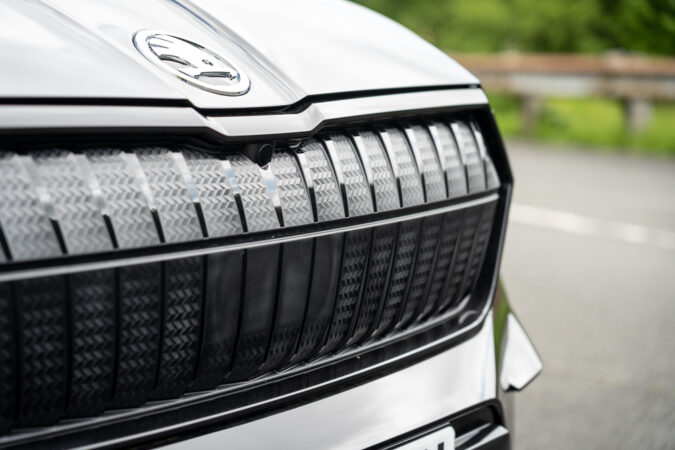 But, the Enyaq iV does have a lot of presence on the road; further helped by those giant 20-inch wheels. Without any chrome and bright accents – and it really is just black on black everywhere – it looks properly mean and angry. However, it may appear rather large and porky, don't let its looks fool you into thinking that it's a slow, lardy SUV. Put your foot down, and the Enyaq iV might surprise you with its power.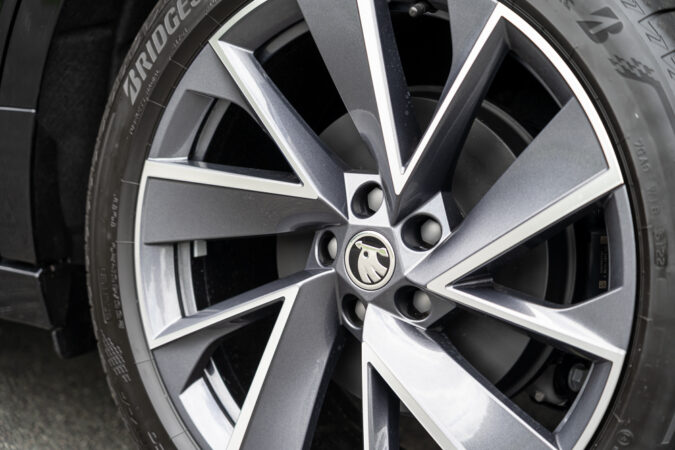 How Does It Drive?
The Enyaq iV is pretty fun to drive. This isn't an attribute that I'd assign so easily to a lot of SUVs. In some ways, I've noticed that it drives and handles much like a far smaller car than it actually is. This is made even better with both a commanding and focused driving position, in addition to those rather sporty bucket-like seats. Unlike most SUVs, this makes me excited to just get in it and go for a drive.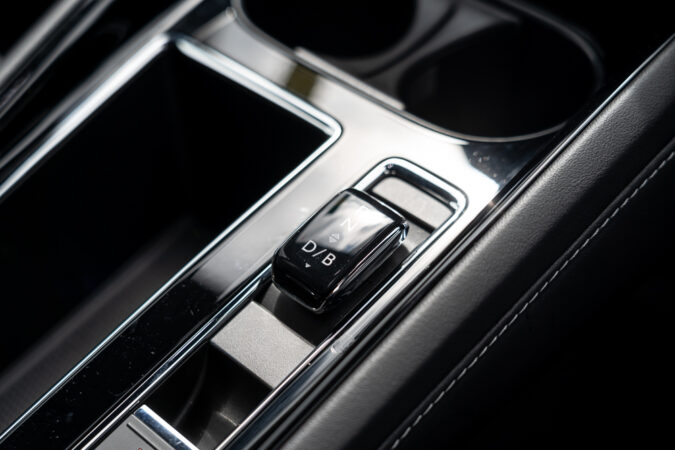 Thus, despite its vast heft and size, the Enyaq iV is happy to let you have a lot of fun with it. Granted, it doesn't seem that fast on paper, considering its respectable but modest 265PS output and 425Nm of torque. That should still be good for a 0-62mph time of 6.8 seconds, before topping out at a top speed of 99mph.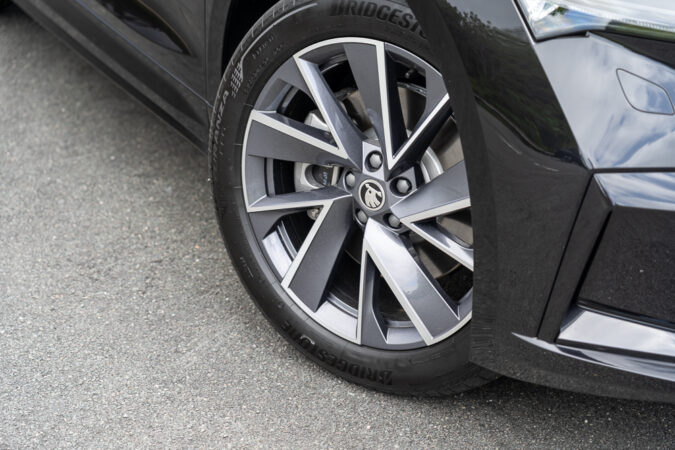 That definitely puts it on the same footing as some of the best hot hatches from yesteryear. A core part of this is the layout and tuning of the Skoda Enyaq iV's electric powertrain. It's been set up with dual motors; one for the front axle and the other for the rear. That allows the Enyaq iV to fully leverage all-wheel drive, ensuring a smoother, punchier, and confidence-inspiring drive. Not to mention, as an all-season car.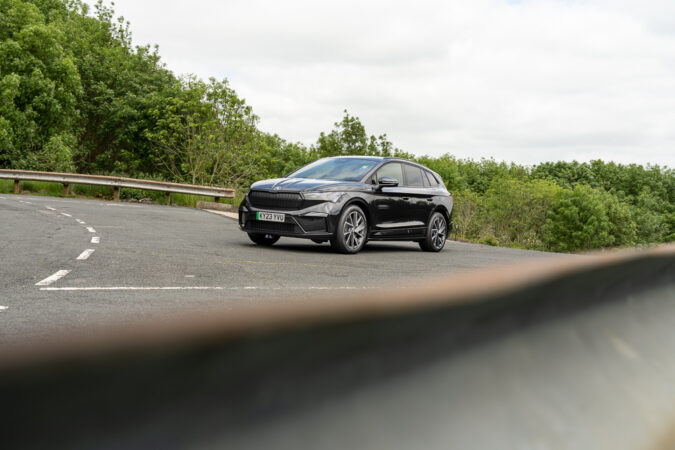 This all-wheel drive configuration marks a huge upgrade over the trim levels below this 80x SportLine Plus that you see here. The more entry-level models only feature a single motor on the rear axle for rear-wheel drive. Or, on the off chance that the 80x SportLine Plus doesn't have enough performance for you, then its bigger brother, the vRS variant, with its 299PS and 460Nm of torque, might excite you, instead.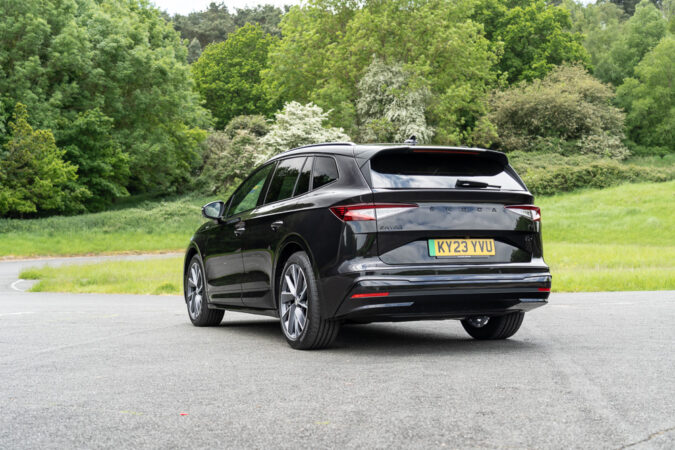 What Is It Like Inside?
The interior of the Enyaq iV, particularly with the 80x SportLine Plus trim you see on our car here, is just as sharp and as sophisticated as the exterior. Similarly, everything is blacked-out or monochromatic, with the black interior trim only split up by grey accents, and some hints of silver every now and then. Still, its looks shouldn't distract you from just how sumptuous, pleasant, and comfortable it is to spend time in.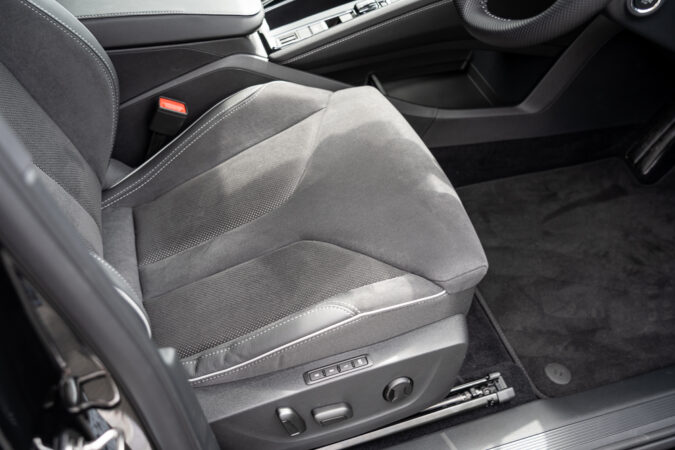 The cabin has generous helpings of leather and suede, on top of sporty carbon, making for its very refined interior experience. Skoda will tell you that it mimics that feeling of sitting inside a VIP lounge, and that effect is certainly present, I feel. As an SUV that also doubles perfectly as a family car, there's a lot of headroom and legroom in the back for rear passengers. That's then coupled with an equally cavernous boot.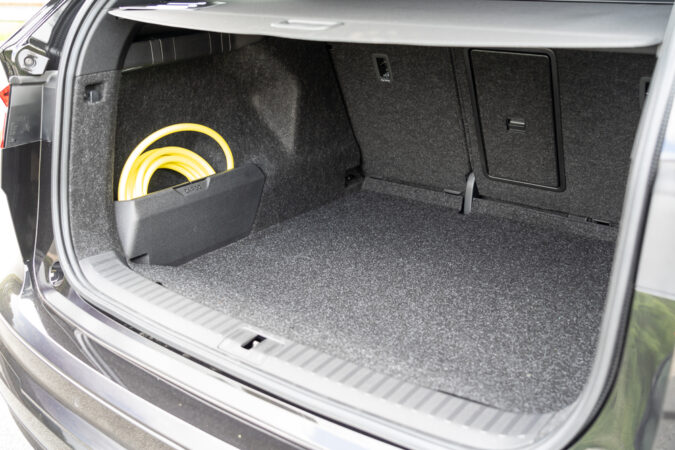 Speaking of, the Enyaq iV features a lot of clever attention to detail with optimising its interior space for a lot of well-organised storage. For instance, there's a tiny slot for an umbrella that you could whip out if it's raining – sort of like a Rolls Royce. Or, there are the Enyaq iV's neat cargo organisation solutions to help keep things in place, such as the charging cable, along with a myriad of cubbies and hidden compartments.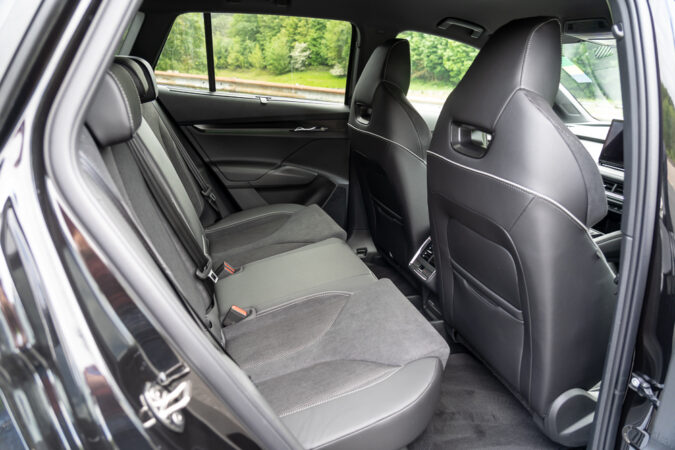 You even get a tiny pocket on the front seats where you could keep your phone secured. As with a lot of its siblings in the VW family, the Skoda Enyaq iV has a particular focus on tech and electronics. There isn't any better way to witness that in action other than the huge 13-inch infotainment screen. It's massive, with super sharp and crisp graphics, as well as it naturally being very intuitive and easy to use, too.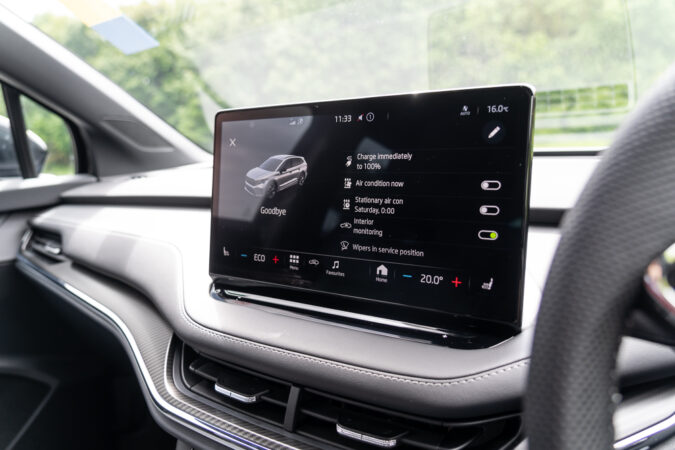 It's a slick system, and among the best in the business. Oddly enough, despite how big the infotainment is, the Enyaq iV's gauge cluster is relatively small by comparison. It's almost like looking through the porthole on a ship, with a screen that's sunk deep into the dash. Still, it displays info legibly enough.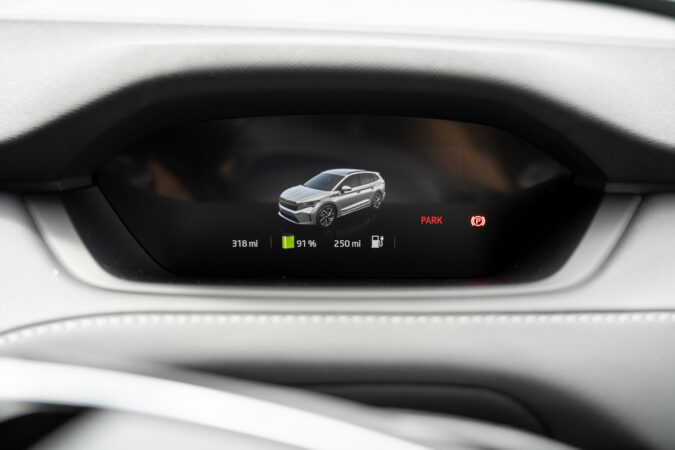 The Experience
Further rounding off the Enyaq iV's suite of excellence is its electric range. The estimates are promising; its WLTP-estimated combined range is around 317 miles. That's courtesy of its 82kWh battery pack – that's its gross capacity, mind you, whereas its actual usable capacity is about 77kWh. In the real world, with mixed and less-than-ideal driving conditions, you might get somewhere in the high-200s or low-300s miles.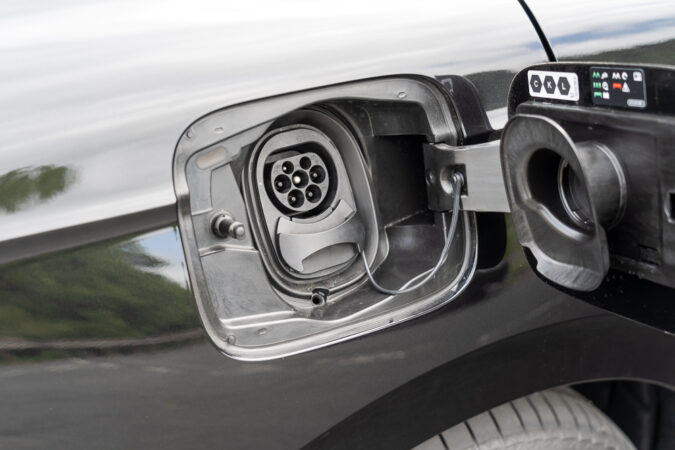 That's right around the gold standard among most EVs today, which is impressive. If you somehow were to deplete all that range along the way, charging the Enyaq iV won't take you too long, either. It's compatible with 135kW DC rapid charging, where a charge to 80% will take you just under 40 minutes. Of course, that net charging time will be dependent on how fast and high the output rate of your charging station is.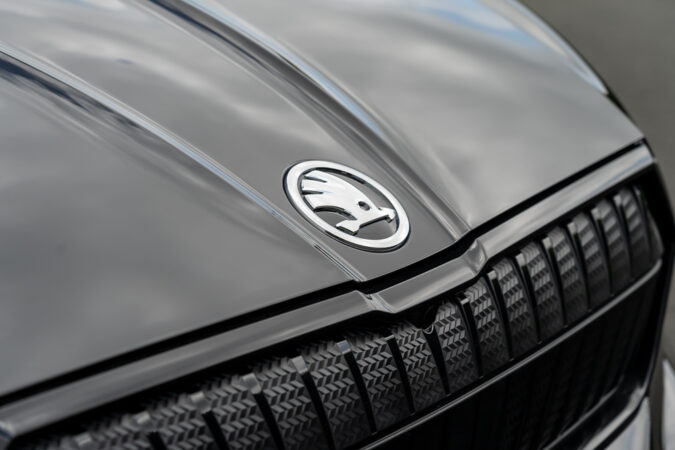 For example, when paired with a still-fast 50kW DC rapid charger, it'll extend the charge time to around 1 hour and 30 minutes. Meanwhile, a far slower 7.2kW AC charger can, if you're thinking of trickle charging to 100%, take as long as 13 hours. The latter is normal for many EVs, particularly if you're slowly charging your car overnight once you get home, so that it's ready with a full charge by the next day.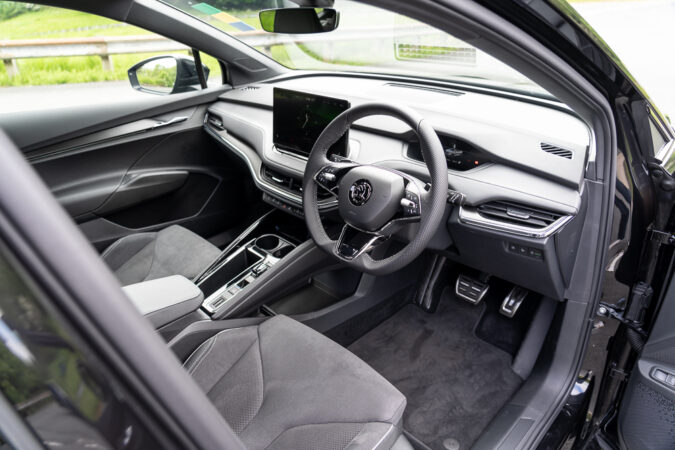 Skoda Enyaq iV 80x SportLine Plus Cost
As you see it here, our Enyaq iV, in the higher-end 80x SportLine Plus trim, comes in at around £51,465. Its only optional extra that's been fitted onto our car here was the £660 black metallic paintwork. It's a great chunk of change, without a doubt. But, on the flip side, it does feature a lot of equipment as standard, like that 13-inch infotainment screen. Or, the 20-inch alloy wheels, with their cosy suede and leather interior.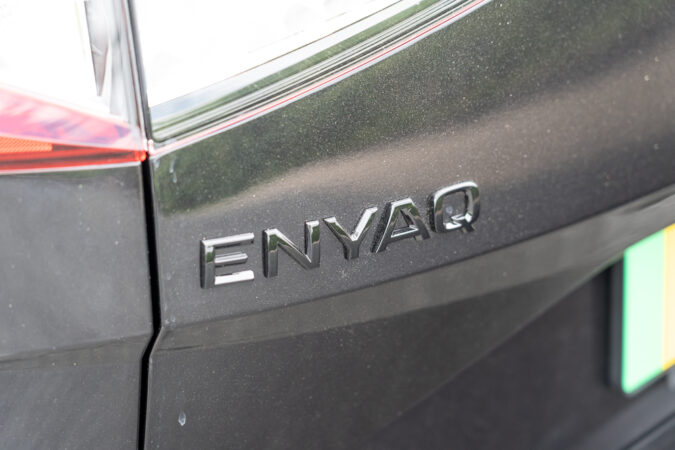 And, there's more, including the smaller things like a wireless charging pad for a phone, lane-keep assist, a nice-sounding 8-speaker audio system, and more… All of that comes as standard on the 80x SportLine Plus trim. Naturally, if you want to go all in, you could of course spare some extra cash on optional packages. A healthy suite of advanced driver aids and safety systems (including parking assist) is up for grabs.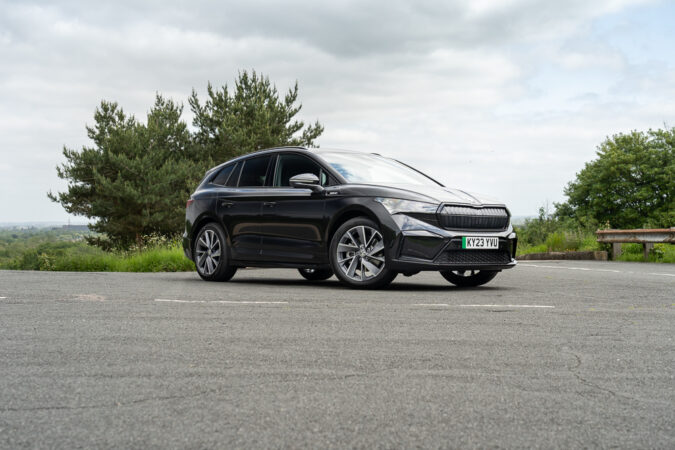 You could get an even better sound system, or other nice-to-haves like memory seats or a towing package. Perhaps, you might even want a panoramic glass roof, too. As pricey as this all might seem, the Enyaq iV is actually a pretty fantastic deal when you put it up against other electric SUVs (or, even conventional SUVs) in the £50,000 price bracket. For the money, you're getting a superbly well-put-together electric car.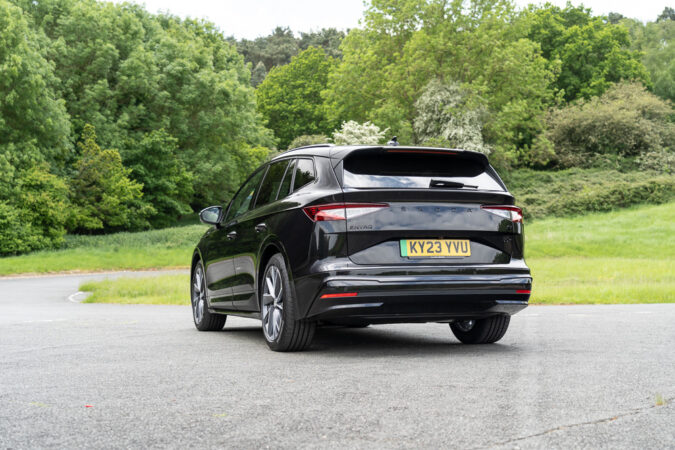 Verdict
If you're more concerned about a car's badging and what prestige that brings with it, it's tempting to shop around among other EVs in that £50,000 range… VW, Audi, BMW, Mercedes, Lexus, Genesis, and so much more. But, if you don't mind a left-field entry, this Skoda Enyaq iV is one of the best EVs that you could buy today. It's the whole package – easy to live with, practical, luxurious, comfortable, and even fun.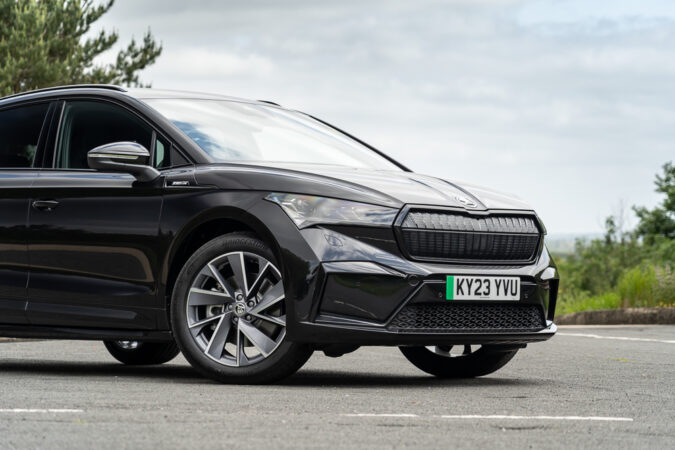 Should you want a highly usable and utilitarian family runabout that you could still enjoy as a driver's car, this gets you pretty close to being a good compromise. Yet, you're cocooned in a cosy and posh cabin that encourages you to spend as much time in it as possible. Plus, with its impressive EV range and clever tech, you'd want to go the distance with it, too. Among the many electric SUVs sold today, the Enyaq iV is a brilliant option.

Specification
Skoda Enyaq iV 80x SportLine Plus Specs

Price: £51,465
Engine: Dual-Motor AWD, 77kWh Battery
Power: 261bhp
Torque: 425Nm
0-62mph: 6.8 seconds
Top speed: 99mph
Weight: 2,205-2,377kg
Economy combined: 317 Miles (WLTP – Combined)