Skoda Fabia Monte Carlo Review – 2018 110 PS DSG Review
After testing out the medium trim Fabia SE L, we brought the top spec Skoda Fabia Monte Carlo to see if this range-topping value oriented hatchback is worth the premium.
What is the Skoda Fabia Monte Carlo all about?
Not that long ago, we posted a review of the Skoda Fabia SE L, and we thought it was a hatchback that is extremely pragmatic for anyone seeking a splendid VAG quality supermini at an affordable price point.
However, it was truly lacking the zeal that so enthuses us in other superminis like the Ford Fiesta. That said, the most expensive trim you can opt for, the Monte Carlo, touts a bit more contention, and the moniker itself is a homage to Skoda's illustrious motorsports success. How does it fare compared to the SE L then?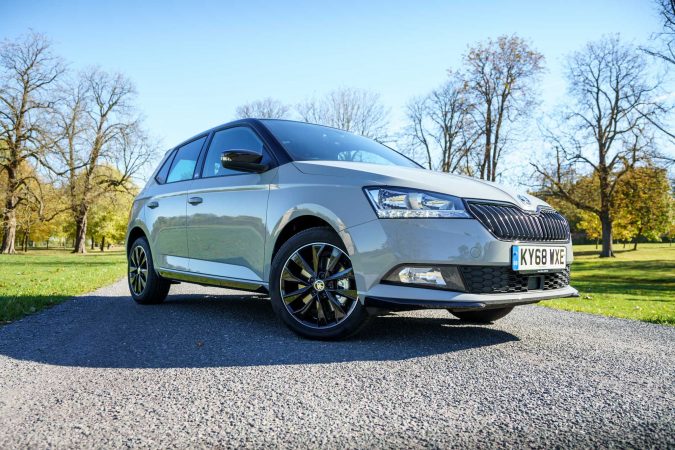 Aesthetics wise, the Skoda Fabia Monte Carlo receives a few minor, but welcome tweaks. Things like the blacked out pillars, roof, spoiler and all-around LED lighting units are all suitably pleasing, complementing the Fabia's sharp defined lines well.
I do adore the paint though, coded 'Laser White Black Magic Pearl Effect', it's a standard option that somehow just works so well. Sitting on 16″ Italia black alloys, it's a uniquely 3-dimensional monochromatic paint scheme.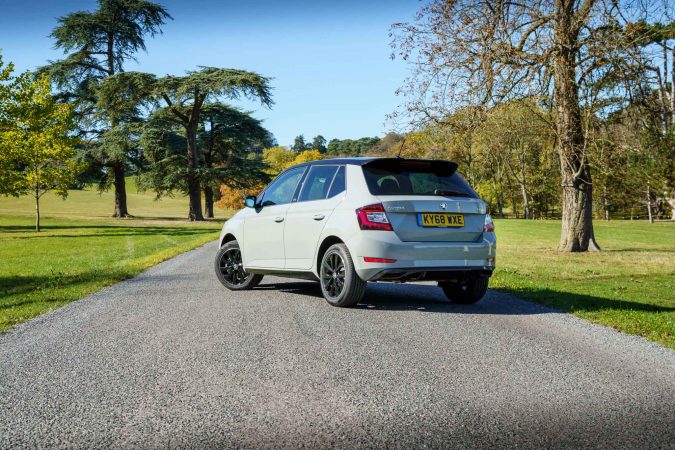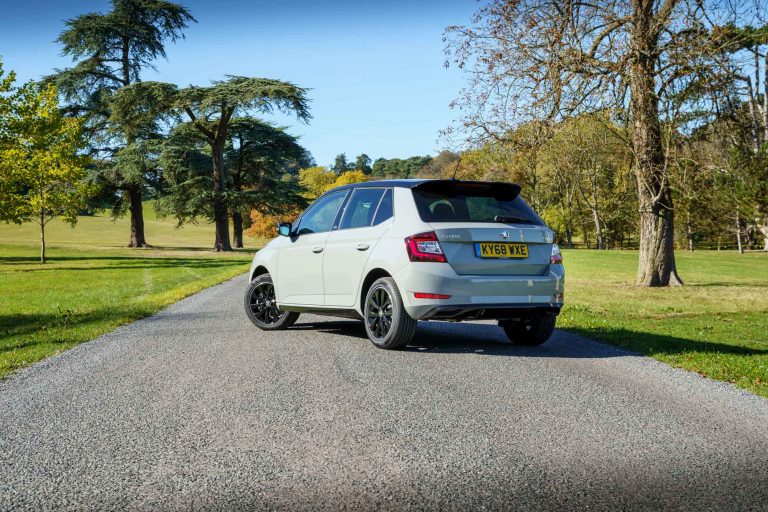 Powered by 1.0-litre TSI turbocharged inline-4 engine, again borrowed from the broad VAG range, it puts out 108 horsepower and 200 Nm of torque, and it is the highest output petrol engine you can opt for the Fabia hatch.
The power is then delivered to a 7-speed DSG dual clutch automatic transmission powering the front wheels. This powertrain enables a 0-62mph time of 10.1 seconds, onto a top speed of 120 mph.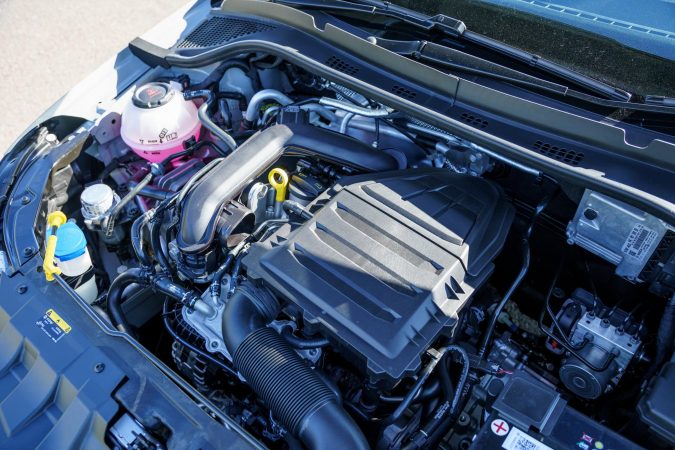 The Skoda Fabia Monte Carlo boasts a pretty impressive fuel efficiency figure, returning 60.1 mpg while putting out 106 g/km of CO2.
You can also opt for a Fabia Monte Carlo with a weaker 94 hp engine paired to a 5-speed manual. If you want the 108 hp engine but not the DSG transmission, you can go for a 6-speed manual with this engine instead.
How Does The Skoda Fabia Monte Carlo Drive?
I thought it's not going to drive that much different from the SE L, but I was pleased that there was a noticeable improvement in the Fabia's driving characteristics.
While the engine makes that bit more power over the 95 PS variant, it really isn't anything noteworthy. The engine still provides plenty of low-end grunt, perhaps a bit stronger and brawnier, but it still falls off on the top end. The additional torque is welcoming on when navigating mountainous tarmac though. The difference is noted more around the throttle mapping than the outright power. With a sportier throttle map the Monte Carlo version of the Fabia just feels like it likes to go.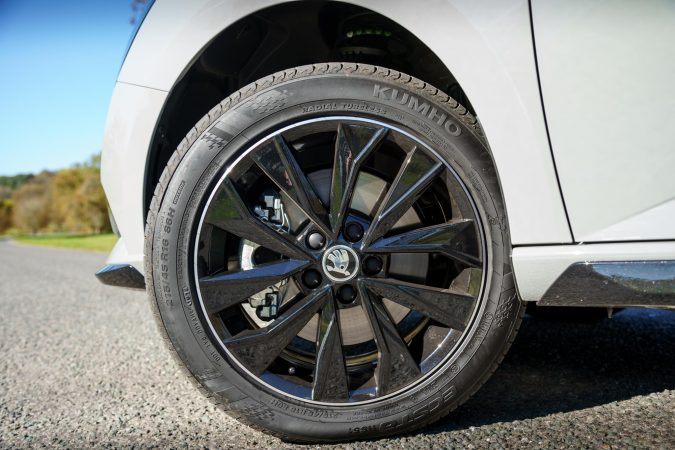 The engine also sounds surprisingly good. In fact, I initially thought that there was a synthesizer onboard, but it's all from the engine. It sounds sprightly and excited with its almost rally-esque inline-4 crescendo.
What is new though is the DSG transmission, as we had the 5-speed manual to work with in the SE L. Likewise, it provides smooth and slick shifts, while providing a prompt response, downshifting whenever you boot the Fabia.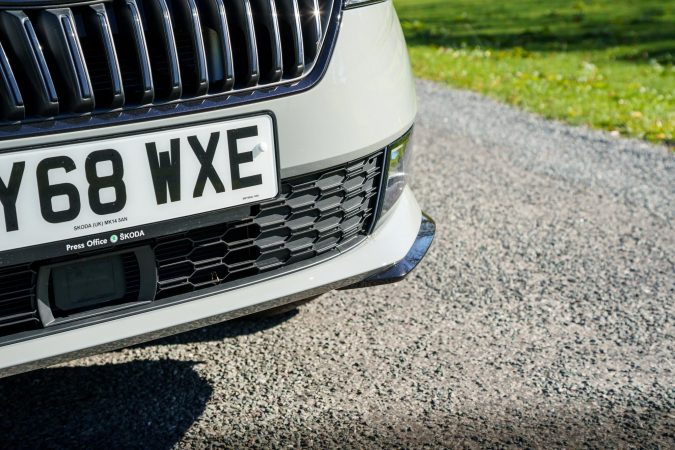 As much as Skoda wants to evoke the whole Monte Carlo sporting spirit with this particular Fabia with the sports suspension and larger wheels, it maintains most of the handling characteristics found in the normal Fabia.
That is to say that while it does have a consistent steering feel and a chassis that feels very manoeuvrable. On the road, the Skoda Fabia Monte Carlo feels well set up for handling well. The brakes confidently halt the car and encourage you to be a tad more adventurous.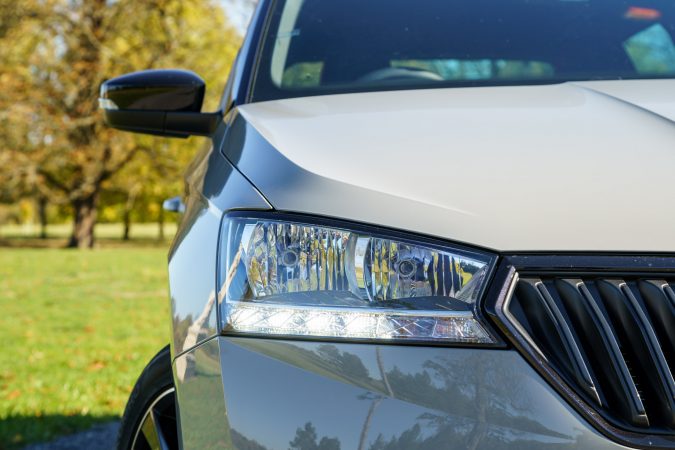 It does feel a bit sharper and crisper than the SE L with a more enthusiastic demeanour. However, it's not exactly that willing, and not quite as amenable as most of the comparable rivals right now. There's also a smidge more body roll exhibited, and at times the nose isn't communicative or keen enough.
Regardless, I find it remarkable how well it maintains its decorous manner even going over unexpected mid-corner bumps. It settles rapidly after undulations, and it's not until you encounter especially treacherous potholes does the Fabia Monte Carlo falter.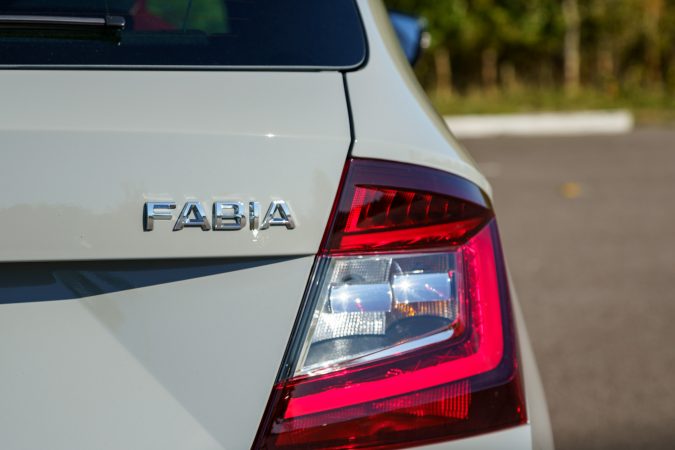 It can be a bit noisier and bumpier than the SE L, but for the most part, it is laudable. It's also pleasantly hushed on the motorways thanks to the extra gears it can make do with. Road noise is definitely there, but it's not bad at mile crunching at all.
What is The Skoda Fabia Monte Carlo Like Inside?
On the inside, you'll find a splash of refreshing colour courtesy to the Monte Carlo trim. Our seats are upholstered in red carbon effect and black leather sports seats. These are pleasingly comfortable and provides plenty of bolster support.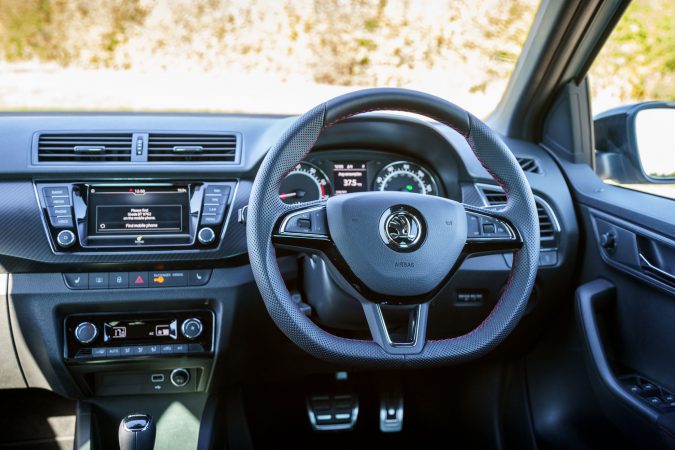 Other than some other Monte Carlo-exclusive trims, such as the door sills, most everything else remains the same like they were in the SE L. You'll find a 6.5″ Radio Swing Plus touchscreen infotainment display with optional £570 Amundsend satnav system. It's intuitive and well polished, much like most VAG infotainment systems.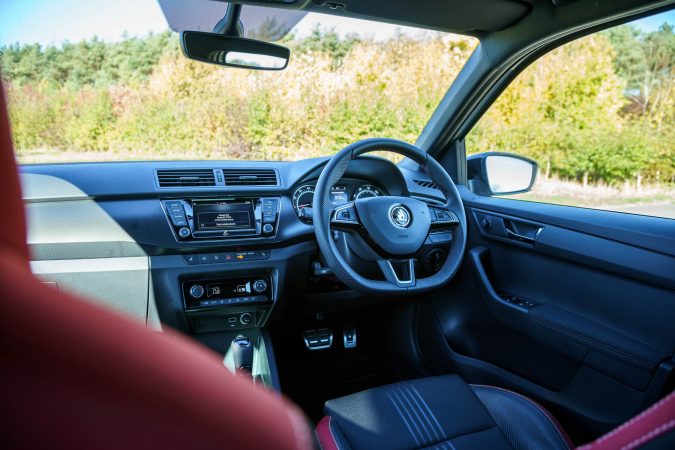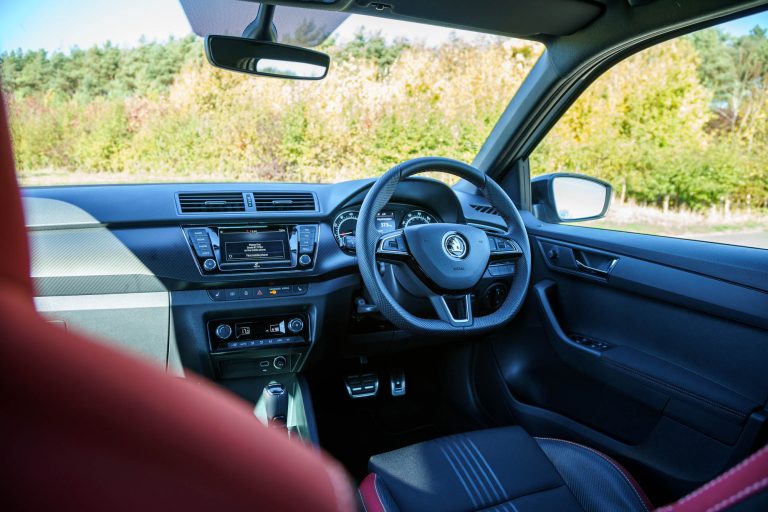 Generally, the interior is well put together. The fit and finish is good. but there's really not much to fault here. That said, the material choice which consists mostly of harsh plastics can be better.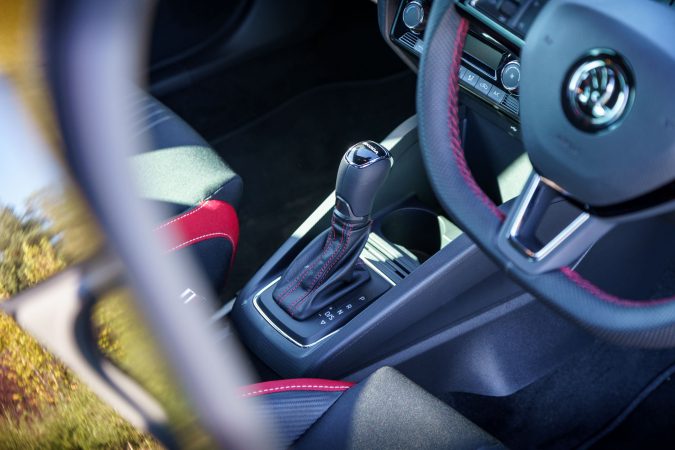 There's a solid array of small item storage on board, and thanks to the generous roofline the front passengers get to enjoy ample headroom with good legroom. The rear will struggle to seat 3 passengers abreast though and would have less headroom to make do with.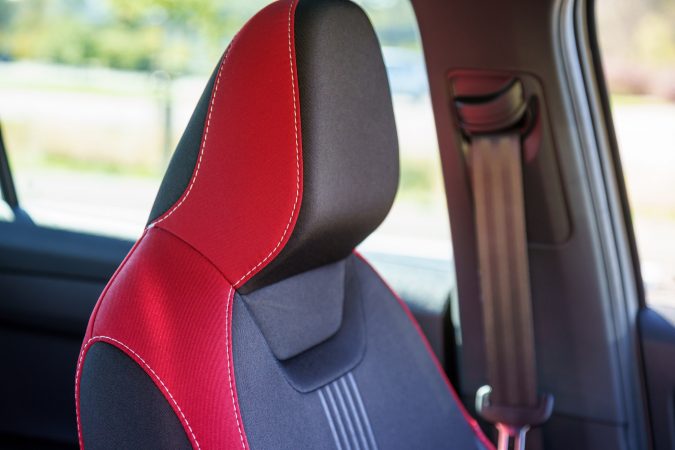 The boot with its 330-litres worth of storage is quite average, but it'll be plenty adequate for your weekly shopping runs. If you need more, the rear seats can always fold in a 60/40 fashion to trade for more cargo room.
The Skoda Fabia Monte Carlo Experience
Driving the Fabia Monte Carlo doesn't really feel all that different from the SE L. However, it is still a great little car that emphasises more on pragmatism rather than the thrill of driving. It's not exactly a bad thing, as that is what buyers of supermini hatchbacks value.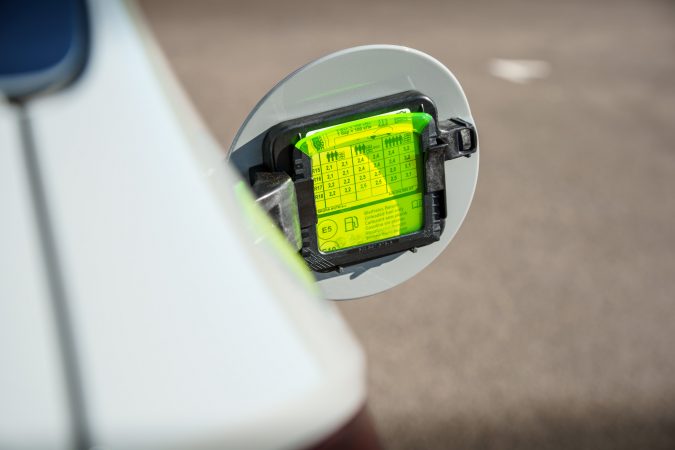 It is also a rather comfortable hatchback to drive in, which is surprising as this is a trait least appreciated in cars nowadays, much less in a 'sports-imbued' supermini.
Skoda Fabia Monte Carlo Cost In The UK
The Monte Carlo trim, along with all the amenities we have, such as the paint, winter pack, KESSY and Amundsend satnav will demand exactly twenty grand. That's a lot of money for a small car, but then again it is a very well-equipped small car.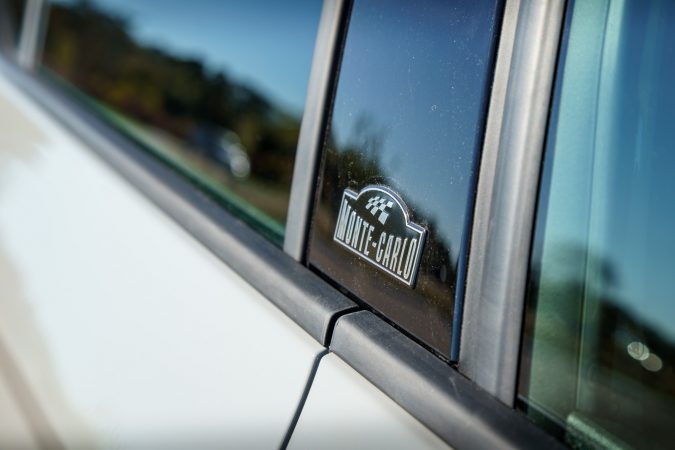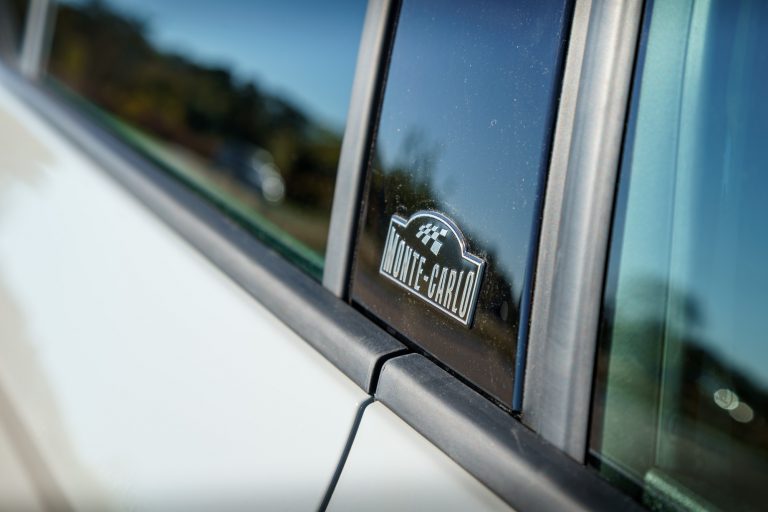 A basic Monte Carlo with the same engine and transmission will start at £18,435, and even then you would end up with a nicely kitted little car that'll serve you well as a daily driver. The most basic Monte Carlo will run you £16,785. If you're looking for the best value, I still reckon that the SE offers the best deal starting from £14,845.
Verdict – Skoda Fabia Monte Carlo
So, my verdict doesn't change all that much. It's a no-frills hatchback that'll do everything you need it to do just fine at a value that most other contenders will struggle to match.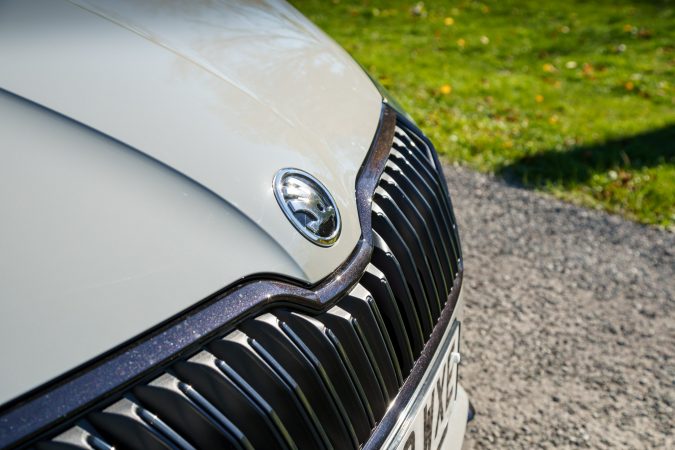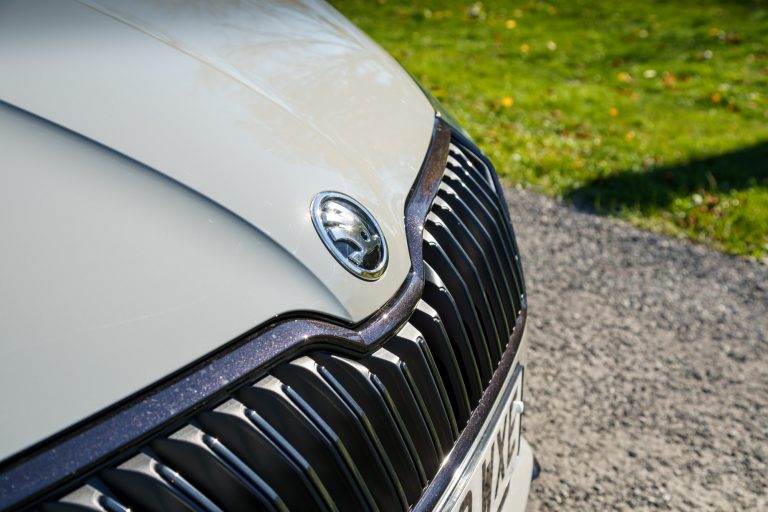 That said, if you truly want something that's ambitious and eager, the Ford Fiesta could still be the car to go for. If something more premium is what you want, take a look at the Volkswagen Polo. But if value is important and you want a supermini that's good overall with some pleasing extras. It's hard to go wrong with the Skoda Fabia Monte Carlo.

Specification
2018 Skoda Fabia Monte Carlo 110 PS DSG Specs
Price: From £18,435
Engine: 1.0-litre TSI turbocharged inline-3
Power: 108 hp
Torque: 200 Nm
Transmission: 7-speed DSG dual-clutch automatic
0-62mph: 10.1 seconds
Top speed: 120 mph
Weight: 1,165 kg
Economy combined: 60.1 mpg
CO2: 106 g/km