If you've been eyeing the Mazda3, the 2024 model range could be just the reason you've been waiting for to take the plunge. The Japanese carmaker has introduced 15 hatchback and 3 saloon models in the new line-up, each brimming with exciting features.
Elevating the Drive with the New Grade Structure
Mazda's latest grade naming strategy presents us with five new model names: Prime-Line, Centre-Line, Homura, Exclusive-Line, and Takumi. Whether you're after a sleek hatchback or a stylish saloon, there's a 2024 Mazda3 just for you.
Tech Upgrades for a Smooth Journey
The 2024 Mazda3 now sports a larger 10.25-inch central screen, up from the previous 8 inches. With this enhancement, you can enjoy clearer navigation mapping, along with several other connectivity upgrades.
These include Wireless Apple CarPlay, Android Auto, QI Wireless Charging, and even USB Type-C charging ports. You can now have your smartphone's navigation directly on the car's head-up display.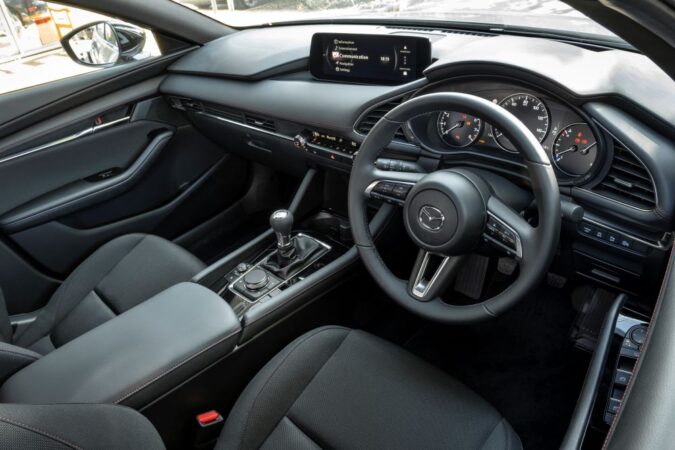 Power and Efficiency: e-Skyactiv Engines
With the 2024 Mazda3, you have a choice between the efficient 186ps e-Skyactiv-X or the 122ps e-Skyactiv-G engines. The e-Skyactiv X engine features Mazda's unique SPCCI Spark Controlled Compression Ignition technology, which ensures greater engine torque and improved real-world fuel economy.
All models across the range also come with Mazda M Hybrid mild-hybrid technology for maximum efficiency.
Mazda3 Saloon: Style Meets Substance
If you're more inclined towards a saloon, the 2024 Mazda3 Saloon is a stylish choice that stands out in the crowd. Slightly longer than the hatchback, the Saloon shares only the windscreen and bonnet with its hatchback sibling. Offering unique exterior panels and a longer profile, it exudes elegance and sophistication, reminiscent of the Vision Coupe concept car.
Retaining a Winning Look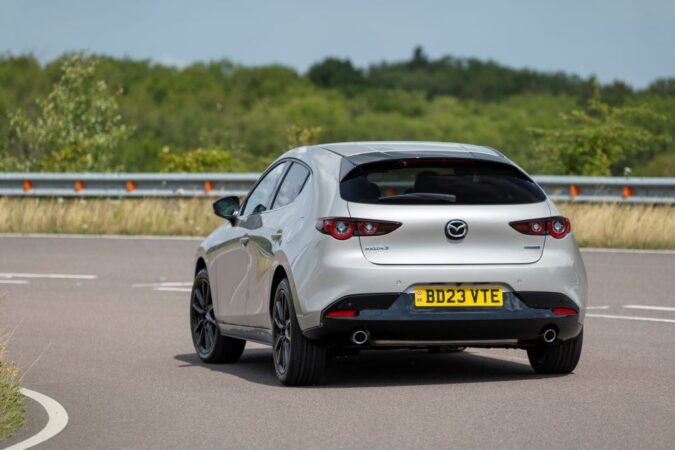 The 2024 Mazda3 continues with its award-winning exterior design. However, the new Homura grade adds a touch of difference with black wheels and door mirrors. Also, a new Ceramic Metallic paint colour is now an option across all hatchback models.
Jeremy Thomson, Managing Director of Mazda UK, couldn't help but sing praises for the new Mazda3 line-up. He said, "The 2024 Mazda3 continues to be one of the best looking, highest quality and most generously equipped hatchbacks in the market, while the stylish Mazda3 Saloon is a competitor in the compact executive saloon market. With five new model grades, there remains a lot of choice across the Mazda3 range for customers to get the family hatchback they want."
Indeed, the 2024 Mazda3 line-up not only promises to deliver on style, but also performance, efficiency and high-tech features, all bundled into a compact car that appeals to a wide range of customers. So whether you're a first-time Mazda buyer or a Mazda enthusiast, there's a lot to look forward to with this latest model range. Stay tuned for more on the 2024 Mazda3!