The arrival of the 2023 Mazda2 in UK dealerships promises a refreshing change in design and colour choices for Mazda enthusiasts. Sporting a new look with a fresh exterior styling, updated cabin trim treatment, and the introduction of two new colours, this supermini Mazda is sure to make an impression on the UK roads.
A Design Revamp for a More Distinctive Look
One of the major highlights of the 2023 Mazda2 is its noticeably updated design, giving it a more unique and appealing look. The revamped grille design and sleeker bumper, coupled with decorative dash panels and the debut of Aero Grey and Air Stream Blue, bring an exciting change to the Mazda2 series.
A more personalised driving experience is guaranteed with the four newly introduced trim grades: Centre-Line, Homura, Exclusive-Line, and Homura Aka. Each grade features unique design elements that cater to the individuality of the car owner, with Centre-Line and Exclusive-Line embodying a fun and casual look, while Homura and Homura Aka lean towards a sportier aesthetic.
Fresh Colour Combinations and Detailing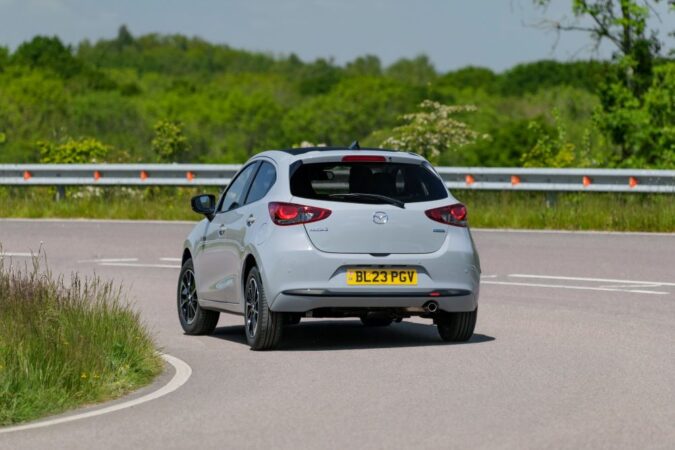 The 2023 Mazda2 allows customers to express their style with a wide choice of colour combinations.
For instance, cars in Soul Red Crystal, Snowflake White, Platinum Quartz, Polymetal Grey, and the new Air Stream Blue have body-coloured grille panels. In contrast, cars in Machine Grey, Deep Crystal Blue, Ceramic Metallic, and the new Aero Grey feature a smart contrasting Jet Black grille panel.
Inside, you'll find a decorative dash panel with colour combinations matching the exterior. For instance, Air Stream Blue and Ceramic Metallic cars boast mint-coloured dash panels, while Soul Red Crystal, Snowflake White, Platinum Quartz, and Polymetal Grey cars showcase pure white dash panels.
Top-notch Specifications and Engine Performance
As with all Mazda models, the 2023 Mazda2 comes with excellent standard specifications. Features include navigation, wireless Apple CarPlay, cruise control, integrated Bluetooth, and climate control. The 1.5-litre petrol engine remains a mainstay, offered in 75ps, 90ps, and 115ps outputs.
The 2023 Mazda2 also continues the tradition of prioritising efficiency. Updates made to the 1.5-litre petrol engine in 2022 have resulted in notable improvements in fuel economy. With a significant reduction in CO2 emissions, the 90ps Homura manual now emits only 107g/km, a marked improvement from the pre-2022 model's 120g/km.
Unchanged Dynamic Set Up
Despite its new look, the 2023 Mazda2 retains the beloved handling quality of its predecessor. All models in the range feature Mazda's G-Vectoring Control Plus (GVC Plus) – an upgraded version of Mazda's GVC system that provides exceptional control over the car's movement.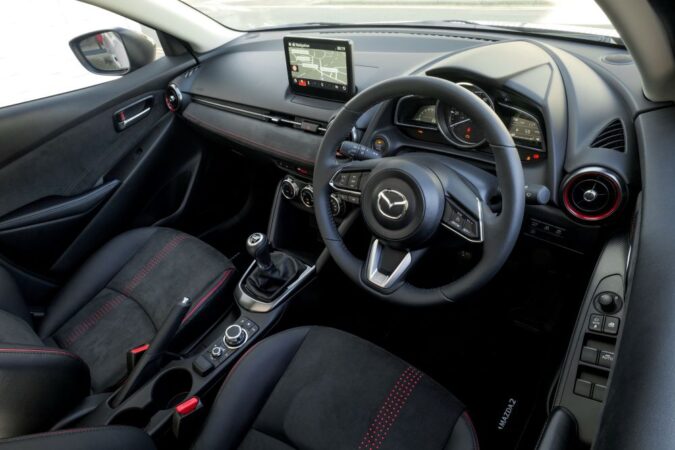 The Smallest Mazda with Big Offerings
Jeremy Thomson, Managing Director of Mazda UK, highlighted that despite being the smallest car they produce, the 2023 Mazda2 is big on style, driver involvement, and quality.
Priced from £17,750, this updated supermini is set to provide customers with increased choice and refreshed styling. Alongside the Mazda2 Hybrid, the 2023 Mazda2 ensures that Mazda continues to be a top contender in the small hatchback market.
Overall, the 2023 Mazda2, with its new trim grades, colours, and design elements, adds an exciting chapter to Mazda's offerings in the UK, providing customers with a car that truly reflects their individuality.