We recently had a chance to test out and review the Ryobi R18PI 18V ONE+ cordless high-pressure inflator. Because I'm a massive fan of car tools and tools in general, I thought I'd give this thing a proper shakedown and let you know how it performs.
Everyday tools like screwdrivers and spanners always come in handy, but useful gadgets such as this high-pressure inflator can sometimes be a real lifesaver, especially to the car enthusiast.
You may not have to use it toooften, but when you do, you'll be glad you bought one. Plus, as an added benefit, you can top up the air in your tyres at home, which saves you the hassle of visiting a petrol station.
Design – Ryobi R18PI 18V ONE+ Cordless High Pressure Inflator
Visually, the Ryobi looks like a battery power drill with the swivel missing at the end. I love the fact that it looks like a regular power tool, and not some boxy contraption that's both unwieldy and ugly to look at. It has been designed to fit in your hand. Which makes it very useful when working your way around the car or bike adjusting the pressures.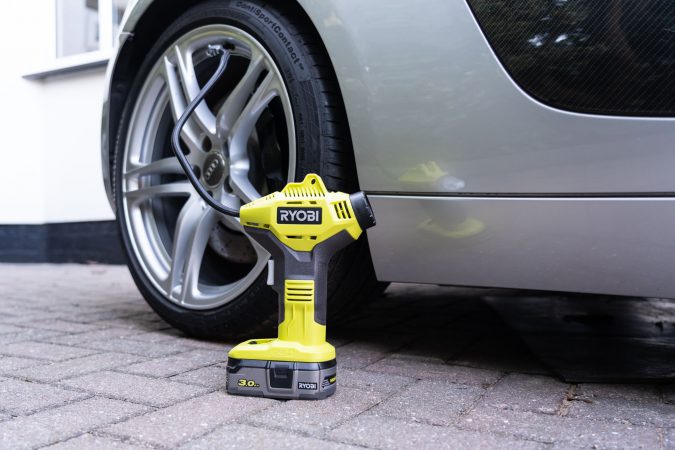 The Ryobi tool is finished in a shade of the brands colours lime green, making it easy to spot and locate at all times. Meaning you won't struggle to find this tool in the garage and you won't leave it out on the drive by accident.
Great Portable Size and Shape
If there's one thing I don't like about most tyre inflators, it's the fact that they're ridiculously unwieldy. Thankfully, as I mentioned before, Ryobi's product is surprisingly compact and lightweight.
Because it's no bigger than a battery power drill, you can take it with you just about anywhere. What's more, you're able to store it in the boot and basically carry it around with you wherever you go. Which is great for long trips, track days and even for just nursing a leaky tyre before you can get it fixed.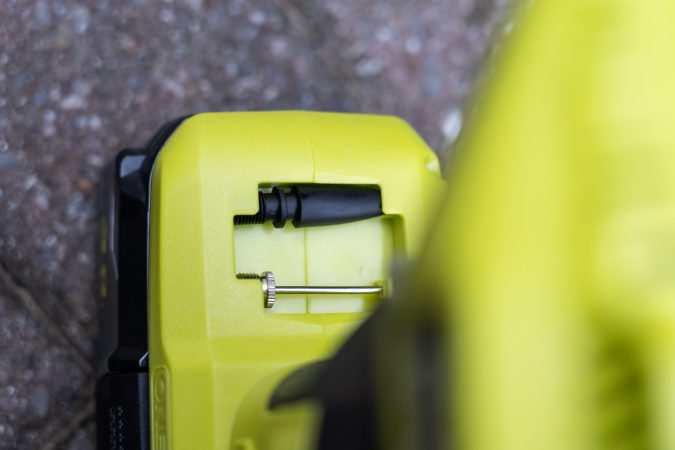 Because it's not a black box looking contraption made out of solid metal, but rather a modern power tool, it's extremely lightweight. It weighs around 700 grams. This simply means that your arms won't get tired if you have to carry it around with you for a longer duration.
Cordpress 18V Power
For such a small high-pressure inflator, it does pack a serious punch. It has an operating range between 0 and 150PSI. This renders it amazing for tyres of all shapes and sizes, as well as small inflatables. So, the next time you're planning of going to the beach or have a family vacation coming up, you don't have to take two separate inflators.
Touching on tyre pressures, for most cars, we will be looking at pressures between 30-40PSI, some bikes might use around 50PSI, larger vans and motorhome may use around 70PSI. I'm not sure what might use near to 150PSI, maybe some commerical vehicles, but it is safe to say the Ryobi inflator is good for all use cases for sure.
Most tyre inflators of this size usually don't manage really high levels of pressure, so the fact that this one goes all the way to 150 is remarkable. What's even more remarkable, is that it managers to be so powerful by using a battery. You don't have to plug it into a 12V socket or a 240V outlet. Plus, because the battery is easily detachable, you can always take it off and recharge it in no time.
I have tested lots of home tyre inflators and most run off the 12v socket in your car. I hate the power cables, they always get tangled and damaged over time and really slow the process down. And if you have ever tried to use these types of chargers on a long van or motorhome, often they are not long enough to reach the rear wheels, so this is where the Ryobi R18PI 18V ONE+ cordless inflator really shines.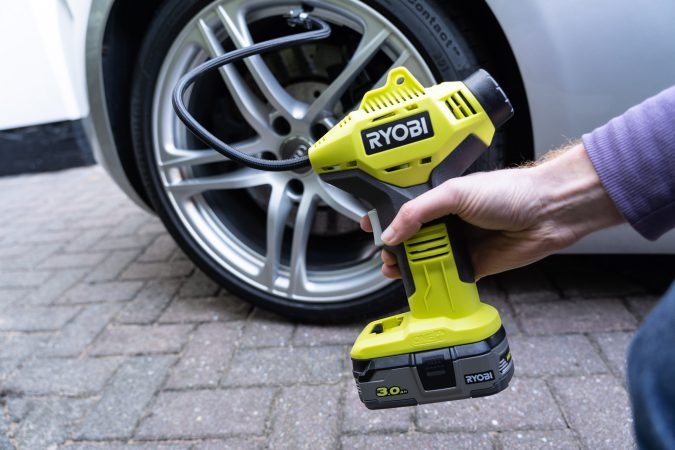 Because it's equipped with a large diameter piston relative to its size, the Ryobi is insanely overpowered when it comes to inflation times. You'll honestly be surprised at just how quickly this thing manages to fill up most tyres, even the ones that are near flat.
Cordless Convenience
As we have mentioned Ryobi is cordless, making it not only easily portable wherever you go, but also so extremely convenient. You don't have to plug it into anything nor do you have to worry about trapping the cord on something and snapping it. As an added benefit there's also the fact that you won't ever trip over a cord again.
The hose that is used to pump up the tyres is 20 inches in length, so it's easily long enough for most if not all applications (maybe even to long). In fact, it's so long, that you can attach it to the valve and let the Ryobi rest on the floor, therefore not tiring your hand.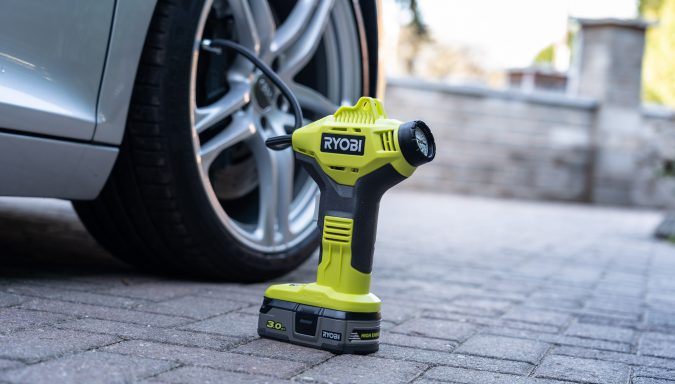 Ryobi, having thought of everything, decided to include an onboard storage clip, which means that you can tuck away the hose when it's not in use and makes the tool easy to store.
Comfort
What makes this incredible high-pressure tyre inflator so easy and comfortable is the fact that it's easy to operate and get the hang of. It comes equipped with a rubberised over mould on the handle, ensuring optimum grip and user comfort. There is one trigger to pull to start putting in the air, simple.
It's also got an accessory compartment where you can store the various needle and nozzle accessories. That way, you won't ever lose them by leaving them on the ground or somewhere random.
What Is Included
Included within the package is the R18PI high-pressure inflator itself, a sports needle and presta valve and high-pressure tapered nozzle, plus the operator's manual. This is a bare tool so the battery isn't included. But the 18V ONE+ battery can be used across the entire range of power tools from Ryobi, so you either might already have a battery, or it is a good excuse to start collecting other tools from the range. There are lots of great car tools – Check out their powered ratchet wrench as an example.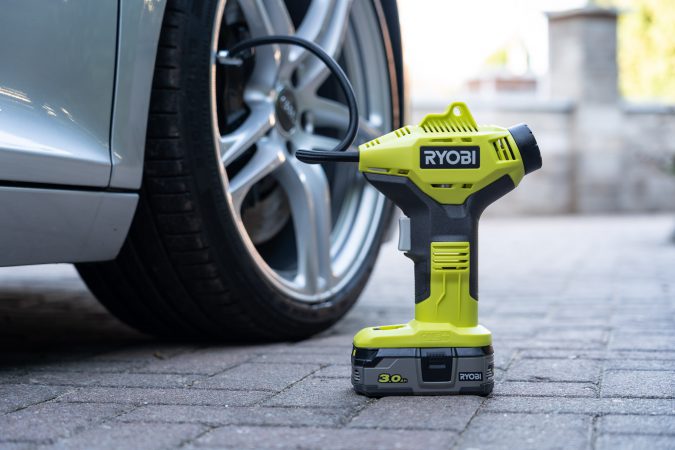 Reviews and Ratings
The Ryobi high-pressure tyre inflator currently has nearly 300 reviews on Ryobi's website. From those 300 reviews, it's got an average rating of 4.7 stars out of a possible 5. Reading through the reviews, you notice a trend starting to appear.
Most people praise it for how compact and powerful it is. Usually, if you want something with this much punch, you have to get a much larger, less practical tool.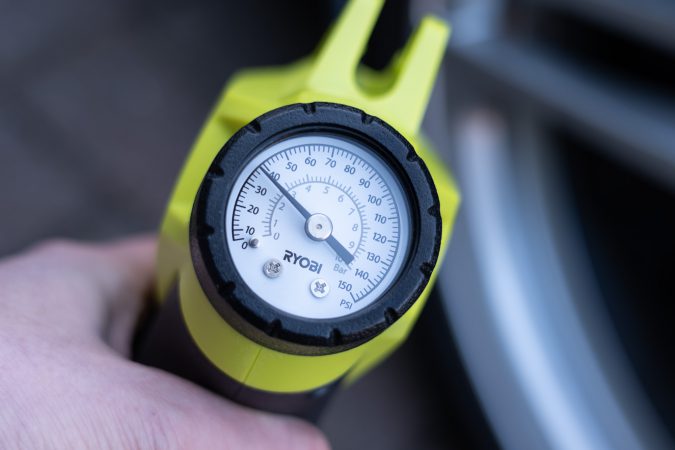 One user had this to say:
"This is one of the best tools I have ever owned. Best invention ever, second to the creation of wheels."
Price
Selling for roughly £35 depending on where you are, this tool represents amazing value for money. This is a 3-year warranty-backed product from the Robyi brand as well, so it will last.
For me, I love being able to quickly check and adjust the pressures on all 4 tyres on my car quickly and without the need for messing around with power cables. For the car enthusiast, this is a vital tool to own. The only thing that would make it better would be to have a digital readout and PSI limit to inflate the tyres with greater accuracy and less human error.