The ratchet wrench, at least the mechanical version, has been one of my favourite tools of all times. It is incredibly versatile and it has that satisfying feel to it that makes working with your own hands worth it.
However, they do have a few shortcomings, especially when the area you need to work on has little room to spare or you have a lot of nuts, bolts, or even screws to work on. Getting into these awkward places and trying to loosen or tighten stuff can be quite tiring, time-consuming, and labour intensive. As such, I felt like I could benefit from trying out a battery-powered ratchet wrench and the Ryobi Ratchet Wrench seemed like a good place to start.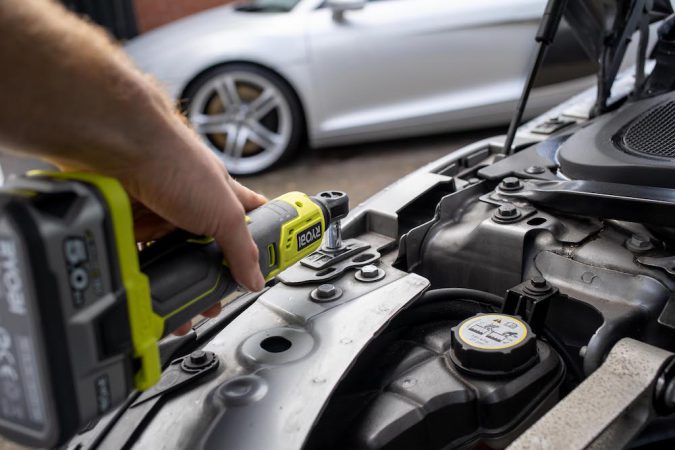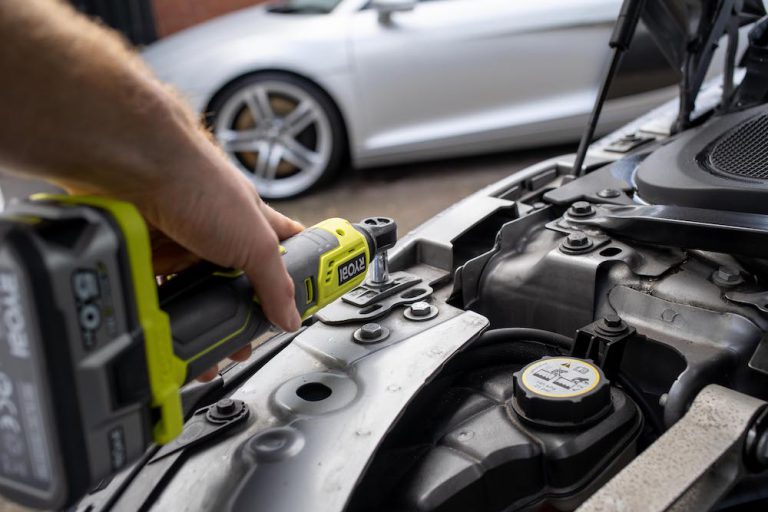 I have used this tool for a number of different applications and have trialled a lot of different scenarios where it can come in handy. It left me quite impressed and here is a detailed account of why you should seriously consider it if you are looking to save time and energy while working not just on your car but other projects you might have lying around.
Ryobi Ratchet Wrench – First Impressions
I will admit that the way this ratchet wrench looked did leave me a bit unsure about it. Ryobi has gone for a design that will allow this wrench to be compatible with the batteries that are used across their range of power tools (One+). While that is great for useability and bang for the buck, it does mean that the rectangular and boxy design of the battery has to be retained. At first glance, this looked like it might be a hindrance, but as I will explain later, it is not at all the case.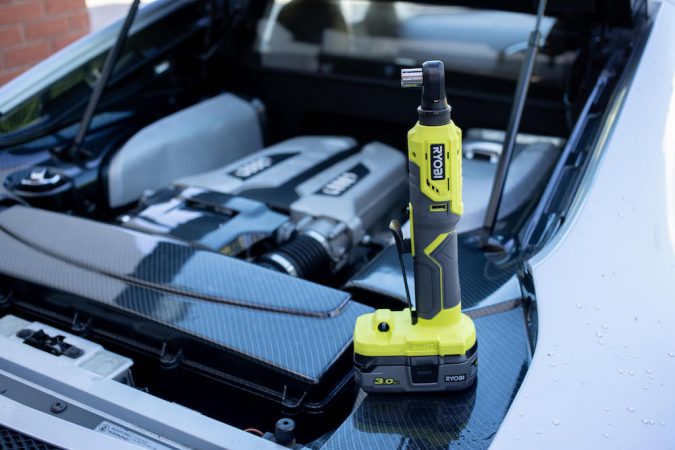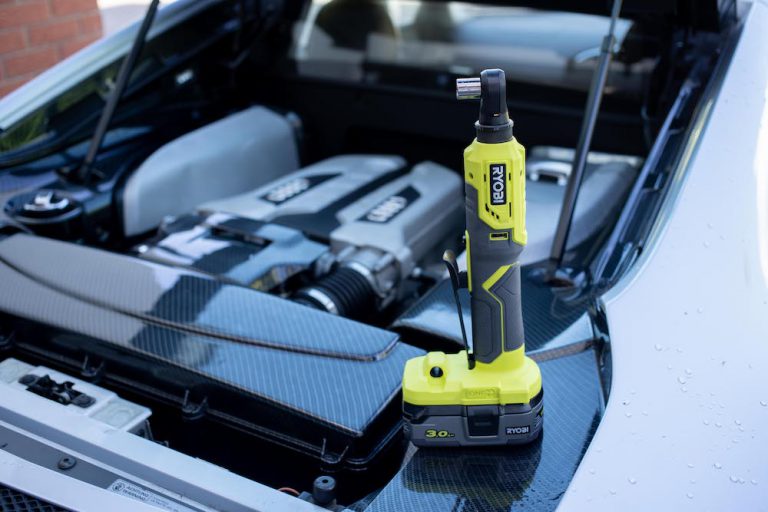 Another area of concern was the head itself which seemed somewhat small and ungainly. Again, I was glad to be proven wrong once I actually used this tool. I had no other complaints or concerns with the way this wrench is designed or built. It felt quite sturdy in the hand and is ergonomic to hold and work with.
Can It Get Into Tight Spaces?
Let's address the elephant in the room right out of the bat. As I alluded to earlier, the design might seem counterintuitive to the primary purpose of this tool which is to make life easier in a variety of different use case scenarios which include working in tight spaces and at awkward angles.
The good news is that it is not a cause for concern here. Ryobi has been quite clever with the design to make this a very useful and versatile tool. It is long enough that the battery is not an issue in most cases. You won't even be reminded of the boxy battery while working on an easily accessible area.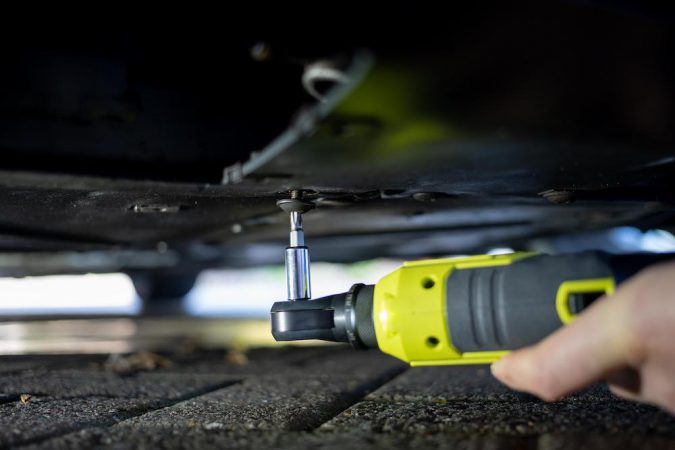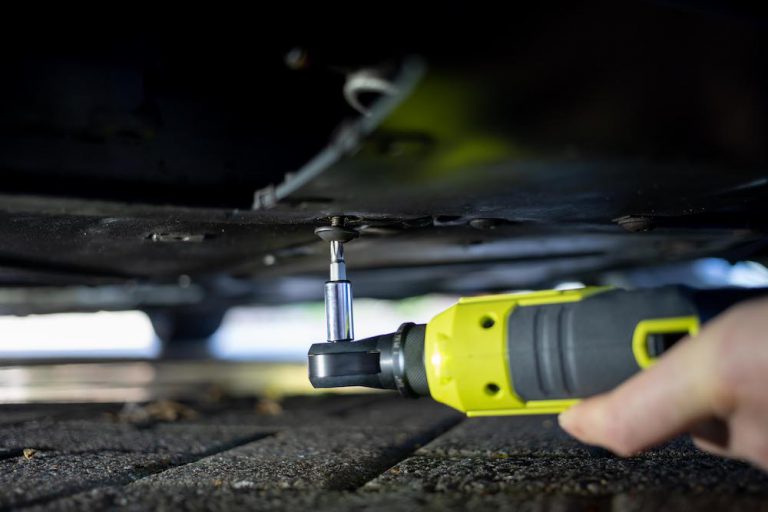 When you do get to a restrictive area, the Ryobi Ratchet Wrench has an ace up its sleeves which is the 4-position rotating head that can be easily manoeuvred into an angle that will make the battery far less of a hindrance. I was able to get into a lot of tight corners and parts underneath a car with low ground clearance and work on nuts and screws in a matter of seconds when it used to take me several minutes of elbow grease previously with a manual wrench.
Is It Intuitive To Work With?
The cool thing about a manual ratchet wrench is that it offers precise feedback, especially when tightening something. While that exact feeling cannot be replicated by a powered ratchet wrench, this one comes quite close.
After using it for a couple of days, I was able to get the hang of how it provides feedback and I was able to judge the exact amount of torque that needs to be applied for a particular operation. The uniquely designed paddle switch allows you to precisely meter out torque. It does take a bit of time to get used to but after a few days of regular use, getting the torque just right will be a piece of cake.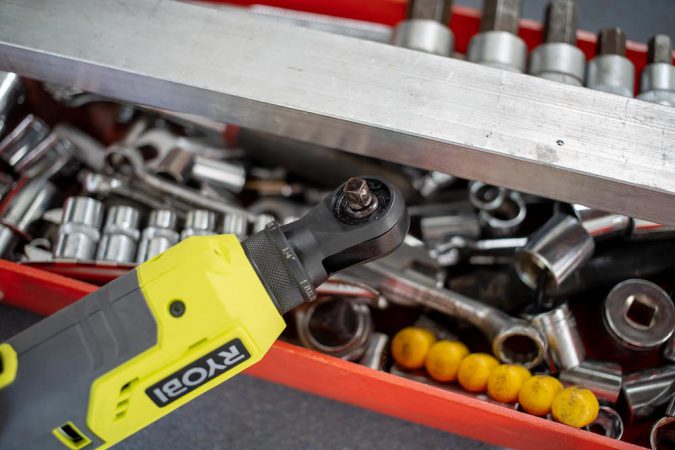 The really powerful LED lights are a very useful feature. They are positioned in such a way that irrespective of the position of the head, both lights will never be blocked and even one of these lights is powerful enough to light up even the darkest of workspaces.
The wrench pictured here comes equipped with a 1/4 inch square drive head. The Ryobi Ratchet Wrench that will be available in the UK will come equipped with a 3/8 inch square drive. This makes it compatible with a wide assortment of attachments.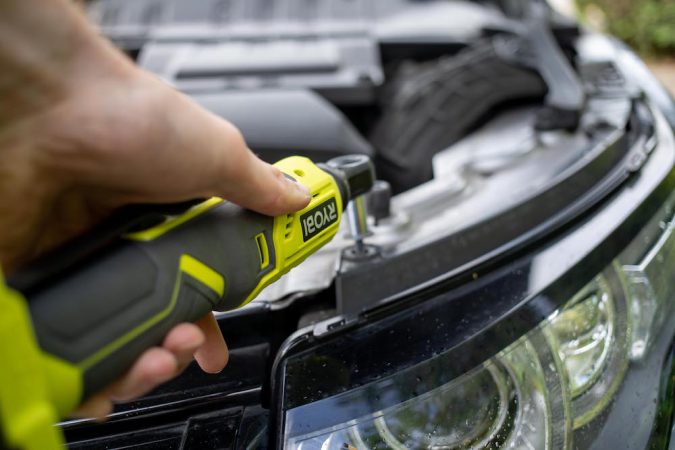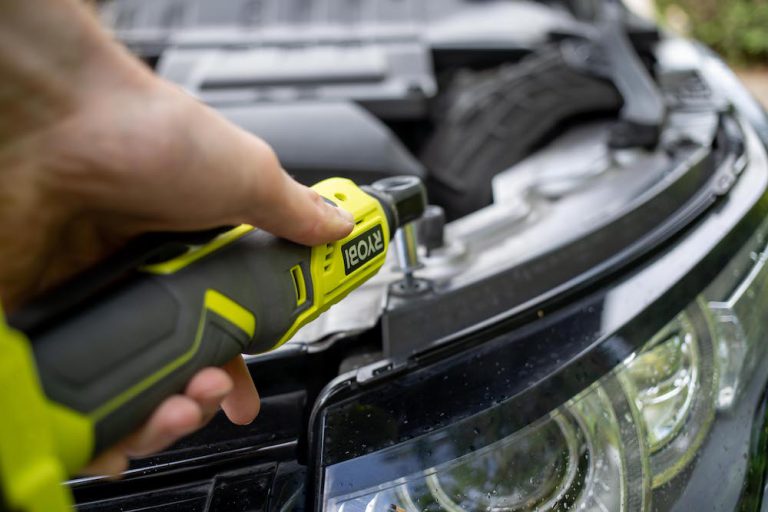 You can even purchase flexible attachments to get into really tight spaces or areas with very little clearance that would otherwise be impossible to work on even with manual tools.
The head is easy to rotate with the collet that can be pulled up to do so. The switch to change the rotational direction of the drive-head is also easily accessible without getting in your way in tight spaces. Overall, there is very little to complain about here.
Does It Have The Necessary Oomph?
One doubt that is perenially attached to battery-powered power tools, in general, is if they are powerful enough for real-world applications. There is no need for such doubts with this ratchet wrench.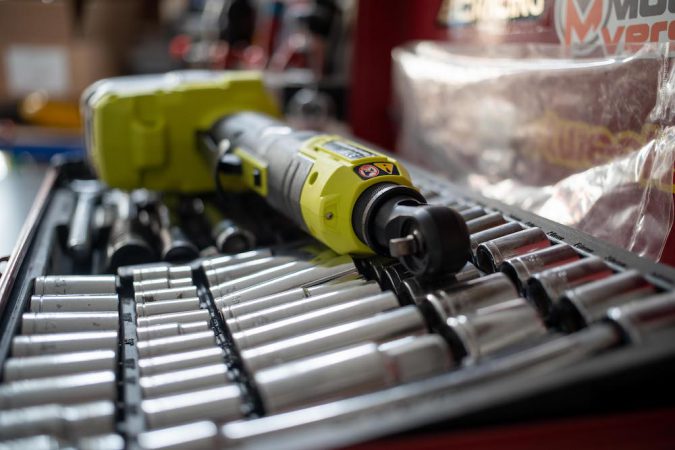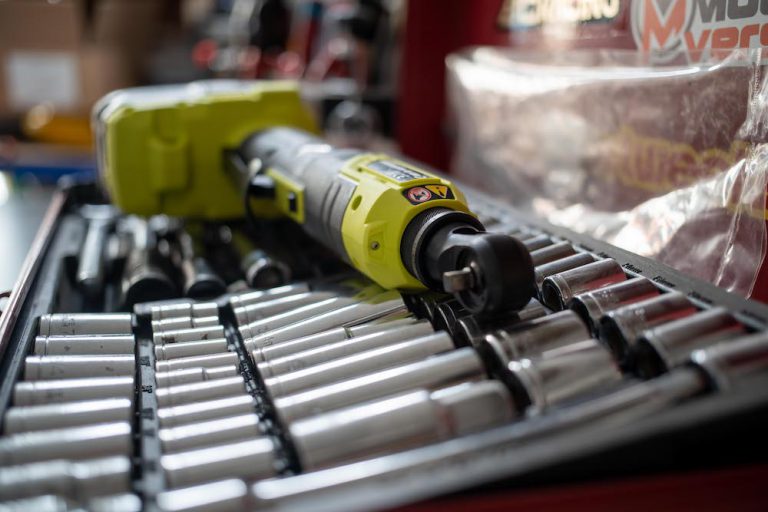 It is rated at 60 Nm of torque which is more than adequate on paper. In the real world, I couldn't come across a typical application where this tool seemed to be lacking in power. I would like to try to use it on a rusty bolt or something of that sort to test its upper limits in the future but for almost every real-world application that one might get a tool like this, this ratchet wrench is more than capable of handling it. Let's not forget it is built for speed, not outright power, for the jobs requiring heavy torque Ryobi also have an Impact Wrench which will crack most bolts.
The 5Ah battery has enough capacity to last for most job applications before needing a charge. We are talking all day power here.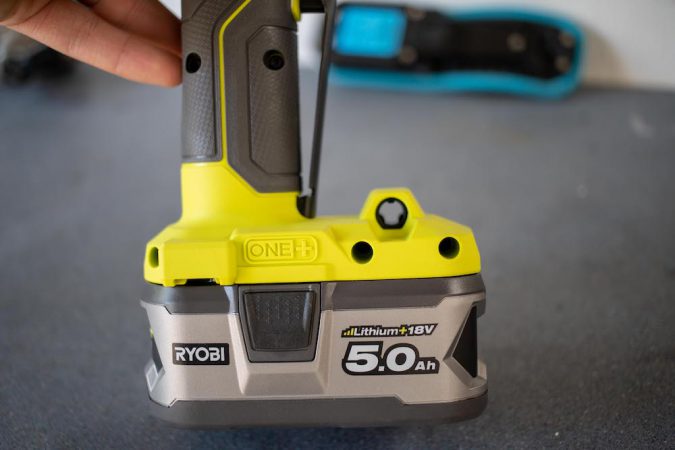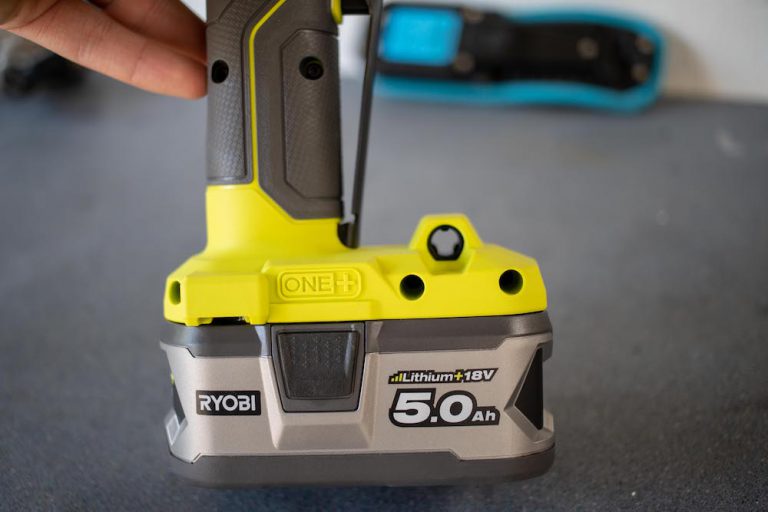 The Areas Of Improvement
It is not all perfect as a couple of things could have been better. A minor of these issues is with the lights. They turn off as soon as the paddle switch is released. Having a slight delay on them would have been a lot more practical. The paddle switch itself seems a bit flimsy in comparison to the rest of the body. However, I do have to admit that I am clueless as to how it can be made more durable without sacrificing any of its functionality.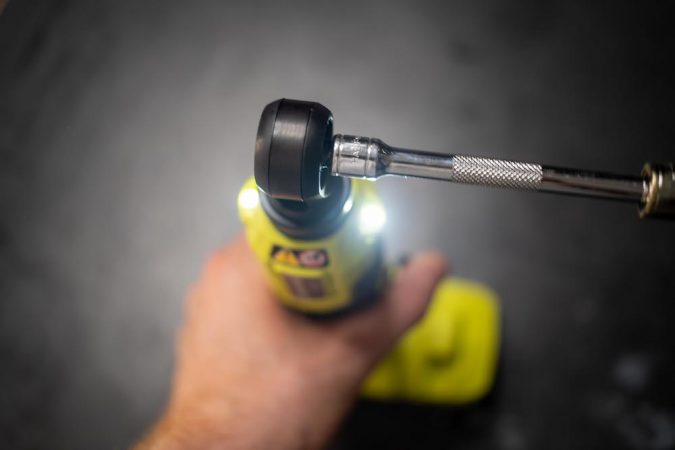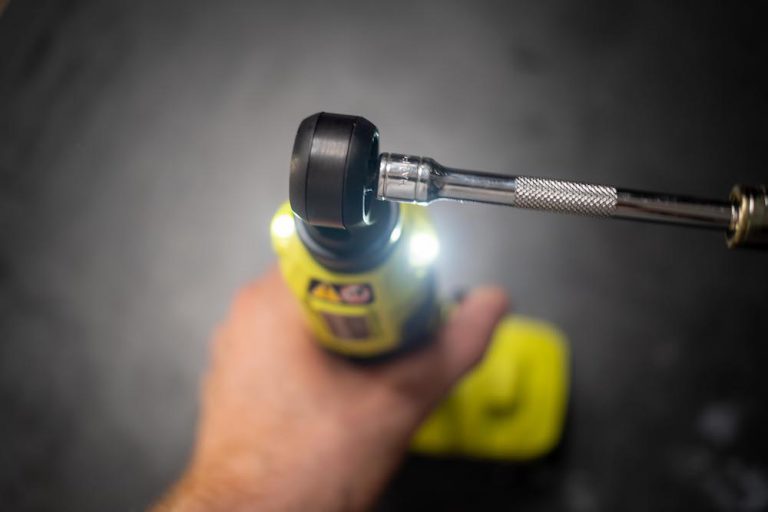 Final Thoughts – Ryobi Ratchet Wrench Review
After spending a considerable amount of time with the Ryobi Ratchet Wrench, I can say that it is easily one of the most underrated tools out there. It is very versatile and easy to use. The possibilities are almost endless as a large assortment of attachments can be connected to it. If you already own one of the other tools from Ryobi's arsenal or are planning to get one then getting the Ryobi Ratchet Wrench is an absolute no brainer.
Even if this is your first Ryobi branded tool then it won't disappoint. It is an excellent tool for any car owner while also being quite useful on a number of different types of projects including timber and metalwork. To sum it up, I could have saved a lot of time and effort over the years had this tool become a part of my collection sooner.