I spent a week testing the SEAT Leon FR Titanium Technology 1.8 TSI. Here are some key points worth mentioning:
That Perfect Three Door Hatchback Look
Many manufacturers have dropped their three-door hatchback options and concentrated on the five-door models. However, the three-door model is often more appealing to a younger audience. They are less worried about practicalities and just want a car that looks the part. The SEAT Leon FR fits the bill. It has a streamlined, sporty look. The side profile seen below shows the vehicle from a great angle and is nicely complemented by the rear window spoiler on top of the car.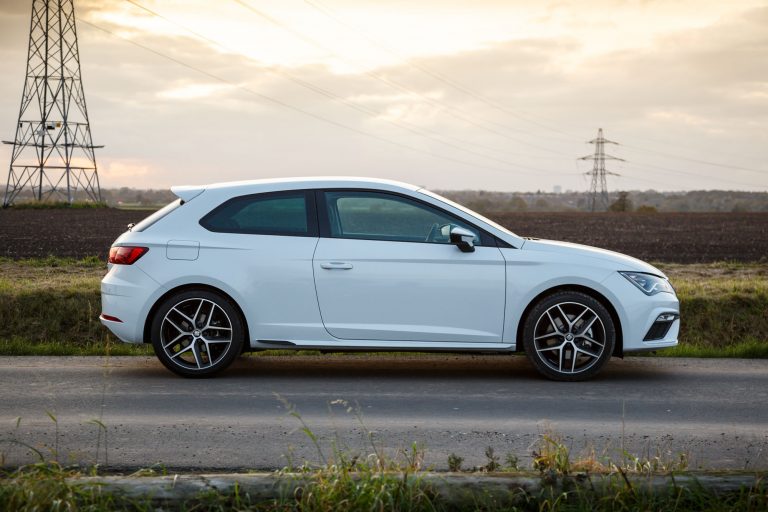 Young People and Music – They Go Together
Some people are less bothered about the car's appearance and more concerned with how good the sound system is. The speakers are well equipped for both music and podcasts. The sound quality is high and it is easy to connect up your phone. The central console includes two USB ports that you can use to power devices or as an input into the infotainment system. The vehicle also supports Android Auto and Apple CarPlay.
Once plugged in, you can easily access your music from the central touchscreen. It's perfect for keeping us entertained on long journeys.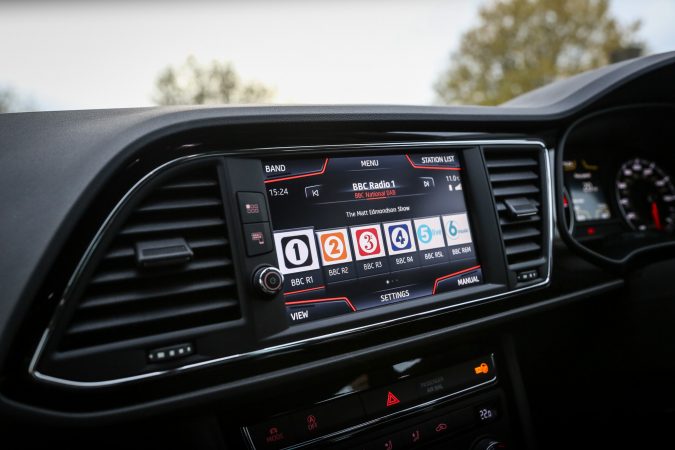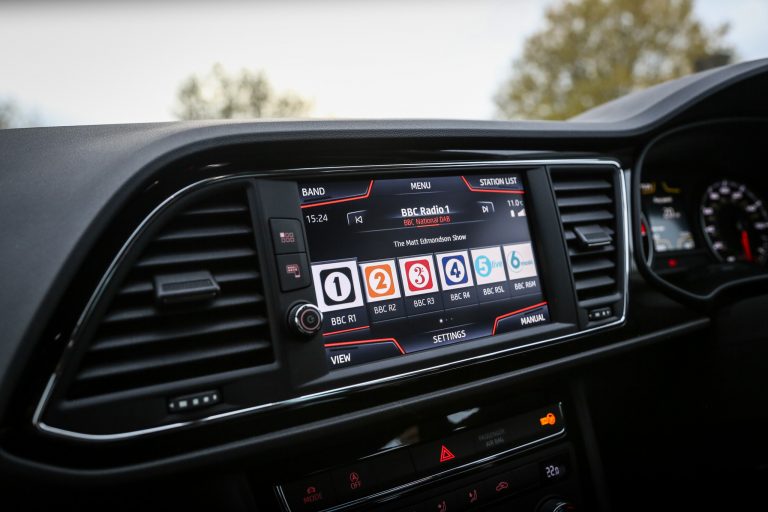 Awesome SEAT Leon Light Signature
Once the sun goes down, people can't spot your car and often it can only be identified by the light signature. The latest generation SEAT Leon has one of the coolest light signatures around. Take a look at the picture below to see how menacing this car really appears.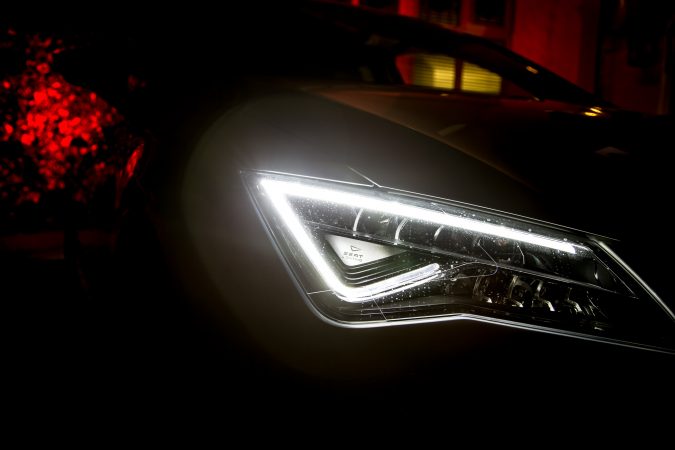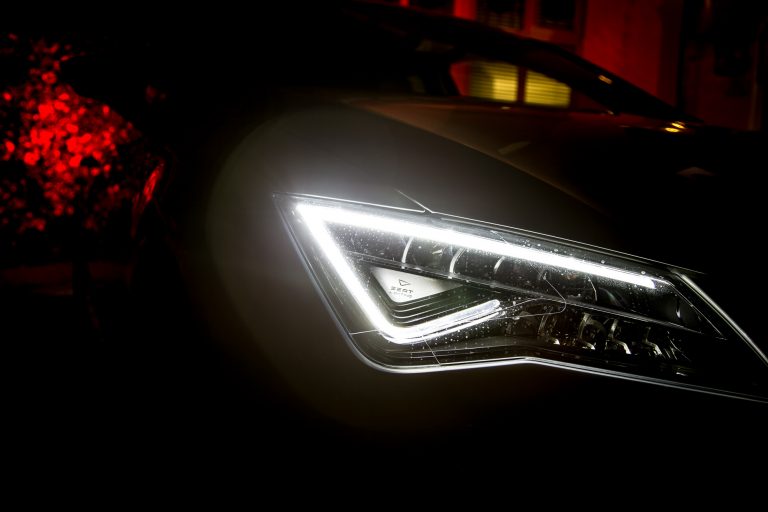 SEAT Leon FR 1.8 TSI
Powering this particular model is the 1.8-litre turbocharged TSi engine which is common to many Volkswagen cars. It emits 177 bhp and 250 Nm of torque – the hottest you can find without stepping into Cupra territory. Matched to the engine, is a 6-speed manual transmission that drives the front wheels. This propels the SEAT Leon FR from 0-62 mph in 7.4 seconds with a top speed of 140 mph. Not blazing fast, but still nothing to scoff at. A faster, 7-speed, dual-clutch automatic variant is also available, but that wouldn't be as fun to drive. The Leon manages 47.1 mpg combined and emits 138 g/km of CO2. The automatic variant is also more efficient in this regard.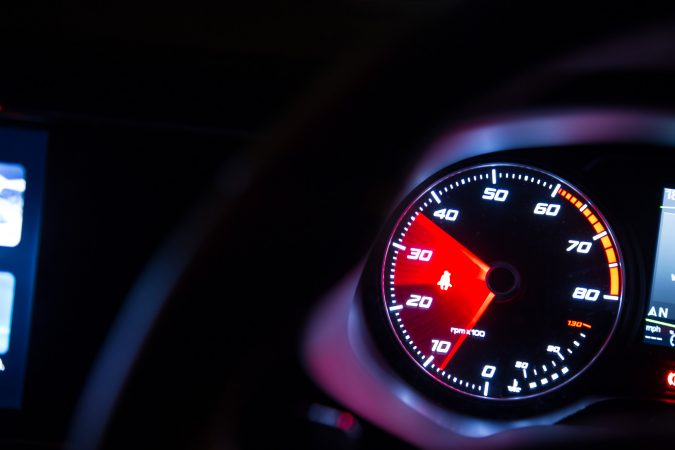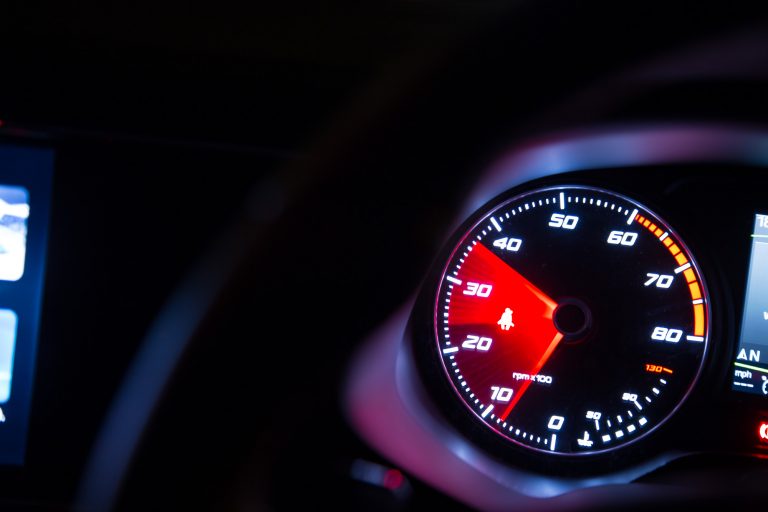 It's safe to say that when you find an open road, you can hit the right pedal and take the SEAT Leon FR to the limit. When it comes to cornering, the car is very reliable, which increases your driving pleasure.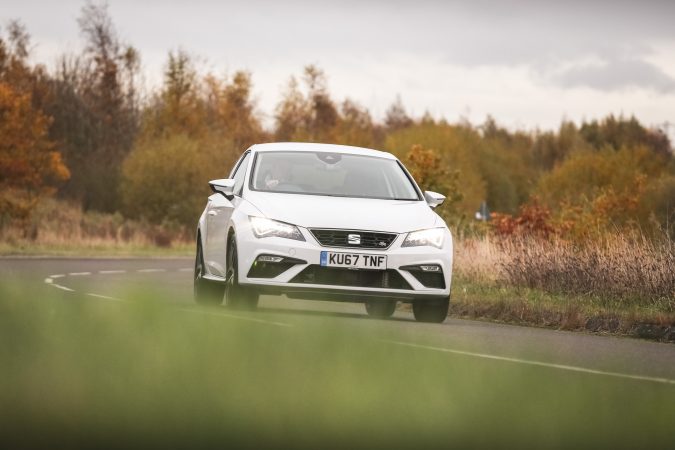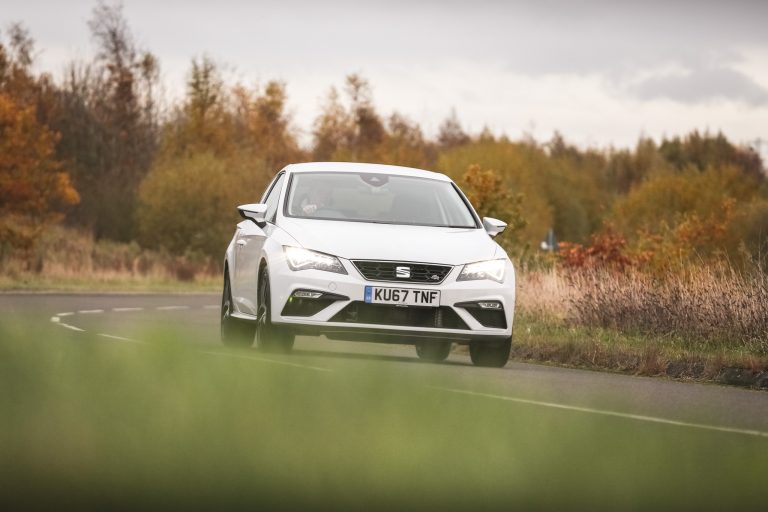 Summary SEAT Leon FR Titanium
SEAT's new model is a strong contender in a crowded market and it does everything a normal hatchback needs to. All the extras make the car that bit more special, such as its premium styling, modern sound system and passion-filled driving experience.