If you thought the Aston Martin Valkyrie wasn't dramatic enough, then just till you wait to see how it looks like with the roof cut open. Yes, the inevitable has happened, and the Valkyrie can now be had as a Targa-top Spider. Perhaps having the wind in your hair is quite fitting for a car that's named after the winged angels of the gods.
For those of you who might've missed out on the news, the Valkyrie is the pinnacle of performance for Aston Martin. Designed in conjunction with aerodynamics master, Adrian Newey of Red Bull F1 fame, the Valkyrie is perhaps as close to a road-legal F1 car as you can get. With an incredibly sharp and sculpted carbon fibre bodywork, the shrink-wrapped Valkyrie screams aero.
Taking The Sound Up To 11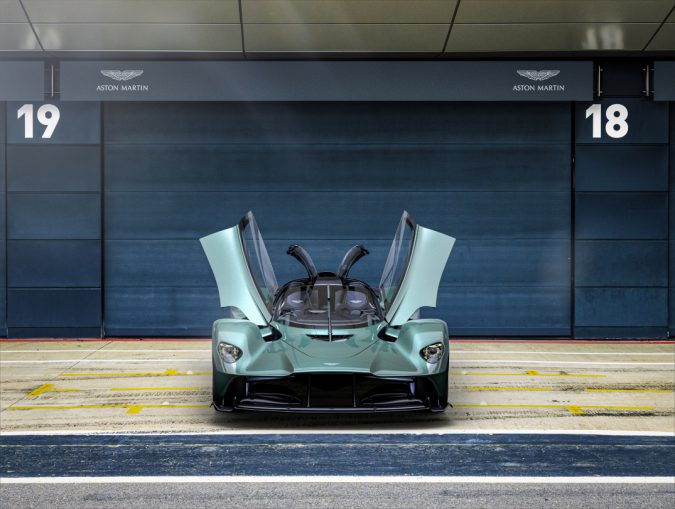 Oh, and it will scream at you. Around the back, you have a Cosworth-tuned 6.5-litre naturally-aspirated V12, and it will dribble the nectar of petrol down your eardrums. Combined with a hybrid system, it can easily output 1,140hp, but that in itself isn't the only amazing bit. The Valkyrie will keep revving, and revving, and revving until it pierces your skull at 11,000RPM.
We can only imagine the thrills of that engine, now that you less stuff between you. And just to make it sound even better, the roof scoop is inches away from your head, helping to amplify that glorious induction noise to 11. The removable roof – and I'm calling it a Targa – is quite unique, too. It has its own gullwing mechanism, just to provide that bit more space for you to climb through.
The roof also has glass panels, which I think it's a bit bonus for theatre's sake. Yet, the addition – or should I say, removal – of the Targa system doesn't compromise on the aero. At 240km/h, the Valkyrie Spider could still put down more than 1,400kg of downforce. If you want your own LMP1 car with license plates, you better hurry, as only 85 of them will ever be made.