Lotus, which for a long time was relegated to the rear of the performance car pack, now has a clear vision for its future. It already began with the all-electric Evija, but that's a future that only a large bank account can truly afford. Now, however, the average janes and joes of the world have a new affordable Lotus to sink their teeth into, and grin from side to side with.
The Emira is the last hurrah for the internal combustion engine as far as Lotus goes, before all its models get the EV makeover as per the benchmark that the Evija sets. With the choice of an auto or a manual, an AMG-sourced 2.0-litre four-pot or the familiar Toyota-borne 3.5-litre V6 from recent Lotus models, the Emira could give cars like the 718 a serious run for its money.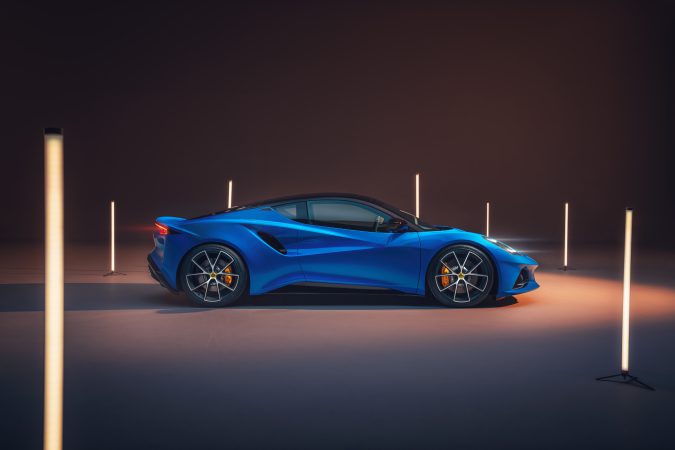 Shoes Perfectly Fitted For A Princess
That's a hint to the Emira's name, by the way, which translates from Arabic to "princess" in its feminine form, or more generally, "leader". With the Emira, Lotus wants to make sure its little sports car can truly lead from the front, hence why it's picked a tailor-made set of shoes for it. In comes Goodyear, and its already popular Eagle F1 SuperSport.
Working hand in hand, Goodyear and Lotus have fine-tuned the tyres to best match the Emira and its dynamics, balancing both its plucky athleticism and comfy long-range cruising abilities. In the Emira, the Eagle F1 SuperSport will come in with sizes 245/35ZR20 up front, and 295/30ZR20 in the rear. Gavan Kershaw, Director of Vehicle Attributes, Lotus, said:
Tyres are a hugely important part of the vehicle dynamics equation where ride, handling, grip, agility and stability must all work in harmony with each other. For Lotus, where world-class vehicle dynamics and benchmark ride and handling are key to our brand DNA, tyre choice is vital.
The Right Tyres For The Right Car
As with all Lotus cars, we carried out extensive testing and development to ensure all the areas that contribute to the vehicle dynamics, including the tyres, suspension and kinematics, deliver to our extremely high targets. Working with Goodyear on this specially developed tyre has ensured that these targets have been met.
Goodyear's Eagle F1 SuperSport is classed as a UUHP tyre, or 'ultra-ultra high performance'. The name is no exaggeration, as a lot of tech has gone into that rubber. The unique construction is a great place to start, where we find Goodyear's "Powerline" cover. This allows the tyres, even under extreme stress, to retain their shape and to work at maximising their footprint for optimal traction.
For a sporty car like the Emira, this ensures that it can manage stability at high-speed driving. On top of that, there is its innovative "DualPlus" technology, which combines a U-shaped compound to provide defined tread zones for the best handling performance in both dry and wet conditions. It looks like Lotus and Goodyear may truly be a match made in cornering heaven.