With SUVs being all the rage, the time of the long, practical, and sporty estates seem numbered. At least, don't tell that to Subaru, as they've just brought out a brand new Outback. Always the dependable, rugged, and jacked-up wagon to tackle the end of time, this new Outback is mostly quite the same as the old one. The key highlight is the tech buried deep within.
More specifically, this is Subaru's bleeding-edge EyeSight driver assistance package, which comes standard in any one of the three trims on offer. There are a whopping 11 new or improved functions as far as electronic safety gadgets go. This includes everything from adaptive cruise control, lane departure warning, to automatic emergency braking, with twice as big of a field of vision thanks to the inclusion of new cameras.
You Can Never Be Too Safe In The New Outback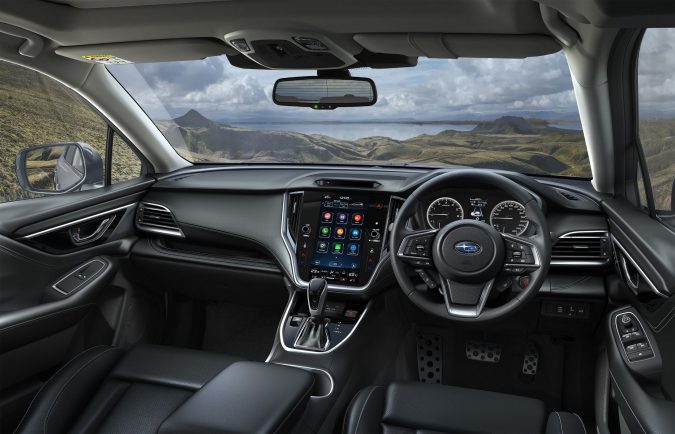 There's even a new driver facial monitoring system to make sure you're not too tired or sleepy while driving. Outside of safety nets, regularly interactable tech gets an upgrade too. There's a redesigned 11.6-inch infotainment system that certainly looks a lot sleeker than its predecessors. Other than that, though, much of the Outback follows along with a familiar recipe. The engine is, typically, a 2.5-litre four-pot boxer motor.
Attached to that is a redesigned CVT automatic, which should now shift faster and smoother. As is the case with the Outback, you're probably going to take it off-road every once in a while. Good news, as this updated model boasts an improved version of Subaru's old terrain and hill descent controls. Going out for a long caravanning holiday? Then you might be happy to know that the Outback is more than keen to tow along 2,000kg of weight on its back end.
The new-ish Outback should arrive in UK showrooms on the 27th of May. Pricing starts at a fairly reasonable £33,995 for the Limited trim, with the more upper-class Field and Touring trims priced at £37,995 and £39,495, respectively.