The latest generation of the Volkswagen Scirocco made its global debut at the 2014 Geneva Motor Show, but only now are we seeing more updates to the model range. VW have announced two new Black Editions to the range.
GT Black Edition and the R-Line Black Edition
The models will be the GT Black Edition and the R-Line Black Edition. As you would expect from the name the edition will come with 90% tinted rear windows, black contrasting roof,  black door mirrors, black rear spoiler and black alloy wheels. That is a lot of black, making the car look pretty stealthy.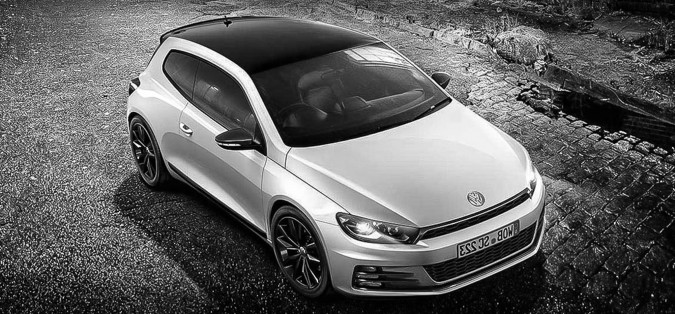 Volkswagen Scirocco Black Edition – Alloys
The model to go for will be the R-Line Black Edition which will be getting a set of huge 19″ black Lugani alloy wheels that will really look the part.
The different engine choices for the Black Editions will be  a 1.4-litre 123bhp or a 2.0-litre 177bhp petrol engine. From the diesel range there is a 2.0-litre diesel with either 148bhp or 181bhp. Once you have picked your engine there is also a choice of either a six-speed manual gearbox or a premium DSG gearbox.