What is the best vintage BMW motorcycle? BMW cars are known for being driver-oriented machines that provide a dynamic driving experience while keeping a high level of refinement. This has helped them stand out in the congested luxury market for a long time.
The goods produced by BMW Motorrad are no exception; they are equally sporty, capable, and opulent. It held strong, despite the allure of other classical bikes from rival brands such as the Honda CB550, or the Ducati Sport 1000.
But BMW's motorcycles have also evolved to keep up with the times, such as today's new BMW 1000 RR, just like its vehicles have. Its attempts to attract new riders are among the most successful in the sector. All thanks to constant innovation with an emphasis on safety and accessibility. Let's get to know about the best BMW motorcycles without further ado.
History Of BMW Motorcycles
BMW Motorrad is the name of the company's motorbike manufacturing division. Max Fritz, who began working for the organization on January 2, 1917, was the primary engineer behind BMW Motorrad.
Fritz started concentrating completely on the development of motorcycles when the Treaty of Versailles later outlawed aviation and aircraft engines. His flat twin "boxer" engine was an important invention. The fundamental elements of this groundbreaking new design are still utilized in BMW's boxer series today.
The first BMW motorcycle built after World War II was the R 24. The Allies required the inventors to get a license, which only permitted a single-cylinder bike with a capacity of 250 ccm.
In just two years, it sold close to 30,000 units. The bikes produced by BMW Motorrad kept getting better and more advanced. In 1954, they released the BMW RS type. It was capable of 200 kph max speeds. This bike was used by riders from all around the world to win.
By 1974, BMW motorcycles had won 19 world championships. Every brand world championship from 1955 to 1974 belonged to BMW. At the Berlin Automobile Show in 1923, the engine made its debut.
It was in the R 32, which boasted features like great reliability, simple maintenance (and while you're here, make sure you check out our guide on how often to change motorcycle oil), and safe handling. It immediately gained popularity among the general public and finally brought in more money than models from rival companies.
Breaking Records And Acquiring Victories
The R 37, a later variant, exploded onto the professional racing scene. In a relatively short period of time, it provided twice the power of the R 32. A BMW motorbike won every German Championship for the 500 cc class between 1924 and 1929. But for the aspirational BMW bike riders, winning these competitions wasn't enough.
Ernst Henne, a rider from Germany, set out to shatter the absolute speed record. He achieved a speed of 216 kph on September 19, 1929, breaking the previous record by 10 kph.
Later, he went back to try to conquer it. He employed the brand-new 500 ccm compressor equipment this time. He could go as fast as 279.5 kph. On November 28, 1937, he set this record. It lasted for 14 years.
This 65-horsepower bike made waves in the racing community. In 1938, Georg Meier's rookie year, he captured the European Championship. He won the Senior Tourist Trophy the following year, becoming the first non-Briton to ride a foreign bike.
BMW Motorcycle Naming System
Similar to how it names its automobiles, BMW Motorrad names its motorcycles using an alphanumeric method. Currently, the BMW Motorrad lineup has engine types ranging from scooters with names that begin with a C (parallel twin-cylinder BMW motorcycle engines attached to a constantly variable clutch) to some of the best sports bikes like the discontinued $78,000 HP4 Race.
So, they hardly make what you'd call cheap street bikes. Rather, some rare classic BMW bikes have even made it into the top-most list of the most expensive motorcycle in the world. And if you're thinking of buying one, be sure to understand how many miles is a lot for motorcycles. But getting back to the naming scheme…
The name's first part is a letter corresponding to an engine type (high-performance four-stroke four-cylinder). Bikes begin with the letters S (four-cylinder sport motor), R (opposed twin cylinder), G (single cylinder), F (parallel twin cylinder), and K that fall in between these two extremes (three or more cylinders).
Except when it's simply a random sequence of numbers instead, which happens occasionally, the second part of the name is made up of numbers that indicate the amount of the engine's displacement in cubic centimeters. The name's final component, which is the letter or letters that follow the numbers and describe the bike's function:
In 2019, terms such as…
L: Luxury
T: Touring
GTL: Luxury sport touring
A: Adventure
S: Sometimes sport or Strasse, the German word for street
G: From the German word Gelande, which means terrain
GT: Sport touring
RR: Road racing
RT: Road touring
B: Bagger
R: Road
X: Extreme
GSA: Grand sport adventure, sometimes spelled out) is all in use.
Where Are BMW Motorcycles Manufactured
The sole series manufactured by facilities at the TVS facility in Tamil Nadu, India, is the BMW G310 series. Austria, China, and Taiwan are the three countries that produce certain engines.
The Berlin facility of BMW Motorrad in Germany is where all other motorcycles are made. The Berlin facility is regarded as BMW's most traditional and historic location, and it is where many of the company's most renowned and unique motorcycles were created.
Their Berlin operation has been producing motorcycles for many years, and about 2,000 workers there carefully produce up to 800 motorcycles each day. Highly skilled workers are supported by the most amazing lead robotics available today when welding frames, swing arms, and fuel tanks.
After additional fitting components, such as the driveshaft to the tank, the frame, and the engine, are married to begin the assembly of a BMW motorbike. Each motorcycle is made specifically for a customer in accordance with their requests. Every day, motorcycles and scooters are put together on five assembly lines.
A dedicated team that constantly monitors each stage of production along the route and, in the end, quality checks your BMW bike after that. Before new BMW motorcycle models are released into the market, they undergo extensive testing, optimization, and quality control in a launch analysis center.
BMW takes no chances, resulting in a better motorcycle for motorcycle enthusiasts worldwide. It is a well-known company with a rich history that has triumphed despite adversity and continues to thrive today by nimbly responding to the constantly shifting demands of a global marketplace.
BMW Motorcycle Models
Following are some of the vintage BMW motorcycles.
What Is The Best Vintage BMW Motorcycle, Option #1: 1926 – 1939 Kompressor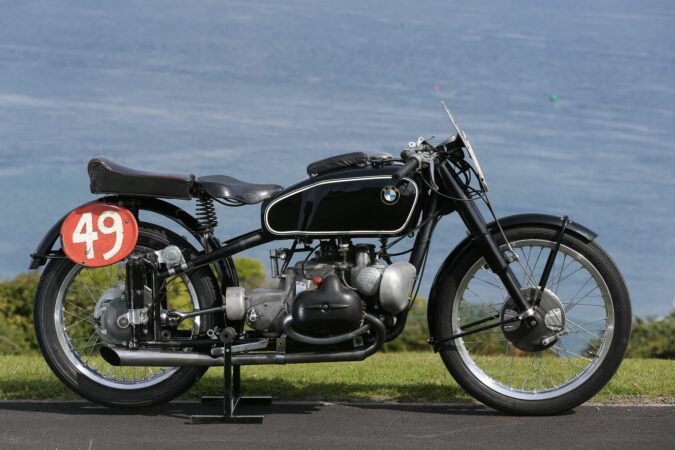 Racing was then, as it is now, a crucial marketing strategy for emerging companies, and BMW was no exception. The R32 was rapidly utilized in competitions and was successful. Still, BMW understood that resting on its laurels would leave it vulnerable to defeat on the racetrack. So in 1926, a supercharger was added to the engine to increase power.
After realizing that the Norton was a better-handling racing motorcycle, BMW was anxious to out-power the British company. The supercharger (Kompressor in German) increased the bike's top speed to 140mph, which was much faster than any other race bike at the time.
In 1939, the Kompressor reportedly produced 70 horsepower, which was more than enough to propel Georg Meier to win in the Senior TT event and place colleague Jock West in second.
What Is The Best Vintage BMW Motorcycle, Option #2: 1969 R75/5
The R75/5's release in 1969 marked the end of BMW's post-war revival. With swing arm rear suspension, a clean, contemporary appearance, and a 50 horsepower, 749cc boxer engine, this model served as the benchmark for BMW motorcycles long into the 1980s.
Its 460-pound small weight allowed for great performance and handling. It is noteworthy that BMW survived the Japanese invasion of the European and American markets, whereas the British motorcycle industry collapsed.
What Is The Best Vintage BMW Motorcycle, Option #3: 1973 R90S
Before the production of the R90S in 1973, BMW had not produced a motorbike with an engine larger than 750cc for 50 years. However, the R90S was groundbreaking for its day for reasons other than only having a larger barrel.
The S's highest speed was 125 mph, and it produced 67 horsepower at 7,000 RPM. The Kawasaki Z1 had 82 bhp, making it the era's most powerful motorcycle. But the R90S was a full package of slick handling, plush comfort, and eye-catching beauty.
The S sported a distinctive fairing with a built-in instrument cluster and a sporty stepped saddle and was available in dazzling smoked gray and, later, the recognizable and decidedly un-BMW Daytona Orange color options.
The R90S was capable of long-distance, comfortable, high-speed touring while rivaling its Italian rivals' handling qualities and the Japanese contemporaries' performance when heavy factory baggage was installed.
The R90S's success in winning the 1976 U.S. Superbike championship dispelled any concerns about its sporting prowess. The best superbike money could buy had a dependable engine, comfy, comfortable handling, and top-notch performance.
What Is The Best Vintage BMW Motorcycle, Option #4: 1976 R100RS
It's difficult to remember a time when a fully-faired sport-touring bike was out of reach. Before the BMW R100RS was introduced in 1976, riders had to go for aftermarket solutions that had different degrees of success if they desired a fairing that would shield their complete body from the wind and the elements.
The R100RS was more than just a flat-twin boxer with a plastic fairing attached. In 1976, its style and design were very groundbreaking. The RS looked unlike anything else on the road due to its wind tunnel design and custom construction, and it gave rise to a new category of sport-touring motorcycles.
The R100RS, which was revolutionary for its day, built on the triumphs of the R90S by emphasizing performance and opulent long-distance touring. The R100RS, which replaced the R90S, had a top speed of 125 mph and was stated to produce 70 horsepower at 7250 rpm thanks to its larger 94mm bored cylinders.
R100RS was revolutionary in terms of design, functionality, and performance despite several drawbacks, including the American journalists' complaints about the bike's European-style low, short handlebars and the stock windshield's propensity to blast wind into a rider's helmet.
The 1976 BMW R100RS serves as the foundation for all sport-touring motorcycles produced today by all manufacturers.
What Is The Best Vintage BMW Motorcycle, Option #5: 1979 R 800G/S Prototype
The most significant motorbike created by BMW Motorrad in the 1970s wouldn't really be made available to consumers until 1980 as the R80GS. In the decade, BMW tried to build an enduro bike around the R engine, but it wasn't until the late 1970s that the GS fully took off.
Long, telescopic forks with 9.84 inches of travel, a lightweight tubular steel frame, and a single, centrally located, 7.9-inch-travel swing arm were all features of the R80GS prototype.
The GS prototype's R800cc motor was bored out to 90.8mm and had a stroke length reduction from 70.6mm to 61.5mm, drastically narrowing the horizontally opposed boxer engine's width.
Furthermore, the total shipment only weighed 313 lbs. Before the turn of the century, the R80GS won a number of off-road championships while competing against the smaller two-stroke enduro machines of the day.
The single-sided swingarm, sometimes known as the mono lever after further refinement, gave rise to the modern GS. With its off-road/on-road touring motorbike, which originated the adventure riding subgenre and is still gaining appeal among riders worldwide thirty years later. BMW had once again invented an entirely new type of motorcycle.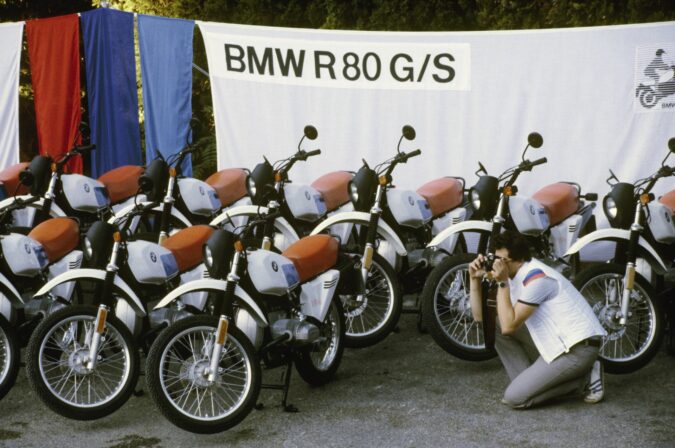 What Is The Best Vintage BMW Motorcycle, Option #6: 1980 R80G/S
Simply put, the bike introduced a brand-new category of motorcycles. The R80G/S (Gelande/Strasse – off-road/road) was the first dual-sport motorbike made available to the general public. It quickly became popular thanks to victories in the rigorous Paris-Dakar rally races in 1981, '83, '84, and '85.
The GS series established BMW Motorrad firmly on the map and continues to be the standard by which all other adventure bikes are measured today. It has been in continuous production ever since, in addition to continuous improvement.
Charley Boorman and Ewan McGregor utilized the GS in 2004 for their epic round-the-world journey, which was documented in the TV series and book Long Way Round. The worst marketing error ever committed by a manufacturer was the usage of BMWs when KTM declined to deliver bikes. After that, BMW became the standard for thrilling adventure rides.
What Is The Best Vintage BMW Motorcycle, Option #7: 1983 K100RS
BMW, a business that never followed the rules, shocked the motorcycle industry when it unveiled its new engine. Instead of just joining the market for inline four-cylinder BMW motorcycle engines as the Japanese had done.
BMW decided to put the engine both longitudinally, with the crankshaft running fore and aft, and on its side, with the pistons moving in a horizontal plane. The configuration allowed BMW to keep using shaft drive and made maintenance significantly simpler by allowing access to the cylinder head and doing crankshaft repairs without removing the engine.
From the oddball look to the flawless riding experience, it was one of the first motorcycles with electronic fuel injection. A BMW would never again be so innovative.
What Is The Best Vintage BMW Motorcycle, Option #8: 1988 K1
BMW was still attempting to persuade the public that it had shed the stuffy reputation it had cultivated for so many years. The K1 was the end outcome. BMW spent an excessive amount of effort in the wind tunnel developing the all-enclosing fairing and bodywork with an extraordinarily low drag coefficient using the K100 as a base.
Unfortunately, it wasn't particularly quick, and the bodywork added so much weight that it had to be fashioned of incredibly thin fiberglass, which broke all too readily. It also looked unlike anything else in motorcycle design.
Only 7,000 units were sold before manufacture was discontinued in 1993, so it didn't even sell that well. But despite this, the K1 has remained one of the most recognizable motorcycles of the last 30 years and undoubtedly caused people to take notice and reconsider their opinions of BMW.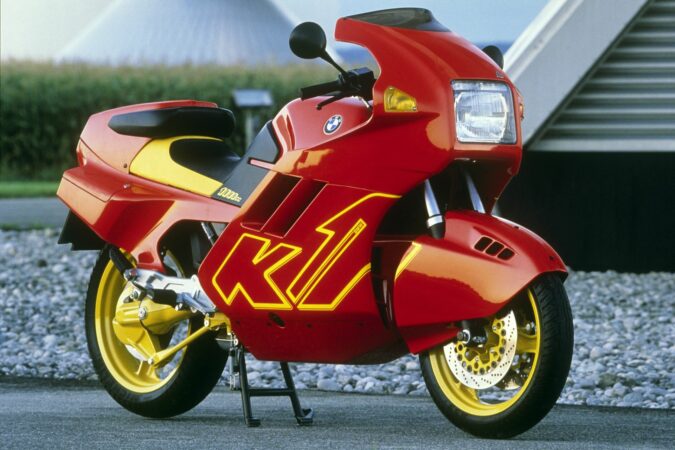 What Is The Best Vintage BMW Motorcycle, Option #9: S1000RR
For many years, BMW steadfastly defied the crowd and blithely continued on its own path. Their successful designs, whether they were for touring bikes or adventure bikes, were widely imitated, which is largely why their motorbikes got more well-known.
Then, in 2009, BMW unveiled the S1000RR liter superbike, turning the motorcycle industry on its head once more. They had zero prior expertise in this area, whereas its Japanese competitors had at least a 15-year head start. But that didn't stop the S1000RR from setting the class standard right away.
The S1000RR was originally planned to take BMW into the World Superbike Championship. However, it was only marketed to the public for homologation purposes. But because of the positive response, BMW was forced to mass-produce it in 2010.
It was the first superbike equipped with traction control, ABS, riding modes, and a quick shifter as an add-on. When it came to matching the S1000RR, BMW abruptly sent the Japanese industry heavyweights back to the drawing board.
What Is The Best Vintage BMW Motorcycle, Option #10: 2010 K1600
When you mentioned BMW for a long period in the 1970s and 1980s, many people immediately thought of the huge, fairing-equipped touring bikes like the R80RT and R100RT.
The R class of touring bikes is still manufactured, but in 2010, BMW introduced its new traveling weapon, the K1600 range of touring bikes, which are propelled by an astounding 1,649cc inline six-cylinder engine.
The engine was the world's most compact six-cylinder engine at the time, and what made it even more impressive was that it was only 2.6 inches wider than the inline four-cylinder engine installed in the K1300.
Once again raising the bar for all other touring motorcycle manufacturers. It used shaft drive and was outfitted with every conceivable electronic rider aid in addition to providing all-day touring comfort and dazzling performance.
FAQs On What Is The Best Vintage BMW Motorcycle
Are BMW Motorcycles Reliable
Motorcycles made by BMW Motorrad are dependable if they are properly stored and maintained, ridden responsibly, and frequently serviced in accordance with the owner's manual. The hefty maintenance costs are frequently to blame for complaints about BMW's reliability. These bikes have been deemed unreliable due to the high cost of repairs, maintenance, and replacement parts, and some BMW riders are reluctant to invest the extra money required to keep up with service maintenance.
Where Are BMW Motorcycles Made
Motorcycles have been produced in Berlin since 1969. Currently, up to 800 motorcycles are produced each day by about 2,100 workers.
When Did BMW Start Making Motorcycles
The first BMW motorbike, the R 32, designed by Max Friz, received the green light for production at the Berlin Motor Show in September 1923. The primary distinguishing feature of the firm will be the legendary boxer engine.
Are BMW Motorcycles Good
BMW has been making high-end motorcycles for almost a century. BMW motorcycles are indeed good. A BMW motorbike is made with iconic German engineering, premium Motorrad components, powerful BMW motorcycle engines, and excellent build quality, among other things.
Is BMW German
Bayerische Motoren Werke GmbH, or the Bavarian Engine Works Company, is what the abbreviation BMW stands for. The corporation was founded in the German state of Bavaria, hence the name. It also represents the original BMW product line, which included engines for diverse uses.
How Fast Is A 250cc Motorcycle
A 250cc bike is thought to be able to easily reach top speeds of 85 mph (137 km/h) to 90 mph (145 km/h), which is more than enough to go on highways. You can speed along and catch up to traffic more quickly. A 250cc motorcycle has a low weight, making it easy to manage and operate in heavy traffic.
How Much Is A BMW Motorcycle
The 2022 BMW S1000RR has a starting price of $16,995 / $18,995.
What Is The Most Expensive Bike In The World
At $56,500, the Kawasaki Ninja H2 R is the most expensive production motorcycle currently available.
How To Install A Motor On A Bicycle
A well-prepared bike will have a higher clearance since it will stand higher off the ground. Your bike will be upgraded to a whole new level if you have the right motor. Install a new motor sprocket on your bike to flawlessly fit your newest engine components. Grab your spanner and remove the two bolts on the back wheel after dealing with the sprocket. By doing this, the bicycle chain will be released, allowing you to fully remove the back wheel. As the sprocket screws can go inside there, place an elastic bush on either side of the bicycle tire. Attach a steel washer behind each screw, so it is simple to remove them all later. After that, reattach the wheel and tighten the screws.
What Is The Best Vintage BMW Motorcycle: Final Verdict…
Riders today enjoy a wide range of motorcycle types and style options, including sport bikes, motocross, dual sports, and fast cruiser motorcycles, but prior to the 1970s, consumers had significantly fewer options.
What is the best vintage BMW motorcycle? Many of the common bike styles we see now were born during this decade… All thanks to design breakthroughs from BMW Motorrad.
We owe BMW Motorrad a debt of gratitude for the imaginative developments made possible by the air-cooled, flat twin, shaft-powered "R" platform, including the go-anywhere adventure bike, race-inspired superbike, and fully-faired sport-tourer.
Whether you like them or not, those best BMW motorcycles set the standard for many others to follow. If you are thinking of getting an old-school BMW bike, our guide on the best place to buy a used motorcycle might help.
Approved Tools
These tools have been tried and tested by our team, they are ideal for fixing your car at home.