The Ford GT40 is undoubtedly one of the most iconic Le Mans racers of all time. Even to this day, nearly 60 years later, its legend still has an overpowering aura that reminds us of the good old days. Well, Ford has been working hard lately to make sure that you needn't have to just imagine the GT40. You could relive that experience for yourself with the 2022 Ford GT Holman Moody Heritage Edition.
A long name, but worthy of what came before it. For the most part, it's the same old Ford GT that we had since 2016. The most significant change, as you might've noticed, is that livery. Between exposed bits of carbon fibre, you can gaze upon the iconic Holman Moody gold colours. It's then accented with a touch of red and white, rounding off a contemporary look at the same livery from back in 1966.
The Ford GT Pays Tribute To Its Granddaddy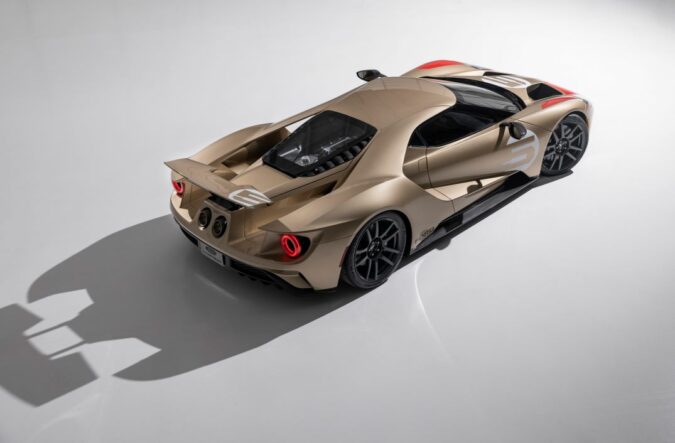 Besides that, you get a few other neat aesthetic touches here and there, such as the gloss carbon and black paintwork. Step inside, and you get a lot more carbon, paired with some leather and Alcantara trim. The best touches are the gold accents carried over from the exterior, including the paddle shifters. An extra homage to the old Holman Moody GT40s is paid through the inclusion of the No.5 roundels.
That, of course, matches the 1966 GT40 that was raced by Holman Moody at Le Mans, topping off a spectacular 1-2-3 finish. At the time, the Mk. II GT40 was ground-breaking in many ways to break the 200mph speed barrier. And, win Le Mans at the same time. If you're looking to get a new-old Holman Moody Ford GT, you'd better hurry. Only 9 of these ultra-rare homage editions will ever be made.