Refined Aerodynamics and Design
The Škoda Superb has long been a flag-bearer in the automotive world, and it's back with a bang. The fourth generation of Škoda's flagship model boasts a bevvy of design refinements that signal a significant evolution.
The vehicle's aerodynamics have been improved by up to 15%, courtesy of a sleeker windscreen and roofline, optimised wheels, and clever features like Air Curtains and an active shutter in the front air intake. These tweaks don't just contribute to a sharper look; they also promise enhanced fuel efficiency and reduced emissions.
A Brighter Path Ahead
Lighting the way are the revolutionary LED Matrix beam headlights, delivering a whopping 40% more light output. This bright idea isn't just about illumination; it's about safety. The 36 individual matrix segments ensure that you see without blinding oncoming traffic—a smart solution for nocturnal travels.
Stretching Out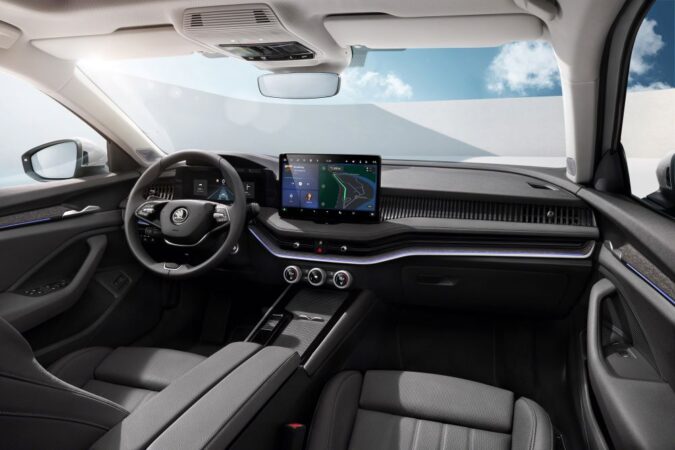 Size does matter when it comes to comfort. The new Škoda Superb doesn't skimp on space, stretching out in both length and height. This not only gives a more dominant road presence but also translates into a more spacious interior for passengers to enjoy their journey in comfort.
Uncluttered and Smart
The interior of the Superb is a testament to Škoda's commitment to intuitive design and customer-centricity. The new interior concept is cleaner, with a free-standing infotainment display and a selector lever smartly repositioned to the steering column.
This reimagining creates an uncluttered centre console, offering more room for personal items and the new Škoda Smart Dials that blend digital and haptic feedback for a seamless user experience.
Comfort Meets Sustainability
Škoda doesn't just cater to your comfort with their new Ergo seats complete with massage functions; they're also looking out for the planet. The textiles lining the Superb's interior are 100% recycled, proving that luxury and sustainability can go hand in hand.
Charging Ahead
With a new Phone Box offering 15-watt inductive charging and cooling for smartphones, plus multiple USB-C ports, the Superb is prepared for the tech-savvy and the environmentally conscious. It's a car that doesn't just keep up with the times; it charges ahead.
Electrifying Range
The Superb isn't just another pretty face; it's got the heart of a green giant. The plug-in hybrid version, exclusive to the estate model, boasts a high-voltage battery with a 62-mile electric range on the WLTP cycle. Fast charging capabilities mean you're ready to roll in no time, blending performance with eco-friendliness.
Mild-Hybrid Innovation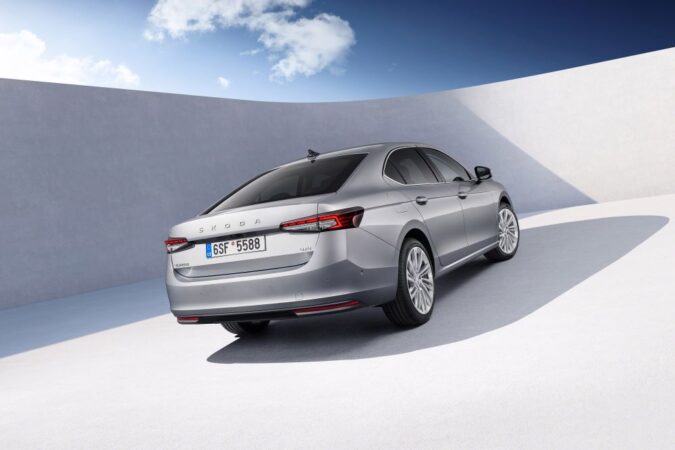 Škoda introduces mild-hybrid technology, marking a first for the Superb. The 1.5 TSI engine with a 48-volt belt-driven starter-generator exemplifies Škoda's forward-thinking approach to engine technology, balancing efficiency with the demands of modern driving.
Safety as a Standard
It's not just about getting from A to B; it's about getting there safely. The Superb is loaded with new and enhanced assistance systems like Turn Assist and Emergency Steering Assist, ensuring peace of mind for you and your loved ones.
Škoda has once again outdone itself with the latest generation of the Superb. With its eye-catching design, eco-friendly and tech-savvy interior, and a range of efficient powertrains, it sets new benchmarks for what a car can be.
Whether you're cruising through the city or embarking on a cross-country adventure, the Škoda Superb promises a journey that's as comfortable as it is conscientious. Get ready to hit the road in style and with the satisfaction of making a smart, sustainable choice.