Electric and Eager: What's New with Audi Q4 e-tron?
Audi isn't just sitting back and watching the electric vehicle scene; they're driving it forward, big time. Their Q4 e-tron family played a significant role in the impressive 51.2% growth in their battery-electric vehicle deliveries in the first half of 2023. And guess what? They're hitting the pedal even harder with a series of significant updates for the 2024 model year.
Zooming into the Updates
The Q4 e-tron has been given a shiny makeover. From its newly tuned suspension to improved efficiency and a character-defining sound – Audi has poured in enhancements left, right and centre. They've expanded on the driver assistance systems, optimised the drivetrain, and even ramped up the charging power.
And to sweeten the deal, you can start ordering from September 26 with prices kicking off at a cool £49,915. For those who like their stats, all Q4 e-tron models come with a beefy battery, boasting 77 kWh of net energy.
Thanks to some smart cell chemistry tweaks, you can now juice up your e-tron from 10% to 80% in about 28 minutes under optimal conditions. Talk about a quick pit stop! Additionally, the battery protection function and the e-tron route planner ensure the longevity of the battery and smart charging routes, respectively.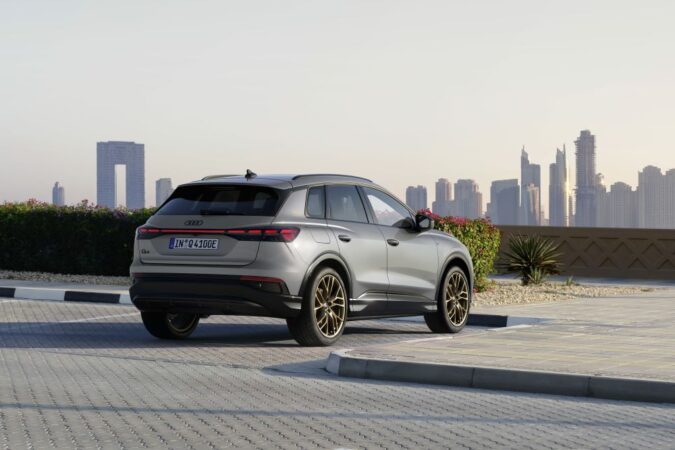 Power and Performance: It's All in the Drive
Hold onto your hats because the Q4 e-tron models now feature a redeveloped permanently excited synchronous machine (PSM) on the rear axle. The result? Enhanced efficiency and more punch in the power. Whether you're eyeing the standard Q4 e-tron or considering the Sportback version, there's a whole range of options that promise boosted ranges and impressive power delivery.
For those speed enthusiasts out there, the Audi Q4 45 e-tron and its Sportback counterpart can reach speeds of 0-62mph in a brisk 6.7 seconds. The top-tier models, the Audi Q4 55 e-tron quattro and the Sportback 55 e-tron quattro, drop that time down to a mere 5.4 seconds. And if you're wondering about the top speed – it's now 112mph across all models.
Audi's Signature: Superior Suspension
True to its brand's DNA, Audi has refined the suspension tuning for the Q4 e-tron models, ensuring an unparalleled driving experience. Whether it's the standard, sport, or damper-controlled suspension, there's been a special focus on the steering characteristics and damper tuning. The outcome is a balanced, sportier, and more agile driving experience.
The Future of Driving: Assisted Lane Changes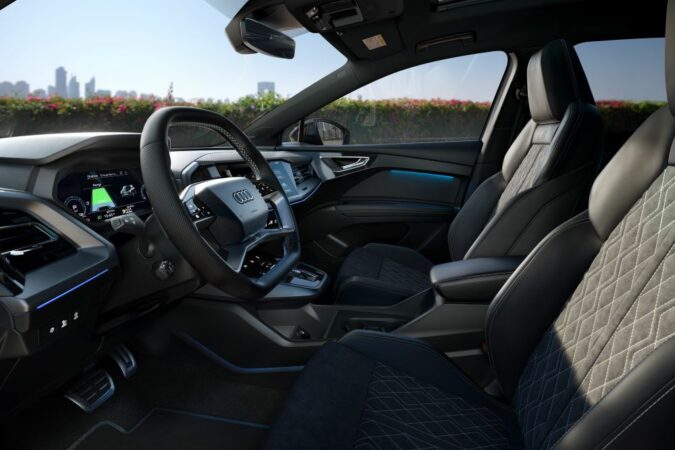 For those who cherish a bit of tech wizardry in their cars, the updated Q4 e-tron doesn't disappoint. Assisted lane changes, in tandem with adaptive cruise assist, make motorway driving a breeze. This function, a part of the Technology Pack Pro, uses white arrows in the instrument panel and an augmented reality head-up display, guiding drivers on safe lane changes.
Add to that adaptive cruise control, side assist, and other driver assistance systems (standard or part of the Technology Pack Pro package), and it's clear that Audi is focused on not just a powerful drive but a safe one too.
Wrapping Up
With this updated Q4 e-tron line-up, Audi has made a clear statement: they're not just in the electric game; they're leading it. Whether it's about power, efficiency, or cutting-edge features, the updated models seem to tick all the right boxes. One thing's for sure; the future of driving looks electrifyingly exciting!