Striking New Look
Audi's given its flagship Q8 SUV a stylish makeover, introducing a refreshed design and a bucket-load of cutting-edge tech. The Q8's exterior now proudly displays new front and rear bumpers, highlighting the SUV coupé's imposing presence.
At the core of this transformation are the HD Matrix LED headlights, available for the first time, which come with the added dazzle of a laser high beam for those who go for the top-spec models.
Plus, talk about making an entrance: these headlights boast digital daytime running lights and selectable light signatures. And for those after-hours drives? The digital OLED rear lights with a choice of four different designs have got you covered. To keep the luxury vibe going, the interior is decked out with new colours, inlays, and seats adorned with contrast stitching.
Revamped Exterior
What's immediately noticeable is the revamped Q8's sporty, yet refined look, a true testament to Audi's commitment to elegance and performance. The Audi Singleframe now comes with vertical inlays, emphasising the Q8's elite status in the Audi range.
As for the Black Edition and Vorsprung models, they now sport new accents around the Audi Singleframe, side windows, and the front and rear bumpers, all completed with a sleek high-gloss black finish.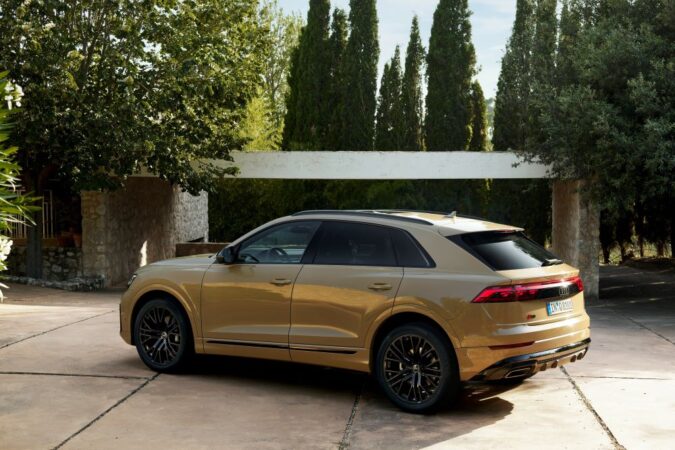 Lighting Up the Way
But let's get back to those lights for a moment. While high-intensity LED headlights are standard for the Q8, you have the option of Matrix LED headlights with the Vorsprung models. And for the light enthusiasts out there, the HD Matrix LED headlights come equipped with a laser light, backed up by 24 LEDs and a high-powered laser diode.
This means, that from 43.5mph, the laser light activates, enhancing the high beam range. The Q8's lighting tech doesn't just stop there; the OLED rear lights are making their debut in the Q8, featuring digital light signatures that perfectly complement the headlights.
Personalise Your Drive
Audi hasn't just upped its game in terms of design and tech, but also in terms of personalisation. Fancy a new exterior colour? Choose from Sakhir Gold, Ascari Blue, or Chili Red. Prefer to roll on some fresh wheels? You've got five new alloy wheel designs, ranging from 21 to 23 inches based on the chosen spec.
In the infotainment department, the Q8 now lets passengers use popular third-party apps like Spotify or Amazon Music. And for those who like to keep their tech up-to-date, regular software updates ensure the system is always current.
Performance and Drive
The phrase "Drive like an Audi" holds especially true for the Q8. It promises a balanced, solid, controlled, precise, and effortless driving experience. Key features include the electronically controlled air suspension, and on certain models, all-wheel steering for increased safety and comfort.
Plus, for those tricky parking situations, Audi has optimised the steering system for maximum ease.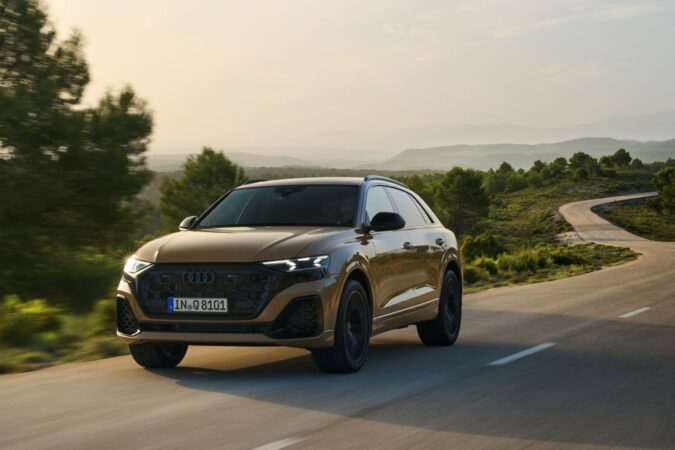 Power Options
On the engine front, you've got options. There's the 50 TDI quattro powered by a 3.0-litre six-cylinder diesel engine delivering 286PS. For something zippier, the Audi Q8 55 TFSI boasts a 3.0-litre six-cylinder petrol engine with an output of 340PS. If you're after something even more dynamic, the SQ8 TFSI doesn't disappoint with its V8 TFSI gas engine.
UK Market Offerings
For the Brits out there, the new Q8 line-up comes in three core specifications: S line, Black Edition, and Vorsprung. And for a dash of extra exclusivity, a limited-run Launch Edition will be available at launch. Whichever you choose, you're promised a vehicle packed with features like Matrix LED Headlights, Valcona leather upholstery, and a next-gen infotainment system.
With its impressive redesign and plethora of features, the Audi Q8 looks set to turn heads when it hits the UK streets on October 10. Prices? They'll be revealed soon. Stay tuned!