In one of the hottest automotive reveals in a very long while, Audi had just recently announced the e-tron GT. Sitting alongside its Porsche brethren, the Taycan, Audi also made a hotter RS variant of Audi's namesake grand-tourer. From a glance, everything is just about perfect. A good set of rubber is all it needs now. Goodyear has answered this call. They are going to outfit Audi's e-tron GT quattro and RS e-tron GT with 21-inch Eagle F1 Asymmetric 5 tires.
Of course, this isn't the first time Audi has chosen Goodyear as the tire-maker of choice for their flagship cars. Since 2019, their e-tron SUVs have all been fitted with Goodyear tires. Hans Vrijsen, Managing Director of Consumer Original Equipment EMEA at Goodyear, said, "The Goodyear Eagle F1 Asymmetric 5 was launched in 2019 and features Goodyear's latest technologies."
The e-tron gets a new set of tyres
"It is ideally suited to the demands of a performance-driven and sustainable vehicle such as the Audi e-tron GT." And suit the e-tron it must, as Audi's new sleek electric grand tourer is a mighty powerful machine, but one where you could also enjoy guilt-free, sustainable motoring. With electric motors on the front and rear axles, the sportiest trim on the RS e-tron GT has 475kW (637hp). This is enough to catapult it from standstill to 60mph in just 3.3-seconds.
If that's not enough, the electric all-wheel drive delivers instantaneous torque to all four wheels. Very fitting for the 'quattro' name, then. And why not choose Goodyear? "The Audi e-tron GT's instant power and performance call for a tire like the Goodyear Eagle F1 Asymmetric 5 to offer drivers the most of their driving experience," Vrijsen said.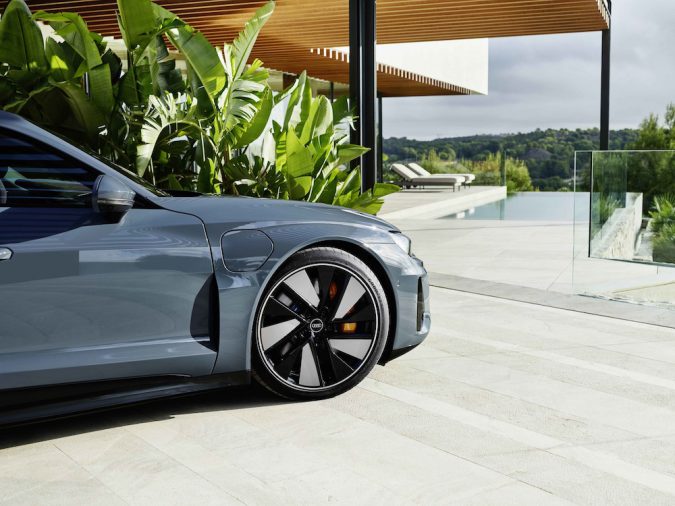 Goodyear's push into electric mobility
New-age tech developed by Goodyear has allowed the tires to accomplish better traction for braking in the wet. At the same time, it can maintain good handling in the dry. Most importantly, this doesn't come at the cost of comfort or added road noise. This extra edge is thanks to a reduction of flex in the tire treads as it faces lateral forces. This is what gives Goodyear's Eagle F1 summer tires a crisper, and more precise turn-in with better grip and acceleration in the dry.
Perhaps just as important within a high performant car, those Goodyears also help to enhance steering feedback. This brings a more communicative and engaging driving experience. As for the sizing of the tires themselves, both variants of Audi's e-tron GT will be getting 265/35 R21 up front, and 305/30 R21 at the back.
Finishing off his thoughts, Vrijsen said, "Goodyear is proud to be furthering our relationship with Audi, one of the leading manufacturers in the field of electromobility, while taking another step to lead the tire development that meets the manifold requirements of electric vehicles."