Heading into the Silverstone decider it was Barwell Motorsport's Sandy Mitchell and Rob Collard who completely blew away the competition to claim their first British GT title. Meanwhile, it was Jamie Caroline and Daniel Vaughan who's consistency led them to a well earned GT4 title.
GT3: Barwell Dominate
Qualifying saw the best possible start to Mitchell and Collard's title challenge. Heading into the event second in the points, a win would guarantee them the title. Qualifying on pole position was a good way to set about achieving this.
Main title rivals Sam De Haan and Patrick Kujala lined up third, behind teammates Ian Loggie and Yelmer Buurman, who in turn were in a heated battle for the Pro-Am championship. James Baldwin / Michael O'Brien started fourth with final title contenders, Adam Balon and Phil Keen lining up in fifth.
At the start, it was Collard who led away cleanly but pitted immediately due to the safety car being scrambled following an incident further back. De Haan was forced to pit a lap later due to the Mercedes being slightly thirstier than the Lamborghini ahead, avoiding the need for a late splash and dash.
At the restart, it was Mitchell who lead from Keen but a quick switch left Keen to pull a gap. Having won the previous race at Snetterton, Balon / Keen were carrying a 20-second success penalty that would have to be served at their final stop. Whereas Mitchell / Collard were penalty-free.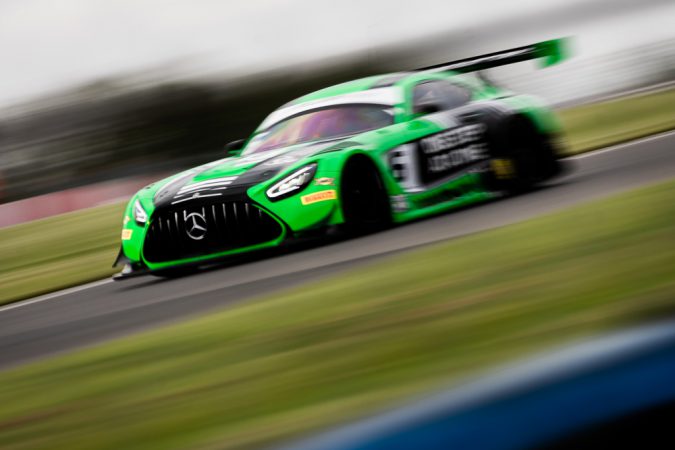 Yelmer Buurman was looking feisty in third. Having not tasted victory all season he was determined to make the most of this opportunity and set about closing the gap to Mitchell ahead. Ultimately, he didn't quite have the pace to challenge the Barwell cars but a cunning pit strategy saw Loggie resume in the lead at the second round of pitstops.
Collard then passed Balon who struggled to get up to speed and was soon hot on the heels of Loggie in front. Balon was in serious trouble, first being passed by the flying Brendan Iribe and Lewis Proctor. He was then in the clutches of championship leader, Sam De Haan. However, De Haan made a half-hearted move into Stowe and tagged the rear of Balon's car, sending him into a spin in the process.
Ironically, Collard was able to pass Loggie at the exact same time which further boosted their title hopes when De Haan was penalized for avoidable contact. Slapped with a 10 second stop/go penalty, his title chances were effectively over. With Balon now way back, it was Collards to lose.
Further back Loggie had been caught by Iribe and Proctor who were swarming the bright Green Mercedes. Ultimately there was little he could do to hold back the swarming McLarens and was quickly dispatched by both.
Iribe had lost out to Proctor in the exchange and was determined to claw back the second position. His optimism soon got the better of him as he had a huge slide exiting Abbey and was lucky not to have careered into the barriers, somehow collecting it all up just meters before the barriers.
Proctor then pitted to hand over to Wilkinson who took huge chunks of time out of Loggie who was now back up to second. Patience was Wilkinson's downfall, making an optimistic lunge into Aintree, tagging the side of the Mercedes and spinning his McLaren out of contention. Things then got worse as he was deemed to be at fault and was subsequently handed a 10 second stop/go penalty.
Whilst all this was going on, Baldwin had kept out of trouble and had quietly climbed through the order. Pitting as soon as he caught the squabbling trio of Loggie, Iribe, and Proctor, this advantage saw O'Brien installed and put in a Schumacher Esque performance to rejoin second once all stops had been completed.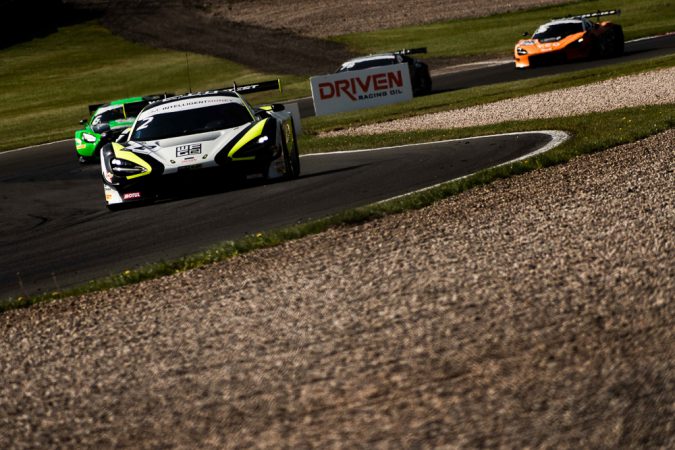 Such was his pace that when Mitchell rejoined after his final stop, there was less than a car-length between them heading into the Maggots/Becketts complex. On warm tires, it looked as though he would take the lead but Mitchell was on top form and pulled away, despite being on colder tires.
Mitchell was easily able to cruise to the finish, coming home 7.6 seconds clear of Buurman who pulled off an almighty move around the outside of Stowe on the penultimate lap to take second. O'Brien crossed the line third just 1.5 seconds back from Buurmans Mercedes.
A dominant drive not only saw Mitchell/Collard take victory but they also claimed the 2020 Intelligent Money British GT title in the process. De Haan/Kujala could only manage eighth and therefore trailed by 19.5 points at the flag.
After Balon's spin, Keen could only recover to ninth and giving Loggie/Buurman the Pro-Am title in GT3 after their third podium of the season.
GTC: Chaos Ensues
GTC joined the fray for the Silverstone finale. It was a chaotic affair with four of the five cars hitting trouble throughout the race. It was eventual winners Ryan Ratcliffe and Justin Armstrong who kept out of trouble and brought their Porsche home first in class.
Lap one saw fellow Porsche contingents Karl Leonard and Tim Bridgman hit trouble and the Ultimate Speed Aston Martin when both cars came together towards the end of lap one. The Porsche requiring assistance to escape the gravel trap after an optimistic move from Mike Brown, and they would ultimately retire at the halfway point with mechanical issues.
Next up was the Ferrari 488 of Laurent De Meeus behind the wheel. Having a brief stint leading after the early safety car, it was not to be as he spun exiting Abbey, luckily avoiding the barriers but dropping way back in the order. De Meeus and co-driver Jamie Stanely just couldn't overcome the deficit and finished two laps down, however in second place so it wasn't all bad.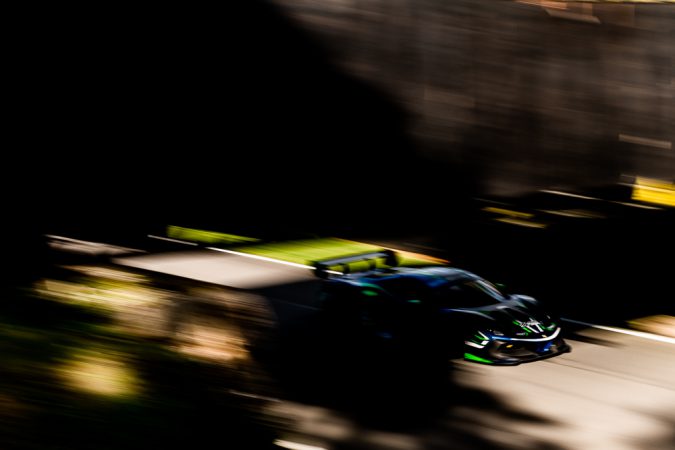 The Simon Green Ferrari was next to hit trouble. A strong start to the race only led to a thirteen-minute pitstop to fix a mechanical gremlin which ruined any chances they had of fighting for victory.
It was looking good for GT Cup regulars John Dhillon and Phil Quaife in their Ferrari 488. Heading into the final hour they held a commanding lead in class until a clash with the GT3 TF Sport Aston Martin saw them limp back to the pits, losing five laps over the leading Porsche. They managed to fight back and claim a class podium in third.
Ratcliffe and Armstrong drove a faultless race, keeping out of trouble and finishing over a lap ahead of the second-placed Ferrari.
GT4: Intense battles
GT4 was set to be a thriller with five driver pairings in contention for the championship. It would go down to the final minutes before a clear champion was crowned.
It was Jordan Collard who rocketed into the lead from his seventh starting position. This threw them right into the championship battle. His cause was further helped when the two TF Sport Aston Martins were both handed 10 second stop/go penalties for exiting the pits under a red light.
However, this turned out to work in TF's favor as the time lost through the penalties was less than the time lost by waiting at the lights. Their championship was still alive. Especially seeing as their drivers were really fired up, it was only a matter of time before they caught the leading McLaren.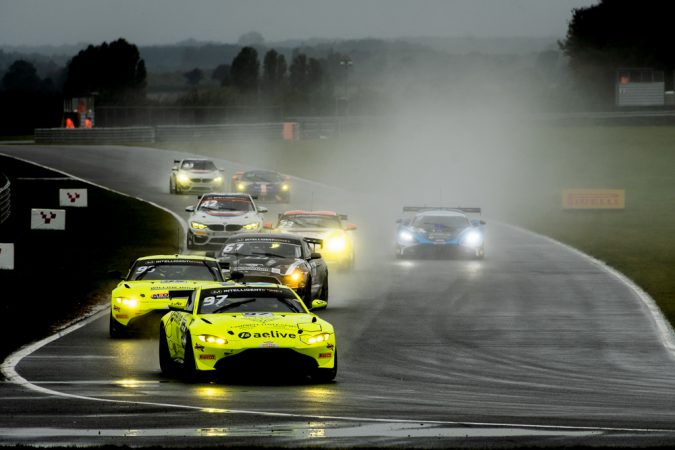 Connor O'Brien clawed back any deficit and was quickly on the back of the Collard McLaren knowing that his title chances depended on him being in front of the McLaren. An intense squabble ensued and led into the final round of pitstops.
By this point, Jamie Caroline had taken over from Daniel Vaughan in the sister TF Sport car and was quickly closing in on the duo ahead. Collard had now handed over to Patrick Matthiesen with O'Brien switching over with youngster, Patrick Kibble.
What followed was an intense battle between the three main title contenders. Throughout all the excitement, the Century Motorsport BMW M4 had quietly worked its way to the front and was leading after the final round of stops.
Andrew Gordon-Colebrooke and Rob Wheldon had quietly gone about their day and had consistently featured in the top three all race long. They inherited the lead after the Newbridge Aston Martin made its final stop and remained there all the way to the flag, taking an elusive win for the M4 GT4 in 2020.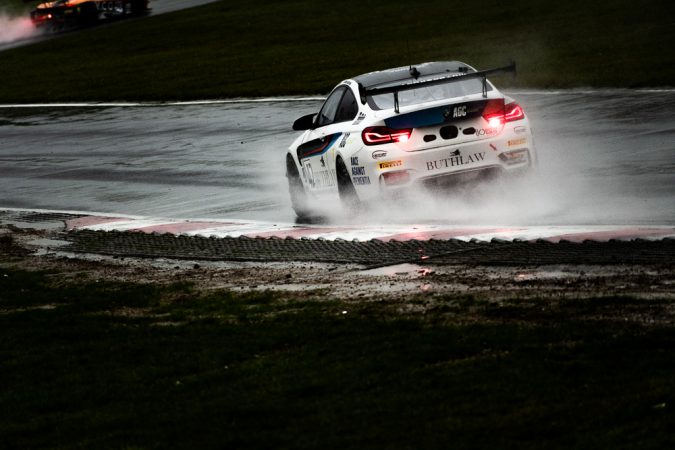 Meanwhile, the fight for second and the championship had reached the boiling point. With just ten minutes remaining, Matthiesen was relegated by Caroline with Kibble following through less than half a lap later. This put the McLaren out of the title hunt and it was between the two Aston Martins to decide it.
Kibble had the pace over Caroline and quickly caught him after losing out passing the McLaren. Dicing through the traffic Kibble sensed there may be an opportunity. But Caroline had it all in control and decisively made his way through and with that, second place just over a second clear of Kibble at the line.
It was enough to clinch the 2020 British GT GT4 title along with co-driver Daniel Vaughan despite the sister cars' greater number of wins. Sheer consistency had done it and it was another podium to finish their spectacular season.
The 2021 Intelligent Money British GT season gets underway on Apil 5th at Oulton Park, subject to any further government announcements.