Citroën has unveiled New C4 Cactus, its new compact hatchback, that's the first model in Europe to feature the brand's new suspension system with Progressive Hydraulic Cushions (PHC) and first vehicle in the world to boast Advanced Comfort seats.
After the successful launch of New C3 in 2016 – and the SUV offensive in 2017 with New C3 Aircross and New C5 Aircross SUVs in 2017, Citroën introduces this new model, expected to be released early 2018.
It blends the singular personality of the C4 Cactus with the class-leading comfort of the C4 hatchback to make a comfortable, modern-looking hatchback.
Citroën CEO, Linda Jackson, said: "Citroën's objective is to be the benchmark in terms of comfort. And, as a mainstream brand, to bring this all-new comfort to the greatest number of people. With New C4 Cactus and the introduction of the new suspension with Progressive Hydraulic Cushions, we are bringing motorists an original compact hatchback fully in tune with its times."
The model's status has been boosted via introductions such as 12 driver assistance systems, three connectivity technologies and a revised engine line-up, with power units now developing up to 130hp.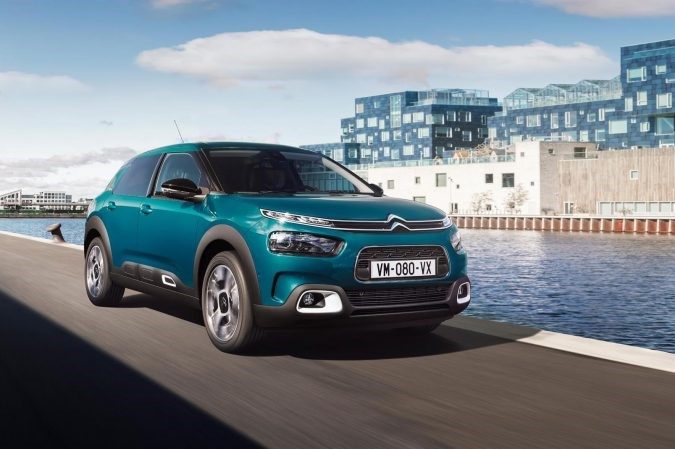 Citroën took inspiration from its technological heritage in terms of hydraulic suspension systems, reinterpreted this technical expertise and has now created a solution that is accessible to the greatest number of customers. New C4 Cactus is the first model in Europe to be equipped with the Citroën brand's new suspension system with Progressive Hydraulic Cushion (PHC), and the first in the world to feature Advanced Comfort seats.
New C4 Cactus brings a breath of fresh air and originality to the compact hatchback segment:
A Unique Personality And Bold Design
Through a new, broad and expressive front end, restyled wings and doors, and a new rear end design, it naturally expresses its distinctive nature. It shakes up the conventional cues in the compact hatchback segment through its well-proportioned shape, forming a pure and powerful body profile. The model's 2.60m wheelbase and short overhangs ensure compact dimensions for great spaciousness, excellent agility and handling.
It features classic Citroën graphic elements include Citroën's signature two-tier front end, Airbump panels on the lower parts of the doors, a floating roof and a broad 3D-effect LED light signature at the rear. New C4 Cactus offers 31 exterior customisation possibilities, with nine body colours and four Colour Packs allowing each customer to express their own individual personality. And there's five interior ambiances are on offer, providing a choice of bright, soft and refined finishes for the cabin.
Just How Comfortable Is It?
Being part of the Citroën Advanced Comfort® programme, it boasts extraordinary ride comfort thanks to the implementation of the new suspension system, Progressive Hydraulic Cushion (PHC), which filters out road imperfections, giving passengers the feeling of travelling on a magic carpet. And it's also the first model in the world to feature Citroën's new Advanced Comfort seats. Similarly, New C4 Cactus makes a generational leap in terms of acoustic insulation and refinement. The 12 driver assistance systems and three connectivity technologies means the car's high-performance and efficient engines also contribute to the pleasure and peace-of-mind felt at the wheel.