There are a lot of things to remember when it comes to car maintenance. However, many drivers frequently disregard the significance of replacing the differential fluid. If you don't know how frequently to change the differential fluid, your car could easily get damaged.
It is an important factor in providing a smooth driving experience when taking corners on various road pavements. The differential is an important component of the drivetrain that makes sure to evenly distribute power to each wheel.
When your car turns, the differential makes up the difference in how far the inner and outer wheels go. If you didn't already guess, differential fluid is necessary for the differential to keep functioning at its best.
The lubricating oil called differential fluid, sometimes known as gear oil, is thicker than engine oil. Differential fluids serve as lubricants that extend the lifespan of metallic differential components by preventing early wear.
Today we will outline the types, importance as well as the function of differentials in your vehicles. We will also examine the best options and cost of a differential fluid change.

Differential
Car wheels spin at different rates, particularly when turning. Each wheel takes a different path during the turn. The inside wheels travel a smaller path than the outside wheels. The wheels that cover a shorter distance do so at a lesser pace.
This is because speed is determined by dividing the distance traveled by the time required to complete that distance. Also, keep in mind that the front wheels move a different distance than the rear wheels. This is not a problem for your car's non-driven wheels.
For example, the front wheels in a rear-wheel drive car or the rear wheels if it has a front-wheel drivetrain. They are not connected, so they each spin on their own. But because the driving wheels are connected, a single engine and transmission can turn both of them.
Without a differential, the wheels of your car would need to be locked together and made to spin at the same pace. As a result, turning would be challenging and difficult for your car. This is because one tire would need to slip for it to turn.
It takes a lot of energy to cause a tire to slip with modern tires on concrete roadways. It would be necessary to transfer that force from one wheel to another through the axle, which would place great strain on the axle's components.
The differential is a component that divides the engine's torque into two outputs so that each can spin at a separate speed. A differential is found on all modern cars, trucks, and all-wheel-drive (full-time four-wheel-drive) vehicles.
The front wheels of these all-wheel-drive cars travel a different distance through a turn than the rear wheels. Thus they need a differential between each pair of drive wheels as well as between the front and the rear wheels.
Front And Rear Differentials
Depending on how the wheels of your car are propelled, your car may have one differential or two. If your car is rear-wheel drive (RWD), just the rear wheels will be moved by the power of the engine. Hence there will only be one differential situated on the rear axle.
If your car is built with all-wheel or four-wheel drive, the engine can deliver power to all four wheels. This means you have both a front differential and a rear differential. If your car is front-wheel driven, you most likely won't have a differential.
Instead, you'll have a transaxle, which serves as both the transmission and the differential and is sometimes termed a front differential. This is why many folks are curious about whether can you drift with FWD instead of RWD.
Types Of Differentials
Here are some of the most common types of car differential designs…
Types Of Differentials #1: Open Differential
This is the simplest type of differential. It simply allows for small adjustments in the slip or speed of each individual wheel. The outside wheel can rotate more quickly than the inside wheel when the road is in good condition. The issue arises when there are poor road conditions, such as ice, snow, gravel, or wet pavement.
This is because an open diff allows engine torque to transmit even when a wheel has little grip. This means that slipping tires will just spin in place. Since most modern vehicles have open differentials, fixing them typically costs less than fixing a different type of differential.
Types Of Differentials #2: Locking Differential
Locking differentials are generally used on off-road vehicles and some performance cars. These make use of clutches and springs to trigger a lock that distributes power equally to each wheel regardless of the traction situation. In essence, a fixed axle is created.

The advantage is that the locked diff can generate more traction. Because the full amount of torque is always accessible to a wheel and is not constrained by the lower traction of one wheel. When traveling at greater speeds, this is a drawback, but when off-roading or rock climbing, there are benefits, like turning the traction control off (and learning how to turn off traction control).
Types Of Differentials #3: Limited-Slip Differential
A limited-slip diff functions exactly like an open diff and distributes torque to each wheel independently in ideal driving conditions. However, a limited-slip diff prevents the normal amount of torque from going to the slipping tire (the one with the least resistance) during strong cornering or rapid acceleration.
In such a situation an open diff would still send torque to the slipping tire. Clutches and plates within the differential are utilized in order to do this. This makes it possible for the car to accelerate around turns that an open diff-equipped car would find difficult.
Limited-slip differentials are used in race cars, high-performance automobiles, and some off-road vehicles. The latter includes clever systems such as the Auto LSD feature in the Toyota Tacoma.
Types Of Differentials #4: Torque-Vectoring Differential
This type is the most complex and technologically sophisticated differential. A torque-vectoring diff uses a variety of sensors and electronics to collect data from the road surface, throttle position, steering system, and other sources. It uses this data to activate electronically operated clutches and a controller.
They function most effectively, giving drivers a truly dynamic, high-performance driving experience. Extremely fast all-wheel drive and rear-wheel drive cars employ torque-vectoring differentials.
The drawback is that torque-vectoring differentials are bulky, intricate as well as expensive, and they have a negative impact on fuel economy.
Differential Fluid
When you press the gas pedal, the differential in your car's drive wheels spin at the appropriate speed, and when you turn a corner, they spin at various rates. The oil film that coats the gears that shield the hardened steel layer on their teeth from friction wear is called differential fluid.
Differential fluid change is a simple process. It typically involves removing the differential cover to drain the fluid, putting the cover back on, and then refilling the differential. This procedure is also referred to as the drain and refill of the drive axle assembly.
If differential fluid replacement is postponed for too long, the axle's gears and/or seals may be harmed. It's likely that the gears have been harmed and need to be changed if there is too much metal found in the fluid.
Front And Rear Differential Service
A front-wheel-drive or all-wheel-drive vehicle's front differential typically shares a housing with the transaxle. This necessitates more frequent fluid replacement than the rear differential. Since the differential fluid and transaxle fluid are interchangeable and you must change both at the same time.
The amount of differential gear oil needs to be checked periodically to ensure there is enough to safeguard the differential. Normally, every 25,000 to 30,000 miles, the front differential fluid must be changed.
The rear differential fluid may only require replacement every 30,000 to 60,000 miles. Your vehicle's owner's manual or some auto repair manuals will provide the exact recommended timetable.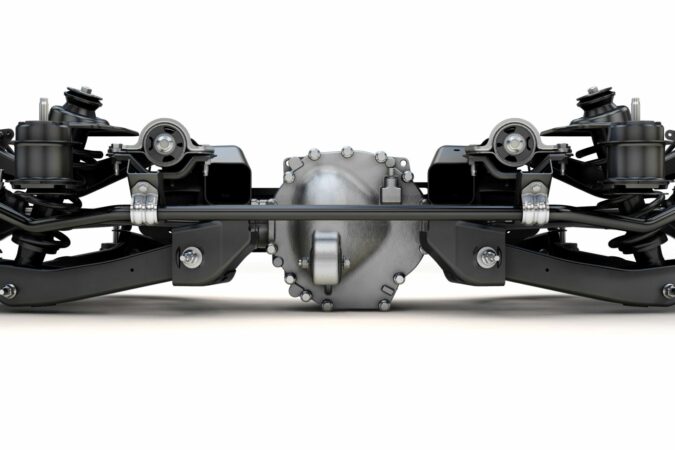 Rear Differential Fluid
Although most modern vehicles come with a front-wheel drivetrain, trucks and large SUVs continue to use rear- and four-wheel drive. In these vehicles, the differential, a collection of gears, distributes the engine's torque across the axle (to both wheels) via a driveshaft connection to the drive axles.
In order adequately lubricate the gears, the axle differential is supplied with a high-viscosity oil. The internal gears of the axle may sustain harm if this fluid degrades and loses viscosity over time. For appropriate maintenance, it is necessary to change the differential fluid frequently and at predetermined mileage intervals.
Rear Differential Service
Servicing the rear differential fluid can be broken down into its most basic steps. This includes removing and reinstalling the differential cover (to drain the fluid) and topping off the differential with fresh fluid.
Some cars feature a drain plug on the axle that allows the differential fluid to be drained without removing the cover. But in the majority of cases, the cover must be removed and a new sealant gasket placed.
Rear Differential Fluid Change
One of your car or truck's least underappreciated components is the rear differential. It multiplies your transmission's torque and sends it to two rear tires, which may be the component's most difficult task of all.
The two rear tires are allowed to spin at various speeds the entire time. A limited-slip differential works to ensure that both rear tires receive power in this situation. It's hard, dirty work, which is why maintaining a quart or two of fluid in your rear differential is crucial for a long lifespan.
Signs Of Low Differential Fluid
Whether your vehicle has rear-wheel drive, front-wheel drive, all-wheel drive, or four-wheel drive, you need to make sure it continues to run as efficiently as possible. Having enough fluid in the differential at all times is one way to be sure of this. Here are several distinct signs of low fluid that you should be aware of.
Signs Of Low Differential Fluid #1: Strange Noises
Strange buzzing, roaring, wailing, or whining sounds coming from the front or rear differential is a typical sign that the differential is short on fluid. Acceleration, deceleration, and cornering will cause a progressive change in these noises.
Low fluid levels (such as due to a front diff leak) or worn-out bearings in the differential or axle are to blame for these grinding or buzzing sounds.
Signs Of Low Differential Fluid #2: Overheating Differential
A differential may overheat for a number of reasons. These include the incorrect fluid type being used, low diff oil, and ring-and-pinion backlash. Overloading of the equipment, high bearing preload, and damaged bearings could also result in overheating.
Regardless of the additional causes that can cause diff overheating, it is also a sign of low gear oil.
Signs Of Low Differential Fluid #3: Smell Of Burnt Oil
If you detect a burnt oil smell (somewhat similar in scent to burnt transmission fluid) coming from the transmission or diff area it may be an indication of low or faulty differential or transmission oil. Evidently low fluid levels prevent proper lubrication of all of the components' nooks and crannies.
The scent may also be an indication that the transmission or diff is overheating as a result of insufficient lubrication. The fluid may be of incorrect type, expired, or too old to adequately lubricate the parts. As a result, metal rubs against metal, causing excessive friction and metal shavings in the gear oil.
Drain the old oil and replace it as soon as you notice a low level or a bad differential fluid.
Changing Differential Fluid
The best place to search for your fluid change intervals, as well as to ensure that you get the proper viscosity, quantity, and kind of gear oil, is in your owner's handbook. The majority of manufacturers advise changing the rear differential fluid every 30-60,000 miles and the front differential fluid every 25,000 to 30,000.
These mileage limits are for a daily-driven car or truck that isn't driven to the limit. You should stick to the base limit if you frequently haul high-payload loads. This is also applicable if you tow trailers, drive off-road, or participate in motorsports activities like circuit racing.
Water intrusion is another important concern. A differential breach that allows fluid to escape could allow water to enter it during a severe downpour. Similarly, water can enter your differential if you are driving off-road through water that is deeper than your axles. This can happen especially if your vent tube is still in its original place.
It's a good idea to check your rear differential fluid whenever you drive through water. It should be checked at the very least before returning home from your off-road excursion. If water is present, you must change the fluid.
Differential Fluid Change Cost
The differential fluid can be changed at a reasonable cost. It typically costs between $75 and $175, of which $25 to $75 is spent on the fluid itself while the remaining fee would be for the labor.
These estimations simply take into account the fluid changing in one differential. It's possible that the price will double if you drive an all-wheel-drive or four-wheel-drive vehicle.
Best Differential Fluid
Differential fluid, often known as gear oil is the fluid injected into the rear differential housing. It is necessary to lube the rear end's clutches, gears, and bearings. Additionally, it maintains the temperature of all of those pieces so that the differential components don't overheat and wear out.
In fact, limited-slip differential fluids contain additives that support the clutches' ability to prevent you from spinning just one tire in the snow or dirt. Here are the top 5 differential fluids available in the market today:
Best Differential Fluid #1: Red Line 75W90 GL-5 Gear Oil
Red Line Synthetic Oil is one of the prominent manufacturers of synthetic lubricants for your car's multiple components. It is a totally synthetic oil that may be used in a huge variety of cars and trucks, including models from General Motors, Ford, BMW, and Mercedes-Benz.
It won't fail even if you work your truck hard on and off the road. Because it is built for excellent shear stability. Due to the increased efficiency offered by this oil, Red Line claims higher efficiency and less wear.
In comparison to other gear oils, it also resists oxidation, which aids in its ability to continue functioning over time. You don't need to add any additional additives to your differential because this fluid is designed for use in both limited-slip and open differentials.
Best Differential Fluid #2: Lucas Synthetic Racing Gear Oil
Lucas Oil Products were developed for the rigorous demands of the racing industry. This performance benefits your car on a daily basis. The additive package in Lucas gear oil is made to cushion your rear-end gears.
They assist in shock and abuse absorption while also protecting them from your rigorous use. Even at high temperatures, it resists being pushed out from between the metal components.
It is intended for heavy-duty applications and can be used with limited-slip differentials. You also don't have to be concerned about the residue after changing the rear differential fluid.
Because according to Lucas this gear oil securely combines with other synthetic and conventional oils. Even under the most demanding conditions, the Lucas gear oil won't froth or degrade making it one of the best options.
Best Differential Fluid #3: Royal Purple Max Gear
In addition to its trademark dark purple hue Max Gear comes with Synslide additive technology from Royal Purple. This robust lubricating film provides optimal protection for your shock- or heavily-loaded gears.
This gear oil prolongs the life of the gears by increasing the oil's thickness, which decreases wear. If you happen to have water in your rear differential, Synslide is also made to displace it.
It removes damaging deposits, goes above and beyond MIL gear oil specifications, and satisfies OEM warranty standards for automotive rear axle lubrication. Your car or truck will run cooler, quieter, and longer thanks to the additives from Max Gear. These also greatly boost the lubricant's fluidity and lubricity in cold regions.
Best Differential Fluid #4: Liqui Moly Fully Synthetic Gear Oil
Liqui Moly is one of the top lubricant firms in Europe, even though it isn't very popular here in the United States. This completely synthetic oil complies with GL-5 requirements and is made to guarantee precisely the optimum friction behavior in your rear differential.
The brand claims it can withstand significant temperature variations and even the most challenging circumstances.
This gear oil has good viscosity stability, which means that it won't change its properties contrary to what is required when it becomes hot or cold. It also reduces friction and drag while increasing your gear capacity. Although is not recommended for limited-slip differentials, Liqui Moly advises it for applications with extremely high loads.
Best Differential Fluid #5: Mobil 1 Synthetic Gear Lube LS
Mobil 1, supplies factory-fill oil for some very capable high-performance cars. Their top-of-the-line synthetic gear oil, Syn Gear Lube LS, is made for both open and limited-slip differentials and is optimized for power transfer.
According to Mobil, this oil contains a wax-free synthetic hydrocarbon base and operates across a wide temperature range. This enables it to provide excellent film strength while also assisting in preventing gear wear and spalling under high torque.
According to Mobil, it can lessen wear and increase differential life as it creates minimal deposits. Due to the oil's strong resistance to foaming, it flows properly adhering to your gears. Even in sub-zero temperatures, it can assist in reducing start-up wear.
Differential Fluid: Conclusion
Many drivers put off changing the differential fluid since it doesn't seem urgent. However, this is an important part of maintaining your vehicles. Under high pressure, the differential fluid or gear oil keeps the gears, clutch packs, and bearings properly lubricated at all times.
Additionally, it guarantees the safe and reliable operation of the entire differential.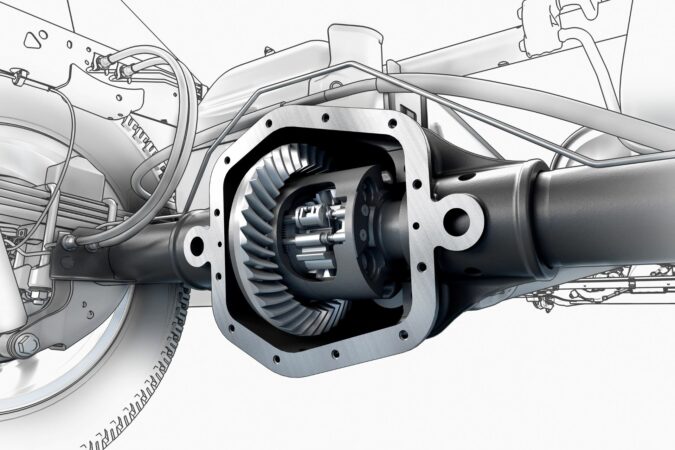 The axle's gears risk harm if the fluid isn't changed on a regular basis. The old fluid also makes the seals vulnerable to wear as well. Furthermore, the fluid contains metal residue, which is hazardous. The gears will undoubtedly suffer harm if any metal enters them.
Compared to routine fluid changes, replacing the gears or differential itself is substantially more expensive. If you need to learn more about the latter, check out our write-up on the cost to replace the front differential, as well as the process of a rear differential repair, and the costs of rear differential repairs.
FAQs On Differential Fluid
What Is A Differential
The differential is a component that enables the drive wheels to rotate at different speeds. This is necessary while a turn is being navigated by the vehicle. The outside wheel has a longer distance to cover during a turn, thus it must move more quickly than the inside wheels. The differential consists of a number of components.
What Is Differential Fluid
Differential systems depend on numerous moving components, including gears, bearings, and others. Through every curve and winding route your car encounters, they keep your wheels turning properly. The right flow of pieces moving together is necessary for this operation, which produces a lot of heat. Differential fluid ensures that parts of the differential system are lubricated, cooled, and safeguarded.
How Often To Change Differential Fluid
Vehicles require replacement differential fluid every 30,000 to 60,000 miles on average. However, the owner's manual for your car should be checked for specific recommendations because every car has different requirements. How often you need new differential fluid depends on your driving habits and the condition of your local roadways.
How To Check Differential Fluid
Gear oil should be filled up to the service port hole in the rear differential. Insert a finger and check if the differential fluid comes into contact with your finger by bending it slightly downward. There is enough oil inside if your finger touches it. The fluid level is low if you can't touch it and if it does not reach the service port.
Can A Bad Differential Cause Transmission Problems
When the differential is underperforming, surface deterioration is caused by metal-on-metal friction. The ensuing heat weakens gears and may lead to transmission issues as well as component failure. It can be dangerous since a faulty differential makes turning the vehicle more difficult.
What Is Rear Differential Service
The first step in a rear differential service is removing the rear differential cover. This is followed by cleaning the differential case of any old fluid, resealing the cover, and adding fresh fluid. The average car will go between 30,000 and 60,000 miles before another differential oil change is necessary.
How Much To Change Differential Fluid
The cost to replace differential fluid ranges from $75 to $175 which is based on national averages for all cars. Taxes, fees, and your specific make and model are not taken into account in this price range. A requirement for related repairs or maintenance would also be essential.
How Much Differential Fluid Do I Need
Your owner's manual will display the required weight and capacity. Typically your differential can often carry up to 3 gallons of differential fluid. However, make sure to read that manual because some limited-slip differentials call for a second additive that reduces friction.