A Historic Victory for Maranello
For the first time in the history of the prestigious Red Dot Awards, Ferrari has won the highest distinction in two separate categories.
The Ferrari Purosangue, Maranello's first four-door, four-seater car, triumphed in the Product Design category, while the Prancing Horse's futuristic concept car, designed specifically for the virtual arena, took the top distinction in the Innovative Products category. In addition, the 296 GTS, the first V6 spider to sport the Prancing Horse badge, also received a Red Dot Award.
Unrivalled Success in Red Dot Awards
Between 2015 and the present, Ferrari has won a total of 26 Red Dot Awards, a tally unequalled by any other car marque in the Awards' 69-year history. The Red Dot Award, one of the most important and prestigious prizes in the industrial design sector, celebrates excellence and innovation in the work of the world's leading designers.
The 2023 edition of the award ceremony will take place on June 19 in Essen, Germany.
Ferrari Purosangue – Redefining Four-Door Luxury
The Ferrari Purosangue has created a whole new segment, allowing Maranello to open up unprecedented scenarios. With its sleek, athletic exteriors and luxurious cabin offering superb occupant space and comfort, the Purosangue marries unparalleled comfort with the driving thrills synonymous with Ferraris.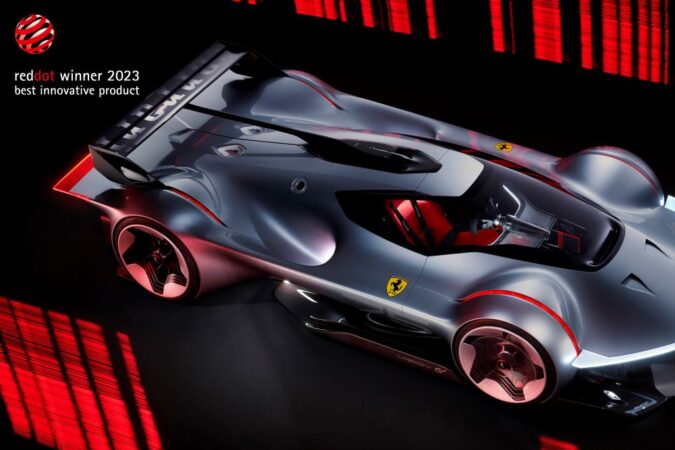 Not only is it exceptionally fast and nimble, but it's also the first Ferrari four-seater with the volumes to guarantee an exceptionally comfortable onboard experience for all occupants.
Ferrari Vision Gran Turismo – A Virtual Speed Demon
The Ferrari Vision Gran Turismo, designed for the virtual arena, features razor-sharp, angular geometric lines that underlie organic surfaces. The edgily disruptive effect of the sculptural plasticity of the exterior and internal surfaces melds with the geometric severity of the lines, creating a car with an instantly recognisable personality.
Its architecture centres around an aerodynamic concept based on two imposing Ferrari-patented side channels that channel the airflow from the front of the underbody around the cabin and over the large side pods.
Maranello's Design Excellence
These accolades further underscore the value of the work done by the Flavio Manzoni-headed Ferrari Styling Centre. The Centre designs contemporary solutions that not only enhance Maranello's cars but also make them utterly unique without ever compromising the symbiotic relationship between form and function central to Ferrari's DNA.
In summary, the double victory at the 2023 Red Dot Awards highlights Ferrari's continued commitment to pushing the boundaries of design and innovation in the automotive industry. With the Purosangue and Vision Gran Turismo, Maranello has once again proven its ability to create iconic, groundbreaking vehicles that captivate car enthusiasts and critics alike.