If you're special enough, you might get the honours of one day being able to buy a Ferrari. But, if you're really, really special… Ferrari may consider building one just for you. And I do mean, a bespoke car, from the ground up, to your whims. It's not often that we get to see Ferraris's one-off creations. But when they do come around, the Prancing Horse really doesn't joke around.
Its latest hand-crafted piece of machinery is this, the SP51. Even from a quick glance, you could see where it got its chassis from – an 812 GTS. So, not only do you get a howling front-mid V12, but it's also topless! Stunning and beautiful from every angle, the SP51's looks are inspired by the Ferrari 410 S from 1955. But, with a very modern, carbon-fibre-clad exterior and bodywork.
A Celebration Of All Things Ferrari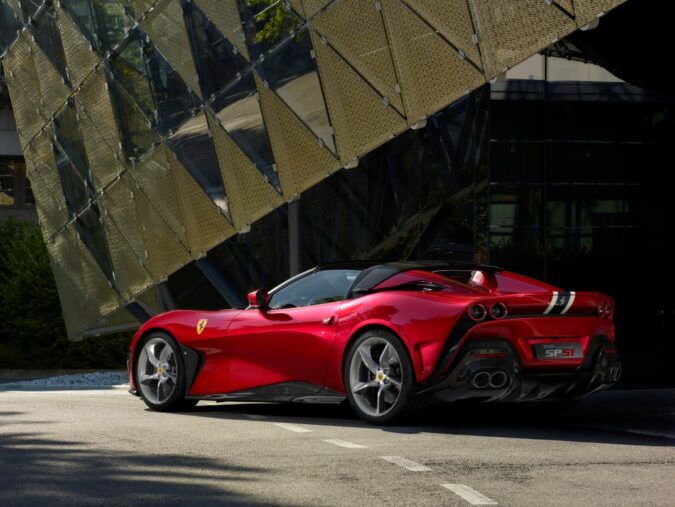 On the one hand, it's (almost) a shame that you don't get to see more of that carbon fibre. Still, I'm willing to forgive it for its incredibly deep and rich, Rosso Passionale three-layer paint. And, it's made even better when paired with those historic white and blue stripes. Everything else is mad with aero, from those flying buttresses and its carbon-tipped turbine-style wheels.
As sporting as a Ferrari might be, the experience won't be true to the brand if it's fitted with a bare Spartan interior. With that in mind, the interior of the SP51 displays craftsmanship at its finest. Its bright red, blue, and white exterior is carried into the cabin, Alcantara and all. Plus, you get to catch a slight glimpse of carbon fibre in here, lots and lots of glossy carbon.