Introduction: A New Era for EVs
There's an electric storm brewing in the automotive world! And Ford's at the eye of it with their latest stunner, the Mustang Mach-E Rally. First showcased at IAA Mobility, Munich, and given a sneak peek at the Goodwood Festival of Speed, this beast is all set to change the way we view electric vehicles (EVs).
A Vision Brought to Life
Ford's Donna Dickson, chief engineer of the Mustang Mach-E, couldn't have put it better: "Just a year ago, this was merely an idea." The latest addition to the Mustang Mach-E family is a labour of love, showcasing what happens when you blend the wild heart of a Mustang with the innovation of electric power.
This rally-inspired EV screams freedom, promising an exhilarating ride on dirt roads.
Specifications: What's Under the Hood?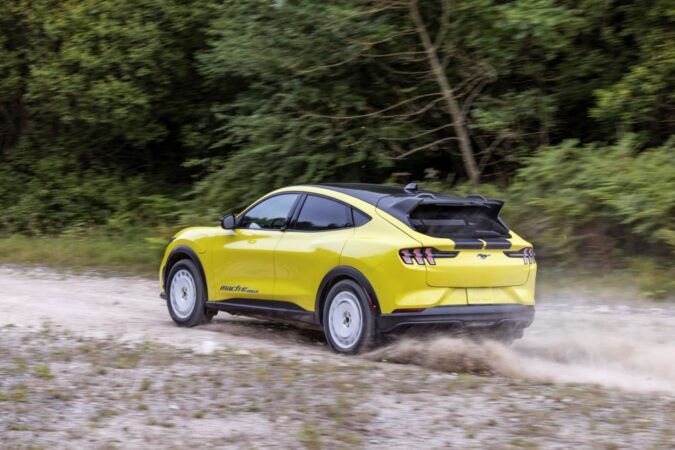 The Mach-E Rally isn't just a pretty face. Underneath that sleek exterior lies a tuned version of the Mustang Mach-E GT powertrain, packed with a dual-motor setup. We're talking a jaw-dropping 880 Nm of torque and 358 kW of power. And, to keep this beast running, it comes equipped with a 91 kWh lithium-ion battery.
Dirt-Ready Design
Ensuring a smooth ride, the Mach-E Rally boasts a unique suspension raised 20 millimetres over its sibling, the Mach-E GT. Complementing this are specially tuned springs, MagneRide shocks, and massive 385-millimetre front brake discs.
Down below, those glossy white 19-inch rally-style alloy wheels are hard to miss, especially when they're wrapped in 235/55 R19 Michelin CrossClimate2 tyres. These tyres aren't just for show – they promise better grip on loose surfaces.
RallySport Drive Mode: Because Why Not?
Ford doesn't do things by halves, and the Mach-E Rally proves it with its first-ever RallySport Drive Mode. Designed for off-road driving, it promises better control, aggressive damping, and bigger slides. Plus, for those frosty mornings, the drive mode ensures the vehicle performs well on snow and other slippery conditions.
Testing to Perfection
You'd think with all these features, Ford would leave it at that. But no. They put the Mustang Mach-E Rally through its paces with a rigorous test at the Michigan Proving Ground. And we're not talking a quick spin; engineers and technicians pushed the vehicle in 800-mile tests, simulating gruelling rally-cross durability trials.
Style Meets Function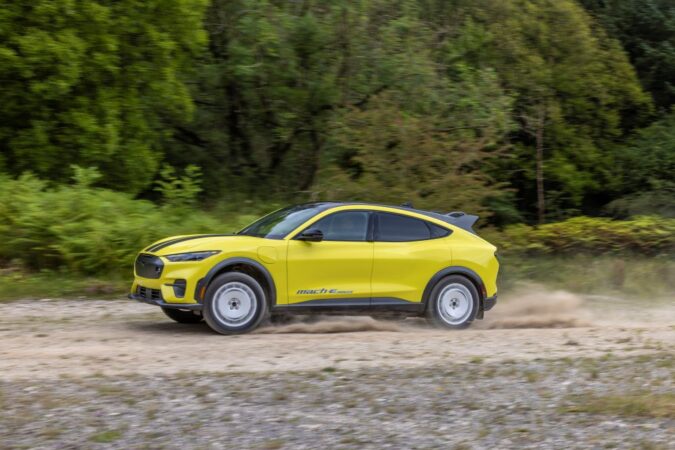 Externally, the Mach-E Rally exudes confidence with a rear spoiler inspired by the Focus RS, contrasting accents, and rally-inspired fog lights. Want more? Every Mach-E Rally features racing stripes in colours ranging from Grabber Blue to eye-popping Grabber Yellow.
Step inside, and you're greeted with a blend of comfort and style – gloss white accents, distinctive Ford-designed performance seats, and subtle 'Mach-E Rally' markings.
The Road Ahead
According to Jim Farley, Ford's chief executive officer, the Mustang Mach-E Rally is a tribute to Ford's love for rally championships worldwide. It's a leap into uncharted territories, introducing Mustang to gravel and dirt roads.
For those itching to get their hands on this electric beast, hang tight. Orders open in early 2024, with deliveries set to follow soon after. So, gear up, because the future of electric rally driving looks promising!