The Next-Level Nugget Experience
Hold onto your seat belts, road trip enthusiasts! Ford has just unveiled the next-generation of its beloved Nugget camper. This isn't just a new coat of paint; we're talking enhanced tech, a super cool interior, and – wait for it – a plug-in hybrid (PHEV) model option.
Developed with Westfalia, the camper whizzes, the Nugget stands out with a unique multi-zone interior layout. Simply put, this isn't just any camper – it's an experience on wheels.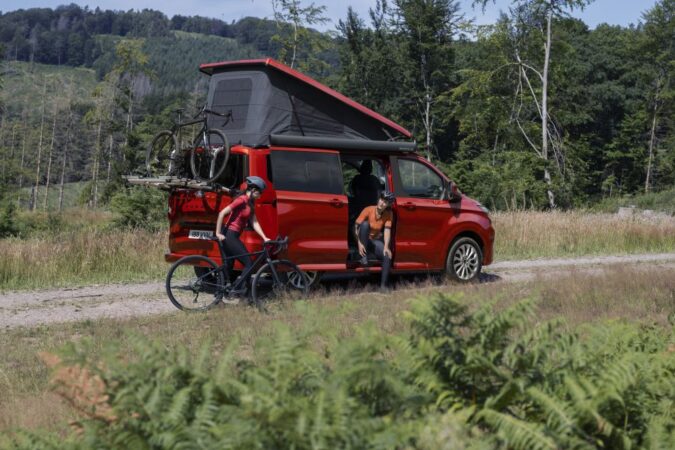 Advanced Features Galore
This latest marvel rolls out on Ford's fresh-off-the-press platform, as seen in their standout Transit and Tourneo Custom models. So, what's in store for the happy camper? Think swanky design features, cutting-edge connectivity, and top-tier driving tech. Plus, sun worshippers will appreciate the solar roof option, which ensures your getaways are not only fun but energy efficient too!
Hans Schep, the big man at Ford Pro, Europe, mentioned that the new Nugget isn't just about discovering new locations. It's geared up to be the family car, the friend mover, and even the adrenaline-pumping retirement plan. It's designed to literally "do it all".
Journey With Style and Comfort
Those scenic drives just got more comfortable. Drawing inspiration from the luxe Tourneo Custom's cabin, the Nugget promises premium comfort. The revamped dashboard, flat floor design, and added roof-mounted passenger airbag, ensure moving around is a breeze. Plus, getting in and out has never been easier with a lowered floor and an integrated side step.
And here's the bit tech fans will love: this Nugget is powered with a PHEV option, influenced by Ford's top-selling Kuga Plug-In Hybrid. The result? A powerful 2.5-litre Atkinson cycle petrol engine combined with an electric motor, bringing on a 232PS output.
For those eyeing off-road adventures or just eager for a confident exit from festival grounds, the all-wheel-drive model's got your back. Plus, the Nugget's cockpit is a digital delight with a large touchscreen equipped with the latest SYNC 4 software.
Safety's key too. The new Nugget offers a bunch of driver assistance systems, including an Intelligent Adaptive Cruise Control and a handy 360-degree camera system. Driving this beauty is pure joy, whether you're cruising on the motorway or manoeuvring in a tight spot.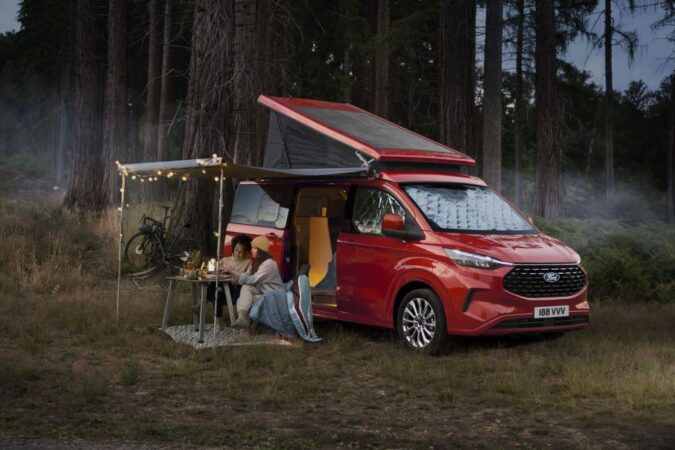 Redefining the Camper Concept
Ford and Westfalia have worked their magic to improve every inch of the living space. Even with two double beds ready for a snooze, you can comfortably move around, rustle up a meal, or step outside without waking the entire clan.
Cooking's a dream with an L-shaped kitchen layout, featuring a practical new drawer fridge, and the decluttered surface offers 20% more workspace. Families will appreciate the child-friendly soft-close latches, while the track-mounted rear bench makes transitioning from seating to sleeping smooth and effortless.
There's more! The Nugget sports an outdoor hot/cold shower, a tilted roof with self-folding fabric, and roller blackout blinds for that extra bit of privacy. Tech aficionados will appreciate wireless charging, a 5G modem, and a solar roof. And the cherry on top? A 7-inch touchscreen in the living area, complete with Bluetooth-enabled app control.
As Ford continues its partnership with Westfalia, this new Nugget is poised to meet the growing demand in Europe's camper van market. In short, the open road is calling, and with Ford's all-new Nugget, your adventures promise to be more electrifying than ever.